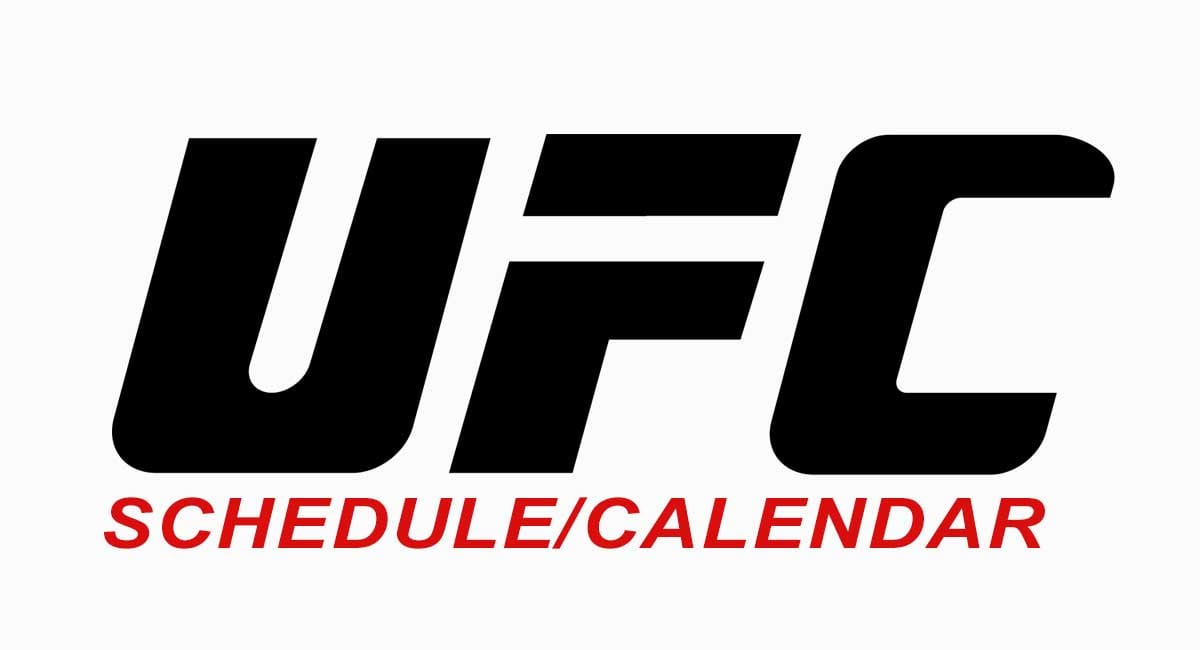 UFC held 59 events in 2022 which includes 13 PPV events, 29 Fight Night events, 10 episodes of Dana White Contender Series Season 6, and 6 Road to UFC episodes.
21 of these Fight Night events took place at UFC's own Apex Arena in Las Vegas, NV. Las Vegas' T-Mobile Arena also held 4 PPVs this year. 3 Fight Night events took place in International Locations while 2 PPVs, UFC 275 and UFC 280, were international PPVs.
Check the complete UFC 2022 Schedule below with the location/venues and dates of the event.
| NO. | Event/PPV | Date | Location |
| --- | --- | --- | --- |
| 1 | UFC Fight Night: Kattar vs Chikadze | Jan 15, 2022 | UFC APEX, Las Vegas, NV, US |
| 2 | UFC 270: Ngannou vs Gane | Jan 22, 2022 | Honda Center, Anaheim, CA, US |
| 3 | UFC Fight Night: Hermansson vs Strickland | Feb 05, 2022 | UFC APEX, Las Vegas, NV, US |
| 4 | UFC 271: Adesanya vs. Whittaker 2 | Feb 12, 2022 | Toyota Center, Houston, TX, US |
| 5 | UFC Fight Night: Walker vs Hill | Feb 19, 2022 | UFC APEX, Las Vegas, NV, US |
| 6 | UFC Fight Night: Makhachev vs Green | Feb 26, 2022 | UFC APEX, Las Vegas, NV, US |
| 7 | UFC 272: Colby Covington vs Jorge Masvidal | Mar 05, 2022 | T-Mobile Arena, Las Vegas, NV, US |
| 8 | UFC Fight Night: Santos vs Ankalaev | Mar 12, 2022 | UFC APEX, Las Vegas, NV, US |
| 9 | UFC Fight Night: Aspinall vs Volkov | Mar 19, 2022 | O2 Arena, London, UK |
| 10 | UFC Fight Night: Blaydes vs Daukaus | Mar 26, 2022 | Nationwide Arena, Columbus, OH, US |
| 11 | UFC 273: Volkanovski vs The Korean Zombie | April 9, 2022 | VyStar Veterans Memorial Arena, Jacksonville, FL, US |
| 12 | UFC Fight Night: Luque vs Muhammad 2 | April 16, 2022 | UFC APEX, Las Vegas, NV, US |
| 13 | UFC Fight Night: Lemos vs Jessisa | April 23, 2022 | UFC APEX, Las Vegas, NV, US |
| 14 | UFC Fight Night: Font vs Marlon | April 30, 2022 | UFC APEX, Las Vegas, NV, US |
| 15 | UFC 274: Oliveira vs Gaethje | May 07, 2022 | Footprint Center, Phoenix, AZ, US |
| 16 | UFC Fight Night: Blachowicz vs Rakic | May 14, 2022 | UFC APEX, Las Vegas, NV, US |
| 17 | UFC Fight Night: Holm vs Vieira | May 21, 2022 | UFC APEX, Las Vegas, NV, US |
| 18 | UFC FIght Night:: Volkov vs Rozenstruik | June 04, 2022 | UFC APEX, Las Vegas, NV, US |
| 19 | Road to UFC: Singapore Episode 1 | June 09, 2022 | Singapore Indoor Stadium, Kallang, Singapore |
| 20 | Road to UFC: Singapore Episode 2 | June 09, 2022 | Singapore Indoor Stadium, Kallang, Singapore |
| 21 | Road to UFC: Singapore Episode 3 | June 10,2022 | Singapore Indoor Stadium, Kallang, Singapore |
| 22 | Road to UFC: Singapore Episode 4 | June 10,2022 | Singapore Indoor Stadium, Kallang, Singapore |
| 23 | UFC 275: Texeira vs Prochazka | June 11, 2022 | Singapore Indoor Stadium, Kallang, Singapore |
| 24 | UFC Austin: Kattar vs Emmett | June 18, 2022 | Moody Center, Austin, TX, United States |
| 25 | UFC Fight Night: Tsarukyan vs Gamrot | June 25, 2022 | UFC APEX, Las Vegas, NV, US |
| 26 | UFC Hall of Fame | June 30, 2022 | T-Mobile Arena, Las Vegas, NV, US |
| 27 | UFC 276: Adesanya vs Cannonier | July 02, 2022 | T-Mobile Arena, Las Vegas, NV, US |
| 28 | UFC Fight Night: Dos Anjos vs Fiziev | July 09, 2022 | UFC APEX, Las Vegas, NV, US |
| 29 | UFC Fight Night: Ortega vs Rodriguez | July 16, 2022 | UBS Arena, Elmont, NY, US |
| 30 | UFC Fight Night: Blaydes vs. Aspinall | July 23, 2022 | O2 Arena, London, UK |
| 31 | Dana White Contender Series Season 6: Episode 1 | July 26, 2022 | UFC APEX, Las Vegas, NV, US |
| 32 | UFC 277: Pena vs Nunes | July 30, 2022 | American Airlines Center, Dallas, TX, US |
| 33 | Dana White Contender Series Season 6: Episode 2 | August 2, 2022 | UFC APEX, Las Vegas, NV, US |
| 34 | UFC Fight Night: Santos vs Hill | August 6, 2022 | UFC APEX, Las Vegas, NV, US |
| 35 | Dana White Contender Series Season 6: Episode 3 | August 09, 2022 | UFC APEX, Las Vegas, NV, US |
| 36 | UFC Fight Night: Vera vs Cruz | August 13, 2022 | Pechanga Arena, San Diego, CA, US |
| 37 | Dana White Contender Series Season 6: Episode 4 | August 16, 2022 | UFC APEX, Las Vegas, NV, US |
| 38 | UFC 278: Usman vs Edwards 2 | August 20, 2022 | Vivint Arena, Salt Lake City, UT, US |
| 39 | Dana White Contender Series Season 6: Episode 5 | August 23, 2022 | UFC APEX, Las Vegas, NV, US |
| 40 | Dana White Contender Series Season 6: Episode 6 | August 30, 2022 | UFC APEX, Las Vegas, NV, US |
| 41 | UFC Fight Night: Gane vs Tuivasa | September 03, 2022 | Accor Arena, Paris, France |
| 42 | Dana White Contender Series Season 6: Episode 7 | September 06, 2022 | UFC APEX, Las Vegas, NV, US |
| 43 | UFC 279: Diaz vs Ferguson | September 10, 2022 | T-Mobile Arena, Las Vegas, NV, US |
| 44 | Dana White Contender Series Season 6: Episode 8 | September 13, 2022 | UFC APEX, Las Vegas, NV, US |
| 45 | UFC Fight Night: Song Yadong vs Cory Sandhagen | September 17, 2022 | UFC APEX, Las Vegas, NV, US |
| 46 | Dana White Contender Series Season 6: Episode 9 | September 20, 2022 | UFC APEX, Las Vegas, NV, US |
| 47 | Dana White Contender Series Season 6: Episode 10 | September 27, 2022 | UFC APEX, Las Vegas, NV, US |
| 48 | UFC Fight Night: Dern vs Xiaonan | October 01, 2022 | UFC APEX, Las Vegas, NV, US |
| 49 | UFC Fight Night: Grasso vs Araujo | October 15, 2022 | UFC APEX, Las Vegas, NV, US |
| 50 | UFC 280: Oliveira vs Makhachev | October 22, 2022 | Etihad Arena, Abu Dhabi, United Arab Emirates |
| 51 | Road to UFC : Abu Dhabi Semifinal 1 | October 23, 2022 | Etihad Arena, Abu Dhabi, United Arab Emirates |
| 52 | Road to UFC : Abu Dhabi Semifinal 2 | October 23, 2022 | Etihad Arena, Abu Dhabi, United Arab Emirates |
| 53 | UFC Fight Night: Calvin Kattar vs Arnold Allen | October 29, 2022 | UFC APEX, Las Vegas, NV, US |
| 54 | UFC Fight Night: Marina Rodriguez vs Amanda Lemos | November 05, 2022 | UFC APEX, Las Vegas, NV, US |
| 55 | UFC 281: Israel Adesanya vs Alex Pereira | November 12, 2022 | Madison Square Garden, NY, US |
| 56 | UFC Fight Night: Nzechukwu vs. Cutelaba | November 19, 2022 | UFC APEX, Las Vegas, NV, US |
| 57 | UFC Fight Night: Stephen Thompson vs Kevin Holland | December 03, 2022 | Amway Center, Orlando, FL, US |
| 58 | UFC 282: Jan Blachowicz vs Magomed Ankaleav | December 10, 2022 | T-Mobile Arena, Las Vegas, NV, US |
| 59 | UFC Fight Night: Sean Strickland vs Jared Cannonier | December 17, 2022 | UFC APEX, Las Vegas, NV, US |