UFC Vegas 59 Results: Santos vs Hill, Ultimate Fighter 30 Finals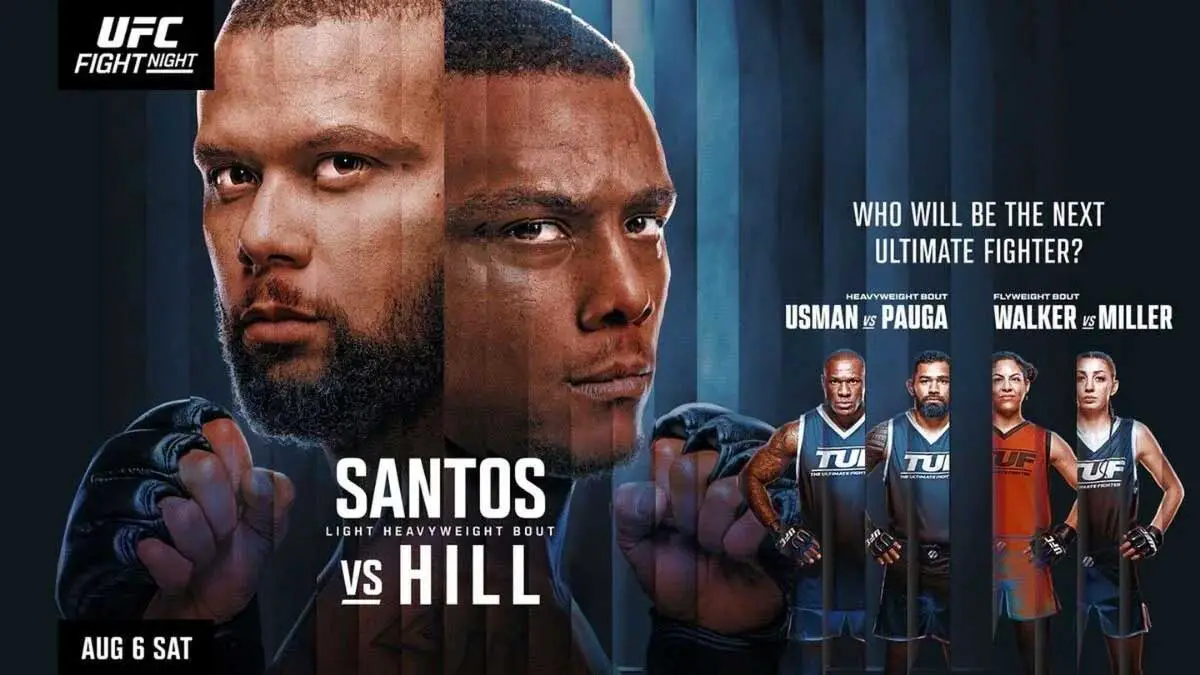 Welcome to the live results blog for UFC Vegas 59: Santos vs Hill or UFC on ESPN 40 event on August 6, 2022.
Two light heavyweights are fighting in the main event as they look to secure a future title shot. Santos has been up and down in the last two years with both and wins and losses in his account. Hill continues to surge in the last three years and will look to continue his streak.
In the co-main event, Vincente Luque looks to reposition his status as next in line to face Kamaru Usman for the title, a line which has some major names in front of him. He will be facing Geoff Neal, who is also looking for something similar.
The Ultimate Fighter: Pena vs Nunes final matches for men's Heavyweight and women's flyweight division is also on the main card. These two bouts are Mohammed Usman vs Zac Pauga and Brogan Walker vs Juliana Miller.
Tune in as we bring you results from UFC Vegas 59: Santos vs Hill event.
Event Info
Show – UFC Vegas 59: Santos vs Hill
Date –

August 06, 2022

Location – UFC Apex Arena, Las Vegas, NV, US
Prelims Start Time- 7:30 PM EST
Main Card Start Time – 10 PM EST
Results
Prelims Card (Start From 6 p.m. EST)
| No. | Match | Stipulation | Winner |
| --- | --- | --- | --- |
| 1 | Mayra Bueno Silva vs Stephanie Egger | Women's Bantamweight Bout | Mayra Bueno Silva won via submission (armbar) at 1:17 of round 1 |
| 2 | Cory McKenna vs Miranda Granger | Women's Strawweight Bout | Cory McKenna won via submission (Von Flue Choke) at 1:03 of round 2 |
| 3 | Bryan Battle vs Takashi Sato | Welterweight Bout | Bryan Battle won via KO (kick) at 0:44 of round 1 |
| 4 | Sam Alvey vs Michal Oleksiejczuk | Middleweight Bout | Michal Oleksiejczuk won via KO (punch) at 1:56 of round 1 |
Main Card (Start From 9 p.m. EST)
| No. | Match | Stipulation | Winner |
| --- | --- | --- | --- |
| 1 | Erick Gonzalez vs Terrance McKinney | Lightweight Bout | Terrance McKinney won via submission (rear-naked choke) at 2:17 of round 2 |
| 2 | Augusto Sakai vs Serghei Spivac | Heavyweight Bout | Serghei Spivac won via TKO (punches) at 3:42 of round 2 |
| 3 | Brogan Walker vs Juliana Miller | Women's Flyweight Bout(Ultimate Fighter 30 Finale) | Juliana Miller won via TKO (elbows) at 3:57 of round 3 |
| 4 | Mohammed Usman vs Zac Pauga | Heavyweight Bout(Ultimate Fighter 30 Finale) | Mohammed Usman won via KO (punch) at 0:36 of round 2 |
| 5 | Vicente Luque vs Geoff Neal | Welterweight Bout | Geoff Neal won via TKO (punches) at 2:01 of round 3 |
| 6 | Thiago Santos vs Jamahal Hill | Light Heavyweight Bout | Jamahal Hill won via TKO(punches) at 2:31 of round 4 |