How to Watch UFC 283 Online Live Streaming Details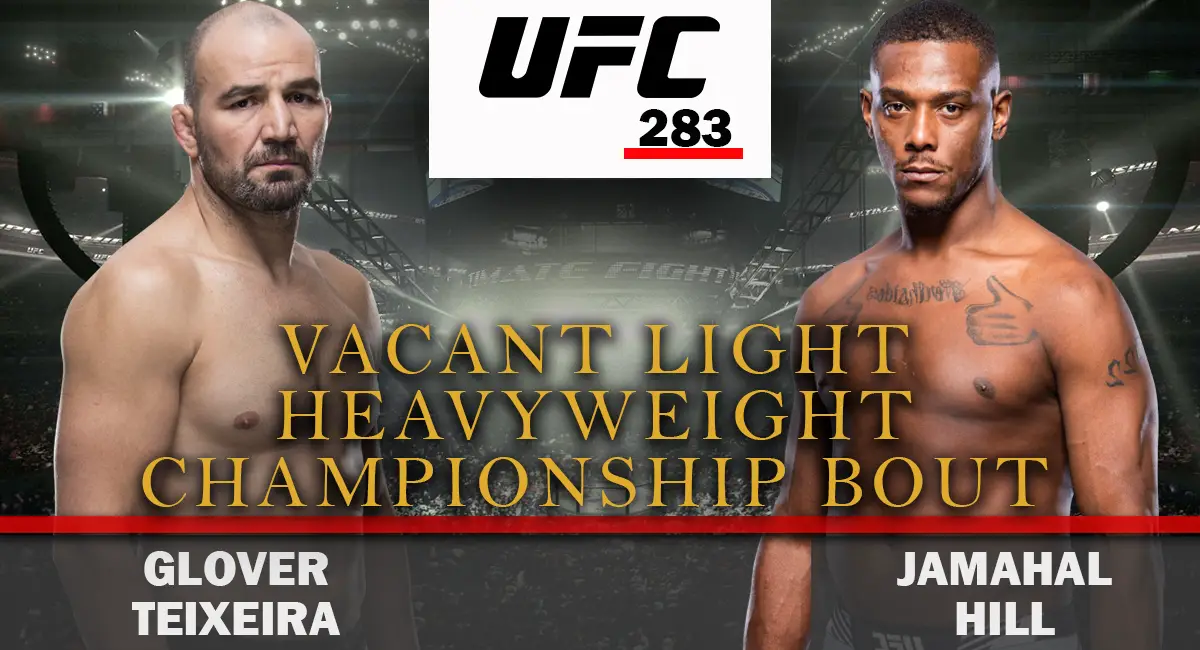 UFC 283, the first UFC PPV of the year, will air on January 21, 2023, featuring the bout for vacant Light Heavyweight Championship in the main event. Former Champion Glover Teixeira battles Jamahall Hill in his native in the headliner bout over the vacant title which was hurriedly put together.
The co-main event is the fourth bout between Deiveison Figueiredo and Bradon Moreno for flyweight title unification. Gilbert Burns will face Niel Magny while Paul Craig will face Johnny Walker in the PPV opener. Jessica Andrade vs Lauren Murphy bout is also on the card.
UFC PPVs like UFC 283 air in more than 100 countries across the globe via different mediums. Early Prelims of all UFC PPVs are available to watch on UFC Fight Pass in most countries. The main card and preliminary cards air in various countries via various mediums. Check how to watch or live stream UFC 283: Teixeira vs Hill PPV in your country along with information for the preliminary and early preliminary cards and PPV prices in various countries.
United States
UFC 283 is available to order in the United States via ESPN Plus Streaming Service. The main card will start at 10 PM ET/7 PM PT on January 21, 2023.
Early prelims and prelims cards will be available in the United States via ESPN's UFC Monthly Pass. Early prelims start at 6 PM ET/3 PM PT while the prelims will start at 8 PM ET/5 PM PT.
UFC 283 PPV Price in the US
The main card for UFC 283 will cost $79.99. But, you also need to subscribe to ESPN's UFC Fight Pass first to buy PPV. One month's price for the ESPN+ UFC Fight pass is $6.99, and the total cost for the event will be $86.98 if you are not an ESPN+ subscriber already.
Another way to buy PPV is with an annual subscription of the ESPN+ UFC pack at a discounted price. The annual bundle and PPV will together cost $99.98. You can use the above link to access both packages.
United Kingdom & Ireland
UFC 283 will be airing UK and Ireland for free on cable TV on BT Sports 1. Both prelims and the main card of UFC 283 can be watched on BT Sports 1 and its website.
Australia
In Australia, Kayo Sports Website and Main Event PPV provider carries UFC PPVs like UFC 283, which costs $54.95.
Prelims will be available to watch on the ESPN TV channel, and online via ESPN on Kayo and UFC Fight Pass. Early Prelims card will be available to watch online via UFC Fight Pass.
Canada
UFC PPVs are available in Canada via several PPV carriers both online and on satellite TV like Bell, Rogers, Shaw, Sasktel, Videotron, Telus, and Eastlink for $64.99. UFC 283 can also be ordered on UFC Fight Pass. The main card starts at 2 PM EST.
Prelims will air on TSN & RDS from 12 PM EST. Early prelims can be streamed online via UFC Fight Pass from 10 AM EST.
India
UFC 283 will air in India on Sony Sports 1 and Sony Sports 3 TV Channels as well as via the Sony LIV app. Prelims and Early are not available in India.
Germany, Austria, Spain, Italy, & Switzerland
Dazn Streaming airs UFC events in some European countries like Germany, Austria, Spain, Italy, & Switzerland. Prelims and the main card will be available via Dazn while the early prelims will only be available via UFC Fight Pass.
Worldwide
UFC Fight Pass service airs all the UFC events, including 283, early prelims, and prelims worldwide via subscription. The main card will also be available via PPV on UFC Fight Pass worldwide at different prices in different countries.