How to Watch UFC 294 Makhachev vs Volkanovski Online Streaming
ESPN+ PPV and UFC Fight Pass are the main platforms to watch online live streaming of UFC 294 PPV.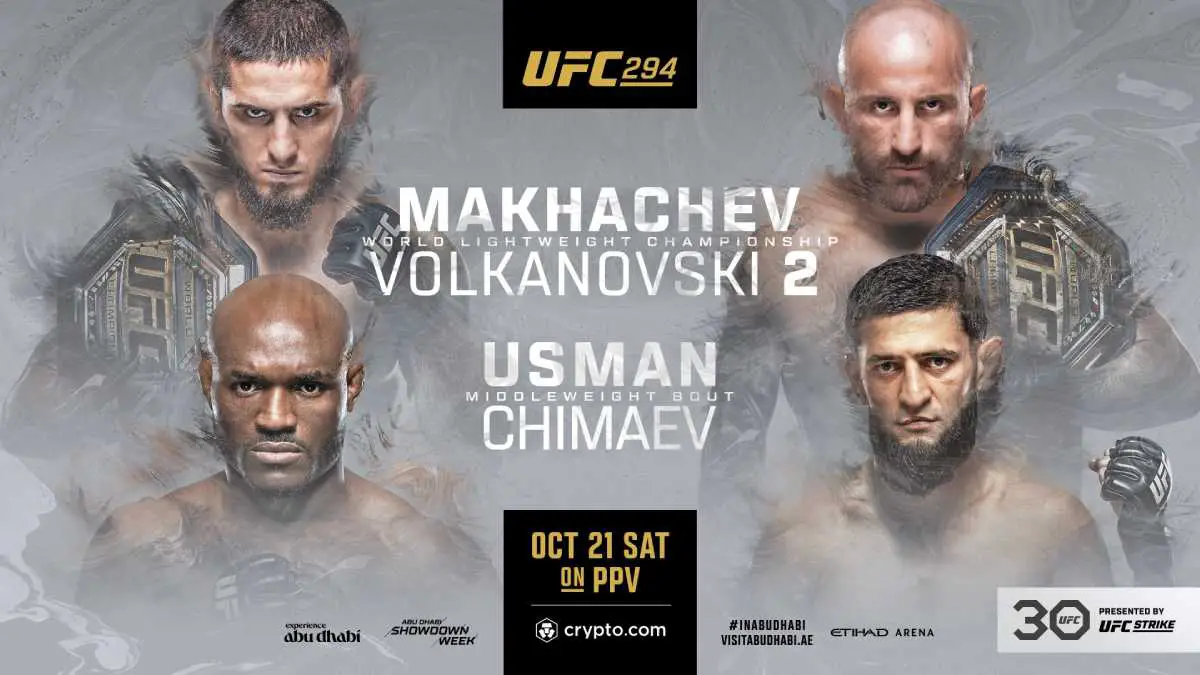 UFC 294 PPV will be available to watch in United States via ESPN+ streaming platform. The worldwide availability of the event will be via UFC Fight Pass apart from some specific countries where UFC has separate deals. Keep reading this article for complete details to watch prelims and main card.
United States
United States: UFC 294 will stream live in US via ESPN+ PPV. Such events costs $79.99 on ESPN+ but you will also need to be an active subscriber on the platform. That means, you need to spend an extra $10.99 per month to watch this event.
However, there are some deals that can help offset this price if you opt for a yearly subscription or Disney Plus Bundle. Check here to watch the event via ESPN+. Below are the three options that you can opt in addition to ordering UFC 294:
ESPN+ Monthly Subscription – Costs $89.98 in total with 1 month of ESPN+
ESPN+ Annual Subscription – Costs $124.98 in total with 1 year of ESPN+
Disney Trio Bundle – Costs $92.98 in total with 1 month of ESPN+, Disney+ & Hulu.
United Kingdom & Ireland
TNT Sports 1 TV Channel is the platform where UK and Ireland fans can watch this event live in their country. Both prelims and main card will air on TNT Sports. You can also watch the event on TNT Sports website if you are an active subscriber without any extra cost.
Canada
For Canadian fans, UFC 294 can be ordered via two methods: UFC Fight Pass or Traditional PPV providers. The cost for the PPV in Canada is CA$64.99. Prelims will be available via UFC Fight Pass via its subscription. Prelims will also be available in Canada on TSN 3 TV Channel.
Australia
Kayo Sports and UFC Fight Pass are the platform for online streaming of this event in Australia for both main card and prelims card. The main card will cost AU$54.95. It will also be available to order via Main Event PPV provider. Prelims will also air via ESPN TV Channel.
Europe
UFC content in European countries is available on different platforms depending on location. Check below for your country:
Germany– Dazn
Italy– Dazn
France – RMC Sports
Spain – Eurosports
Netherlands – Discovery+
Poland – Polstat Sports
Denmark – Via Play
Sweden – Via Play
Norway – Via Play
MENA Countries
UFC Arabia app is UFC's specific platform to air event in Arabic Language is only available in Middle Eastern and Arabic Countries. The app has a subscription cost of $4.99 per month to get access to the complete event library from the promotion.
Africa
Africa: Super Sports Action TV channel is the platform in several locations in the African Continent like South Africa, Kenya, Zimbabwe, Namibia and others. The events will be free to watch for channel subscribers.
"Maybe we'll settle pound for pound number one again."

It appears that Volk is getting his wish after all.@MAKHACHEVMMA vs @AlexVolkanovski 2 is happening this Saturday at #UFC294 #InAbuDhabi!

[ @InAbuDhabi | @VisitAbuDhabi ] pic.twitter.com/dBz9nsxnfr

— UFC (@ufc) October 18, 2023
India
In India, UFC events are to be available via Sony Sports 2 on TV. For online streaming, you can check Sony Liv Streaming for both prelims and main card.
Worldwide
UFC Fight Pass service airs all the UFC events, including 293, early prelims, and prelims worldwide via subscription. The main card will also be available via PPV on UFC Fight Pass worldwide at different prices in different countries. The country-wise list of broadcasters is as below:
| Country | Prelims Card | Main Card |
| --- | --- | --- |
| Worldwide | UFC Fight Pass | PPV on UFC Fight Pass |
| Algeria | UFC Arabia/AD Fight/Starzplay | UFC Arabia/AD Fight/Starzplay |
| Australia | Main Event/Kayo Sports | Main Event/Kayo Sports |
| Austria | Dazn | Dazn |
| Bahrain | UFC Arabia/AD Fight/Starzplay | UFC Arabia/AD Fight/Starzplay |
| Brazil | UFC Fight Pass | UFC Fight Pass |
| Brunei | Fox Sports | Fox Sports |
| Cambodia | Fox Sports | Fox Sports |
| Canada | TSN 5 | PPV Providers |
| Denmark | Viaplay | Viaplay |
| East Timor | Fox Sports | Fox Sports |
| Egypt | UFC Arabia/AD Fight/Starzplay | UFC Arabia/AD Fight/Starzplay |
| Finland | Viaplay | Viaplay |
| France | RMC Sport 2 | RMC Sport 2 |
| Germany | Dazn | Dazn |
| Germany | Dazn | Dazn |
| Ghana | Super Sport Action | Super Sport Action |
| Hong Kong | Fox Sports | Fox Sports |
| Iceland | UFC Fight Pass | Viaplay |
| India | Sport Sports 2/Sony Liv | Sport Sports 2/Sony Liv |
| Indonesia | Fox Sports | Fox Sports |
| Iran | UFC Arabia/AD Fight/Starzplay | UFC Arabia/AD Fight/Starzplay |
| Iraq | UFC Arabia/AD Fight/Starzplay | UFC Arabia/AD Fight/Starzplay |
| Ireland | BT Sports 1 | BT Sports 1 |
| Israel | UFC Arabia/AD Fight/Starzplay | UFC Arabia/AD Fight/Starzplay |
| Italy | Dazn | Dazn |
| Italy | Dazn | Dazn |
| Italy | Dazn | Dazn |
| Jordan | UFC Arabia/AD Fight/Starzplay | UFC Arabia/AD Fight/Starzplay |
| Kenya | Super Sport Action | Super Sport Action |
| Kuwait | UFC Arabia/AD Fight/Starzplay | UFC Arabia/AD Fight/Starzplay |
| Lebanon | UFC Arabia/AD Fight/Starzplay | UFC Arabia/AD Fight/Starzplay |
| Libya | UFC Arabia/AD Fight/Starzplay | UFC Arabia/AD Fight/Starzplay |
| Macau | Fox Sports | Fox Sports |
| Malaysia | Fox Sports | Fox Sports |
| Mauritius | Super Sport Action | Super Sport Action |
| Mexico | UFC Fight Pass | UFC Fight Pass |
| Mongolia | Fox Sports | Fox Sports |
| Morocco | UFC Arabia/AD Fight/Starzplay | UFC Arabia/AD Fight/Starzplay |
| Morroco | Super Sport Action | Super Sport Action |
| Myanmar | Fox Sports | Fox Sports |
| Netherlands | Discovery+ | Discovery+ |
| New Zealand | Prime/ESPN | Sky Arena/Sports Now/ |
| Nigeria | Super Sport Action | Super Sport Action |
| Norway | Viaplay | Viaplay |
| Oman | UFC Arabia/AD Fight/Starzplay | UFC Arabia/AD Fight/Starzplay |
| Pakistan | UFC Fight Pass | Ten Sports |
| Papua New Guinea | Fox Sports | Fox Sports |
| Philippines | Fox Sports | Fox Sports |
| Poland | UFC Fight Pass | Polsat Sport |
| Qatar | UFC Arabia/AD Fight/Starzplay | UFC Arabia/AD Fight/Starzplay |
| Saudi Arabia | UFC Arabia/AD Fight/Starzplay | UFC Arabia/AD Fight/Starzplay |
| Singapore | Fox Sports | Fox Sports |
| South Africa | Super Sport Action | Super Sport Action |
| Spain | Eurosport | Eurosport |
| Sweden | Viaplay | Viaplay |
| Switzerland | Dazn | Dazn |
| Switzerland | UFC Fight Pass | UFC Fight Pass |
| Syria | UFC Arabia/AD Fight/Starzplay | UFC Arabia/AD Fight/Starzplay |
| Thailand | Fox Sports | Fox Sports |
| Tunisia | UFC Arabia/AD Fight/Starzplay | UFC Arabia/AD Fight/Starzplay |
| United Arab Emirates | UFC Arabia/AD Fight/Starzplay | UFC Arabia/AD Fight/Starzplay |
| United Kingdom | BT Sports 1 | BT Sports 1 |
| United States | ESPN+ | ESPN+ PPV |
| Yemen | UFC Arabia/AD Fight/Starzplay | UFC Arabia/AD Fight/Starzplay |
| Zimbabwe | Super Sport Action | Super Sport Action |