UFC Vegas 51: Luque vs Muhammad 2 Results, Card, Date, Time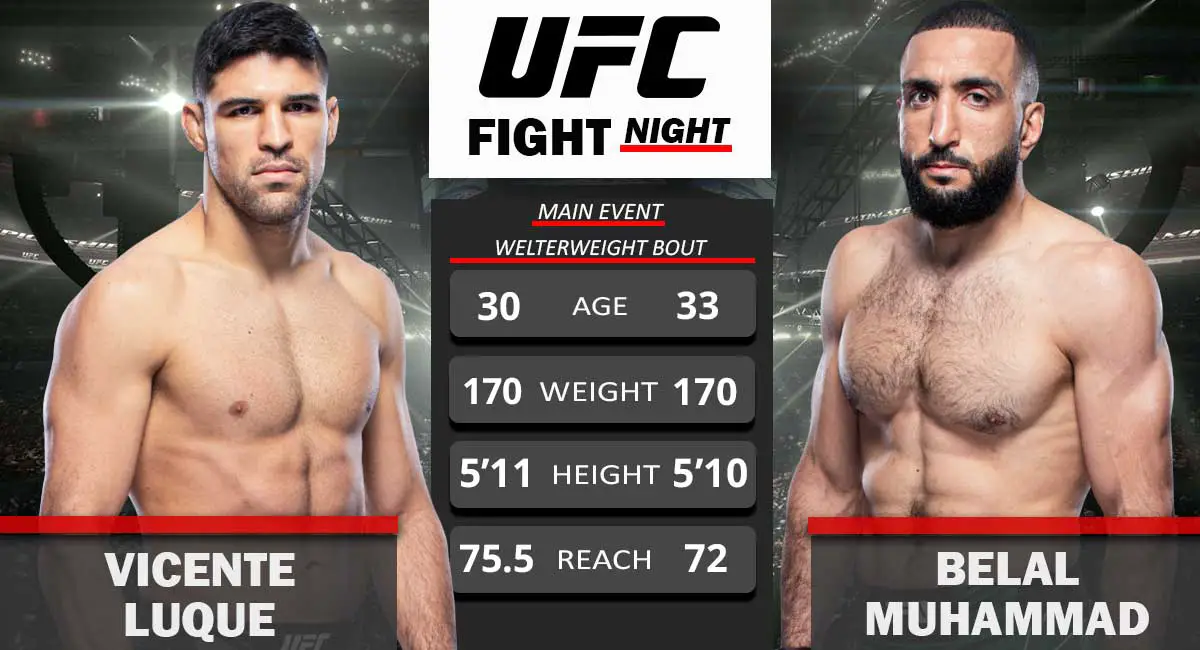 UFC will return to their Apex Arena in Las Vegas, NV, with UFC Vegas 51 or Fight Night: Luque vs Muhammad 2 event on April 16, 2022. The event also goes by the name UFC on ESPN 34.
A welterweight bout between Vicente Luque and Belal Muhammad will be the main event for the show, and will possibly crown a new contender for Kamaru Usman. Luque defeated Muhammad in their previous bout in 2016 via first-round TKO.
Caio Borralho vs Gadzhi Omargadzhiev Middleweight Bout will serve as the co-main event as per the current line-up. Miguel Baeza vs Andre Fialho Welterweight bout and Mayra Bueno Silva vs Wu Yanan women's bantamweight bout will also be on the main card.
Check below for the results from UFC Fight Night: Luque vs Muhammad 2 or UFC Vegas 51 or UFC on ESPN 34 event, with fight card, start time, weigh-in and more details.
Event Info
Date: April 16, 2022
Location: UFC Apex Arena, Las Vegas, NV, US
Start Timing: Main Card- 8:30 PM EST/ 5:30 PM PST, Prelims: 5:30 PM EST/ 2:30 PM PST
Results & Fight Card
Prelims
Istela Nunes vs Sam Hughes – Women's Strawweight Bout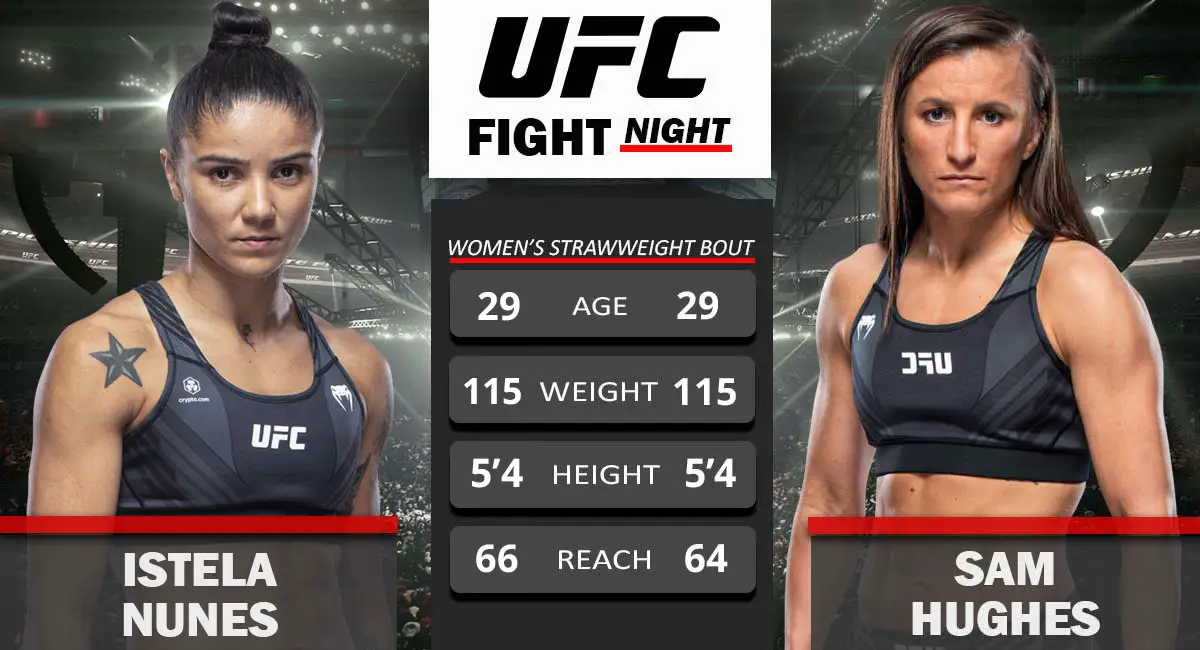 Sam Hughes won via majority decision (29-27, 29-27, 28-28)
Alateng Heili vs Kevin Croom – Bantamweight Bout
Alateng Heili won via TKO (punches) Round 1, 0:47
Jordan Leavitt vs Trey Ogden – Light Heavyweight Bout
Jordan Leavitt won via Split decision (29-27, 29-27, 28-28)
Martin Buday vs Chris Barnett – Heavyweight Bout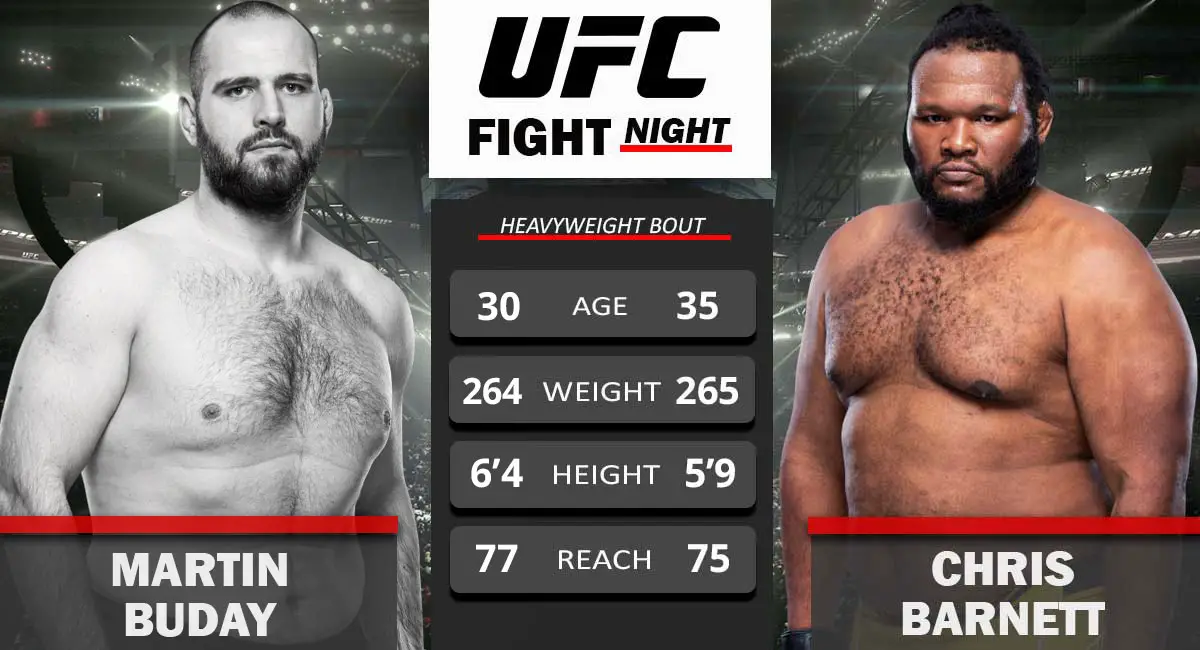 Martin Buday won via Unanimous decision (30-27, 30-27, 30-27)
Rafa Garcia vs Jesse Ronson – Lightweight Bout
Rafa garcia won via submission at 4:50 in round 2
Brandon Jenkins vs Drakkar Klose – Lightweight Bout
Drakkar Klose won via submission at 0:33 in round 2
Pannie Kianzad vs Lina Lansberg – Women's Bantamweight Bout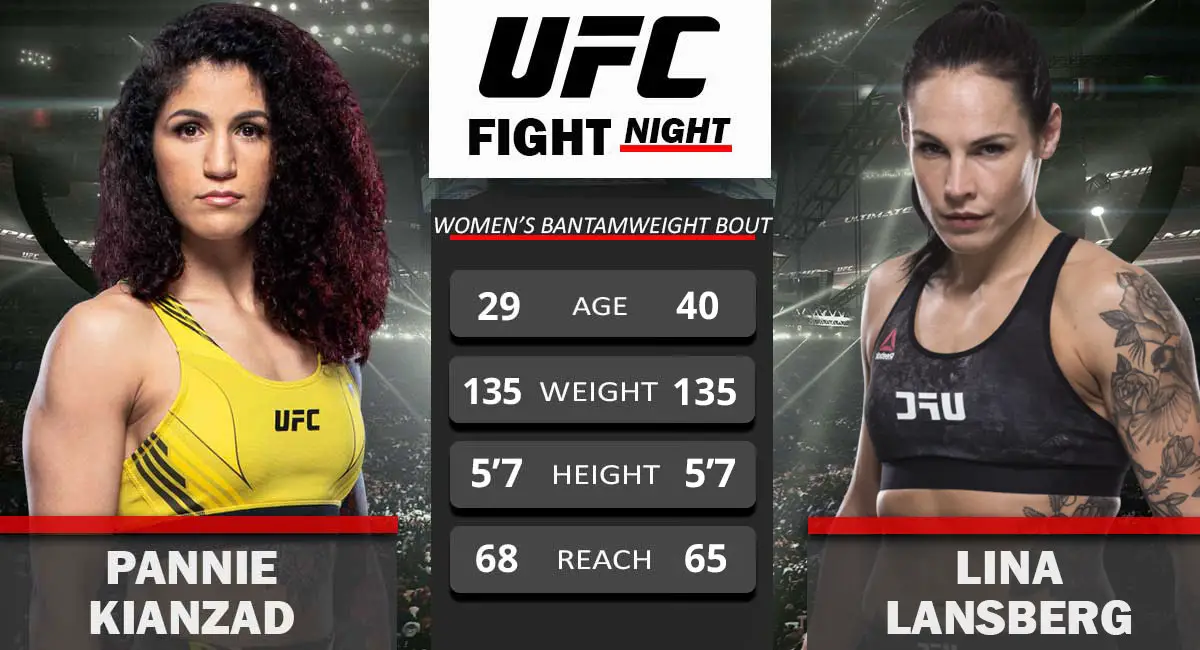 Pannie Kianzad won via Unanimous decision (29-28, 29-28, 29-28)
William Knight vs Devin Clark – Light Heavyweight Bout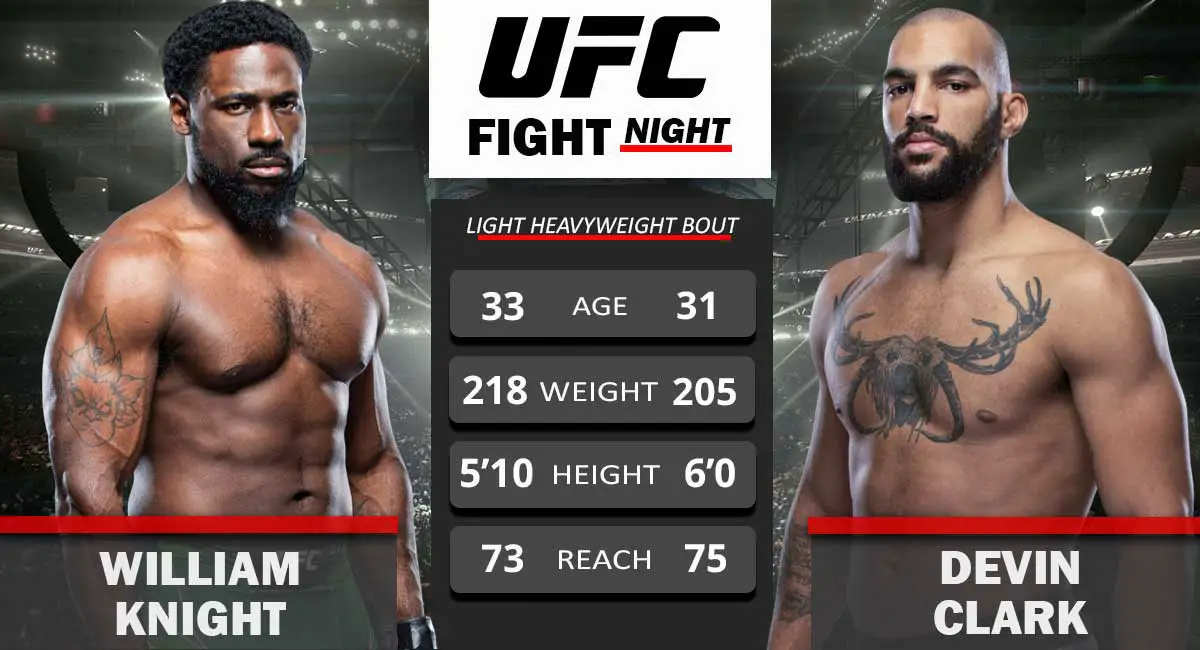 Devin Clark won via TKO (punches) Round 3, 3:21
Main Card
Ange Loosa vs Mounir Lazzez – Welterweight Bout
Mounir Lazzez won via Unanimous decision (30-27, 30-27, 30-27)
Pat Sabatini vs TJ Laramie – Featherweight Bout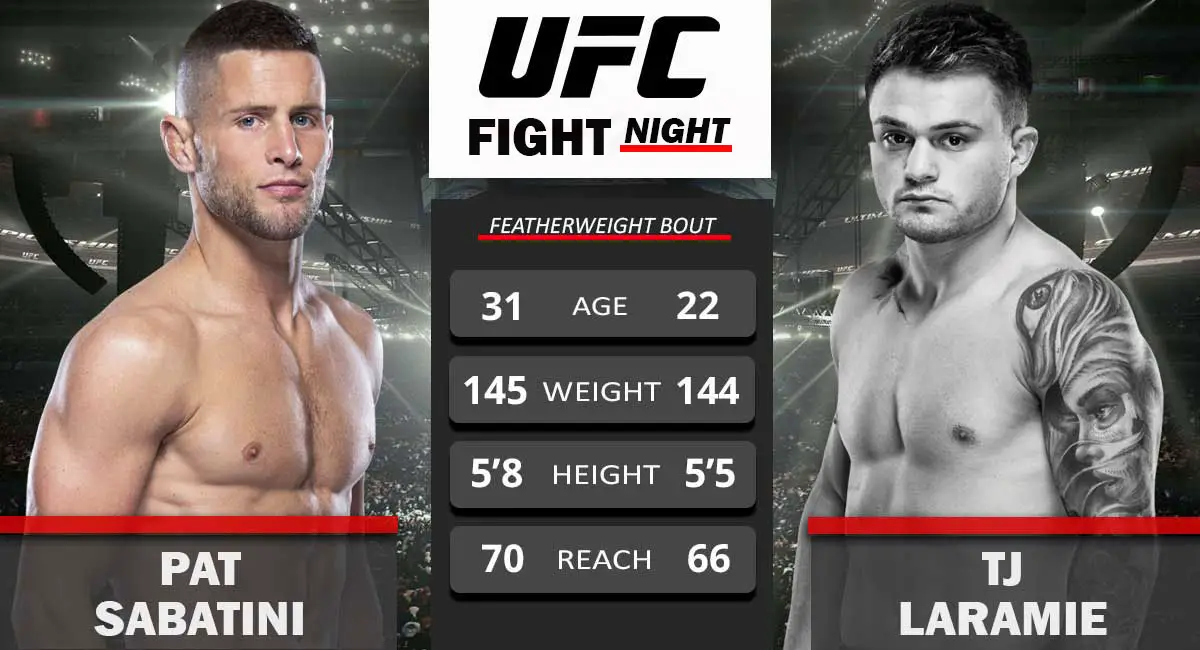 Pat Sabatini won via Unanimous decision (30-26, 30-26, 30-26)
Mayra Bueno Silva vs Wu Yanan – Women's Bantamweight Bout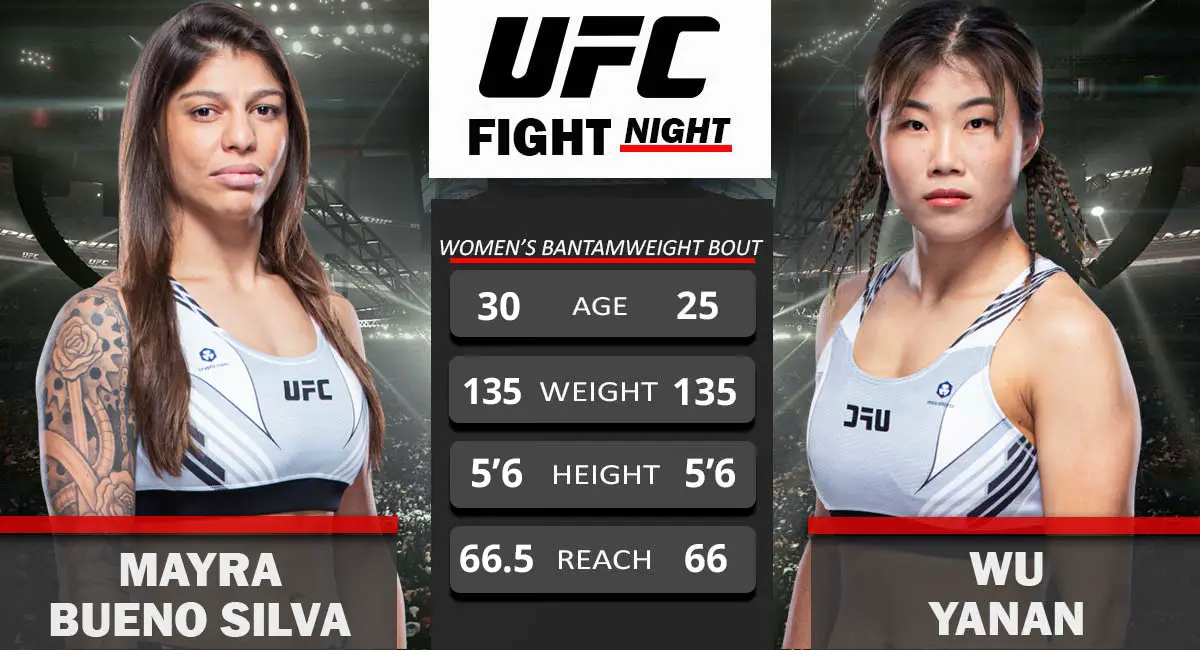 Mayra Bueno Silva won via Unanimous decision (29-28, 29-28, 30-27)
Miguel Baeza vs Andre Fialho – Welterweight Bout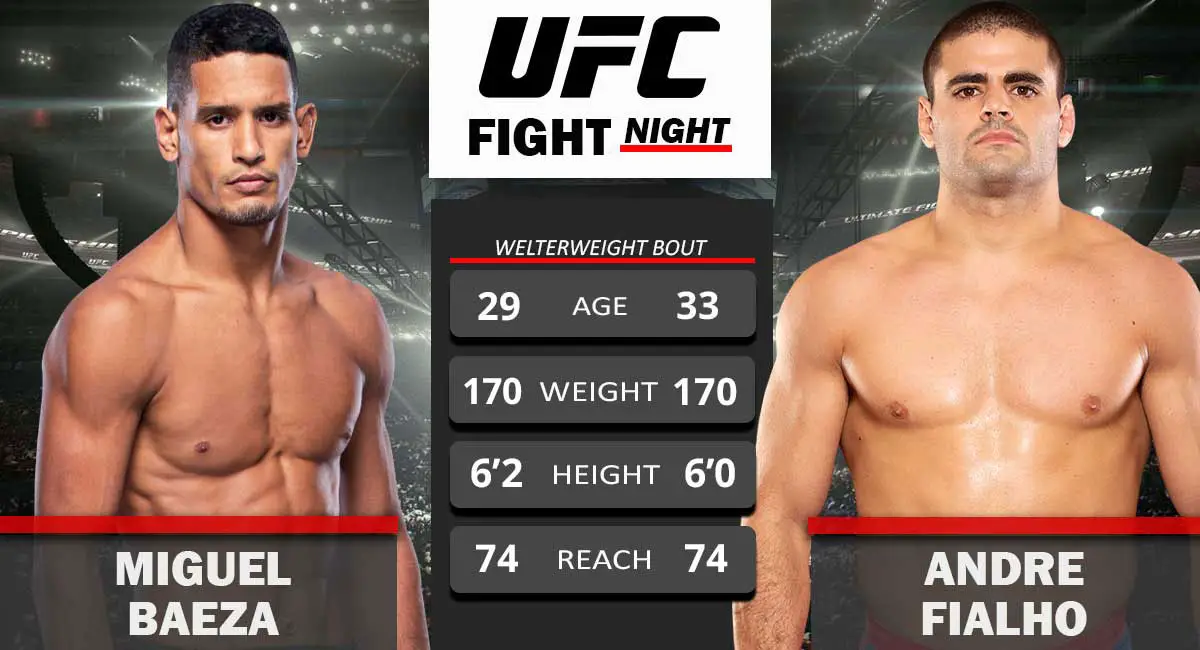 Andre Fialho won via KO/TKO (punches) at 4:39 of Round 1
Caio Borralho vs Gadzhi Omargadzhiev – Middleweight Bout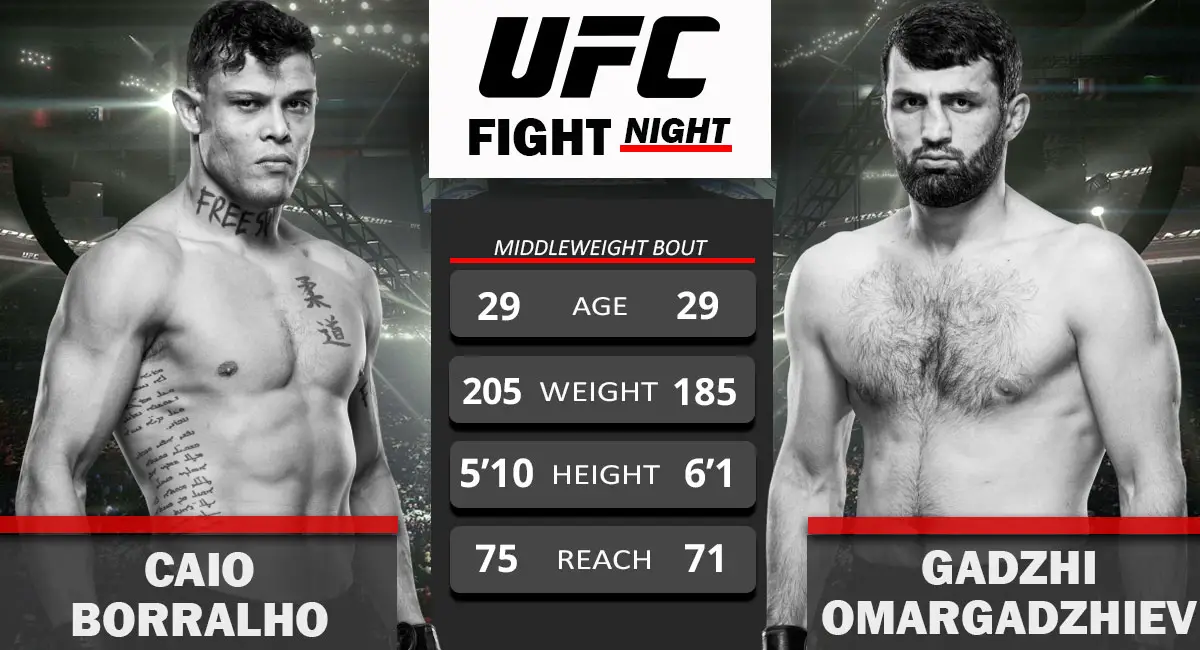 Caio Borralho won via Unanimous Decision (29-27, 29-27, 29-27)
Vicente Luque vs Belal Muhammad – Welterweight Bout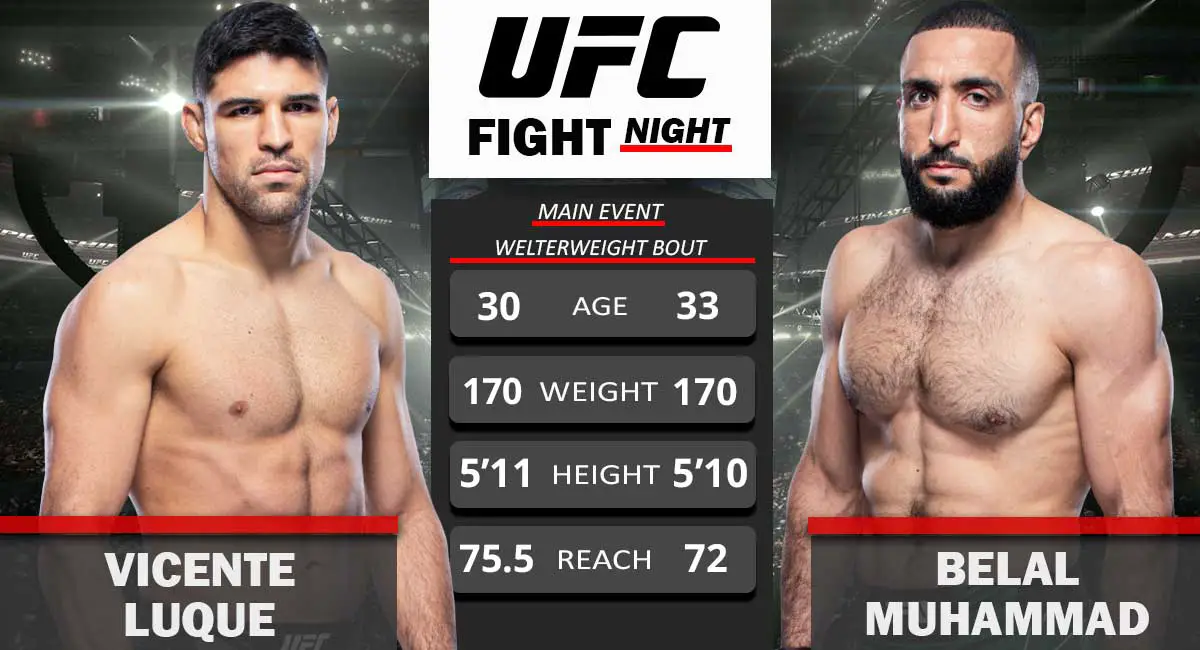 Belal Muhammad won via Unanimous Decision (46-49, 46-49, 47-49)
Cancelled & Moved bout
Miguel Baeza vs. Dhiego Lima
Uriah Hall vs. André Muniz
Jordan Leavitt vs. Victor Martinez
Melsik Baghdasaryan vs. T.J. Laramie
Elizeu Zaleski vs. Mounir Lazzez
Weigh-In
Vicente Luque (171 lbs) vs. Belal Muhammad (170.5 lbs)
Caio Borralho (186 lbs) vs. Gadzhi Omargadzhiev (186 lbs)
Miguel Baeza (171 lbs) vs. Andre Fialho (171 lbs)
Mayra Bueno Silva (136 lbs) vs. Wu Yanan (136 lbs)
TJ Laramie (145.5 lbs) vs. Pat Sabatini (146 lbs)
Mounir Lazzez (171 lbs) vs. Ange Loosa (171 lbs)
Devin Clark (223 lbs) vs. William Knight (251 lbs)
Pannie Kianzad (136 lbs) vs. Lina Lansberg ( 135.5 lbs)
Brandon Jenkins (155.5 lbs) vs. Drakkar Klose ( 156.75 lbs)
Rafa Garcia (155 lbs) vs. Jesse Ronson (155.5 lbs)
Chris Barnett (263 lbs) vs. Martin Buday (264.5 lbs)
Jordan Leavitt (155.5 lbs) vs. Trey Ogden ( 156 lbs)
Sam Hughes (115.5 lbs) vs. Istela Nunes (114 lbs)
Alateng Heili (135.5 lbs) vs. Kevin Croom (136 lbs)