Canelo Álvarez PPV Buys – How many Pay Per Views Canelo Sold?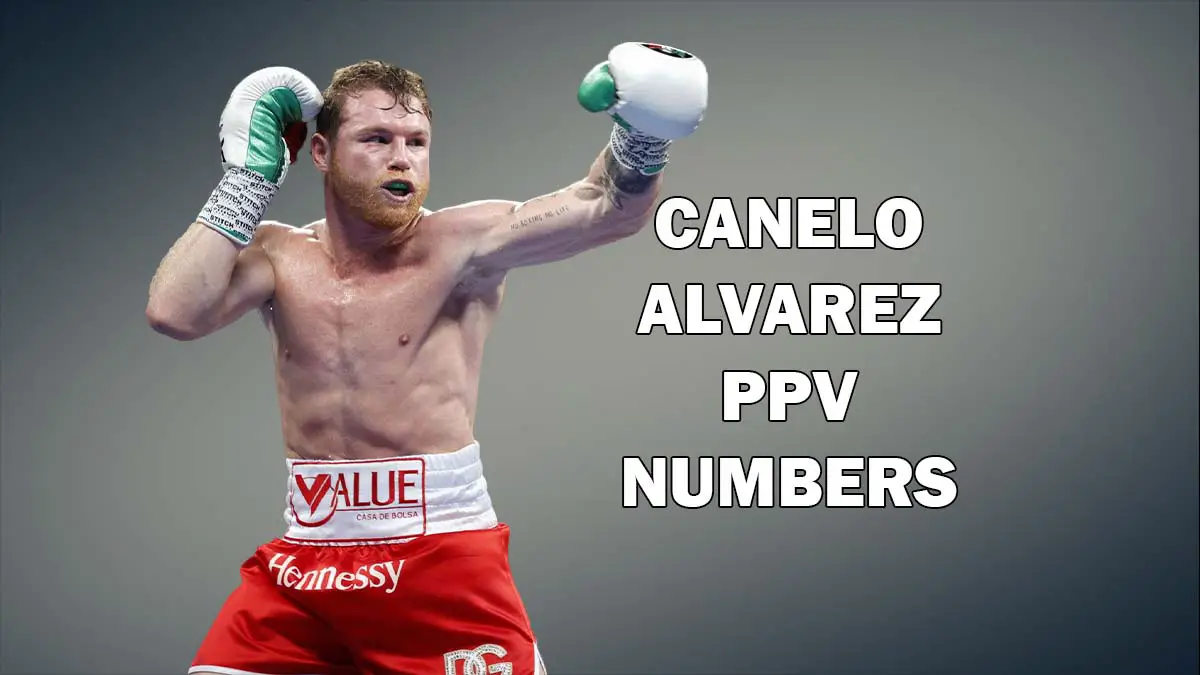 While his title wins and in-ring accomplishments are something to envy, Canelo Álvarez has also been the biggest boxing PPV star in United States after Floyd Mayweather in the last decade. His popularity is such that he has been given $50 million plus paydays constantly in his last few fights and the trend does not seem to dying down anytime soon with some of the biggest bouts remains to be in future for him.
But, why is Canelo considered such a big PPV star? What are the numbers behind this analogy? Check the complete list on pay-per-view buys numbers for Saul "Canelo" Álvarez and his TV viewership.
How many PPV Buys have Canelo Álvarez Drawn?
Canelo Álvarez has drawn close to 10 million PPV buys in his career so far over 12 PPV headliner bouts. The average pay-per-view buys for him is close to 830,000 per event.
His highest reported PPV figure came in his PPV debut against Floyd Mayweather Jr. which drew 2.2 million buys. His lowest buys have come against Liam Smith and Erislandy Lara. Both of these events drew close to 300,000 buys. 4 of his bouts have drew more than 1 million PPV buys which have come against Floyd Mayweather Jr., Julio César Chávez Jr., and Gennadiy Golovkin(twice).
List of Canelo Álvarez PPV Buys
The complete list of PPV buys for Canelo Alvarez are as below:
vs Floyd Mayweather- 2,200,000(Showtime – September 14, 2013)
vs Alfredo Angulo – 350,000(Showtime – March 8, 2014)
vs Eryslandy Lara – 300,000(Showtime – July 12, 2014)
vs Miguel Cotto – 900,000(HBO – November 21, 2015)
vs Amir Khan – 600,000(HBO – May 7, 2016)
vs Liam Smith – 300,000(HBO – September 17, 2016)
vs Julio César Chávez Jr. – 1,000,000(HBO – May 6, 2017)
vs Gennadiy Golovkin – 1,300,000(HBO – September 16, 2017)
vs Gennadiy Golovkin II – 1,100,000(HBO – September 15, 2018)
vs Caleb Plant – 800,000(Showtime – November 6, 2021)
vs Dmitry Bivol – 520,000(Dazn – May 7, 2022)
vs Golovkin III – 550,000(Dazn – September 17, 2022)
vs John Ryder – 300K-400K estimate(Dazn – May 6, 2023)
TV Viewership
Canelo headlined a boxing card on live TV 5 times. The list of these fights and viewership figures are as below:
vs Matthew Hatton – 1.4 million viewers(HBO – March 5, 2011)
vs Ryan Rhodes – 1.6 million viewers(HBO – June 18, 2011)
vs Kermit Cintrón – 1.5 million viewers(HBO – November 26, 2011)
vs Josesito López – 1.04 million viewers(Showtime – September 15, 2011)
vs James Kirkland – 2.146 million viewers(HBO – May 9, 2015)
PPV Undercard
vs Carlos Baldomir – Shane Mosley vs Sergio Mora HBO PPV undercard – 100,000 buys(September 18, 2010)
vs Shane Mosley – Floyd Mayweather vs Miguel Cotto HBO PPV undercard – 1.5 million buys(May 5, 2012)
vs Austin Trout – Floyd Mayweather Jr. vs. Robert Guerrero HBO PPV undercard – 1 million buys(April 20, 2013)
Streaming Bouts
Canelo signed a deal spanning 11 fights and 5 years with Dazn in 2018, under which his fights would air in US on Dazn streaming as part of its monthly subscription service. The contract was cancelled just after a few bouts. The list of fights for Canelo to stream on Dazn are as below:
vs Rocky Fielding(15 December 2018)
vs Daniel Jacobs – 1.2 million viewers(4 May 2019)
vs Sergey Kovalev(2 November 2019)
vs Callum Smith(19 December 2020)
vs Avni Yıldırım(27 February 2021)
vs Billy Joe Saunders(8 May 2021)
Also Check: