Gervonta Davis PPV Buys- How Many Pay Per Views Have Tank Sold?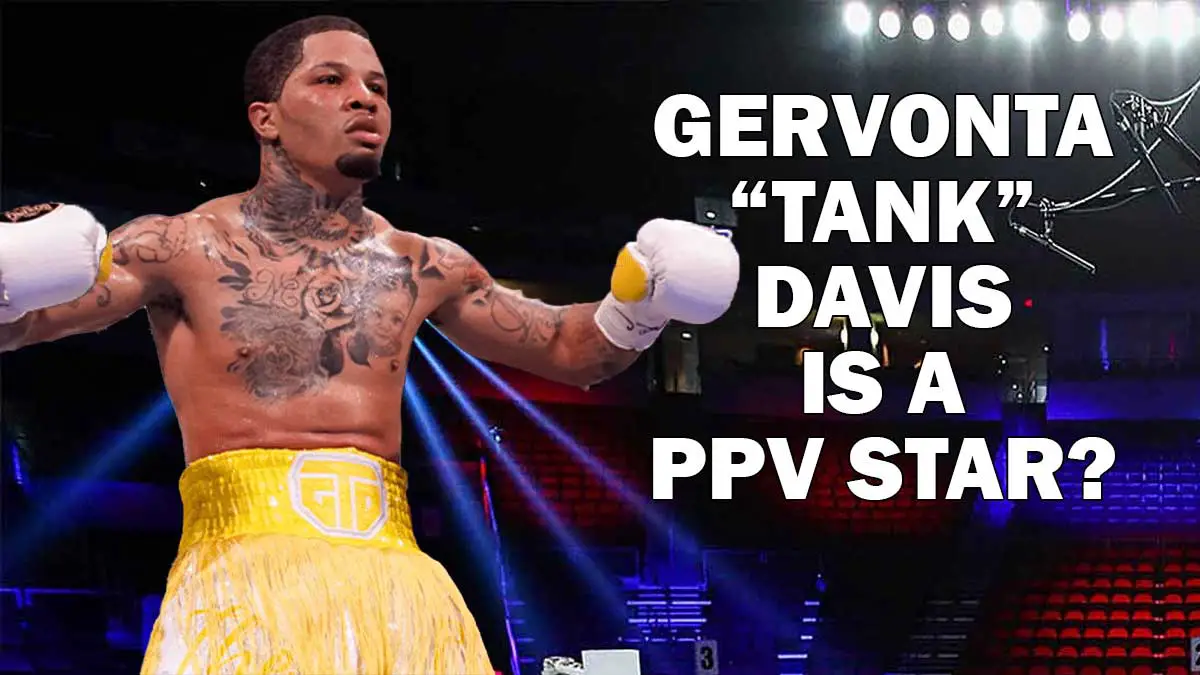 Gervonta Davis has proven to be one of few boxing stars in recent years to feature on Pay Per View regularly. With his exciting fighting style, Tank Davis was always anticipated to be big PPV star even before he started featuring in PPVs from October 2020. But, how many PPV buys did Gervonta Davis in his career so far? Get the numbers from each of his Pay Per Views below.
How many PPV Buys have Gervonta Davis Drawn?
In his 5 PPV fights so far, Gervonta Davis has drawn more than 2.2 million estimated pay-per-view buys. He has averaged around 375,000 PPVs per fight so far.
List of Gervonta Davis PPV Buys
1. Gervonta Davis vs Leo Santa Cruz – 200,000
Davis' fight against Leo Santa Cruz in October 2020 was his PPV debut. It was a double title fight with Davis defended his WBA(Regular) Lightweight Championship as well as competing for Cruz's WBA(Super) Super Featherweight Championship. He was able to drop Cruz in sixth round after some close initial rounds. The entertaining fight raked in around 200,000 PPV buys.
2. Gervonta Davis vs Mario Barrios – 210,000
Taking another risk in his career, Gervonta Davis moved up to Super Lightweight to challenge WBA(Regular) Champion Mario Barrios. Despite the size disparity, Davis was able to dominate the bout and was leading the scores when he knocked out Barrios in 11th round. PPV numbers for the show are estimated to be around 210,000.
3. Gervonta Davis vs Isaac Cruz – 150,000
Davis was supposed to defend his lightweight title against Rolando Romero. However, Romero was dropped from the fight after sexual assault allegations against him. Isaac Cruz replaced Romero a month before the fight. Davis went the distance against Cruz just for the second time in his career in a competitive fight, but got a unanimous decision in his favor. However, the PPV buys for this event were reported to be even less than 200,000.
4. Gervonta Davis vs Rolando Romero – 250,000
Gervonta Davis and Rolando Romero got their fight against each other 6 months later than originally planned. Romero proved to be easy work for Davis after a quick start from Romero. Davis was able to catch Romero with a big punch in the sixth round to get a knockout. The exciting match up on the paper provided an increase in PPV numbers with around 250,000 buys.
5. Gervonta Davis vs Hector Garcia – 210,000
Although he was set to fight Ryan Garcia later in the year, Davis first took a fight against Hector Garcia in January 2023 to defend his WBA(Regular) Lightweight Championship for the fourth time. Davis' power punches once again proved to be the deciding factor as Garcia was forced to retire after the eighth round after taking too much damage.
6. Gervonta Davis vs Ryan Garcia – 1,200,000
Davis took on Ryan Garcia in one of the most anticipated boxing PPV bouts in 2023, and was able to beat Garcia without much harm. Although Garcia's promoter Oscar De La Hoya predicted more than 2.5 million PPV buys for this fight, the reports predicted that the event had 1.2 million PPV Buys.