BKFC Thailand 4 Results Live, Gabriel Dy vs Sangmuang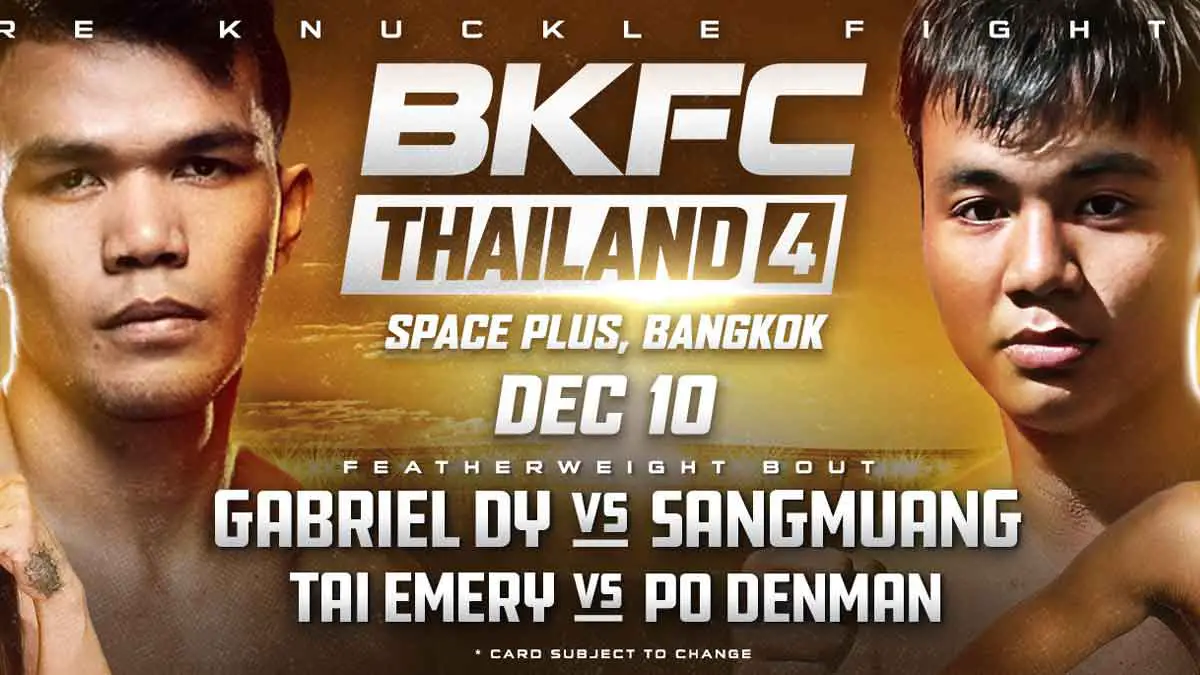 BKFC will present an event from Bangkok, Thailand, titled at BKFC Thailand 4 on December 10, 2022. The event will feature a featherweight bout in the main event between Rolando Gabriel Dy and Apisit Sangmuang.
Both men are making their BKFC debut. Gabriel Dy is coming off 4 consecutive losses in Brave CF. Sangmuang comes from a boxing background and has taken part in 6 boxing bouts this year already.
Tai Emery vs Po Denman women's flyweight bout is the co-main event. Emery is the only fighter on the main card not making her BKFC debut. All the other 13 fighters on the main card are BKFC debutants.
Check below as we post results from BKFC Thailand 4: Gabriel Dy vs Sangmuang event with complete fight card below.
Results
Prelims(4:30 AM ET)
Anubhav Kumar Verma def. Ouch Thearith via TKO 0:56 of round 3 – Bantamweight Bout
Patho Ghosh def. Chor Pov via TKO at 1:18 of round 2 – Bantamweight Bout
Sarun Srioumboo def. Victor Booty via TKO at 1:10 of round 2 – Featherweight Bout
Main Card(5:30 AM ET)
Joemil Miado def. Poorya Mokhtari via KO at 1:30 of round 1 – Featherweight Bout
Krisana Sirsang def. Sohanne Bengana via TKO at 0:47 of round 2 – Featherweight Bout
Gustaf Cedermalm def. Alex Castro via TKO at 1:50 of round 4 – Featherweight Bout
Tetee Denman def. Saw Htoo Aung via unanimous decision (49-45, 48-46, 49-46)- Featherweight Bout
Gilbert Patrocinio def. Gligor Stojanov via KO at 1:22 of round 2- Welterweight Bout
Po Denman def. Tai Emery via unanimous decision(49-47, 48-47, 48-47)- Women's Flyweight Bout
Rolando Gabriel Dy def. Apisit Sangmuang via TKO at 0:42 in round 1- Featherweight Bout