BKFC 49 Slaveski vs Lindsey Results Live, Card, Time, Highlight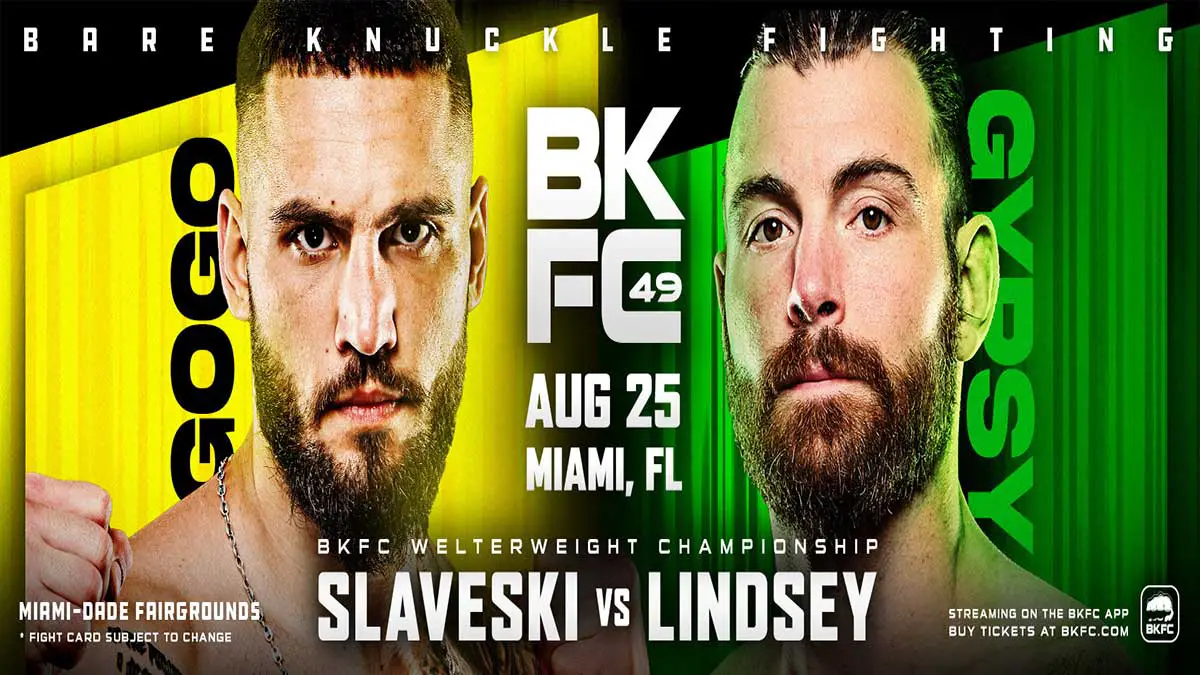 BKFC 49 featured a bout for BKFC World Welterweight Championship in the headline as it aired from Miami, FL, on August 25, 2023.
Jake Lindsey took on Gorjan Slaveski in the main event title fight. Both men were unbeaten in BKFC so far. Lindsey, unbeaten in 4 BKFC fights, beat Connor Tierney in his last fight at BKFC 37. Slaveski, unbeaten in 5 BKFC fights, defeated Yosdenis Cedeno in his last fight at BKFC 35. Who end the night with the title, and whose unbeaten streak ended here?
The co-main event saw Bryce Henry taking on Tom Shoaff in a lightweight bout. Joao Guerra, Aaron Sutterfield, Valeria Mejia and Jaymes Hyder were the promotional debutants on the card. The main card started at 9 PM while prelims started at 8 PM ET.
Tune in below as we post results live from BKFC 49: Slaveski vs Lindsey event with complete fight card, and other details.
RESULTS
Prelims
John Michael Escoboza def. Esteban Rodriguez via majority decision(48-46, 48-46, 47-47) – Cruiserweight Bout
Freddy Masabo def. Bovar Khanakov via unanimous decision(48-47, 48-47, 48-47) – Featherweight Bout
Main Card
Matt Russo def. Jaymes Hyder via KO at 1:16 of round 1- Bantamweight Bout
Valeria Mejia def. Sarah Click via split decision (49-46, 48-47, 47-48) – Women's Strawweight Bout
Joshua Famez def. Aaron Sutterfield via KO at 1:29 of round 1 – Lightweight Bout
Howard Davis def. Jeff Chiffens via KO at 1:12 of round 1 – Featherweight Bout
Alberto Blas def. Joao Guerra via TKO at 0:51 of round 1 – Bantamweight Bout
Justin Ibarrola def. Quintan Foye via unanimous decision(49-46, 48-47, 48-47) – Bantamweight Bout
Bryan Duran def. Dakota Highpine via KO at 0:48 of round 1 – Featherweight Bout
Bryce Henry def. Tom Shoaff via TKO at 1:29 of round 1 – Lightweight Bout
Gorjan Slaveski def. Jake Lindsey via unanimous decision(49-46, 49-46, 48-47)- Vacant BKFC World Welterweight Championship Bout