Jake Paul vs Tommy Fury – Date, Card, Tickets, How To Watch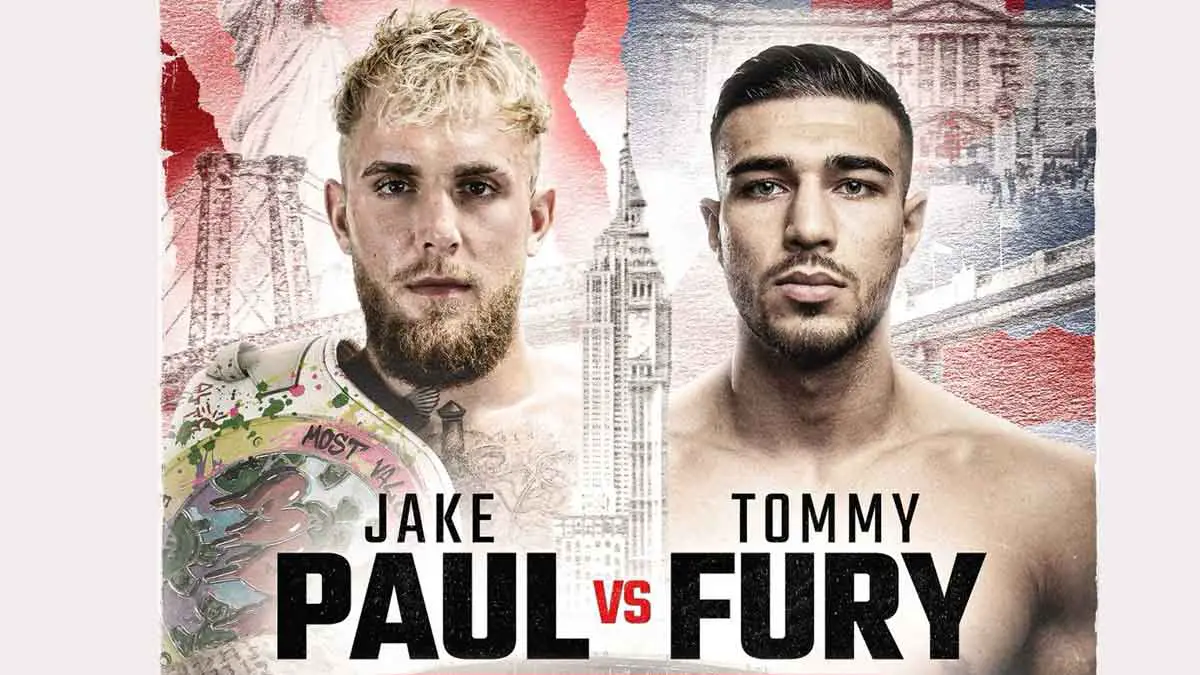 Jake Paul and Tommy Fury were set to collide in one of the most anticipated boxing matches of this year on August 6, 2022.
Fury and Paul were scheduled to face each other on December 18, 2022, before Fury pulled out of the bout due to broken ribs and chest infection. He was replaced by Tyron Woodley at that event.
The rescheduled fight is set to take place at Madison Square Garden in New York City, NY, and will be a Showtime PPV event. However, Fury is facing issues in securing a visa for United States to travel for this fight.
Keep on reading to find out the complete details of Jake Paul vs Tommy Fury PPV including date, time, location, tale of the tape, ticket details, streaming details, undercard, and more information. 
Tickets
The tickets for the Madison Square Garden clash between Jake Paul and Tommy Fury are available at the below link. The ticket prices start from $250 and more.
Preview
The Problem Child and Tommy Fury have once again agreed to face off. The pair were scheduled to face off in December 2021, but Fury pulled out due to injury. The pair has now agreed to clash on August 6, 2022.
The Problem Child has had just five bouts in his professional career. Starting from his bout against AnEsonGib, the Junior Paul has managed to defeat every opponent thus far. Although, none of those have been boxers by trade.
After AnEsonGib(who was a Youtuber), Jake has defeated Basketball player Nate Robinson and then MMA fighters Ben Askren and Tyron Woodley twice. Tommy Fury will be the first real professional boxer that Jake will face.
On the other hand, Tommy Fury has competed in a total of eight bouts after making his professional boxing debut in 2018. But this will be the first time that he will be in a PPV main event. He was on the undercard for Jake Paul vs Tyron Woodley PPV back in August and has competed on several of Tyson Fury's card.

Undercard
Jake Paul (5-0-0) vs. Tommy Fury (8-0-0), 10 rounds, cruiserweight bout
Title fight: Amanda Serrano(42-2-1) vs. Brenda Carabajal (18-5-1), 10 rounds, featherweight bout, for Serrano's WBO & WBC titles
Tale of the Tape
| | | |
| --- | --- | --- |
| Boxer Name | Jake Paul | Tommy Fury |
| NickName | The Problem Child | TNT |
| Age | 24 | 22 |
| Height | 6′ 1″ (185 cm) | 6′ (183 cm) |
| Country | United States | United States |
| Reach | 76 (193 cm) | 80″ (203 cm) |
| Stance | Orthodox | Orthodox |
| Record | 5-0-0 | 8-0-0 |
| KOs | 4 | 4 |
Paul vs Fury Fight Purse
The official fight purse details are not revealed yet. However, Paul tweeted that he has agreed to $2 million purse for Tommy Fury. Therefore, it is estimated that both Jake Paul and Tommy Fury will get $2 million in base salary and 50% PPV share.
| Fighter | Base Salary | PPV Share |
| --- | --- | --- |
| Jake Paul | $2 million | 50% |
| Tommy Fury | $2 million | 50% |
News & Updates
July 6, 2022: Jake Paul announced that Fury will receive a contract termination notice from Most Valuable Promotions. It was also reported that Paul will announce a new opponent on Thursday, July 7. Meanwhile, Fury posted a video on Twitter where he said his team is working on the visa issue and hoped that all issues will resolve for this fight to go ahead.
July 5, 2022: Reports came out that Paul is looking to finalize Hasim Rahman Jr. to replace Fury on August 6.
July 4, 2022: Paul gave Fury a 48-hour ultimatum to finalize his visa until Wednesday, July 6, or be ready to be replaced at the event.
June 28, 2022: Tommy Fury was denied boarding his plane to US as he was flying in for a press conference. Jake Paul told him to sort it out and not to "weasel" out of the match again.
June 26, 2022: Jake Paul and WBC World Heavyweight Champion Tyson Fury agreed to a $1 million bet over Tommy Fury winning this match.
June 23, 2022: Paul confirmed that he will be facing Tommy Fury at the event. Serrano will face Brenda Carabajal. more details
June 10, 2022: Paul announced that he will headline a Showtime PPV on August 6, 2022, with Amanda Serrano in the co-main event.
December 18, 2021: Paul defeated Tyron Woodley via KO in the sixth round.
December 6, 2021: Tommy Fury revealed that he has broken ribs and a chest infection and these issues resulted in him pulling out of the bout against Jake Paul.
December 6, 2021: Tommy Fury withdrew from the bout due to undisclosed reasons and is replaced by Tyron Woodley. More details here.
November 29, 2021: BT Sports issues an apology to its viewer for lewd comments from John Fury during the press conference.
November 25, 2021: Tyson Fury said that Tommy looked terrible on purpose against Anthony Taylor in his last fight to attract Jake Paul.
November 23, 2021: Jake Paul and John Fury(Tommy's father) got into an argument during the press conference and got engaged in a verbal back and forth.
November 23, 2021: Jake Paul took a shot at Tommy Fury saying that Tyson Fury is promoting the fight more than Tommy.
November 21, 2021: John Fury, Tommy Fury's dad, accused Jake Paul of avoiding drug testing and not opting for voluntary anti-doping testing for the fight.
November 18, 2021: Jake Paul promised to become a pain in the neck and an embarrassment to Fury Family. He posted a training video on Instagram and captioned it, '1 month to go until December 18th and a complete embarrassment of the Fury family. Mark your calendars now to witness history in Tampa.'
November 17, 2021: Claressa Shields ridiculed Jake Paul's boxing abilities and offered Jake Paul an amount of $100,000 to spar in the ring with him. "I put $100,000 on the table and whoever wins, in sparring, can walk away with it," Shields said in an interview with Sports Illustrated.
November 14, 2021: Yomar Alamo vs. Liam Paro 10 Round junior welterweights bout added to undercard, confirmed by boxing scene.
November 11, 2021: Tommy Fury told Paul in his interview with The Mirror that Paul is the one who is going to crumble in this fight.
November 11, 2021: Paul's girlfriend Julia Rose told TMZ that she and Fury's girlfriend Molly-Mae Hague could face each other in mud wrestling, after Hague did not respond to her jabs on social media.
November 9, 2021: Former NBA star Deron Williams will fight former NFL stat Frank Gore in the undercard. More details here.
November 9, 2021: Tommy Fury believes Jake Paul is an easy fight for him and he feels like he has won a lottery in facing him.
November 9, 2021: Tyson Fury said Tommy won't be coming home if he fails to knockout Jake Paul.
November 8, 2021: Miriam Gutierrez was announced as the opponent for Amanda Serrano for this event. The event will be in the lightweight division(135 lbs). More details here.
November 6, 2021: Jake Paul recited a poem for Tommy Fury where he took several digs at him. The poem reads,
Roses are Red. Violets are Blue. In his first obligation, Mr. Fury couldn't come through.
No worries, only stress for a few. I am used to promote my fights alone, I just didn't think I have to do this one too.
Carrying the marketing and sales, Oh Lord! What's new! And they wonder the highest paid boxers, me and Canelo are top two.
One girl whispers, 'There goes Tommy Fury and his pretty green eyes.' Her friend replies, 'Yes, it is true, but he prefers to kiss guys.'
Tommy Fury's friends let him skip leg day. Just look at those chicken thighs. December 18, his home won't be the only thing burgralised.
I am stealing his family's boxing legacy. All because Tommy did too much ecstacy when Jake was in the gym sparring heavily.
Best Bet for Tommy is Molly-Mae pregnancy. 'Tommy, its ok you lost. You still be a great dad.' But when she finds out his side alley make out in brampton. She is gonna be a little mad.
After all this though I will say Tommy has a lot of spirit. A lot of Spirit Airlines miles. Tommy is still saving up to able to sit in the aisles.
Roses are Red. Violets are Blue. December 18, Tommy Fury you will be on the canvas kissing my shoe.
November 6, 2021: It was confirmed that unified Featherweight World Champion Amanda Serrano will be on the undercard for this event.
November 6, 2021: Paul took several digs at Fury during the kick-off press conference where Fury was not present. Paul claimed that Fury has no idea what he's getting himself into and he will crack under pressure.
November 6, 2021: Reports came out that Tommy's elder brother and WBC & Lineal World Heavyweight Champion Tyson Fury will help him train. Tyson's trainer SugarHill Steward will also be there to prepare Tommy for this bout.
October 29, 2021: The fight is officially announced for December 18.
October 7, 2021: Jake Paul posted on Instagram that Tommy Fury has agreed to fight with an extra $500,000 in his fight purse.