BKFC 44 Results Live, Montana 3, Steward vs Lopez , Card, Time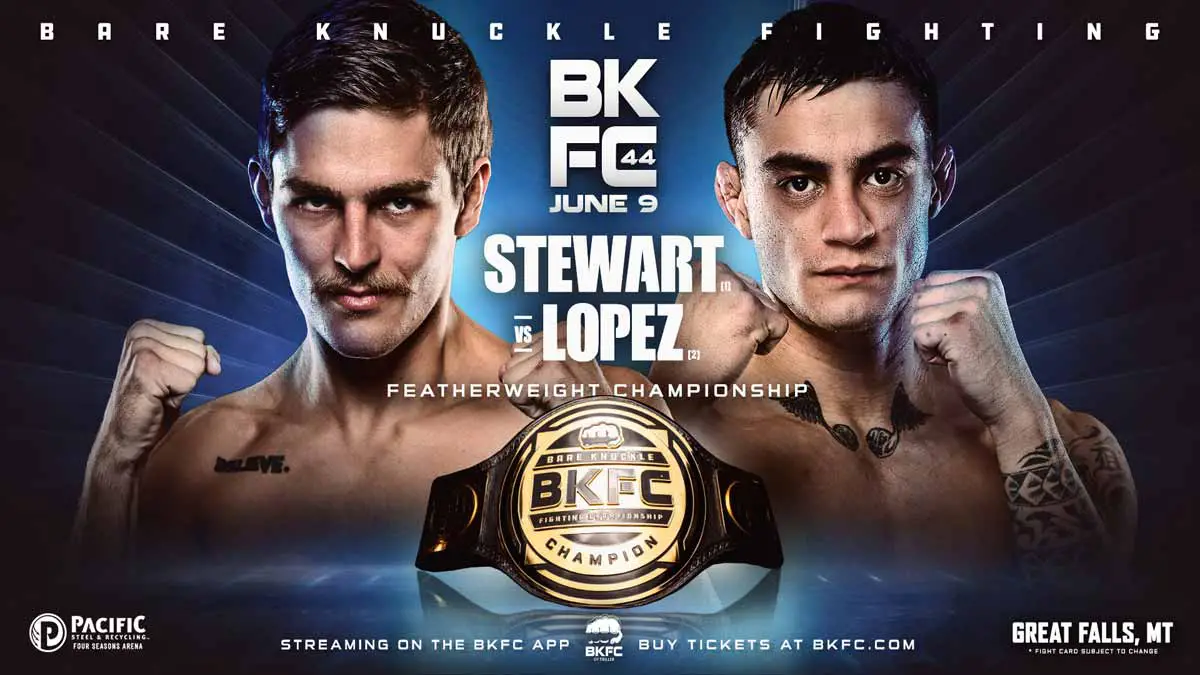 BKFC 44 saw BKFC return to Great Fall, Montana, on June 9, 2023, with a vacant title fight featuring the talent from Montana.
Kai Stewart and Louie Lopez clashed in the main event for the vacant BKFC Featherweight Championship. Both were last seen in BKFC getting wins at the same venue. Stewart was unbeaten in BKFC in 3 bouts prior to this bout. Lopez had one loss to go with his 3 wins. But, which one of the Great Fall fighters took the crown here?
Another couple of Montana natives were in the co-main event as Dallas Davison took on Lloyd Mix in a welterweight bout. More Great Fall natives were on the card starting with Billy Wagner who took on Bryce Henry in a welterweight bout. Similarly, Great Fall's Ryan Ibsen and Brady Meister made their BKFC debut.
Dorian Long and Kerry Lattimer along with both competitors in Connor McKenna vs Brady Meister, and Dre Coles vs David Loureiro bouts featured BKFC debutants. The prelims card started from 8 PM ET while the main card started at 9 PM ET. Check here on how you can watch this BKFC event live.
Check below for results live from BKFC 44: Stewart vs Lopez event with complete fight card and other details.
RESULTS
Prelims (8:00 PM ET)
Dre Coles def. David Loureiro via unanimous decision(49-45, 49-45, 49-45) – Bantamweight Bout
Darrick Gates def. Koda Greenwood via KO at 1:20 of round 1 – Featherweight Bout
Leo Bercier def. Will Sears via KO at 1:55 of round 1 – Cruiserweight Bout
Main Card (9:00 PM ET)
Brady Meister def. Connor McKenna via TKO at 1:35 of round 2 – Heavyweightweight Bout (Watch Video)
Ryan Ibsen def. Dakota Highpipe via TKO(doctor stoppage) at 2:00 of round 2 – Featherweight Bout
Dorian Long def. Mark Johnson at 1:59 of round 2 – Lightweight Bout
Jordan Christensen def. Kerry Lattimer via unanimous decision(50-44, 49-45, 50-44) – Welterweight Bout
Sawyer Depee def. Gabriel Mota via KO at 0:46 of round 1 – Cruiserweight Bout
Bryce Henry vs Billy Wagner via TKO(doctor stoppage) at 2:00 of round 3 – Welterweight Bout
Lloyd Mix def. Dallas Davison via TKO(doctor stoppage) at 2:00 of round 4 – Welterweight Bout
Main Event: Kai Stewart def. Louie Lopez via unanimous decision (49-45, 48-46, 48-46) – Vacant BKFC World Featherweight Championship Bout