Survivor Series 2020: Roman Reigns Defeats Drew McIntyre
Roman Reigns used every trick up his sleeves to defeat Drew McIntyre at

Survivor Series 2020

.
Drew McIntyre kicked out of the pin even after 2 spears.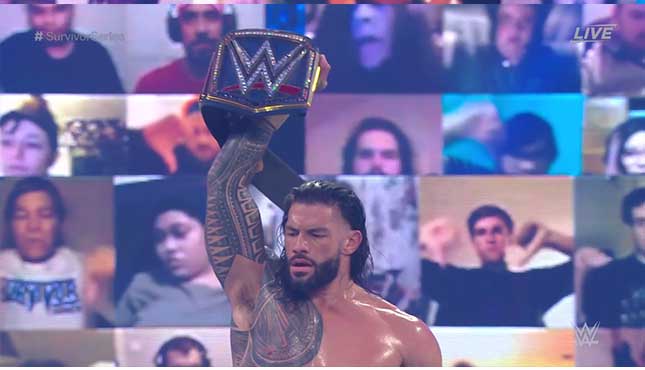 Universal Champion Roman Reigns and WWE Champion Drew McIntyre has given us the WWE match of the year when collided at Survivor Series 2020. In a match that lasted about 25 minutes, both men proved to be unbeatable and often had to move to ringside area to cause more damage to the opponent. Roman specially took more advantage of the barricade and steel steps.
18 minutes into the match, The Scottish Psychopath looked to put the match into the bed with a Claymore. However, Roman moved out and put Drew into the announce table with a Samoan drop when he followed. A second Samoan drop broke the table and the Big Dog followed it with a spear which also broke the barricade.
As Roman took Drew back to the ring, the WWE Champion kicked out of the pin to everyone's shock. Roman followed with another spear and once again McIntyre kicked out of the pin. McIntyre then hit Roman with the Claymore which resulted in Roman knocking out the referee in the follow through.
Also Check: Drew McIntyre vs Roman Reigns- All WWE Matches List
Roman took advantage of the situation and hit McIntyre with a low blow. Also, Jey Uso hit McIntyre with a superkick which gave Roman the opportunity to lock Drew into the Guillotine Chokehold. Still Drew refused to give up but ultimately passed out as another referee came in.
After the match, Roman Reigns embraced Jey Uso for coming off good for the family and celebrated the win with him on the ramp. Check here for more results and updates from Survivor Series 2020.
Drew McIntyre started the angle for this match as he confronted Roman Reigns at SmackDown episode of 13 November, even before he won the WWE Championship back from Randy Orton. They once again came face to face at SmackDown this Friday in a contract signing segment where they exchanged barbs.
Check this link to see who won the battle of brand supremacy at Survivor Series 2020.