WWE Survivor Series 2020 Live Results, Updates, Grade
Check Survivor Series 2020 live results & updates, grades, and match reviews as RAW and SmackDown rosters battle for brand supremacy.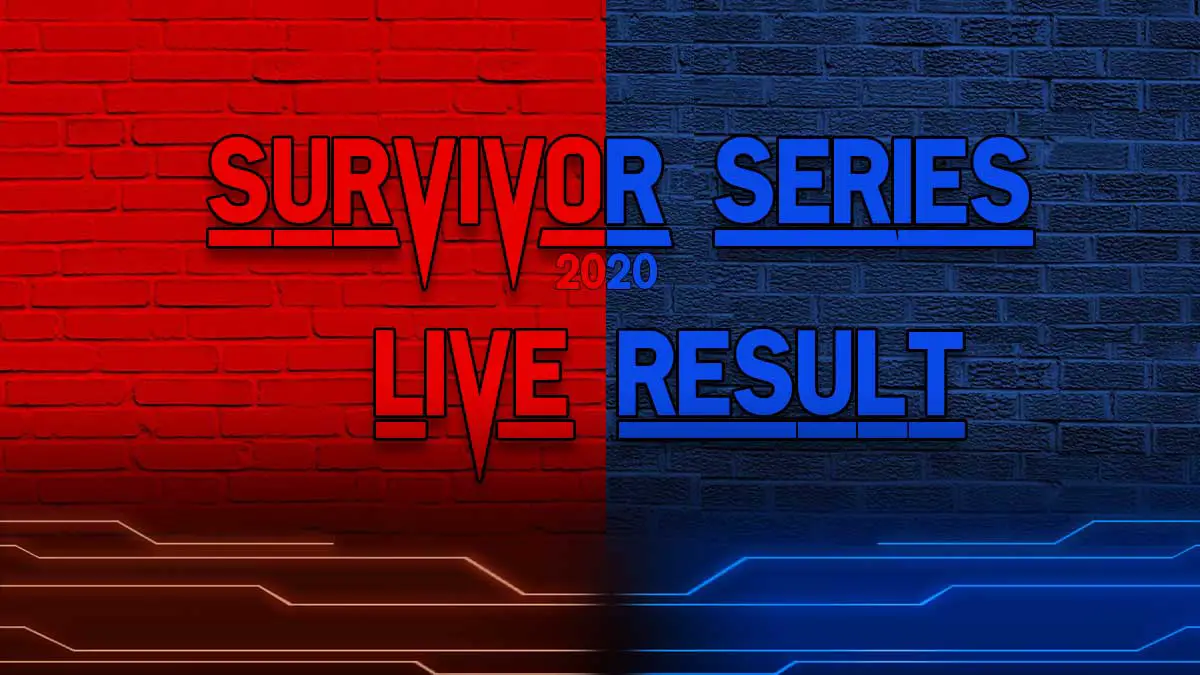 WWE's last of the big 4 PPV for the year- Survivor Series – will air tonight from Amway Center, Orlando, FL. The buildup for the show gained steam in only last few days and mostly only for the main event match between WWE Champion Drew McIntyre and Universal Champion Roman Reigns. But still, fans will find at least 2 or 3 matches on the card intriguing on paper.
The other main attraction for the show is the Final Farewell for the Undertaker who debuted with WWE on the same day in 1990. Several WWE Legends are expected to attend the Farewell Ceremony for the Phenom. So, grab your popcorn and join us as we bring you live results and updates from the show.
Survivor Series 2020 Quick Results
The Miz(RAW) wins the Dual Brand Battle Royal on Pre-show
Team RAW (AJ Styles, Keith Lee, Sheamus, Braun Strowman, Matt Riddle) defeated Team SmackDown (Kevin Owens, Jey Uso, Baron Corbin, Seth Rollins, Otis) in Men's Tag Team Elimination Match

Sheamus eliminated Seth Rollins
AJ Styles eliminated Kevin Owens
Matt Riddle eliminated Baron Corbin
Braun Strowman eliminated Otis
Keith Lee eliminated Jey Uso

Street Profits(SmackDown) defeated New Day(RAW)
Bobby Lashley(RAW) defeated Sami Zayn(SmackDown)
Sasha Banks(SmackDown) defeated Asuka(RAW)
Team RAW(Nia Jax, Shayna Baszler, Lacey Evans, Peyton Royce, & Lana) defeated Team SmackDown – Bianca Belair, Ruby Riot, Liv Morgan, Bayley, Natalya in Women's Tag Team Elimination Match
Roman Reigns(SmackDown) defeated Drew McIntyre(RAW)
Check complete Survivor Series 2020 match card and storylines for the show here. Also, you can check our winners predictions here.
Kickoff Pre-Show
You can catch the kick-off pre-show for Survivor Series 2020 PPV on the below link.
The kick-off show start with the usual panel. They go through the line-up for the show. The participants for the Dual Brand Battle Royal are shown in the graphics. They plug in Undertaker's final farewell and we get a vignette with Undertaker's best moments in WWE. Various WWE Legends also appears to talk about the Deadman. The panel also discusses Taker's longevity and legacy. Jim Ross talked about working with Undertaker even before WWE.
Kayla Braxton is with Paul Heyman and gives him the chance to retract his statement that Drew McIntyre is only a titleholder and not a champion. Heyman asks her whether she is trying to flirt with him. He hypes Roman and says McIntyre is there just for the photo-op, signing autographs, and will not be able to win tonight. The panel discusses Heyman's comments now.
The discussion now moves to women's tag team elimination match and Charly asks the panel about the fighting within the RAW team. They say RAW could still win if they work together. Biance Beliar joins the panel now. She claims that she is the captain of the team. Natalya joins the panel now and claims herself to be the captain. She once again says that she is the BOAT. Beliar asks her about the most famous boat and she replies Titanic. Everyone then just asks what happened to Titanic. Natalya and Beliar continue to argue until Nattie leaves.
Tag Team Champion vs Champion match is discussed now. The panel is divided between New Day's experience and Street Profits talent. We see Rikishi backstage talking to his son Jey Uso. Charlie Caruso almost confirms that Rikishi is there for The Undertaker's Final Farewell. WWE Intercontinental Champion Sami Zayn joins the panel. Sami cuts a brief promo talking about how IC title is really about the will of the people and United States Champions just represent US.
We return from the break and the panel is talking about men's tag team elimination match when WWE 24/7 Champion R-Truth interrupts. He talks about WWE giving a tribute to 30 years of this superstars and he has made a tribute video. The video was about the introduction of Gobly Gooble. The panel tells him that it is Undertaker's Farewell tonight. R-Truth brings someone dressed as the Gooble and tells us that he almost dropped John Cena's action figures when Gooble action figures came in. Akira Tozawa attacks R-Truth and Gooble rolls him over to win the 24/7 Championship.
Dual Brand Battle Royal
Most of the participants are there in the ring already. Rey Mysterio, Dominik and Murphy enter. They are followed by The Miz and John Morrison. The match starts and everyone go at it. Dominik survives early scare and clotheslines Morrison out of the match. Kalisto and Rey Mysterio go at it to show some quick moves. Cedric Alexander throws Kalisto to the apron and kicks him to eliminate him. Mysterio goes for the 619 on Robert Roode but Ziggler superkicks him and eliminates. Murphy goes after Ziggler now. Angel Garza eliminates Humberto Carrillo.
Hurt Business then eliminates Garza. Ricochet is sent to the ropes by Hurt Business and he fights back from there. He hits an inverted German suplex on Cedric on the apron and eliminates him. Apollo Crews eliminates Ricochet. Murphy and Ziggler are now fighting on the apron. Roode manages to push Murphy to eliminates him. Dominik in turn eliminates Roode. Dominik and Ziggler are on the apron now. Dominik gets the upper hand, dodges Ziggler in the corner, and kicks Ziggler out of the match.
7 men are left in the match now- Jeff Hardy, Apollo Crews, The Miz, Chad Gable, Shinsuke Nakamura, Dominik and Elias. Nakamura's knee strike eliminates Crews. Hardy sends Nakamura to the apron, then rakes his face against the rope and kicks him for the elimination. Elias takes Hardy to the top but Hardy counters to eliminate Elias. Gable eliminates Jeff Hardy with a clothesline.
Miz takes on Dominik and Gable now. He beats them around for a while but Dominik sends him to the apron and dropkicks him to the floor. Gable hits back to back suplexes on Dominik. They tangle in the corner for a while. Dominik sets up for the 619 with an arm drag. Junior Mysterio hits 619 on Gable before eliminating him. The Miz comes in and eliminates Dominik to win the match. Miz had apparently rolled back into the ring from the bottom rope before Dominik eliminated him.
Main Show
We get the opening hype video as the Survivor Series 2020 main show goes live. The video ends with a vignette of the Undertaker. Men's tag team elimination match is opening the show aparently as AJ Styles makes his entrance with his bodygaurd. He takes the mic in the ring and says that him being the undisputed captain of Team RAW, everyone will apologize to him when he leads the team to the win.
RAW vs SmackDown- Men's Tag Team Elimination Match
AJ Styles' promo is cut short as Matt Riddle's music hits. Keith Lee, Braun Strowman, and Sheamus also enter. Jey Uso is the first one to enter as Paul Heyman watches from backstage. He stops on the ramp. Kevin Owens, Seth Rollins, King Corbin and Otis join him at the ramp before the team moves to the ring. Rollins looks drowned in his own thoughts.
AJ and Jey start the match. AJ gets the first blood with a dropkick. Jey with a couple of uppercuts before they dodge each other's moves. AJ hits an enziguiri before Jey returns the favor with a Samoan Drop. Corbin comes into the match and decks AJ. Otis comes in and misses the corner splash. Riddle tags in and Otis drops him. Riddle comes back but Otis starts to hulk up and no-sells kicks. Otis with a power slam before tagging in Kevin Owens.
Owens with some quick moves before putting Riddlein an ankle lock. Riddle escapes and tags in Sheamus. Rollins asks KO for the tag and he reluctantly gives in. Rollins stands in the corner for a bit. He drops to his knees and asks Sheamus to hit him. Sheamus with a Brogue kick and eliminates Seth Rollins via pinfall.
Whole SmackDown team is now shouting at Rollins. Both teams are in a huddle now with KO trying to rally them. Strowman runs over all of them. He takes Corbin to the match and Corbin gets beaten up by Riddle. Otis and Keith Lee tags in and shows off the power game. Otis no-sells the running shoulder tackles and dodges a corner splash. They trades a few punches but continue to avoid the big moves until Lee drops Otis. Strowman comes in and unloads in the corner. Otis tries to come back but Strowman hits a dropkick.
AJ comes in and Otis gets better of him to tag in KO. Owens hits some quick moves. AJ tries to get him boot up in the corner but Owens drops him. KO sends AJ outside before hitting Lee and Riddle with stunners. AJ jumps from the top to hit the phenomenal forearm and eliminates Kevin Owens. Baron Corbin comes in from SmackDown and starts to hit everyone. He hits deep six on Sheamus. Riddle brings Corbin down with a power move and pins him to eliminates him. SmackDown is down to 2 men now.
Jey Uso comes in and gets beaten up for a while. He counters against Sheamus and tags in Otis who runs over his opponents. He drops Sheamus with the overhead throw before getting attacked from behind. Strowman comes in and Otis goes toe to toe with him. Otis drops Strowman with a power slam and goes to hit the caterpillar. He goes to the top for the Vader bomb but Riddle distracts. Strowman scoops Otis and hits the running power slam for the pin to eliminate him.
Jey Uso comes in as the last man for the SmackDown team. He goes for the quick moves and gets some offense going in and out of the ring against all the opponents. He takes all 5 of RAW team members down with a suicide dive. AJ tags in and was going for the phenomenal forearms. Uso kicks him at the ropes. Keith Lee tags in. Lee picks up Uso and hits the Spirit Bomb(powerbomb) to get the pin and win the match.
Winners – Team RAW(AJ Styles, Keith Lee, Sheamus, Braun Strowman, Matt Riddle)
RAW – 1, SmackDown – 0
Grade- B-. It was a fun match with hardly any dull moment. But the decision to have RAW win this one outright was an odd decision.
The New Day(RAW Tag Team Champions) vs The Street Profits(SmackDown Tag Team Champions)
New Day(with Big E) enters in the Gears 5 video game costume. Big E leaves after the entrance. The Street Profits cuts a promo from the Gorrilla Position before heading out.
Angelo Dawkins and Xavier Woods start. Woods twists Dawkins' arms and tries to tag in Kofi. Dawkins saves himself and tags in Ford. The usual back and forth continue with both teams making double team moves. A suicide dive from Woods takes out the Profits. New Day keeping Ford in their corner. Quick tags in and out. Ford tries to get some punches going after coming out of a headlock. Woods thwarts his comeback with a kick. Kofi comes in and hits boom drop for a quick two-count.
Kofi continue to be in control. Ford tries to dodge and tag in Dawkins but Kofi keeps him at bay. Ford hits a DDT and both men tag out. Dawkins comes in hot and hits dragon suplexes on both New day members. Then he hit them with corner splashes. A suplex on Woods gets him a two-count. Ford tags in and Profits hit a double team move for a nearfall on Woods. The double team moves continue from Profits with quick tags. Woods counters in the corner against Ford and tags in Kofi for them to hit up-up down-down. But that only gets them another nearfall.
Kofi with the boom drop on Ford. He was going for his finisher but Ford cuts him out. Dawkins tags in and drops Kofi. Ford hits the top rope splash but wastes some time, resulting in Kofi kicking out of the pin. Kofi tries to roll Ford and Dawkins makes the save. Woods sends him out with a dropkick. Kofi eats an enziguiri from Ford. Woods drops Ford on his knees but once again could only get a nearfall. Dawkins gets up and Profits ends up hitting the double team blockbuster to get the pin on Xavier Woods.
Winners- The Street Profits
RAW- 1, SmackDown-1
After the match, both team show each other respect and hug in the middle of the ring.
Grade – B+. Good tag team action, as it was expected of these two teams but nothing special. Only a few of nearfall were believable during the match.
Bobby Lashley(United States Champion) vs Sami Zayn(Intercontinental Champion)
Sami Zayn enters first. Bobby Lashley comes out with rest of the Hurt Business. Lashley starts strongly with his power moves. Zayn goes out to regroup and shouts at the other Hurt Business members. Lashley catches him and takes him back to the ring. Sami drops him to the ropes and uses them to his advantage. Lashley hits him with a German suplex. He follows with shoulder tackle and a neckbreaker for a two-count.
Sami gets the boot up in the corner but Lashley counters with a delayed vertical suplex. Sami tries to catch him with a roll-up but Lashley kicks out and drops him with the dominator. Sami rolls out and MVP keeps saying something to him. Sami counters on the floor and sends Lashley into the ring post. Sami goes to the ring and tries to untie the turnbuckle. Shelton Benjamin stops him.
Sami drops Lashley and goes out for another breather. The referee was checking on Lashley when MVP picks up Sami and sends him back in. Sami complains to the referee which gives Lashley the chance to put him in the Hurt lock to get the win.
Winner- Bobby Lashley(RAW)
RAW – 2, SmackDown – 1
Grade- B-. The match went in the expected direction- Lashley the dominant heel and Sami trying to sneak a win.
Sasha Banks(SmackDown Women's Champion) vs Asuka(RAW Women's Champion)
The bell rings and they go at it. Asuka takes control but Banks takes her down in the middle of the ring. They tangle with back & forth counters now. Sasha gets Asuka in the chin lock. They continue to put each other in submission moves. Sasha goes for the armbar now which results in a series of rollups. Sasha with a few pin attempts after she fails to put Asuka in the Bank statement. She hurts Asuka arm and follows with a quick backstabber. Asuka moves out for a breather. Asuka with a kick to the face and hip attack as she returns.
Asuka now tries to put on the ankle lock. But Sasha resists and Asuka resorts to more kicks and basement slide. Asuka is now working on Sasha's arms. Asuka with a knee to the face when Sasha tries to counter. Sasha puts on a shoulder lock. Asuka tries to counter but Sasha then goes on to tangle her in the octopus stretch. Asuka takes her to the turnbuckle to break the hold. They go back and forth and reach the apron. Asuka sends Sasha into the barricade with a hip attack. Sasha counters quickly, hits a basement slide. Asuka then hits the Meteora when Sasha jumps from the apron.
Both women beat the 10 count just in time. Sasha hits another backstabber and puts on the Bank statement. Asuka counters but could not get the Asuka lock on but ends up hitting draping DDT for a two-count. Some quick pin attempts as both woen counter each other. And the sequence ends with Sasha getting the pin.
Winner- Sasha Banks(SmackDown)
RAW – 2, SmackDown – 2
RAW vs SmackDown – Women's Tag Team Elimination Match
Lacey Evans and Bayley start the match. Lacey gets the first shot but Bayley hits back and tags in Natalya. Nattie drops Evans with a rope assisted side slam. Evans tags in Peyton Royce. The tags continue as both teams take turns to take control.
Lana comes in against Natalya. Natalya takes her down with a tackle. Lana avoids a roll-up pin. She gets some kicks going on Nattie. Lana takes Natalya to the corner but rest of the team avoids to tag her. Peyton tags in and Lana is being shouted and send down by Nia and Shayna.
Peyton and Bayley go at it now. Bayley with a kick and unloads in the corner. Peyton comes back with a kick and hits a few kicks on the ropes. Bayley takes her to her corner and tags in Bianca Beliar. Everyone start getting involved and ends up on the floor, barring Lana and Bayley. Bayley goes to the top but Peyton takes her down with a suplex and takes down everyone. Peyton takes Bayley back to the ring and hits Deja-vu for the pin to eliminate Bayley.
Natalya and Peyton go at it. Peyton gets Natalya in the single leg crab. Natalya gets to the ropes and gets an assist from Bianca Beliar. Natalya gets Peyton in the sharpshooter and Peyton submits to get eliminated. Beliar hits Natalya with her finisher to eliminate her.
Lacey Evans and Bianca Beliar go against each other. Bianca with a series of moves and has Evans down in the middle. She goes to the top where Evans meets her and hits the Spanish Fly. Both Bianca and Evans tag out. Ruby and Liv tag in and out 8-10 times in quick succession in an attempt to bring down Nia. They almost get success before Nia drops Liv.
Baszler tags in to save Jax from the double teaming. Baszler unloads on Riott in the corner while talking trash to Liv. Baszler drops Riott with a Shining Wizard. Riott comes off the top but Baszler applies the Kirifuda Clutch. Jax has the referee distracted and Riott turns it around for a pin attempt. Kirifuda clutch was still on though and Riott is down out. Baszler pins Riott and eliminates her.
Liv Morgan and Lacey Evans go at it. Liv with a Crucifix Bomb to Evans for the pin to eliminate her. Jax and Baszler surround Belair now as she gets back up. Beliar gets Nia down from the second rope but Baszler tags in before that. Baszler puts Bianca int the Kirifuda Clutch. A belly-to-back suplex breaks it up. Belair flips at Baszler and Baszler counters, applying the Kirifuda Clutch again. Belair fades and falls right in front of the ropes. She falls with her hand on the rope. Belair is knocked out but she goes past the referee's 5 count and the referee disqualifies her. Baszler has been eliminated by DQ.
Jax picks up Belair and they fight on the floor now. The referee starts counting. Jax tries to stop Belair from getting back in. Belair back-drops Jax over the barrier into the crowd. Belair tries to leap back into the ring the referee has counted to 10. Both Beliar and Jax are eliminated. Lana is still standing on the steps by herself and is announced as the Sole Survivor of the match.
Winner – Team RAW(Lana, Nia Jax, Shayna Baszler, Lacey Evans, Peyton Royce)
RAW – 3, SmackDown – 2
Grade- B+. Good to see every women getting the time show off their skill. Belair was stand out star overall definitely. Lana as the sole survivor goes well into the storyline that they tried to tell and was actually good to see.
Drew McIntyre(WWE Champion from RAW) vs Roman Reigns(Universal Champion from SmackDown)
WWE Universal Champion Roman Reigns makes his way out for the main event with Paul Heyman alongside him. They stop on the stage as the pyro goes on. WWE Champion Drew McIntyre is out with more pyro, carrying the same sword he had at RAW, and is wearing the Scottish kilt.
They lock up in the middle of the ring to start. They break after being unable to get an upperhand. They lock up again and trade holds. Reigns goes to the ropes to force the break. Drew laughs at The Tribal Chief. They lock up again and Reigns applies a headlock to take control. Reigns takes Drew down into the headlock. Drew with a headlock of his own. They break and run the ropes. Drew ends up leveling Reigns with a big shoulder.
Reigns goes to the floor to regroup with Heyman as Drew looks on. Drew plays some mind games now as Reigns re-enters. Drew looks for a lock up but Reigns kicks Drew and rocks him with punches into the corner. Reigns takes control and beats Drew up in the corner as the referee warns him. Drew turns it around in the corner and rocks Reigns with big punches.
Drew ends up on the apron and Roman sends him into the ringpost. Drew is down on the floor. Roman goes out and whips Drew into the barricade and steel steps. Back in the ring, Roman puts on the headlock. Drew tries to fight back and Roman had to hit a suplex for a quick two-count. Roman unloads in the middle of the ring. He puts Drew in a stretch now. Drew comes back with a few punches but Roman hits a jumping clothesline for another two-count.
They trade punches. Roman whips DRew intothe corner but Drew exlpodes with a clotheline. More clotheslines and tackles before Drew hits a German Suplex. Roman plays possum but Drew avoids a move. Roman still ends up hitting a Samoan drop for another two-count. Both men take time to get back to their feet. Roman is up first and gets ready for the superman punch. Drew hits the spinebuster and goes for the jacknife cover to get a near fall.
Roman is sent to the barricade, ringpost and steel steps on the floor. Roman gets an uppercut when they get back in the ring. Drew with Glasgow Kiss, dodges clothesline to hits Roman with DDT for another near fall. Heyman is trying to encourage Roman. Drew has taken the position for Claymore. Roman gets up and counters with the Superman punch. Roman goes for his new submission move but Drew shoves him into the corner. Drew goes for the big boot – Roman sends him into the post shoulder first. Roman goes for the spear but Drew gets him into a submission- an arm bar with shoulders also locked in. Roman was close to the ropes and grabs them to break the move.
They move out of the ring and Roman hits Samoan drop on the announce table. He follows with another Samoan drop on the table and the table is broken now. Roman breaks the referee's 10 count and gets back out. He hits a spear, breaking the barricade behind the announcers. He quickly takes McIntyre back to the ring and goes for the pin. But McIntyre kicks out. Roman is shocked.
Drew gets up and goes for the Claymore. But Roman hits another spear and Drew kicks out again. Roman is clearly frustrated now. Roman goes for another spear now but Drew hits him wit Claymore which knocks out the referee also. Jey Uso comes out. Roman hits Drew with the low blow and Jey superkicks him. Roman now puts McIntyre in the Guillotine chokehold. Drew gets to his feet as the new official gets into the ring. Drew drops back to his knees as Roman has the choke on, and Drew finally passes out. The referee calls for the bell and Roman has won the match.
Winner – Roman Reigns
RAW- 3, SmackDown – 3
After the match, Roman Reigns recover and gets his belt from Paul Heyman. He leaves the ring and looks back at Drew in the ring. Drew McIntyre recovers in the ring but clearly looks devastated. Jey Uso is sitting at the ramp. Roman goes to the ramp and happily embraces Jey and raises the title with him before leaving.
Grade- A+. Excellent match with both of them in top form. Drew McIntyre has lost the match come out looking too strong. Roman wins after resorting to a low blow and some help from Jey Uso which takes forward that storyline as well. Everything was done well.
The Undertaker Final Farewell
Mike Rome is in the ring for The Undertaker's "Final Farewell" segment. He then introduces all who are there to say goodbye to Undertaker. Shane McMahon comes out first. Then Big Show, JBL, Jeff Hardy(with Undertaker's symbol painted on his face), Mick Foley, The Godfather, The Godwinns, Savio Vega, Rikishi, Kevin Nash, Booker T, Shawn Michaels, Ric Flair, Triple H, and finally Kane(who has his mask, long hair and ring gear on).
We go to a special video package on The Undertaker once again. The video features several WWE superstars including John Cena, HHH, Shane McMahon and others. As the package ends, WWE Chairman Vince McMahon is in the ring alone. Vince talks about Undertaker's 30 years in the company, striking fear in his opponents and entertaining a global audience. He goes on to says that this run will never be duplicated. As we say goodbye to the Undertaker, we say nothing lasts forever, which could be wrong, because the legacy of The Undertaker will live on eternally. Vince now set the stage and introduces The Undertaker.
The bells start to ring inside the Amway Center. The flame start to shoot up and the iconic entrance begins. Taker's symbol appears high up in the arena as lighting strikes it and goes along with a MIDI-like version of his theme song. The bell tolls again and now The Undertaker begins his signature entrance to the ring. Taker stops on the ring steps as more flames go off around the ring. Taker finally enters the ring and looks around for a minute or two.
We hear "Undertaker!" chants. Taker just stands there as crowd chants continue. The virtual crowd has not returned to the LED boards. Taker says for 30 long years he's made that slow walk to the ring and has laid people to rest time and time again. He says and now his time has come. A "thank you Taker!" chant starts up. Taker says his time has come, it's time for The Undertaker to… Rest.. In.. Peace. The ring fills up some with fog now as Taker tips his hat and drops down to one knee. Taker does his signature pose as we see a graphic of the late WWE Hall of Famer Paul Bearer on the wall, holding the urn.
Taker looks up at the Bearer graphic and resumes his pose on his knee, looking down as the lights go out. The "Undertaker!" chants continue with just a single spotlight on Taker in the ring now. The bells start to toll once again as Taker's music starts back up. He stands back up from his pose as the lighting and thunder start again. Taker stands tall in the middle of the ring and cuts his own throat. Taker exits the ring and marches up the ramp. He stops, turns back around to look at the ring, then faces forward again. Taker raises his fist in the air as the lightning strikes. The Undertaker's "Final Farewell" ends as Taker heads to the back and the 2020 Survivor Series pay-per-view goes off the air.