How To Watch WWE Payback 2023 Online Live Streaming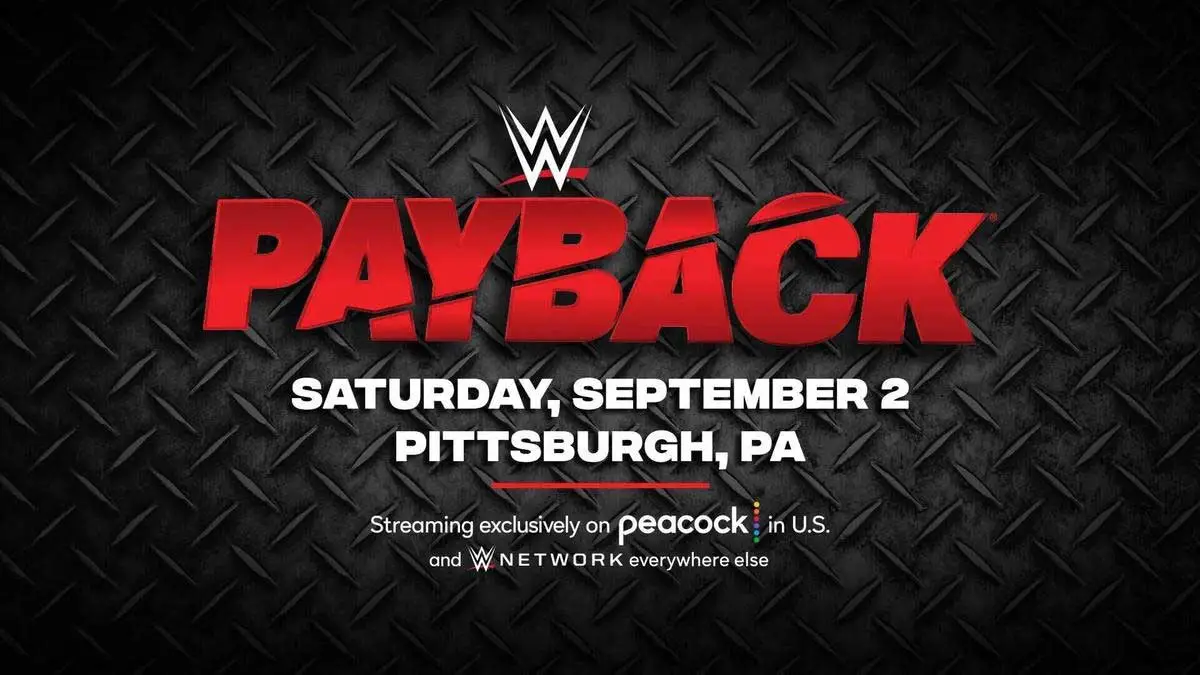 WWE Payback 2023 PLE is set to take place on September 2, 2023, and will feature World Heavyweight Championship match between Seth Rollins and Shinsuke Nakamura. Check how can you watch the show in your country.
Rhea Ripley returns to PLE after 4 months as she defends Women's World Championship against Raquel Rodriguez. Other members of Judgment Day- Finn Balor and Damian Priest will challenge Kevin Owens and Sami Zayn. LA Knight and The Miz are also set for a singles match.
While in US, WWE PLEs air via Peacock streaming, WWE Networks airs the event in most of the international markets apart from other local streaming services in several other countries. Here is the complete guide for how to order and where to watch WWE Payback 2023, online live streaming details, date, start time, and price you would need to pay to watch the PPV/PLE.
Details
When is WWE Payback 2023? September 2, 2023
What is the start time for WWE Payback 2023? 8 PM EST/5 PM PST(Pre-show starts at 7 PM EST/4 PM PST).
United States(w/ Free Streaming Options)
WWE Payback will air online via Peacock TV streaming service in the United States via mobile, tablet, and smart TV app, and website. What is the price for Payback 2023 PLE? WWE events such as this are free to watch on Peacock's Premium Plans starting at just $5 per month. The users on Premium Plus Plan will get the complete event ads free which costs $10 per month.
Peacock TV is free for Xfinity and Cox broadband users in the United States. So, The subscribers to either broadband service can enjoy the WWE Network on Peacock TV for free. Additionally, Peacock offers a 7-day free trial for new customers in the United States. So, you can watch Payback 2023 for free if you become a new subscriber to Peacock. You can check the below link to subscribe to Peacock.
United Kingdom & Ireland
WWE PLEs are available in the UK via the WWE Network streaming service. You can subscribe to WWE Network if you are not a service user yet. The service provides a one-month free trial, so, you can watch Payback for free till then. After the free trial, the subscription costs £9.99. WWE events is also available to watch on TNT Sports Box Office for £19.95.
Canada
World Heavyweight Champion @WWERollins defends against @ShinsukeN one week from Saturday at #WWEPayback! pic.twitter.com/VZnzPEmL9J

— WWE (@WWE) August 22, 2023
Sportsnet website streams all WWE events in Canada with their $9.99 per month plan. WWE PPVs can also be streamed via WWE Network app in Canada. New users will get one month of free trial. The event will also be available via other PPV providers in Canada. Roger Cable and Eastlink are the two main PPV providers for WWE in Canada. You need to contact these service providers for more details.
Australia
WWE PPVs and weekly shows are now available via Kayo Sports in Australia for its subscribers. WWE Payback 2023 will also be available via Foxtel's Binge streaming service via monthly subscription Downunder.
Saudi Arabia & MENA Countries
Streaming service "Shahid" airs WWE events like Payback 2023 for online live streaming in MENA countries. You can access WWE events in Saudi Arabia, UAE, Egypt and other MENA countries by subscribing to its monthly packages which start from $3.99 per month onward.
THIS SATURDAY at #WWEPayback

Undisputed WWE Tag Team Champions @SamiZayn and @FightOwensFight defend against @ArcherofInfamy & @FinnBalor of The Judgment Day!

📍 PITTSBURGH
🎟️ TICKETS: https://t.co/0X9okqZasZ pic.twitter.com/rDhqiAzb5V

— WWE (@WWE) August 29, 2023
India
Sony Sports Network provides coverage of WWE events in India. Payback will air on Sony Sports 1, Sports 3 and Sports 4 live. Check this link for more details about free streaming of WWE PPV in India.
Worldwide
Worldwide, the kick-off pre-show is free to watch worldwide on Youtube, Twitter and Facebook.
WWE PPVs like Payback are available via WWE Network Streaming service worldwide apart from the US, India, Middle East & Australia. The first month will be free for new subscribers on WWE Network in any part of the world including New Zealand, Germany, Singapore and many other countries.
Check below for the complete list of countries and services to watch WWE events:
| Country | Platform |
| --- | --- |
| Australia | Kayo Sports/Foxtel Bing |
| Austria | WWE Network |
| Azerbaijan | WWE Network |
| Bahrain | Shahid |
| Bangladesh | WWE Network |
| Belarus | WWE Network |
| Belgium | WWE Network |
| Bolivia | WWE Network |
| Bosnia and Herzegovina | WWE Network |
| Brazil | WWE Network |
| Bulgaria | WWE Network |
| Cambodia | WWE Network |
| Canada | Sportsnet |
| Croatia | WWE Network |
| Cyprus | WWE Network |
| Czech Republic | WWE Network |
| Denmark | WWE Network |
| Egypt | Shahid |
| Estonia | WWE Network |
| Fiji | WWE Network |
| Finland | WWE Network |
| France | WWE Network |
| Georgia | WWE Network |
| Germany | WWE Network |
| Gibraltar | WWE Network |
| Greece | WWE Network |
| Greenland | WWE Network |
| Honduras | WWE Network |
| Hong Kong | WWE Network |
| Hungary | WWE Network |
| India | Sony Liv/Sony Sports |
| Iceland | WWE Network |
| Indonesia | WWE Network |
| Iran | Shahid |
| Iraq | Shahid |
| Ireland | WWE Network |
| Italy | WWE Network |
| Jamaica | WWE Network |
| Japan | WWE Network |
| Jersey | WWE Network |
| Jordan | WWE Network |
| Kazakhstan | WWE Network |
| Kenya | WWE Network |
| Kuwait | Shahid |
| Latvia | WWE Network |
| Lebanon | Shahid |
| Libya | Shahid |
| LIechtenstein | WWE Network |
| Lithuania | WWE Network |
| Luxembourg | WWE Network |
| Macao | WWE Network |
| Macedonia | WWE Network |
| Madagascar | WWE Network |
| Malaysia | WWE Network |
| Maldives | WWE Network |
| Mauritius | WWE Network |
| Mayotte | WWE Network |
| Mexico | WWE Network |
| Micronesia | WWE Network |
| Monaco | WWE Network |
| Mongolia | WWE Network |
| Montenegro | WWE Network |
| Montserrat | WWE Network |
| Morocco | WWE Network |
| Netherlands | WWE Network |
| New Zealand | WWE Network |
| Norway | WWE Network |
| Oman | Shahid |
| Pakistan | Ten Sports |
| Papua New Guinea | WWE Network |
| Philippines | WWE Network |
| Poland | WWE Network |
| Portugal | WWE Network |
| Qatar | Shahid |
| Republic of Moldova | WWE Network |
| Romania | WWE Network |
| San Marino | WWE Network |
| Saudi Arabia | Shahid |
| Singapore | WWE Network |
| Slovakia | WWE Network |
| Slovenia | WWE Network |
| South Africa | WWE Network |
| South Korea | WWE Network |
| Spain | WWE Network |
| Sweden | WWE Network |
| Switzerland | WWE Network |
| Syria | Shahid |
| Tajikistan | WWE Network |
| Tanzania | WWE Network |
| Tunisia | WWE Network |
| Turkey | Shahid |
| Turkmenistan | Shahid |
| Ukraine | WWE Network |
| United Arab Emirates | Shahid |
| United Kingdom | WWE Network/TNT Sports Box Office |
| United States | Peacock TV |