How to Watch AEW Full Gear 2023 Online Live Streaming, Price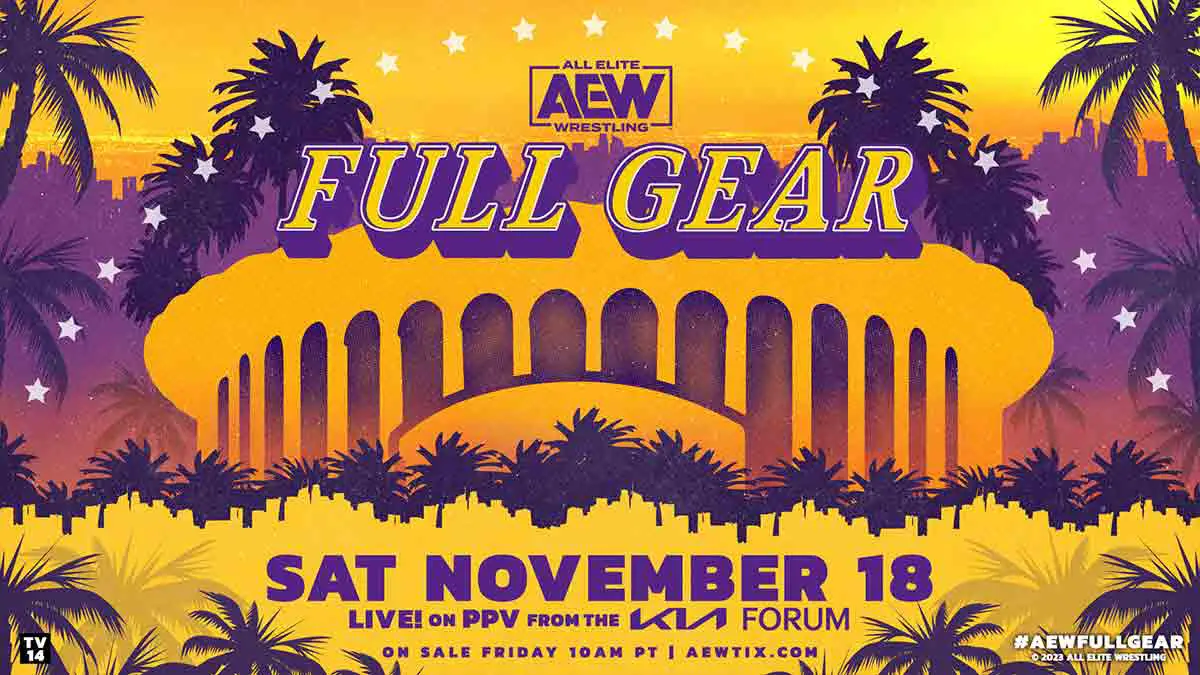 AEW Full Gear 2023 PPV, the fifth edition in the series, will be airing on November 18, 2023, across the world. Check below to find how you can watch this event in your country.
The event will feature AEW World Champion MJF in two matches- defending ROH Tag Team titles on the pre-show, and defending the World title in the main event against Jay White. Jon Moxley and Orange Cassidy will clash in a rematch over the International title. Hikaru Shida defends Women's title against Toni Storm.
While US & Canada has B/R Live to order the AEW PPVs, these events are available through Fite TV, NJPW World, Dazn, Starz Play and ESPN streaming services in different countries around the world. Read on to find out more details on how to watch this event.
United States & Canada
In the United States, AEW airs its PPV mainly through the Bleacher Report website and app for online streaming. The event will cost $49.99 to order on Bleacher Report. Bleacher Report is available on Roku, FireTV, and Xbox, along with its Android and iPhone apps and via its website. Click here to order AEW Full Gear on Bleacher Report.
If you order the event on Cable TV PPV providers, the cost will be the same($49.99). Xfinity, Spectrum, Contour, Fios, U-Verse, Optimum, Direct TV and other PPV providers have the event for ordering. The event will also stream live in selected multiplexes and theatres throughout United States, including Cinemark, AMC Theatres, and Regal Movies.
United Kingdom, Canada & Australia
In UK, Canada & Australia, AEW Full Gear 2023 will be available for online streaming through Fite TV. Additionally, you can also order AEW PPVs UK and Canada via Youtube.
Prices for the event vary from country to country. In Canada, it costs $39.99, while in UK and Australia, it costs $19.99. Check the below link to order the event from Fite TV.
India
AEW has a special deal with Eurosport to air its complete content in India. This includes all AEW PPVs as well. The event will air live on Eurosport India TV Channel.
For online streaming, Discovery+ app and website are the options to live stream Eurosport in India. The apps from different mobile service providers like Jio TV, Airtel Xtream, and VI Movies & TV app also stream Eurosport live on their mobile apps.
Worldwide
THIS SATURDAY at #AEWFullGear LIVE on PPV at 8pm ET/5pm!

Bitter enemies, @swerveconfident and #HangmanAdamPage, will meet once again in a TEXAS DEATH MATCH!

Don't miss out on one of the biggest #AEW events of the year!
🔗 https://t.co/vrXxJ8IVMl
🎟 https://t.co/UN1cNj1kQq pic.twitter.com/ZawoFa3avC

— All Elite Wrestling (@AEW) November 14, 2023
Since its inception, AEW airs its PPV through Fite TV streaming outside US in many countries. In 2023, AEW signed a deal with Dazn to air its event through the streaming service to air PPVs and weekly shows in Europe and some other regions. AEW also has a similar deal with ESPN to air its events in Australia, New Zealand and Pacific Islands. AEW PPVs are also available via Youtube in various countries.
Check the below list(alphabetical order) to find out where you can watch AEW Full Gear 2023 PPV:
| Country | Platform |
| --- | --- |
| Afghanistan | Fite TV |
| Aland Islands | Fite TV |
| Albania | Dazn & Fite TV |
| Alderney | Dazn |
| Algeria | Fite TV & Starz Play |
| American Samoa | ESPN |
| Andorra | Fite TV |
| Angola | Fite TV |
| Anguilla | Fite TV |
| Antarctica | Fite TV |
| Armenia | Dazn & Fite TV |
| Australia | Dazn, ESPN & Fite TV |
| Austria | Fite TV |
| Azerbaijan | Dazn & Fite TV |
| Bahrain | Fite TV & Starz Play |
| Bangladesh | Fite TV |
| Belarus | Dazn |
| Belgium | Fite TV |
| Bhutan | Fite TV |
| Bolivia | Fite TV |
| Bosnia and Herzegovina | Dazn & Fite TV |
| Botswana | Fite TV |
| Brazil | Dazn |
| British Indian Ocean Territory | Fite TV |
| Brunei Darussalam | Fite TV |
| Bulgaria | Dazn & Fite TV |
| Cambodia | Fite TV |
| Canada | Dazn, Fite TV & Youtube |
| Christmas Island | Fite TV |
| Cocos(keeling) Islands | Fite TV |
| Comoros | Fite TV |
| Cook Islands | ESPN & Fite TV |
| Croatia | Dazn & Fite TV |
| Cyprus | Dazn & Fite TV |
| Czech Republic | Dazn & Fite TV |
| Denmark | Dazn & Fite TV |
| Egypt | Fite TV & Starz Play |
| Estonia | Dazn & Fite TV |
| Falkland Islands(Malvinas) | Fite TV |
| Faroe Islands | Dazn & Fite TV |
| Federated States of Micronesia | ESPN |
| Fiji | ESPN & Fite TV |
| Finland | Dazn & Fite TV |
| France | Dazn, Fite TV & Youtube |
| French Guiana | Fite TV |
| French Polynesia | Fite TV |
| French Southern Territories | Fite TV |
| Georgia | Dazn & Fite TV |
| Germany | Fite TV, Sky Germany & Youtube |
| Gibraltar | Dazn & Fite TV |
| Greece | Dazn & Fite TV |
| Greenland | Fite TV |
| Guatemala | Fite TV |
| Guernsey | Dazn & Fite TV |
| Heard Island & McDonald Islands | Fite TV |
| Honduras | Fite TV |
| Hong Kong | Fite TV |
| Hungary | Dazn & Fite TV |
| India | Eurosport & Discovery Plus |
| Iceland | Dazn & Fite TV |
| Indonesia | Fite TV |
| Iran | Starz Play |
| Iraq | Fite TV & Starz Play |
| Ireland | Fite TV & Dazn |
| Isle of Man | Fite TV |
| Israel | Starz Play |
| Italy | Youtube, Sky Italia |
| Jamaica | Fite TV |
| Jan Mayen Islands | Dazn |
| Japan | NJPW World |
| Jersey | Dazn & Fite TV |
| Jordan | Fite TV & Starz Play |
| Kazakhstan | Dazn & Fite TV |
| Kenya | Fite TV |
| Kiribati | ESPN & Fite TV |
| Kuwait | Fite TV & Starz Play |
| Kyrgyzstan | Dazn & Fite TV |
| Latvia | Dazn & Fite TV |
| Lebanon | Fite TV & Starz Play |
| Libya | Starz Play |
| LIechtenstein | Fite TV |
| Lithuania | Dazn & Fite TV |
| Luxembourg | Fite TV |
| Macao | Fite TV |
| Macedonia | Fite TV |
| Madagascar | Fite TV |
| Malaysia | Dazn & Fite TV |
| Maldives | Fite TV |
| Mali | Fite TV |
| Malta | Dazn & Fite TV |
| Marshall Islands | Dazn & Fite TV |
| Mauritania | Fite TV |
| Mauritius | Fite TV |
| Mayotte | Fite TV |
| Mexico | Dazn |
| Micronesia | Fite TV |
| Moldova | Fite TV |
| Monaco | Fite TV |
| Mongolia | Fite TV |
| Montenegro | Dazn & Fite TV |
| Montserrat | Fite TV |
| Morocco | Fite TV & Starz Play |
| Mozambique | Fite TV |
| Myanmar | Fite TV |
| Nauru | ESPN & Fite TV |
| Nepal | Fite TV |
| Netherlands | Dazn & Fite TV |
| Netherlands Antilles | Fite TV |
| New Caledonia | ESPN & Fite TV |
| New Zealand | Dazn, ESPN & Fite TV |
| Niue | ESPN |
| Norfolk Island | Fite TV |
| North Macedonia | Dazn |
| Northern Marianas Islands | ESPN & Fite TV |
| Norway | Dazn & Fite TV |
| Oman | Fite TV & Starz Play |
| Pakistan | Fite TV |
| Palau | ESPN & Fite TV |
| Palestine | Starz Play |
| Palestinian Territory | Fite TV |
| Papua New Guinea | ESPN |
| Philippines | Fite TV |
| Pitcairn | Fite TV |
| Poland | Dazn & Fite TV |
| Portugal | Dazn & Fite TV |
| Qatar | Fite TV & Starz Play |
| Republic of Moldova | Dazn |
| Romania | Dazn & Fite TV |
| Rwanda | Fite TV |
| Samoa | ESPN & Fite TV |
| San Marino | Fite TV |
| Saudi Arabia | Fite TV & Starz Play |
| Senegal | Fite TV |
| Serbia | Dazn & Fite TV |
| Serbia and Montenegro | Fite TV |
| Seychelles | Fite TV |
| Singapore | Dazn & Fite TV |
| Slovakia | Dazn & Fite TV |
| Slovenia | Dazn & Fite TV |
| Solomon Islands | ESPN & Fite TV |
| South Africa | Fite TV |
| South Georgia and The South Sandwich Islands | Fite TV |
| South Korea | Fite TV & Youtube |
| Spain | Fite TV |
| Sri Lanka | Fite TV |
| Svalbard | Dazn |
| Svalbard and Jan Mayen | Fite TV |
| Swaziland | Fite TV |
| Sweden | Dazn & Fite TV |
| Switzerland | Fite TV |
| Syria | Starz Play |
| Tahiti | ESPN |
| Taiwan | Dazn & Fite TV |
| Tajikistan | Dazn & Fite TV |
| Tanzania | Fite TV |
| Thailand | Dazn & Fite TV |
| Togo | Fite TV |
| Tokelau | ESPN & Fite TV |
| Tonga | ESPN & Fite TV |
| Tunisia | Starz Play |
| Turkey | Dazn & Fite TV |
| Turkmenistan | Dazn & Fite TV |
| Tuvalu | ESPN & Fite TV |
| Ukraine | Dazn & Fite TV |
| United Arab Emirates | Fite TV & Starz Play |
| United Kingdom | Dazn, Fite TV & Youtube |
| United States | Bleacher Report & Traditional PPV |
| Uzbekistan | Dazn |
| Vanuatu | ESPN & Fite TV |
| Vietnam | Fite TV |
| Virgin islands | Fite TV |
| Wallis and Futuna | ESPN |
| Yemen | Starz Play |