Roman Reigns vs Drew McIntyre – Complete WWE Matches List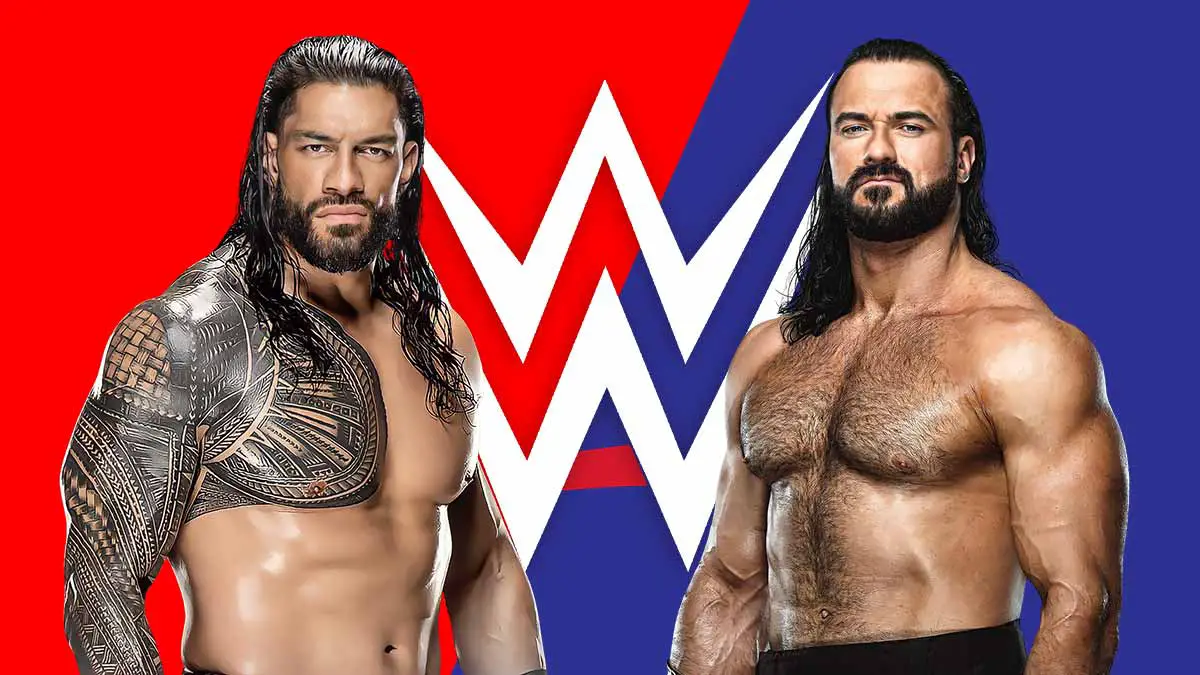 Roman Reigns and Drew McIntyre are two of the biggest WWE stars since the start of 2019 if not before that. A rivalry between them in 2019 introduced Drew McIntyre to the main event scene. Both men have faced each other as a babyface and as a heel, and have put up some great matches.
Check out the list of all the singles matches between Drew McIntyre and Roman Reigns, along with the win-loss record, event name and more details.
Roman Reigns vs Drew McIntyre – WrestleMania 35
Date- April 7, 2019
Event- WWE WrestleMania 35
Location- MetLife Stadium, East Rutherford, NJ, US
They had faced each other in several tag team matches before this, but this was the first singles match between Roman and Drew. When Roman returned to WWE after battling Leukemia in March 2019, Drew was at hand to welcome him and target The Sheild. After the Sheild defeated Drew, Bobby Lashley and Baron Corbin at Fastlane 2019. Drew then attacked Roman as he was getting ready for his first singles match after his return. This led to Drew defeating Dean Ambrose(twice) and Seth Rollins(by DQ) before Roman Reigns took upon his challenge to face-off at WrestleMania 35.
Drew McIntyre was in control for the most part in this match after an early flurry from Roman. Roman made a comeback late in the match and countered with a Superman punch and a spear to get the win.
Winner – Roman Reigns(Roman Wins – 1, Drew Wins – 0)
Roman Reigns vs Drew McIntyre – WWE RAW May 6, 2019
Date- May 6, 2019
Event- WWE RAW
Location- U.S. Bank Arena, Cincinnati, OH, US
The rivalry between Reigns and McIntyre did not end after WrestleMania 5 though. Shane McMahon got involved in the rivalry and Drew became his sidekick for a while. On the May 6, 2019 episode of RAW, Mr. McMahon had an epiphany to book a couple of WrestleMania rematches on the show. One of those matches was between Reigns and McIntyre.
McIntyre was even more vicious with his attacks this time around and heckled Reigns all around the ring. Reigns was also at hand to counter him at every turn possible. Drew countered Roman late in the match with a headbutt, but Roman then managed to hit Drew with a spear. However, Shane McMahon and Elias interfered in the match to cause a disqualification and give Roman a win.
Winner – Roman Reigns(Roman Wins – 2, Drew Wins – 0)
Roman Reigns vs Drew McIntyre – Stomping Grounds 2019
Date- 23 June 2019
Event- WWE Stomping Grounds
Location- Tacoma Dome, Tacoma, WA, US
Drew helped Shane McMahon to beat Roman at Super Showdown 2019 event. Roman then challenged Drew for another match at Stomping Grounds 2019 PPV.
They started brawling at the entrance even before the bell could ring. Roman sent him into the barricade but a distraction from Shane helped Drew in taking the control of the match again. Roman made a comeback with Samoan Drop and other big moves in quick succession, but Drew came back with an Alabama Slam. Roman countered on the top with a Superman punch and was able to fight off Shane to hit a spear to get the win.
Winner – Roman Reigns(Roman Wins – 3, Drew Wins – 0)
Drew McIntyre vs Roman Reigns – Survivor Series 2020
Date- 22 November 2020
Event-WWE Survivor Series 2020 PPV
Location- Amway Center, Orlando, FL, US
By the time Survivor Series 2020 came, both Drew McIntyre and Roman Reigns' characters changed very much. Reigns established his Tribal Cheif Character and was a heel after a long time. McIntyre turned face earlier that year and defeated Brock Lesnar to become WWE Champion. The anticipation for this match was so much that WWE cut short Randy Orton's title reign and put the title back on McIntyre just a week before Survivor Series.
This was by far the best match between them as they headlined Survivor Series. After going back and forth throughout the match, Roman had Drew in the Guillotine but Drew shoved him into the corner to break it. After a while, Drew put Roman in an armbar. The action spilled to the floor and Roman put Drew through the announce table with a Samoan drop before hitting a spear through the barricade. But, Drew managed to kick out of the pin. Drew countered a spear with Claymore which also knocked out the referee. Roman then hit Drew with a low blow before putting on Guillotine to put Roman to sleep to win the match.
Winner – Roman Reigns(Roman Wins – 4, Drew Wins – 0)
Roman Reigns(c) vs Drew McIntyre – Undisputed WWE Universal Championship – Clash at the Castle 2022
Date- 3 September 2022
Event-WWE Clash at the Castle 2022
Location- Principality Stadium, Cardiff, Wales
As soon as a big WWE event was announced for UK, Drew McIntyre announced that he will everything to challenge for the Undisputed Universal Championship at the event. He ended up defeating Sheamus in the #1 contender match to set up a clash with Roman Reigns once again. The storyline proceeded with Roman Reigns and The Bloodline trying to make things difficult for McIntyre. Roman and team managed to take down McIntyre just a week before their match at Clash at the Castle. McIntyre then returned the favor by ruining Roman's 2 years of title celebration.