WWE Payback 2020 Live Results- 3 Title Changes & More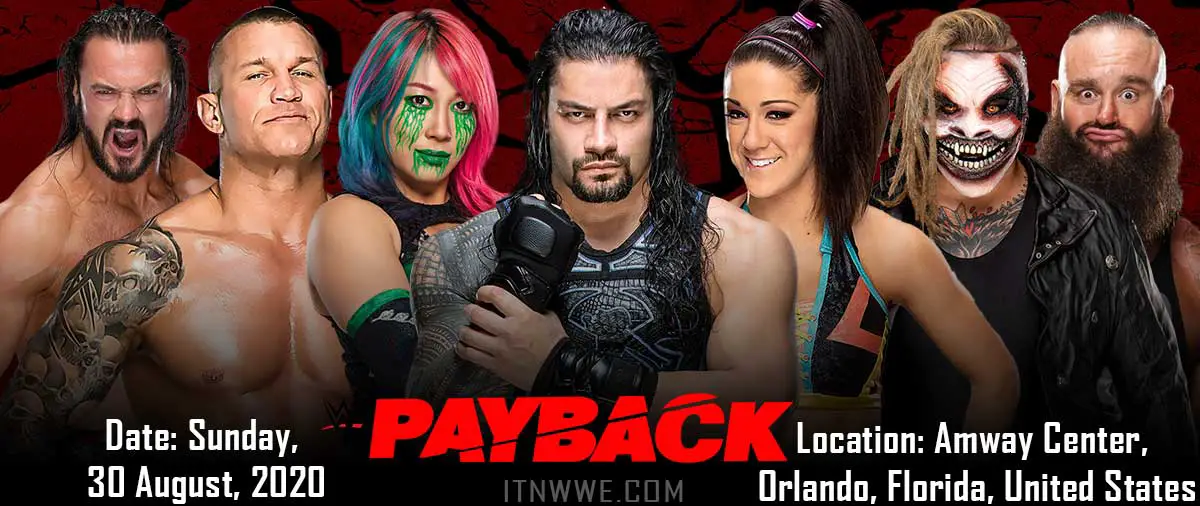 Yes, Payback 2020 PPV is tonight – just one week after SummerSlam. The show is build up just in one week but still have a good match card with much to look forward towards. Point in case, Keith Lee's first PPV match after move to RAW and that too against Randy Orton. That is on top of Roman Reigns' first match after his return and tease of impending split between Sasha Banks and Bayley.
WWE Payback 2020 Preview
Match Card & More details
Preview
News, Spoilers and Rumors
WWE Payback 2020 Quick Resuts
Liv Morgan and Ruby Riott defeated the IIconics
Bobby Lashley defeated Apollo Crews to become the new WWE United States Champion
Big E defeated Sheamus
Matt Riddle defeated King Corbin
Shayna Baszler & Nia Jax defeated Bayley and Sasha Banks to become new WWE Women's Tag Team Champions
Keith Lee defeated Randy Orton
Dominik & Rey Mysterio defeated Seth Rollins & Murphy
Roman Reigns defeated The Fiend Bray Wyatt(c) and Braun Strowman in a No Holds Barred Triple Threat match to become the new WWE Universal Champion
WWE Payback 2020 Pre-Show
You can catch the pre-show on Youtube in the above link.
Liv Morgan & Ruby Riott vs The IIconics
Winner – Liv Morgan & Ruby Riott
WWE Payback 2020 Main Show
Apollo Crews(c) vs Bobby Lashley – WWE United States Championship
Lashley dominates early in the match with his power and Crews has to dig deep to come back into the match. He sent Lashley out of the ring before hitting a moonsault from the apron to the ring. Lashley takes back control at the outside, eventually driving Crews into the ring post while holding him on his shoulders in a fireman's carry. Crews' big comeback was cut off by a Lashley dominator for a two count. Crews failed to hit the toss powerbomb but did hit a spinebuster into a standing moonsault for his own two count. Crews took over with his own power, hitting a press slam and a pair of German suplexes before heading to the top rope for a frog splash. As MVP got fired up at ringside, sensing the match was slipping away, Lashley responded by dropping Crews and locking in the Full Lashley to win the title.
Winner- Bobby Lashley (becomes new WWE United States Champion)
After the match, Shelton Benjamin and MVP come to the ring posing with Lashley in the ring. Crews attacks from behind before leaving and vowing to get his title back.
Big E vs Sheamus
Big E starts the match strongly by taking Sheamus off his feet a few times. He misses a splash later which provides opportunity for Sheamus to take over. Sheamus works on Big E's knee with differnt moves in order to affect his mobility. Big E's comeback attempts were thwarted again and again. Everytime Big E looked like building the momentum, Sheamus countered. Sheamus locks in the sharpshooter, but Big E grabs the bottom rope to break the lock. A spear from Big E takes Sheamus to the ground. Sheamus goes for the Brogue Kick but gets caught with a powerbomb and a Big Ending for the finish.
Winner- Big E
Matt Riddle joins the backstage interview and is looking confident that he will win tonight. The interviewer asks him to comment on Corbin's tweet from earlier tonight which said Riddle is a failure at home. Riddle's expressions changes and he just stares into the mic before we cut to commercials.
King Baron Corbin vs Matt Riddle
Corbin enters with his entourage and is in the ring. Riddle enters and just as pyro goes off, Corbin runs him over with a clothesline. The referee checks on Riddle before asking for the bell. Corbin with strikes, pushes Riddle into the corner and throws him out. He follows him out to unload on the announce table. Back in the ring, Riddle tries to fight out a headlock. Riddle gets some forearm strikes and manages to get Corbin in Kimura lock briefly.
Corbin overpowers but Riddle jumps on his back to put on a sleeper. Corbin struggles to get out but manages to overpower Riddle to break the hold. Corbin with another clothesline to take control. He works over Riddle in the corner before putting him in a neck snap. Riddle comes out of the lock, only to be hit by a backbreaker. Riddle gets some sidekicks going while Corbin was shouting at the commentary. Riddle amps up and counter the single leg crab. Another sidekick sends Corbin out of the ring but Corbin capitalizes when Riddle follows.
Riddle starts to make momentum when they enter the ring. Some kicks, running clothesline, Broton, and a running knee gets him a near fall. They trade shits in the middle and a big punch gets Riddle down. Corbin hits Deep six and gets a near fall for his efforts. Corbin is frustrated. Riddle catches him in an armbar before hitting the Bro-to-Sleep and the floating Bro from the top to get the pin.
Winner – Matt Riddle
Riddle is strolling backstage and joins the interviewer. Baron Corbin attacks him from behind and unloads. WWE Crew gets him away from Riddle. We cut to hype video for the next match.
Bayley & Sasha Banks(c) vs Shayna Baszler & Nia Jax – WWE Women's Tag Team Championship Match
Both teams enter and face off in the ring. Nia and Sasha to start but Baszler takes the tag right away. Early back and forth before Baszler gets some kicks going. Sasha jumps on her back before Baszler slams her into the mat. Sasha is quick to tag out and Bayley is overpowered now. Sasha trips Nia from the apron as Baszler goes to tag her. Bayley and Sasha double team on Baszler.
Sasha with a couple of suplexes before she tags in Bayley for double team suplex. Nia breaks the pin before catching Bayley in the dive and slamming Sasha into the barricade a few times. Baszler tags her in and Nia runs over Bayley to get a near fall. Nia was going for the Samoan drop but Bayley counters and distracts the referee. Sasha attacks Nia's knee to start a period of double team dominance over Nia.
Nia catches Bayley to hit a powerslam and hits Samoan drop on Sasha as she tries to get involve. Bayley catches her leg as Nia goes for the leg drop. Nia gets up and tags in Baszler. Baszler with quick strikes on both Sasha and Bayley. Sasha tags in and gets him with a side slam. Baszler and Nia double team on the opponents. Nia goes for the powerbomb but Sasha counters it into a bulldog.
Sasha with a frog splash on Nia and Bayley keeps Baszler away with a Bayley-to-Belly. But Nia kicks out. Sasha and Bayley are shocked. More action and we see Nia tagging out to Baszler. Nia gets thrown out but Baszler manages to get Sasha in a leg lock as well as Bayley in a sleeper. Baszler is handling both opponents on her own and wraps Sasha's arm around Bayley's neck. Unique move here from Baszler and Bayley gives up.
Winners- Shanya Baszler & Nia Jax (new WWE Women's Tag Team Champions)
Nia and Baszler celebrate in the ring. They are behaving like mads as the interviewer tries to talk to them in the ring. Bayley and Sasha are distraught at the ringside. They gather themselves up and goes to the back.
Keith Lee vs Randy Orton
Orton starts witha headlock. Lee turns it into a bear hug. Orton runs the ropes but his shoulder block barely moves Lee. Lee takes him down with a crossbody which forces Orton to go out to regroup. Orton returns to the ring and hits a few punches. Lee is just getting angry with those punches. He stops a whip and gets few strikes going.
Orton sidesteps in the corner to send him into the turnbuckle and then drops him on the announce table. Orton starts to work on Lee and keeps control for a while. Lee counters in the corner and pushes Orton out of the ring before dropping him onto the announce table. Orton attacks his knee as Lee return to the ring. Orton is looking for the RKO when Lee counters and hits the big bang catastrophe Powerbomb to get the pin and the win. That was a short match.
Winner- Keith Lee
Lee celebrates his big win in the ring while Orton is shown angry at the ringside. We cut to Paul Heyman who is once again caught by Kayla Braxton who once again asks him about Roman Reigns. Paul tells him that Roman will come to the match tonight. He asks Kayla to believe him on this.
Seth Rollins & Murphy vs Dominik & Rey Mysterio
Rollins and Murphy enter first. As the Mysterio enter, Rollins starts taunting Dominik. They start and Dominik trips Rollins(non-legal man). Dominik unloads on Rollins and Murphy at the ringside before going back to the ring. Dominik continues to dominate which frustrates Rollins more. Dominik with some good armdrag counters and a dropkick before bringing in Rey. Rey with a dropkick gets a two-count.
Rollins is tagged in after Rey taunts him. He gets angry and unloads in the corner. Rollins with a gut buster now. Rey decks Murphy from the apron but Rollins ends up sliding him over Murphy's knee at the ringside. Rollins and Murphy with quick tags. Mysterio counters and tags in Dominik. Dominik tries to take out both opponents with a crossbody but they catch him and Rollins hits him with a Falcom Arrow. The punishment now continues on Dominik as Murphy hits a snap suplex.
Murphy gets Dominik in a stretch as Rey recovers. Tags continue from Rollins and Murphy. Rollins sends Dominik out and the referee stops him from going out. Dominik counters to send Murphy into the barricade and also trips Rollins. Rey comes in hot from the tag and takes down Rollins with head scissors. A moonsault gets him a near fall. Both Rollins and Rey counter each other. Everyone start getting involved with big moves. The sequence ends with Rollins taking down Rey with a backbreaker.
Rollins and Rey go at it while Dominik and Murphy do the same at ringside. Rey takes out Murphy with a plancha. Rey dives from the top which Rollins counters with a codebreaker. Avada Kedavra gets Rollins another near fall. Rey avoids the stomp but still gets slammed with a bulldog. Dominik breaks the pin. Rollins and Murphy beat down Dominik before Rollins slams Rey into the barricade. Rey counters in the ring to send Rollins into step-up enziguiri from Murphy. Rey tags in Dominik who sets up Murphy for 619 and hits it. Rey takes care of Rollins while Dominik hits a frog splash to get the pin.
Winner- Dominik and Rey Mysterio
The Fiend Bray Wyatt(c) vs Roman Reigns vs Braun Strowman – No Holds Barred, Triple Threat match for Universal Championship
The Fiend makes his entrance and just as he was finishing up, Braun Strowman runs him over. The bell has rung even though Roman Reigns has not entered the match. Strowman throws Fiend around before Fiend comes back with a running hedabutt. The action moves out and Fiend drives Strowman through the announce table. Alexa Bliss is in his Harley Quinn getup at the backstage, watching the match on the screen.
The Fiend brings out his dice mallet which gives Strowman the time to throw a chair at him. Strowman with a clubbing blow in Fiend's chest. He picks up the mallet but the Fiend gets up and start throwing punches before drives the mallet into Strowman's chest. The Fiend is regretting it instantly though and crying with "heal" glove shown in focus. He continues to beat around Strowman though and snaps his neck. He picks up the steel steps and runs at Strowman with it.
The Fiend takes Strowman up the ramp where Strowman drives him into the LED screen. Strowman avoids Sister Abigail and spears The Fiend down the ramp. Strowman takes the Fiend back to the ring now. Strowman goes to the top and the Fiend counters with a superplex which breaks the ring. The referee is also knocked down by this. And finally, Roman Reigns enters. Enters with a steel chair in his hand. Paul Heyman is with him and gets Reigns to sign a contract.
Roman covers the Fiend but he has to wait for an official to come over. Both Fiend and Strowman kicks out of the pin. Reigns hits Strowman with steel chair but he still kicks out of the pin. The Fiend takes Roman in the Mandible claw and Roman has to resort to a low blow. Roman recovers at the ringside while the Fiend is also down after lowblow. Roman hits Strowman with a spear and gets the pin.
Winner – Roman Reigns (new WWE Universal Champion)
Roman takes the title and heads up the ramp where Heyman is still standing with the contract in his hands. The Fiend recovers while Roman and Heyman celebrates. Payback 2020 goes off the air.
PPV Results Chronology