WWE Clash of Champions 2020 Live Results & Updates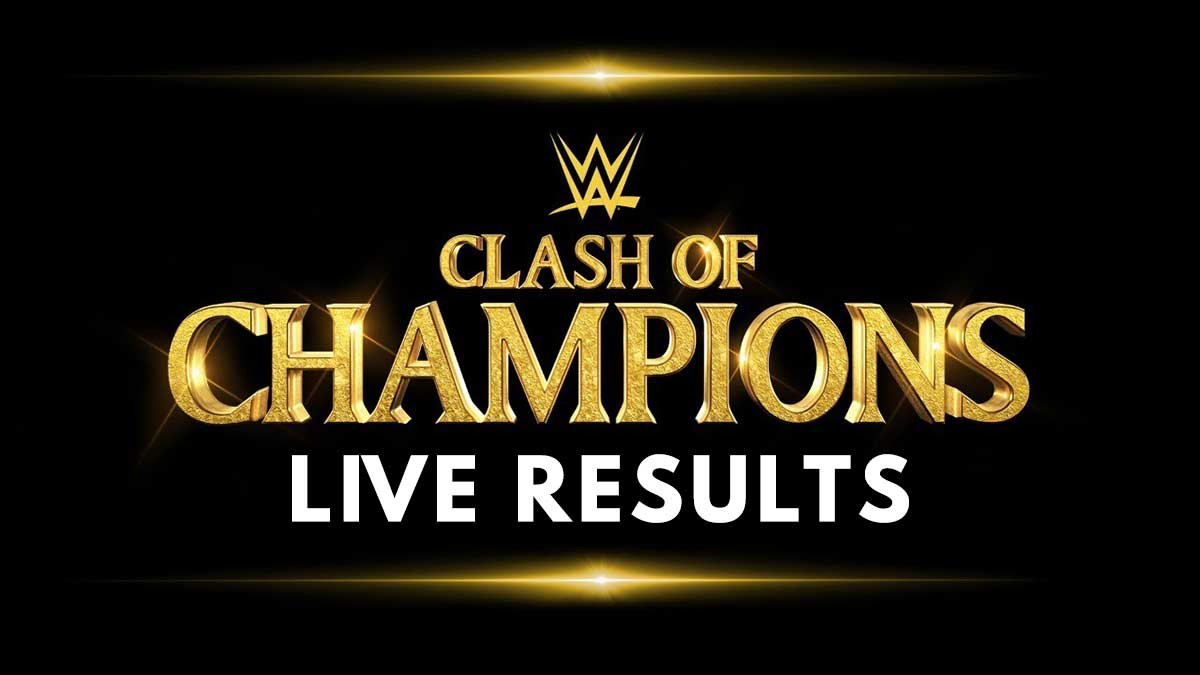 Welcome to ITN's Live Results and Updates blog for WWE Clash of Champions PPV live from Amway Center, Orlando, FL on 27 September 2020. The major storyline going into the event is between Drew McIntyre and Randy Orton and the match will likely main event the show also.
Apart from this, the triple threat Ladder match for Intercontinental Championship and Roman Reigns' clash with his cousin Jey Uso are the only matches that create some sort of excitement. Join us as we bring you minute by minute updates from the show.
WWE Clash of Champions 2020 Quick Results
Cesaro & Shinsuke Nakamura(c) defeated Lucha House Party to retain WWE SmackDown Tag Team Championship(Pre-Show)
Sami Zayn defeated Jeff Hardy(c) & AJ Styles in a Ladder match to become Undisputed Intercontinental Champion
Asuka(c) defeated Zelina Vega to retain WWE RAW Women's Championship
Bobby Lashley(c) defeated Apollo Crews to retain WWE United States Championship
The Street Profits(c) defeated Angel Garza & Andrade to retain WWE RAW Tag Team Championship
Asuka defeated Bayley by DQ in WWE SmackDown Women's Championship Match
Drew McIntyre(c) defeated Randy Orton in an Ambulance Match to retain WWE Championship
Roman Reigns(c) defeated Jey Uso to retain WWE Universal Championship
WWE Clash of Champions 2020 Pre-Show
Two matches are scrapped from the card. SmackDown Women's Championship match between Bayley & Nikki Cross, as well as Women's Tag Team Championship match. Shayna Baszler, Nia Jax and Nikki Cross are not "medically cleared."
Cesaro & Shinsuke Nakamura defeated Lucha House Party(Kalisto & Lince Dorado).
WWE Clash of Champoins 2020 Main Show
Jeff Hardy(c) vs Sami Zayn vs AJ Styles – Ladder Match, WWE Intercontinental Championship
The Ladder match opened the show and all three men started the night arguing with each other. Hardy gets better of other two and brings in ladders to the apron. AJ hits a basement slide sending ladder into Hardy's ribs. Styles is dominating early in the match. Zayn hit an exploder on Styles onto a ladder. Zayn was stopped from climbing the ladder by Styles as he threw a ladder like a javelin from the outside of the ring to knock him off.
Hardy hits Zayn with a Twist of Fate and goes climbing the ladder but Zayn started to tip the ladder. Hardy climbs down from the other side but ended up taking a bump to the floor. Hardy comes back and sends Zayn through a ladder hanging between the announce table and the ring apron with a Swanton from another ladder. Styles was looking to climb the ladder but gets stopped by Hardy.
Zayn pulls out a pair of handcuffs from his pockets. He ties Hardy to a ladder with it by putting the other end of the handcuff through Hardy's ear piercing. He goes to handcuff Styles to the ropes but Styles counters and ends up handcuffing Zayn to himself. Styles knocks him out and try to climb the ladder with Zayn on his back. Hardy climbs into the ring with the ladder still cuffed to his ear. Zayn gets free and cuffs Styles to the ladder. Zayn then climbs the ladder on the opposite side of Styles to grab the belts and win the titles.
Winner- Sami Zayn(becomes Intercontinental Champion)
Asuka(c) vs Zelina Vega – WWE RAW Women's Championship
Vega goes after Asuka's arm early before Asuka took over the control. Asuka followed Vega outside of the ring and Vega takes advantage by sending her into the ring steps. Vega starts working on Asuka's arm. She keeps slamming Asuka's elbow into the mat or works on it with locks. Vega tries to get the win with a sneaky pin. But Asuka counters with putting her into the Asuka Lock and gets the submission win.
Winner – Asuka(retains WWE RAW Women's Championship)
After the match, Asuka calls Vega a "firecracker" during the in-ring interviews before more compliments, but Vega was not ready for Asuka. Vega responds to her with a kick to the gut and runs away before Asuka could recover. Asuka keeps on shouting at her from the ring.
Bobby Lashley(c) vs Apollo Crews – WWE United States Championship
Crews starts hot out of the bell and uses his speed and agility to counter power game from Lashley. Lashley counters an up-and-over in the corner to hit flatline to take over the control. Lashley with a suplex to get a two-count.
Lashley tries to run Crews into the ring post on the outside but ends up being sent into the post instead. Crews goes on to offense once again with one move after the other. He hits a press slam on Lashley and a standing shooting star to set up a frog splash to get a near fall. Lashley slams him to the mat and puts him into the Hurt Lock to get the submission win.
Winner – Bobby Lashley(retains WWE United States Championship)
The Street Profits(c) vs Angel Garza & Andrade – WWE RAW Tag Team Championship
Angelo Dawkins exploded with a big dropkick after being briefly isolated at the start of the match and Montez Ford followed up with a flip over the ropes into a dropkick of his own on Andrade. As Ford was about to get rolling, Garza grabbed Andrade from outside the ring after an Irish whip, pulling him out of trouble and tagging in to take over on Ford.
Dawkins took a hot tag and started to take over the match, but a blind tag led to Garza hitting a top-rope Spanish fly on Ford moments later. Ford took heaps of offense from the challengers before another hot tag to Dawkins, who hit a spinebuster for the win even though it appeared clear that Andrade kicked out. It looks like Garza is hurt as the referee signals an injury occurred. This leads to an awkward finish with Dawkins getting a pin on Garza.
Winner- The Street Profits(retains WWE RAW Tag Team Championship)
Bayley(c) vs Asuka – WWE SmackDown Women's Championship
Bayley comes out to the ring and cuts a promo since her match against Nikki Cross had been canceled. Bayley calls out an open challenge and asked to be announced the winner by forfeit when nobody showed up the next minute. Asuka answers the call.
Asuka gets the early offense going with dropkick and hip attack. She drops Bayley with a German suplex and Bayley had to go out for a breather. Bayley counters and starts to work Asuka's injured arm. The match ends quickly after Bayley uses a steel chair to hit Asuka to cause a DQ but retain the title.
Winner – Asuka by DQ
Bayley celebrates at the ringside with her title. Sasha Banks comes from behind and hits her with a steel chair. Sasha is still in a neck brace. Bayley turns the table and throwing Banks into the ring. Banks trips Bayley and lays into her with kendo stick. Bayley slips out of the ring and Banks follows her to hit her with a chair.
Drew McIntyre(c) vs Randy Orton – Ambulance Match, WWE Championship
McIntyre starts with a series of punches and kicks. Orton goes for an early RKO but McIntyre nullifies it. Orton uses the rope and hits a low blow as McIntyre tried to enter the ring, before hitting his signature hanging DDT. Orton looked for the punt but Big Show appeares and grabs his leg near the rope. Show brings him out and chokeslams him through the announce table. This was Show's first appearance since Orton's Punt kick on him.
McIntyre takes over and drops Orton on the barricade. They go near the ambulance where McIntyre lays it to Orton with steel chair. Orton fights back and worked on McIntyre's injured jaw with a steel chair. McIntyre injures himself with a Claymore on the ambulance's door.
They brawled to the backstage area as Orton takes control. Orton goes for the punt again but another ghost from his past appeared in form of Christian. McIntyre starts beating up Orton again and takes him to the hood of the ambulance. Orton counters and slams McIntyre onto the windshield. Orton then throws him from the top of the ambulance before another ghost from the past appears to haunt him. Shawn Michaels appears and hits Orton with Sweet Chin Music and pushes him off the ambulance onto the ground.
Orton still fights back though and almost closes the ambulance door on McIntyre. But McIntyre gets his hands out and mounts some offense. McIntyre hits a Claymore on Orton. He goes to load Orton into the ambulance but stopped and dragged him out to hit him with a punt kick. McIntyre puts Orton into the ambulance for win.
Winner – Drew McIntyre(retains WWE Championship)
After the match, Drew celebrates with the title before slamming on the Ambulance door to signal it to drive away. Drew goes up the ramp and we cut to the Ambulance, which is driven by Ric Flair. Another one who was hit by Orton with the punt kick.
Roman Reigns(c) vs Jey Uso – WWE Universal Championship
The Samoans take time to start. Reigns keeps getting better of Jey and forces him to go out for a breather. Jey gets the upper hand from the apron and rock Roman with a couple of punches. Roman runs him over with a clothesline. Roman uses ropes to hurt Uso. Jey goes to the outside and Roman follows him to slam his face to the announce table.
Uso comes up with a flurry of offense and tops it off with a Samoan drop to get a near fall. Reigns strikes back with a big Superman punch but did not try to cover as Uso rolls out of the ring. Reigns continued to beat up Uso until he makes another comeback and hits a suicide dive and a superkick to get another near fall.
Uso reverses a spear into a near fall pin before another superkick and a splash from the top. Roman kicks out of the pin but also strikes with a low blow in the process. Roman then asks Uso to call him "The Tribal Chief" and starts to batter him when he does not. Roman hits a few spears but did not pin Uso and continued to ask him to accept him as the Tribal Chief.
Jimmy Uso comes out hobbling near the finish of the match. He was going to throw in the towel, but Jey tells him not to do it. Reigns pulls Jey to the center of the ring and continues to hit him punches until Jimmy finally throws in the towel.
Winner – Roman Reigns via stoppage(retains WWE Universal Championship)