11 Expected Matches for WWE WrestleMania 39, f/ Cena, Wyatt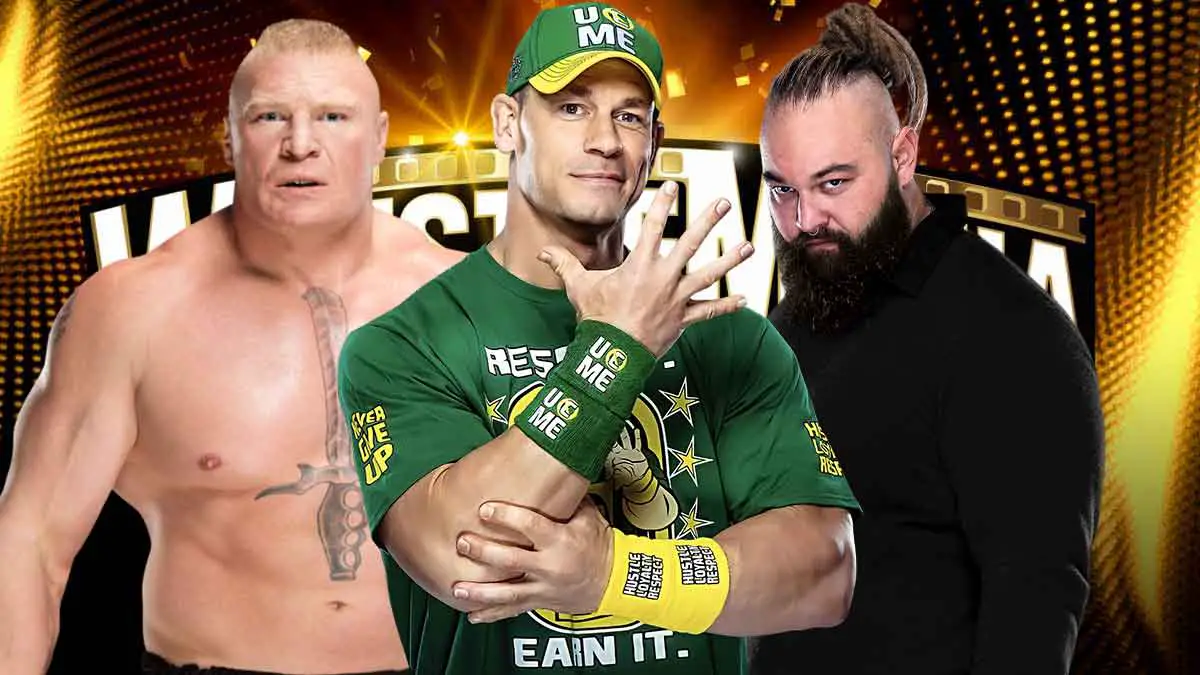 WWE WrestleMania 39 is hardly 40 days away now, and we have just3 confirmed matches as of the writing of this article. The question of which stars will feature on the 2023 edition of Showcase of Immortals remains at large.
The participation of big stars like John Cena, Brock Lesnar, and Ronda Rousey is more or less confirmed for WrestleMania 39. Roman Reigns' Universal title defense against Cody Rhodes is also announced, along with Rhea Ripley challenging Charlotte Flair. But question marks remain over the status of The Rock and Stone Cold Steve Austin, along with lack of clarity over Becky Lynch and Bayley. Which matches can be expected to be on the card for WWE Wrestlemania 39? Check below for more details.
1. Confirmed – Roman Reigns vs Cody Rhodes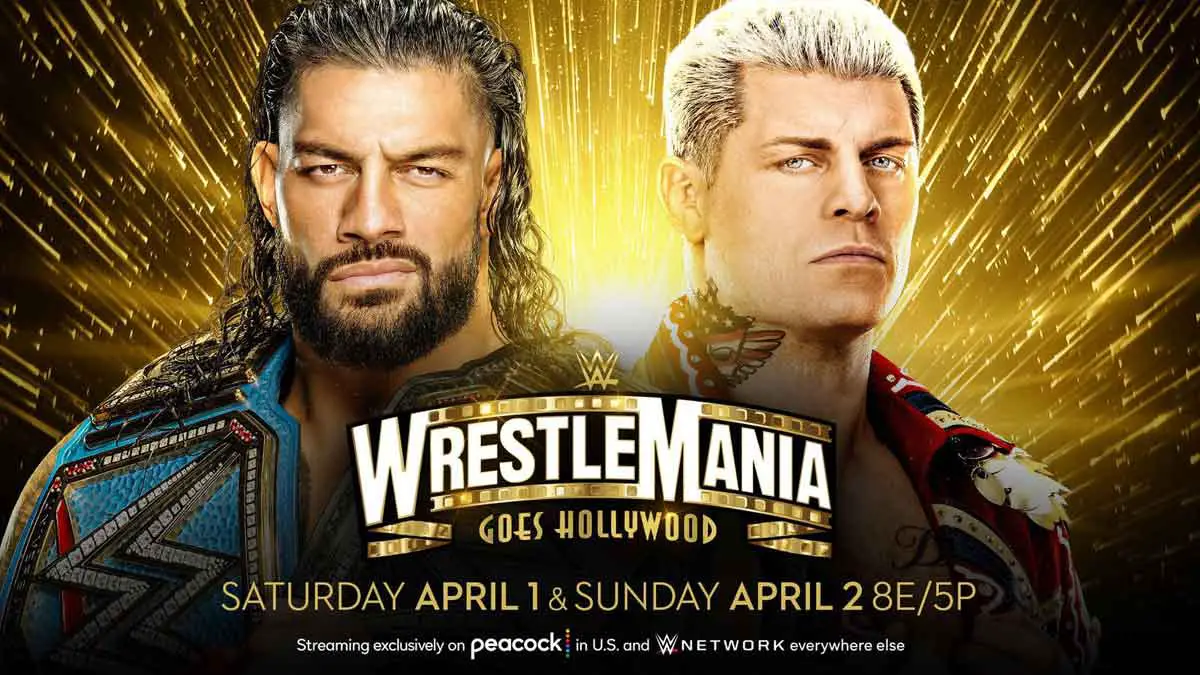 Roman Reigns vs Cody Rhodes is now official as the main event of WrestleMania 39. The match is expected to headline night 2 on April 2, 2023. Cody won the men's Royal Rumble match to earn the shot at a World title, and Roman holds both titles right now. Only wrench in this plan is the rise of Sami Zayn. Just like Daniel Bryan in 2014, there is a huge crowd support behind Sami to headline WrestleMania and dethrone Roman due to his storyline with the Bloodline. Will we see Roman vs Cody changed to a triple threat just like Bryan was added to WrestleMania 30 card?
2. Rumored – John Cena vs Austin Theory
John Cena was initially rumored to take on Logan Paul in a special attraction. However, the latest plans seem to suggest different plans for both men. While Logan Paul looks like facing Seth Rollins, Cena is likely to raise the stocks of another young gun. For a few weeks now, United States Champion Austin Theory is calling him "The Champ", a moniker once used by Cena. We also got "You Can't See Me" thrown in by Austin since the turn of the year. Are these hints not enough to conclude a showdown between Austin and Cena?
3. Expected – Rey Mysterio vs Dominik
For the past 5 months, Dominik Mysterio is nothing but menace in the life of Rey Mysterio. As if attacking Edge was not enough, Dominik beat up his father on multiple occasions after joining Judgment Day. While Rey ran away to SmackDown to avoid his son on RAW, Dominik did not leave his father alone. He ruined Thanksgiving for the Mysterio Family as he gatecrashed the party with Rhea Ripley. Rey ended up saving Christmas by getting Dom arrested. Dominik then took out Rey before his entry in Royal Rumble match and then also tried to ruin his day at Nascar. Enough of the build-up, WWE. Announce this match already!
4. Confirmed – Charlotte Flair vs Rhea Ripley
While Dom Dom is busy ruining the last few days of his father's WWE career, Rhea Ripley has taken up a revenge mission herself. She wants to take revenge from Charlotte Flair when Flair won the Royal Rumble match in 2020 and challenged Rhea for NXT Women's Championship. The roles are reversed this year though. As Rhea lost her title to Flair at WrestleMania 36, she now wants to dethrone Flair as SmackDown Women's Champion at WrestleMania 39. Will she succeed?
5. Rumored – Ronda Rousey & Shayna Baszler vs Dakota Kai & Iyo Sky
While Ronda Rousey was the SmackDown Women's Champion 40 days ago, she has not appeared on the screen ever since dropping the title. However, WWE still has a place for her on the card. As per reports, Ronda might end up teaming up with Shayna Baszler to challenge WWE Women's Tag Team Champions Dakota Kai and Iyo Sky. While not as high profile match as her previous ones, Ronda is still in a title match on WrestleMania card. A win here would also make a triple crown champion.
6. Expected – Becky Lynch vs Bayley
The rivalry between Becky Lynch and Bayley started at SummerSlam when Bayley made her return from injury. However, on the next night, Bayley and her mates sidelined Becky with an injury. Becky returned before Survivor Series to be part of Team Belair to face Team Bayley. Becky proved to be the star of the match as she played a monumental role in the win for Team Belair.
After that, Becky and Bayley were involved in a trilogy bout. The third bout was a steel cage match which seemed to have closed their rivalry. However, it does not seem to be the case as their feud continued further. This could only mean they are destined for a clash at WrestleMania in some stipulation match.
7. Confirmed – Bianca Belair vs Liv Morgan/Raquel Rodriguez
WWE has already announced an Elimination Chamber match to determine Bianca Belair's opponent at WrestleMania 39. While big names like Asuka, Natalya, Carmella and Nikki Cross are part of this match, Liv Morgan and Raquel Rodriguez remain the frontrunner to challenge Bianca. Will it be the case?
8. Rumored – Sami Zayn & Kevin Owens vs The Usos
Sami Zayn's storyline with the Bloodline remains the most captivating one in many years. The fan support he is getting right now remains unprecedented and even greater than that of Daniel Bryan and Kofi Kingston. However, as far as WWE's plans go, it remains to be seen whether he will get the World title match like Bryan and Kofi got.
For now, Sami is rumored to be teaming up with Kevin Owens to challenge The Usos for Tag Team Championship. Sami has a hot storyline going with Jey Uso also. While previously they did not see eye to eye, Jey became Sami's biggest supporter after WarGames match. At present also, Jey is siding with Sami in his rivalry with Roman Reigns. How will they go from being best of friends to rivals in the space of a month?
9. Expected – Gunther vs Brock Lesnar
While Brock Lesnar may be involved in a feud with Bobby Lashley right now, it is rumored that WWE might have a different opponent penciled in for him for WrestleMania 39. It is expected that Brock Lesnar will challenge Intercontinental Champion Gunther on April 1 or April 2.
WWE teased this match as Lesnar and Gunther had a brief face-off during Royal Rumble match this year. Gunther has proved to be one of the underrated stars of the past year and became the longest-reigning Intercontinental Champion in 21st century. Lesnar has not held any mid-card title so far in his WWE career, be it a US title or an Intercontinental title. Will that change at WrestleMania this year?
10. Rumored – Seth Rollins vs Logan Paul
This bout is a no-brainer as far as teases go. Logan Paul was the one to eliminate Seth Rollins from the Royal Rumble match this year. Ever since, Seth has continuously attacked Logan via podcast interviews and in his promos on RAW. Do we need more hints that their paths are ready to clash once again?
11. Expected – Bray Wyatt vs Bobby Lashley
In an unexpected move, Bray Wyatt simply announced on SmackDown February 17 episode that he will target the winner of Brock Lesnar vs Bobby Lashley match. At this point, that man would be expected to be Bobby Lashley. However, how does Lashley fit in Bray's grand scheme of things?