Check out the details regarding date, location, tickets, matches, storylines and more for WWE TLC (Tables, Ladders & Chairs) 2019.
TLC 2019 Location: Target Center, Minneapolis, Minnesota
TLC Date: 15 December 2019
TLC 2019 Kick-off Show Time: 6 PM EST(11 PM GMT/ 16 December 2019 4:30 AM GMT)
TLC 2019 Main Show Time: 7 PM ET(16 December 2019 12 PM GMT/5:30 AM GMT)
WWE TLC will return to Target Center, Minneapolis after two years. This will be the 11th Tables, Ladders and Chairs event from WWE. TLC took place for the first time in 2009, replacing WWE's earlier PPV Armageddon and has taken place every year since. The main event of the show will feature a Tables, Ladders, and Chairs match apart from similar gimmicks being used for some other matches also.
WWE TLC 2019 Tickets
The pre-sale for TLC 2019 has already started. You can book the tickets from the below link.
WWE TLC 2019 Matches
Bray Wyatt vs The Miz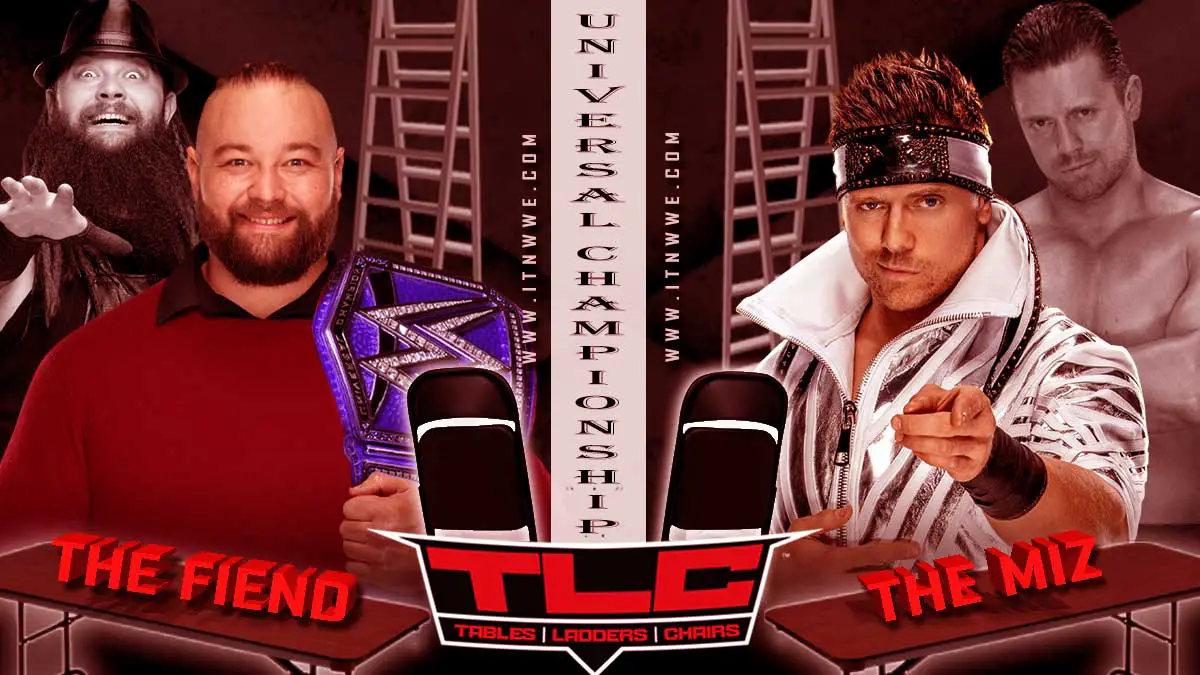 After "The Fiend" Bray Wyatt defeated Daniel Bryan to retain the Universal Championship at Survivor Series, Daniel Bryan wanted to keep going after the title. The Fiend then appeared and attacked Bryan, dragging him under the ring and probably ripped out his hair.
On the following SmackDown, The Miz, who kept getting involved with Bryan, tried to get know about Bryan's whereabouts. Wyatt interrupted and wanted to "play" with Miz since Bryan had disappeared. He also wanted to become a part of Miz's family, which enraged Miz and he went searching for Wyatt. Later backstage, Miz found a photo-shopped picture of his family with Wyatt in place of Miz. After this, Wyatt attacked Miz.
A non-title match between Miz and Wyatt was then scheduled for TLC. This will be the first time Bray Wyatt's first match since his return in April 2019 where he will be wrestling as his own instead of the Fiend. On the go-home SmackDown episode, Wyatt infiltrated The Miz's home and tried to play mind games with Mix using his daughter.
Roman Reigns vs King Baron Corbin – TLC Match
The feud between Roman Reigns and King Baron Corbin started before Survivor Series. Roman Reigns was announced as the captain of SmackDown's Men Team for the Tag Team Elimination match against Team RAW and NXT. King Corbin took exception to it and even tried to kick off Mustafa Ali and Shorty G out of the team. Before that, Baron Corbin defeated Roman Reigns in a singles match with some helpful distraction from Dolph Ziggler and Robert Roode.
At Survivor Series, Corbin interfered which caused the elimination of Mustafa Ali. An irritated Roman performed a spear on Corbin and aided to Corbin's elimination. Reigns went on to win the match for his team. After this, Baron Corbin claimed at Team SmackDown won because of him and also implied that Roman actually betrayed his team by getting him eliminated.
Reigns challenged Baron Corbin to a match but Corbin introduced Dolph Ziggler and Robert Roode with Roode challenging Reigns for the match. Reigns won the match and went on to destroy Roode in the post-match brawl. The following week, a TLC match between Reigns and Corbin was announced for the PPV. Roman faced Dolph Ziggler the same week and came out on the winning side.
However, he was overpowered by Corbin, his security and Ziggler and they went on paste him with the dog food. At the SmackDown's go-home edition for TLC, Roman came out to make the save on the New Day and went on to lay out Dolph Ziggler and forced Baron Corbin to make a run.