WWE Elimination Chamber 2023: Roman Reigns Retained the Undisputed Titles against Sami Zayn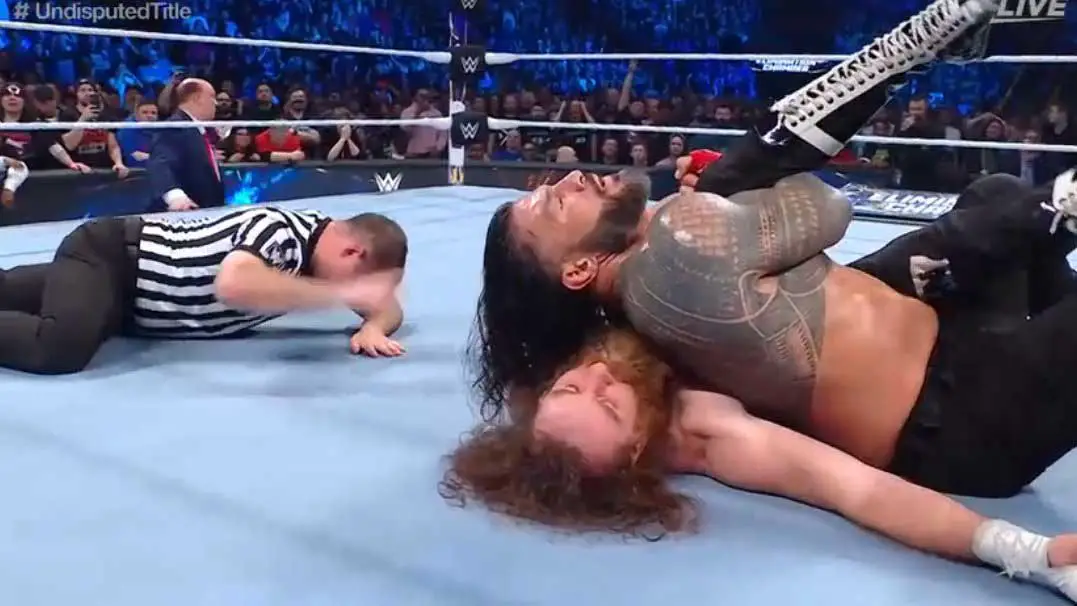 Sami Zayn challenge WWE Universal Champion Roman Reigns in his hometown of Montreal, Canada, at WWE Elimination Chamber 2023 in one of the hotly anticipated matches.
Storyline
This match would be a payoff of one of the hottest storylines that took several months for its buildup. It started from Sami Zayn's desire to be a part of the Bloodline, to him becoming the "Honorary Uce," and finally the ultimate betrayal at Royal Rumble 2023. 
Roman Reigns forced Sami Zayn to attack the helpless Kevin Owens after he defeated Kevin Owens at Royal Rumble. However, Sami Zayn decided to pick sides with his old friend Owens and hit Roman Reigns instead. Following this, the entire Bloodline brutalized Zayn except for Jey Uso who walked out of the ring. 
On the February 3 episode of SmackDown, Sami Zayn came through the crowd and attacked Reigns. He said he never used Roman Reigns, but now he wants to take away the Undisputed WWE Universal titles from him. He was attacked by the Bloodline, but Roman accepted his challenge. The Tribal Chief swore to break Sami Zayn in front of his people in his hometown at Elimination Chamber 2023.
Live Updates
Roman Reigns is the first one to make his entrance. He is accompanied by Paul Heyman and not the entire Bloodline. The entire city of Montreal chants "Ole, Ole" even before Sami Zayn makes his entrance. Sami Zayn comes out to a huge pop, and the entire crowd sings his entrance song.
The crowd sings "Ole, Ole" once again, and Roman Reigns just smile out of anger. The two finally kick things off. Romans locks Sami and then drops him with a shoulder tackle. Roman gets very loud boos every time he puts his hands on Sami. The latter puts a side headlock of his own, Roman counters it and drops Sami again. 
Roman Reigns with a side headlock again but Sami counters it and sends Roman outside the ring. He comes down flying on Roman outside the ring. Sami takes Roman back inside and unloads on Roman as he hits him with multiple punches from the second rope. 
Sami Zayn gets on the second rope and tries to attack but Roman drops him with the right hand. Roman takes Sami outside the ring to punish him. The action returns inside the ring and Roman is still in control. Sami tries to fight back and hit Roman with chops but the Tribal Chief stops him with another right hand. 
Roman takes Sami outside again and beats him in front of his wife. He told Sami's wife that it was all Sami's fault. Roman seems to be in control but Sami stuns him with a clothesline. Sami then knocks Roman outside the ring and then unloads his anger on the champion. Sami Zayn climbs to the top rope, Roman joins him there to counter. But, Sami Zayn gets the upper hand and hits Roman with the sunset flip powerbomb. 
Sami goes for the blue thunder bomb, but Roman blocks him and hits Sami with a urinagi. Roman measures Sami and goes for the superman punch but Sami counters Roman and throws him to the corner. Sami Zayn is about to hit the Helluva kick but Roman counters it with the superman punch. He covers Sami for a near fall. 
Roman goes for the spear but Sami jumps and Roman goes to the turnbuckle. Sami Puts Reigns in the corner again and hits him with a superman punch before hitting him with the Helluva kick. Sami covers Reigns for a near fall. Sami measures Roman for another Helluva kick but Roman escapes the ring. Sami goes for an attack outside but Roman stops him with an uppercut.
Roman goes for a spear, but Sami dodges it and drives Roman through the barricade. Sami takes him inside and hits Reigns with the blue thunder bomb for another near fall. Sami goes for another blue thunder bomb but Roman counters it. He pushes Sami through the barricade and the official is also caught in it. The referee is down and Sami hits Roman with another Helluva kick. Sami covers Reigns but no one is here to make the count. 
Jimmy Uso enters the ring and hits Sami with a super kick followed by the Usos Splash. A new referee enters and Roman covers but Sami kicks out. Roman almost hit the second official with the superman punch. Jimmy Uso tries to interfere again but Sami hits him with a kick. Roman hits Sami with a spear, but it also turns into a near fall.
Sami slaps Roman and the latter goes for the superman punch but knocks the referee instead. Roman then tells the Wiseman to hand him the chair. Roman gets the chair but Jey Uso steps in. Roman gives him the chair and tells him to attack Sami. Roman takes the chair from him and then pushes him away. 
Sami tries to hit Roman with a spear but he hits Jey Uso instead. Roman Reigns hits Sami with multiple chair shots before he gives the final blow in the form of a spear to retain the Undisputed WWE Universal Championships. 
After the match, Roman Reigns tells Jimmy Uso to attack Sami Zayn. Kevin Owens comes to his aid and takes outs Jimmy Uso before attacking Roman. Owens then hit both Roman and Jimmy with the stunner. He goes outside and hits Jimmy with the pop-up powerbomb. Kevin takes the chair and goes inside to attack Roman, but Paul Heyman interferes with him, and then Owens hit him with a stunner as well. 
Owens steps aside and Sami hits Roman with a Helluva kick. It is one of the rare premium live events which does not end with the Bloodline standing tall to close the night.