WWE WrestleMania 37 Night 1 Live Results – 10 April 2021
Welcome to the Live Results and Updates blog of WWE WrestleMania 37(WM 37) Night 1 on 10 April 2021 from Raymond James Stadiums, Tampa, Florida.
Date– 10 April 2021
Location- Raymond James Stadiums, Tampa, FL, US
Start Time- Pre-show: 7 PM EST(11 PM GMT/11 April 2021 4:30 AM IST)
Main Show: 8 PM EST(11 April 2021 12 AM GMT/ 5:30 AM IST)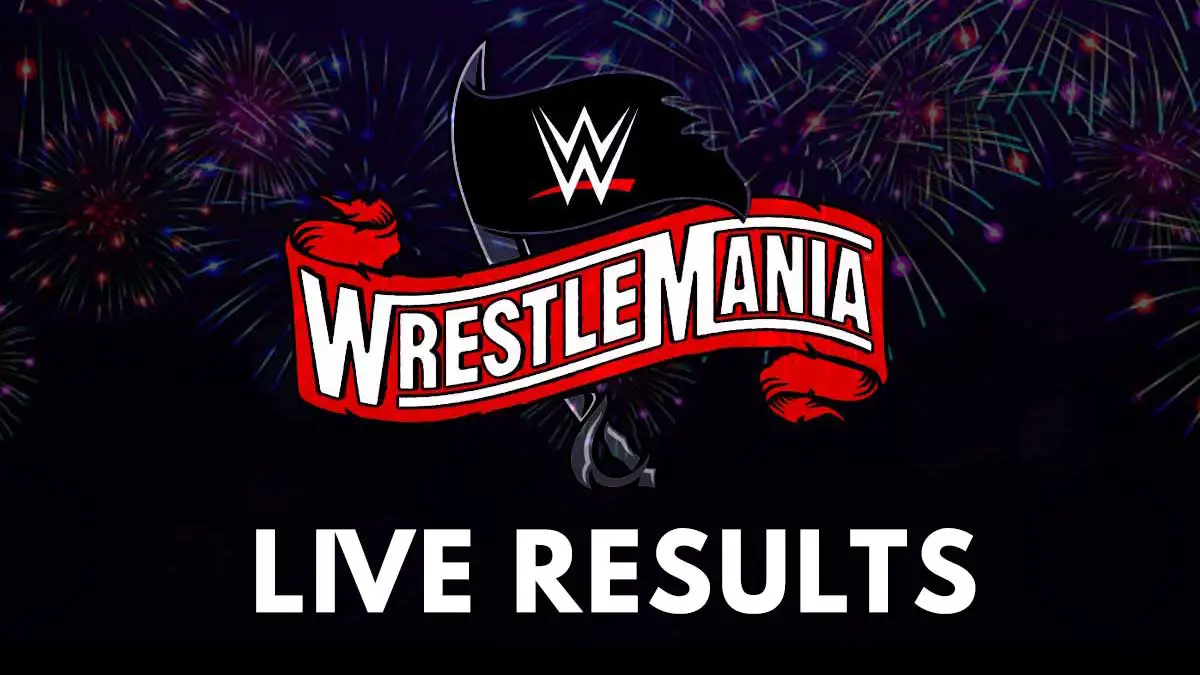 ---
The biggest WWE event of this year is a two-night extravaganza this time around. Night will open with WWE Championship match between Drew McIntyre and Bobby Lashley as WWE looks to give 25000 fans a big welcome. The main event for night 1 will be the SmackDown Women's Championship match between Sasha Banks & Bianca Belair.
The stars like Seth Rollins, AJ Styles, New Day, Cesaro, Braun Strowman and whole of WWE Women's Tag Team division will also be on display on night 1. The pop star Bad Bunny will team up with Damian Priest against The Miz and John Morrison.
Also, expect some big surprises from WWE on the way as we bring you the live results from WWE WrestleMania 37 night 1. You can check this link to find out about online live streaming methods for WrestleMania 37.
WWE WrestleMania 37 Night 1 Quick Results
Here are the quick results & winners from night 1 of WrestleMania 37(keep reading the article for detailed updates):
Bobby Lashley(c) defeated Drew McIntyre to retain the WWE Championship.
Tamina & Natalya defeated Dana Brooke & Mandy Rose and Lana & Naomi and Liv Morgan & Ruby Riott and Carmella & Billie Kay in Tag Team Roulette match to become #1 Contender for WWE Women's Tag Team Championship.
Cesaro defeated Seth Rollins in a singles match.
AJ Styles & Omus defeated New Day(Kofi Kingston & Xavier Woods)(c) to become the new RAW Tag Team Champions.
Braun Strowman defeated Shane McMahon in a Steel Cage Match.
Bad Bunny & Damian Priest defeated The Miz & John Morrison in a tag team match.
Bianca Belair defeated Sasha Banks(c) to win the WWE SmackDown Women's Championship.
WWE WM 37 Night 1 Pre-Show
The pre-show for night 1 will be available in the Youtube video above.
5:30 PM ET: The fans, who were already at the stadium, are told they should take cover since the storm has hit the Tampa Bay region. This is not good news. The event might get delayed tonight or might even get postponed if the situation does not improve. We noted here how the weather could affect Wrestlemania.
6:30 PM ET: PWInsider is reporting that fans are now taking back their seats in the stadium. The storm has passed the area. We will have more as the kick-off show starts in a while.
7 PM ET: The kick-off show has started and can be seen in the above video. The main show will also start on time. WWE Hall of Famers Booker T, Jerry Lawler, and JBL, and Pete Rosenberg are with Kayla Braxton. Kayla says it is drizzling but they are good to go. We will be here for the Live Results from night 1 of WrestleMania 37.
The panel goes through the match card tonight. The first match to be discussed is the main event for the night- Bianca Belair vs WWE SmackDown Women's Champion Sasha Banks. We get a special video package with a rap in the background starting from Bianca Belair winning the Royal Rumble and how the story progressed since. The panel discusses the match now.
We get a video package of Omos and AJ beating up New Day two weeks back and then New Day striking back with Woods pinning AJ last week. Booker compares Omos with UFC Champion Francis Ngannou while JBL says AJ is the Shawn Michaels of this generation. The panel moves to discuss Cesaro v Seth Rollins.
We are now getting a detailed package for the feud between Bad Bunny & Damian vs The Miz & John Morrison. The panel hypes the fans being at the stadium. We also hear some noises also but are yet to see cameras moving around to show them. Booker T says he will be on the commentary for Bad Bunny's match.
WWE Hall of Fame 2020 ceremony is recapped now. Jerry Lawler says he will be on commentary for Shane McMahon vs Braun Strowman match. The pirate ship set and LED at the entrance got damaged due to the storm and WWE crew is working hard to get them fixed in time before the main show starts.
Jerry Lawler says he will be on commentary for Shane McMahon vs Braun Strowman match. The package for Shane vs Strowman match. Sonya Deville joins the panel. She says she will have her eyes closely on Sasha vs Bianca main event match.
We are finally on to discuss the opening match of the night. The panel take sides between McIntyre and Lashley. The panel says good bye to us as the main show kicks-off.
Keep tuned in for the live results and updates from night 1 of WrestleMania 37.
WWE WrestleMania 37 Main Show
The whole roster is on the stage as WWE Chairman Vince McMahon address the fans. He says "Thank You" to fans and welcomes them to WrestleMania. Back to new "WWE – Now, Then and Forever" video. Bebe Rexxa is in the ring to sing America the Beautiful to kick-off the night. We see WWE Superstars still on the stage as the performance goes on. Fans rejoice as we see stars on the screens.
A Pirate Themed video package starts WrestleMania 37 main show. WrestleMania is back in business.
Michael Cole is with Byron Saxton and Samoa Joe on the commentary. They tell us that there is a delay due to weather. They will resume in a short while but we will get interviews from Superstars in the meanwhile. So, basically, we are getting more pre-show.
Sarah Schrieber is with Shane McMahon. Shane says he got goosebumps on listening to the crowd. Schrieber asks what is his problem with Strowman. Shane says he is just having fun with Strowman. MVP and Bobby Lashley interrupt Shane's interview. MVP takes the mic and says he told Drew McIntyre that he will lose tonight.
Drew McIntyre comes up and interrupts them and the things get heated up. MVP is in between McIntyre and Lashley to stop them from getting at loggerheads. Officials come to take Lashley away.
Sarah catches McIntyre for an interview and he is emotional at getting fans back and is not himself. He says he won the title in empty arena at WrestleMania 37 and then won it back in Thunderdome. He will fight at the back if he has to win that title back tonight.
Kofi Kingston and Xavier Woods from New Day are backstage with Kevin Patrick. They hype their match. Big E joins them and says something on the line of – we are gonna see what these men are made of. Next, we get Braun Strowman for an interview.
8:25 PM EST: Michael Cole says the show will start in 5 minutes.
We continue to get freaking good promos from several Superstars- Kevin Owens, Bianca Belair, Seth Rollins, Miz and John Morrison. KO and Rollins did great promos. Kayla Braxton says the show will start now.
We go to the video package for Drew McIntyre vs Bobby Lashley match. Keep tuned in for the Live results and updates from WrestleMania 37. Michael Cole, Saxton and Samoa Joe say we will start the show now. The hosts of WrestleMania are introduced now. Titus O' Neal come out. Hulk Hogan gets a good response. Fans are still on the way to return to their seats.
Titus O'Neal welcomes us to his city of Tampa. Titus is shouting his lungs out as he says WWE is back in business after 1 year, 1 month and 1 day. Hulk asks him to shout it again. Hulk says they will now have the first match in front of the fans. They hype the WWE title match and then two nights of WrestleMania. This is clearly some time-passing tactic to give the production team and everyone some more time.
Bobby Lashley(c) vs Drew McIntyre – WWE Championship
Drew McIntyre is finally out. He does his entrance and the whole sword thing. The fans are lapping him up. Great response from the crowd till now. McIntyre is also feeling the moment. We get the entrance for Allmighty Bobby Lashley with MVP in tow with him. They went all out on pyro for both men.
The announcements are done. MVP leaves the ring as both men circle each toher. They lock up and try to overpower each other. Ultimately, they have to come to stalemate. Lashley goes for the waistlock. To the ropes and Lashley with a big shoulder tackle. They start again and McIntyre kicks at his hand and puts on a arm twist. McIntyre hits a big belly to belly suplex.
They start trading strikes now. Lashley takes to the corner where McIntyre turns the table. Lashley jabs at his neck. McIntyre clotheslines him out of the ring. Lashley drives McIntyre into the barricade. Lashley sends him into the barricade a few more times. Back to the ring, Lashley keeps control for a while. McIntyre fights back with punches to the midsection and a few chops. Lashley takes him to the corner but misses the running shoulder tackle. McIntyre takes him down into an arm bar. Lashley had to punch his way out of the hold.
Lashley slaps McIntyre before driving big shoulders into him in the corner. McIntyre explodes out ofthe corner with a clothesline. He ducks a clothesline for another belly to belly and then one more. Neckbreaker from McIntyre and a kip-up. The crowd gets hyped with "Drew" chants. Lashley stops the futureshock DDT but he runs into an elbow. A futureshock suplex type move from McIntyre to get a two-count. McIntyre tries to work on the arm but Lashley manages to slam him to the mat big time.
McIntyre hits the Glasgow kiss headbutt but Lashley comes back with a big spinebuster for a two-count. McIntyre avoids the Hurt Lock now. Back and forth before McIntyre hits the reverse Alabama slam for another two-count. McIntyre puts Lashley on the top turnbuckle and hits a few chops. McIntyre gets to the top for a superplex but Lashley punches him to stop the move. McIntyre goes for the Kimura lock now and manages to suplex him from there. Lashley comes back with another spinebuster when McIntyre goes for the Claymore.
Lashley hypes it up but McIntyre kips up. They go for slugging at each other. McIntyre hits another belly to belly and three future-shock DDTs back to back. McIntyre covers but Lashley kicks out. "This is awesome" chants from the crowd. McIntyre goes for the Claymore but MVP brings Lashley out. McIntyre hits a summersault plancha which takes out MVP and Lashley. Holy shit chants.
Lashley catches McIntyre as he looks for the Clothesline from the top. Lashley slams him to the mat face first. He waits for McIntyre to get up and puts on the Hurt Lock. McIntyre slams him down to break the lock. McIntyre suddenly puts Lashley into Kimura lock. Lashley needed to work his way to the ropes to force the break. They get back to feet and start to punch each other. Lashley goes for a big spear but runs into a big boot.
Glasgow kiss follows. McIntyre goes for the Claymore when MVP shouts to distracts him. Lashley ducks Claymore puts in the Hurt Lock big time. McIntyre fades away but summons his energy back. McIntyre tries to use turnbuckle to get out of the lock, but Lashley holds on and McIntyre fades away.
Winner – Bobby Lashley(retains WWE Championship)
Lashley celebrates with MVP as Drew McIntyre slowly recover. The fans boo Lashley.
Backstage, Bayley comes up to Titus O'Neal and nWO. She brings up her Ding Dong! Hello!! segment. She goes to do "Too Sweet" sign. Titus leaves her hanging while a couple of nWO dudes do the sign with her.
Big and rocking match to start the show. Keep tuned in for the latest results and updates from WWE WrestleMania night 1.
Tag Team Roulette match #1 Contender for WWE Women's Tag Team Championship
Lana & Naomi vs Carmella & Billie Kay to start. Naomi and Lana start with dominating for a few seconds. Fast start to the match as Carmella runs the show now. Lana drops Carmella at the apron. She brings down Billie and in comes Lana for a double team bulldog. Carmella breaks the pin. The chaos ensues and Billie ends up rolling up Naomi for the pin with an assist from Carmella.
Liv Morgan and Ruby Riott are next in. Riott starts with dropping Billie to the ropes and Liv dropkicks her at the back. Billie tags in Carmella who drops Ruby from the apron. Billie and Carmella keep Liv down. Carmella drops Riott with a big boot from the apron. Carmella tries to assist Billie for another pin but the referee catches her this time. Ruby drops Carmella at the floor. Liv hits double knees to Billie and Ruby drops with a stomp to the back for the pin.
Carmella attacks Liv and Ruby after the elimination. Liv is down and Ruby checks on her as Mandy Rose and Dana Brooke enter. Rose slips at the ramp while entering. Rose and Brooke cut the ring in half and keep Ruby under control. Liv had to break a pin.
Ruby tags in Liv who runs over Mandy & Dana. Liv brings in Ruby for a double team before Ruby hits the Riott kick on Brooke. Mandy breaks the pin as her team gets the control back. Mandy goes for the small package to get two-count but Morgan turns it around to get the pin.
Both teams take turns to keep control. Tamina sends Ruby into the corner and superkicks Liv. Natalya gets the tag and gets the assists from Tamina to hit Hart attack. Natalya was going for the sharpshooter on Riott but changes her mind and tags in Tamina for her to hit the superfly splash for the win.
Winners – Tamina & Natalya(#1 contenders for Women's Tag Team Championship)
Seth Rollins vs Cesaro
Seth Rollins enters for the match. We get the political style ad campaign from Rollins against Cesaro. Cesaro enters and the crowds cheers for him. We get to see Cesaro swinging Rollins two months back.
Cesaro starts with a quick uppercut. He tries to go forthe swing early but Rollins grabs the ropes. Cesaro tries again but Rollins was up for it. Rollins with a punch but Cesaro takes him down. Rollins jabs his hand to the ropes. Rollins goes to the top. Cesaro goes up but Rollins avoids the move and hits the bucklebomb. Rollins with a few jabs. Cesaro uppercuts him again. Cesaro is selling his hand.
Cesaro gets sent to the apron and hits a forearm. Cesaro goes to the top but Rollins hits the superplex and falcon arrow combo to get a two-count. Cesaro with a series of uppercuts now in the corner. The crowd gets behind him. Cesaro whips him corner to corner and uppercuts him a couple of times. Cesaro with a big lariat to get a two-count. Cesaro signs at swing as the crowd gets behind him. Rollins counters the swing and hits the step-up enziguiri.
Rollins goes for the stomp but Cesaro catches him into the swing. Cesaro swings him for 9 times until his arm gives out. Cesaro puts on the sharpshooter now and Rollins gets to the ropes.
Rollins counters the neutralizer and hits the big knee drop. Rollins goes to the top and hits a big corkscrew splash. He covers but Cesaro kicks out of a near fall. Rollins is in shock that Cesaro kicked out. Rollins goes for the stomp but Cesaro hits hits neutralizer. Rollins kicks out of a near fall now. They trade counters and Rollins hits the pedigree after countering the neutralizer. Cesaro kicks out again. Rollins is now frustrated.
Rollins shouts at Cesaro that he survived the neutralizer and the swing. He declares that he is the God. Rollins with a big elbow strike to Cesaro's back of the head. Rollins now hits a kick to back of his head. Rollins goes for the stomp but Cesaro sends him in the air and hits a big uppercut. Cesaro gets Rollins in the fireman's carry and does UFO swing.
Cesaro gets hyped as he gets ready for the swing now. Cesaro picks up Rollins and swings him around in circle 23 times. Cesaro hits the neutralizer for the pin and the win.
Winner – Cesaro
The crowd roars as Cesaro gets the win. We go to the replay as Cesaro gets in the crowd adulation.
Breathless action continues here. Keep tuned in for live results and updates from night 1 of WrestleMania 37.
We get the replay of Andre the Giant Battle Royal and SmackDown Tag Team Championship match from SmackDown last night. SD Tag Team Champions Dolph Ziggler and Robert Roode are backstage. Ziggler hypes New Day to retain the titles. Roode says titles will look good on AJ & Omus.
New Day vs AJ Styles & Omus – RAW Tag Team Championship
Big E shouts it out to bring New Day- Kofi Kingston & Xavier Woods. Big E stops at the stage as they head to the ring. AJ Styles & Omos make their entrance. Omos was about to start but New Day lures in AJ. Kofi to start from New Day.
They go back and forth to start with. Kofi manages to toss AJ over and AJ lands hard. Omos stares at Kofi as Woods blows his horn. Kofi with a big dropkick on AJ. They cut ring in half and keep AJ in their corner. Woods tag in and literally tells AJ that he is not a tag team wrestler and they are cutting the ring in half. New Day continue to taunt Omos as they keep beating up AJ in their corner.
AJ was about to tag in Omos but Woods keeps him away. A double team bull dog from Kofi and Woods. AJ was looking to tag in Omos but Kofi is in front of him. AJ tries to run around the ring to tag in Omos but Woods cuts him off. Kofi and Woods drop AJ in the ring again. AJ slips away but misses an enziguiri on Woods. Kofi with a splash to get a two-count.
Kofi is sent out and Woods goes to the top for a splash. This gives AJ the time to tag in Omos. Omos goes in and no-sells dropkicks from Woods. Woods tags in Kofi, but Kofi's missile dropkick also could not bring down Omos. Omos beat up both Woods and Kofi with kicks. He charges at them in opposite corners. A big backbreaker on Woods and then on Kofi.
AJ hits the phenomenal forearm on Woods after jumping from Omos' shoulders. Omos hits a big pop-up powerbomb/double-handed chokeslam to Kofi just like The Great Khali used to hit. Omos puts his foot on Kofi and gets the pin.
Winners- AJ Styles & Omos(new RAW Tag Team Champions)
After the match, AJ and Omos gets their titles. AJ runs circles around Omos as we go to replay. Omos hoists AJ on his shoulders to celebrate.
Braun Strowman vs Shane McMahon – Steel Cage Match
We get a video package for the steel cage match. Shane McMahon comes out to the cage first. He's wearing a Brains vs Braun jersey. Braun Strowman comes out to a big pop fromthe crowd.
Braun is attacked at ringside by Elias and Jaxson Ryker. They unload with steel chair shots as Shane watches from the cage door. They focus on Braun's leg and now Shane pulls Braun into the cage. Shane grabs one of the chairs and starts beating Braun around the cage with it. Braun starts to fight back and stops Shane from leaving the cage. Braun warns Shane that he's going to get these hands.
Shane unloads with quick punches and kicks the hurt leg. Shane ducks Braun's punches and delivers more body shots, and a kick to the hip. Shane with more strikes. He goes to climb the cage but slips from the rain earlier. Braun grabs him but Shane fights from the top rope. Shane rips a piece of sheet metal from the top of the cage and starts beating Braun around the ring with it.
Strowman recovers and goes for the powerslam but his leg gives out. Shane beats him up and hits the coast to caost dropkick. Strowman kicks out though. Ryker and Elias climb to the other side of the cage and try to pull out Shane out. Strowman charges into the cage to knock all of them off it. Shane lands inside the cage. Everyone is down. Shane once again tries to climb the cage. Strowman follows him.
Shane grabs a toolbox at the top of the cage and uses it to hit Braun into his head. Shane was climbing down the cage but stops to taunt Strowman. He puts his hand inside and signals goodbye.
Strowman grabs his hand and goes to hurt it. Strowman rips the steel cage wall and bring Shane inside. Shane climbs the cage and Strowman follows. Strowman throws Shane into the ring from the top of the cage. Strowman celebrates for a while at the top before climbing down. He shouts that this is for every person who is called stupid in his life. Strowman hits the running powerslam to get the win.
Winner – Braun Strowman
After the match, Strowman celebrates in the ring.
The commentary was taking us to the package for WWE Hall of Fame 2020 Induction ceremony but Bayley interrupts. She says since the hosts are not there she thought she would help. Bayley sends us to the 2020 Hall of Fame video package. The Class of 2020 comes out after the package. William Shatner and Jushin "Thunder" Liger are shown on the screen.
Keep tuned in for the latest updates and results from WWE WrestleMania 37 night 1.
The Texas RattleSnake Stone Cold Steve Austin narrates a video package for WrestleMania 38 which will be at AT&T Stadium in Dallas, Texas on 3 April 2022.
The Miz & John Morrison vs Bad Bunny & Damian Priest
Some bunnies come out to the ring. They are there for the entrance of John Morrison and The Miz who rap their new song "Hey Hey Hop Hop" as they head to the ring. They join the bunnies in the ring and dance around for a while. We get a video package for the feud.
We get a long video package looking at Bad Bunny's successful year and his time with WWE next. We go back to the ring and out comes Damian Priest as the pyro goes off. Bad Bunny's music starts playing next. We get a look at a big 18 wheeler truck arriving outside of the stadium. Bunny is kneeling down on the top. The truck enters the stadium and Bunny is on the stage now. He enters now.
Damian Priest starts for his team. Miz and Morrison try to goad Bunny into the match and they are successful. Bunny tags in. The crowd is at its best right now as Miz taunts them. Miz offers Bunny a free shot and Bunny hits a big punch to drop him. Miz regroups now. He charges but Bunny gets him in a waistlock. Miz comes out but Bunny lands a big punch.
Miz misses a big punch in the corner and Bunny unloads in the corner. Miz turns it around before Bunny comes with a double leg takedown. Miz finally gets control beat up Bunny. Bunny's armdrag sends Miz out of the ring. Miz is shocked and embrassed at that armdrag. Bunny with a toe drophold and gets two with a crucifix. Morrison tells Miz to focus now.
Miz kicks at Bunny as they start again. Miz gets sent into the ropes. Bunny with a shoulder tackle and a big headscissors. The crowd is going wild. Miz tags in Morrison who runs into a big kick. Bunny throws him in the corner. Priest signals him to hit a running elbow and he does. Morrison catches him the second time around. Morrison keeps Bunny down with some strikes. Miz tags back in and puts on a headlock.
Bunny stops a punch and fights back from the opposite corner. He drops Morrison and goes for the tag but Miz stops him. Bunny takes him down for a pin to get a two-count. Miz with a big boot to take back control.
Miz and Morrison with quick tags to keep Bunny under control. Morrison does a spinnarooni as Booker T is on commentary. Miz takes a cheap shot at Damian Priest. He gets angry and the referee keeps him out of the ring. Miz & Morrison double team to beat up Bunny some more. The crowd gets behind Bunny and the Miz gets frustrated at them. He charges in the corner but runs into a double boots from Bunny. Bunny drops Morrison and tries to tag in Priest. Miz grabs his tights and Bunny hits enziguiri to drop him.
Damian Priest comes in and takes down Miz with a big kick. He brings Morrison to toss him around. Priest with sidekick and a Pele kick to Miz. Morrison gets same treatment. Miz gets suplexed into Morrison. Priest hits the chokeslam on Miz and Morrison had to break the pin. Bunny comes in and they hits stereo suplexes on the opponents. Damian Priest with a suicide dive to take out both Miz and Morrison. Bunny hits a crossbody on them. Priest takes Miz into the ring and goes for the Lights out. But Miz hits him with the Skull Crushing Finale. Bunny breaks the pin.
Bunny takes out Morrison with senton. Miz and Damian Priest – both are shocked at it. The crowd roars. Priest gets his boot up as Miz charges at him. Miz gets slammed into the ringpost and Priest hoists him up on the shoulders for Bunny to hit the crossbody. Bunny gets the pin on Miz.
Winner – Damian Priest & Bad Bunny
Priest and Bunny celebrate in the ring to a loud ovation from the crowd. We get the replay of WWE Championship match earlier today where Bobby Lashley retained over Drew McIntyre. The commentators go through the match card for night 2.
Sasha Banks(c) vs Bianca Belair – SmackDown Women's Championship
Bianca Belair enters first. Sasha enters next. The announcement gets done and Bianca Belair is in tears as the bell rings. Sasha smiles but is also a bit emotional. They start and Sasha pushes Bianca into the corner. EST and Lets Go Sasha chants ongoing. Sasha brings down Bianca before they start a pushing match.
They miss moves as the other counters. Sasha with a big kick to the midsection. Sasha goes for the bulldog but Bianca catches her. Sasha manages to sends her out. Sasha punches Bianca at the apron and drives her into the ringpost.
Sasha hits a suicide dive which is caught by Bianca. Bianca picks up Sasha and takes her into the ring showing huge power. She throws Sasha who lands on her feet. Bianca drops Sasha to get a two-count. Bianca with a scoop and slam. Sasha blocks the standing moonsault. She brings down Bianca and unloads on her. Bianca is slammed into the turnbuckle and put in a stretch.
Sasha with knees in the corner. Bianca slams her on her back. Sasha tries to use Bianca's braids but Bianca pulls her into the steel steps. Sasha goes for the meteora against the barricade but nobody is home.
Sasha grabs the braids once again and goes for the arm drag. Bianca with a big forearm and a standing moonsault. Bianca kips up and plants her face-first on the mat. Biance goes for the shooting star press but Sasha gets her knees up. Sasha with a backslide to get two-count. Bianca catches her and hits a powerbomb. She holds onto the hold and hits another powerbomb and goes into the pin. Sasha gets her shoulders up.
Sasha with a bulldog. Sasha with a big running boot and uses the ropes for a tornado DDT. Banks hits the splash to get a two-count. Sasha uses the ropes to hurt Bianca's shoulder. She slams her shoulder into the apron. Back to the ring, Sasha uses the braids as she puts on the Bank statement. Belair reaches the ropes somehow after Sasha had rolled her back to the middle once.
Bianca unloads in the corner now. She puts Sasha on the top and goes for the superplex. Sasha hits big forearms and hangs her upside down. Sasha misses the stomp and then the dropkick in the corner. Belair goes to the top and hits the 450 splash. Bianca covers but Sasha kicks out.
Sasha tries to use the braids once again. But Bianca whips her with the braids this time. The sound of that whip roared around the stadium. Bianca goes for the KOD but Sasha counters to a meteora attempt. Bianca overpowers her and hits the KOD to get the pin and the win.
Winner – Bianca Belair(new SmackDown Womens' Champion)
Bianca Belair's family is excited and the crowd also roars. Bianca gets the title and celebrates. She hits the corner and pose as the pyro goes off. Sasha has rolled down to the floor and shows the cut mark from Belair's braid whip. WWE WrestleMania night 1 goes off air with promising to come back tomorrow night.