WWE Wrestlemania 37 Matches, Updated Card, Start Time, Date, Location
Check out the complete details for WrestleMania 37(2021) PPV- updated match card, storylines, date, time and location.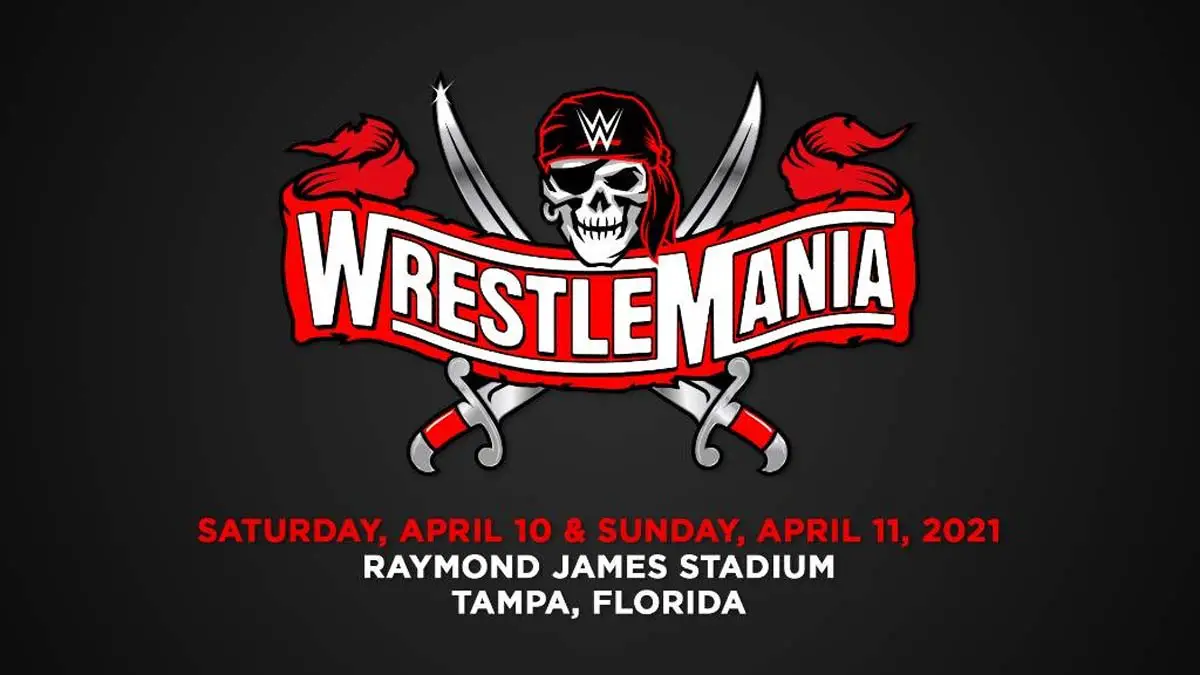 Date: 10 April 2021 & 11 April 2021
Time: 8 PM EST(12 AM GMT/5:30 AM IST)
Pre-Show at 7 PM EST
Location: Raymond James Stadium, Tampa, Fl, US
Wrestlemania is WWE's biggest event of the year and is also believed to be the biggest pro-wrestling event in the world. This year's show will be the 37th edition in the WrestleMania series.
WrestleMania 37 was earlier announced to take place at SOFI Stadium in Inglewood, LA, CA. The location was later changed to Raymond James Stadium in Tampa, FL. WWE then turned the event into a two-nights show.
Due to the restrictions in place related to the COVID-19 pandemic, WWE is hosting a limited number of fans at the stadium. Reportedly, only around 25000 tickets are for sale each night.
WWE Wrestlemania 37 Match Card & Results
Night 1: Match Card & Results
| S. No. | Match | Stipulation/Championship |
| --- | --- | --- |
| 1 | Bobby Lashley(c) defeated Drew McIntyre | WWE Championship |
| 2 | Tamina Snuka & Natalya defeated Dana Brooke & Mandy Rose and Lana & Naomi and Liv Morgan & Ruby Riott and Carmella & Billie Kay | Tag Team Gauntlet Match for #1 Contender for WWE Women's Tag Team Championship |
| 3 | Cesaro defeated Cesaro | Singles Match |
| 4 | AJ Styles & Omos defeated New Day(Kofi Kingston & Xavier Woods)(c) – Title Change | WWE RAW Tag Team Championship |
| 5 | Braun Strowman defeated Shane McMahon | Steel Cage Match |
| 6 | Bad Bunny & Damian Priest defeated The Miz & John Morrison | Tag Team Match |
| 7 | Bianca Belair defeated Sasha Banks(c) – Title Change | WWE SmackDown Women's Championship |
Check | Complete Results & Update from WrestleMania 37 Night 1
Night 2: Match Card & Results
| S. No. | Match | Stipulation/Championship |
| --- | --- | --- |
| 1 | Roman Reigns(c) defeats Edge, Daniel Bryan | Triple Threat Match for WWE Universal Championship |
| 2 | Rhea Ripley defeats Asuka(c) | WWE RAW Women's Championship |
| 3 | Apollo Crews defeats Big E(c) | Nigerian Drum Match for WWE Intercontinental Championship |
| 4 | Sheamus defeats Riddle(c) | WWE United States Championship |
| 5 | Nia Jax & Shayna Baszler(c) defeats Tamina Snuka & Natalya | WWE Women's Tag Team Championship |
| 6 | Randy Orton defeats The Fiend(w/ Alexa Bliss) | Singles Match |
| 7 | Kevin Owens defeats Sami Zayn | Singles Match(Special Guest Logan Paul) |
Check | Complete Results & Updates from Night 2 of WrestleMania 37
WWE Wrestlemania 37 Matches Storylines
Roman Reigns(c) vs Edge vs Daniel Bryan – WWE Universal Championship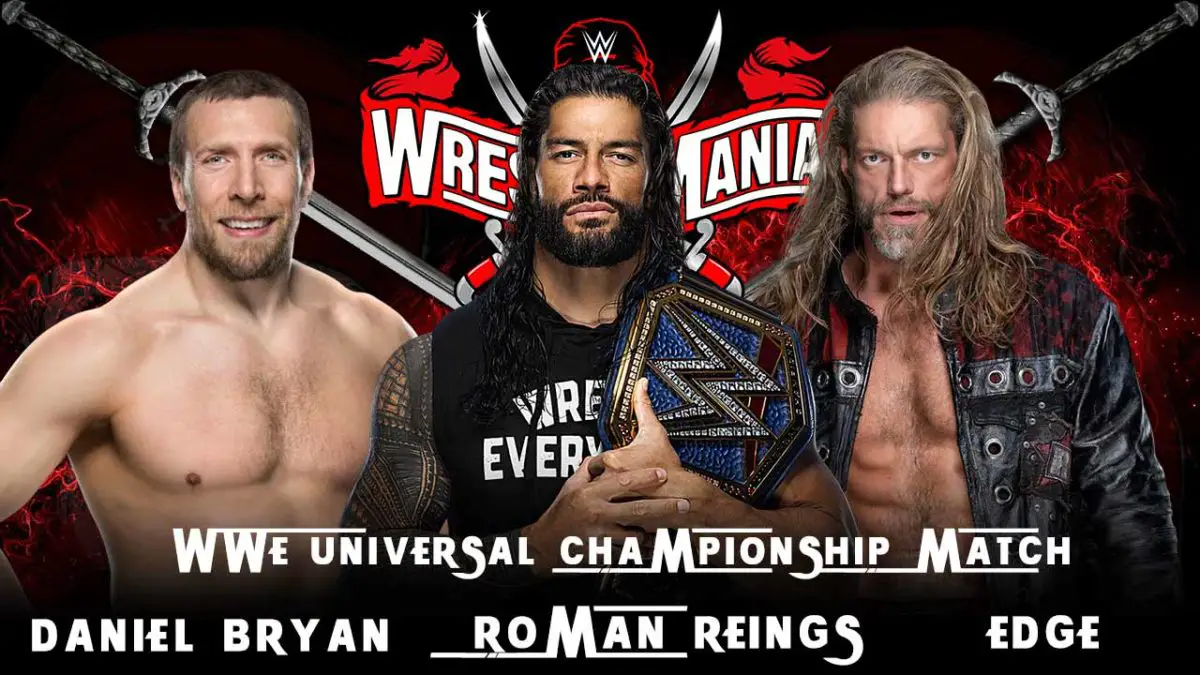 Edge won the men's Royal Rumble match for 2021 and with it, the right to challenge for any World title of his choosing at WrestleMania 37. Edge expressed that he is keeping his options open between all three of WWE, NXT and Universal Championship. Roman Reigns took offense to that and tried to bully Edge into choosing him for WrestleMania.
On SmackDown 19 February episode, Edge once again said he will make his decision after Elimination Chamber. Roman appeared and said something in his ears. He also took out Edge with a spear to close the show that night. At Elimination Chamber, Edge speared Roman after he retained the title against Daniel Bryan and pointed to WrestleMania sign to make the match official.
Daniel Bryan then asked for a rematch with Roman Reigns for the Universal title. Bryan was asked to defeat Jey Uso in a steel cage match to get the title shot. Bryan won that match and fixed the title match against Roman at Fastlane 2021 PPV. Edge was upset over this match and Bryan's attempt to hijack his match against Roman. Edge defeated Jey Uso in a match at SmackDown to become the special enforcer.
At Fastlane, the referee was knocked out with an attack from Roman. Edge stopped Jey Uso tried to help out Roman after this. However, Bryan inadvertently hit the running knee to Edge to take him out. Bryan then had Roman Reigns tap out with the referee still down. Edge, angered with the attack from Bryan, hit both Roman and Bryan with steel chairs. Roman covered Bryan to get the pin after this.
On the next SmackDown episode, Bryan threatened to hijack the ring if he is not given another title shot since everybody saw Roman tapping out against him. Edge came out and ridiculed him for making excuses. WWE Official Adam Pearce announced that Bryan will be added to the Universal Championship match. Edge attacked Bryan to start a brawl and ended up standing tall at the end over both Roman and Bryan.
On 2 April's SmackDown, Edge cut a promo saying he has seen himself in the mirror and he has brought back the ultimate opportunist and soon, the fans will be able to see the real Rated-R Superstar. Roman got Bryan to face Jey Uso in a street fight and asked WWE officials into a No Holds Harmless clause, meaning that there will be no liability if Bryan gets injured during the match and misses WrestleMania. Bryan defeated Uso in the street fight and attacked both Edge and Roman to end the night standing tall.
Bobby Lashley(c) vs Drew McIntyre – WWE Championship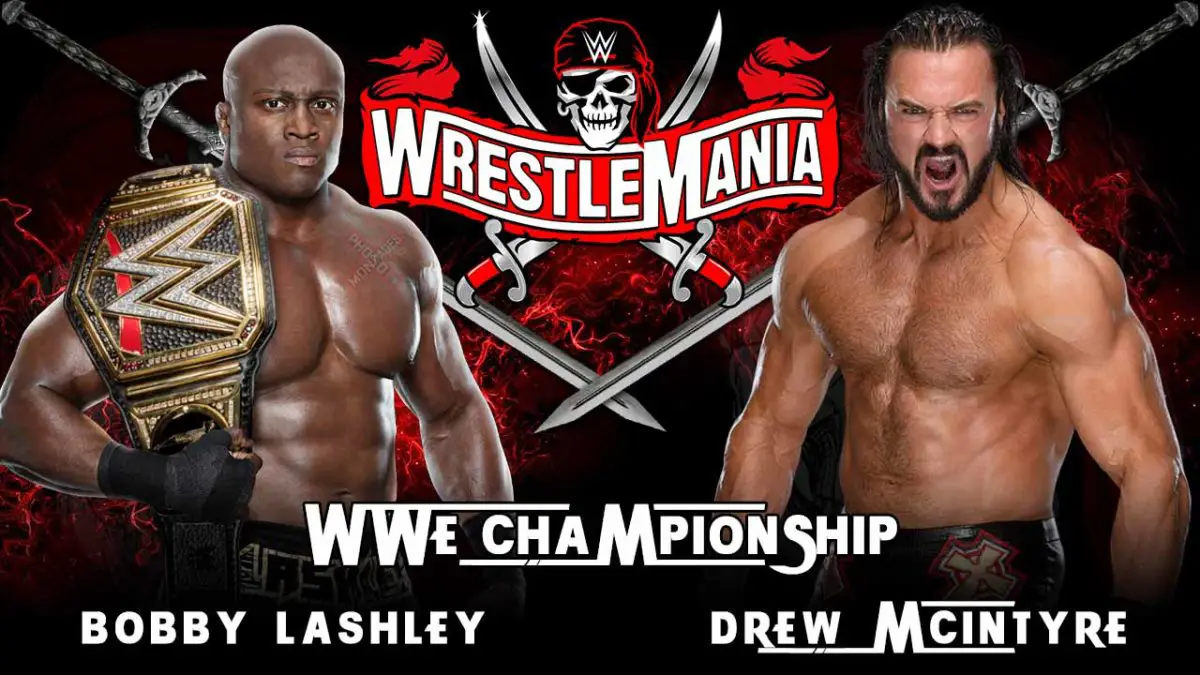 After Drew McIntyre retained the WWE Championship in the Elimination Chamber match, Bobby Lashley attacked him and left him in a dire state, especially using the Hurt Lock. The Miz cashed in the Money in the Bank briefcase and won the title from McIntyre. MVP and Lashley revealed that Miz promised Lashley a title shot for helping him out. After some drama, Lashley faced Miz in a title match at RAW and defeated him to win the WWE Championship.
WWE then announced that Lashley will defend the title against Drew McIntyre at WrestleMania 37. Lashley faced Sheamus in a non-title match at RAW. McIntyre was at ringside for that match. Shelton Benjamin and Cedric Alexander(of Lashley's faction Hurt Business) tried to interfere in the match to help out Lashley. Lashley won the match against Sheamus after putting him in the Hurt Lock.
McIntyre came into the ring, asking Lashley to attack him. MVP stopped Lashley and told him not to engage before WrestleMania. Lashley snapped at Shelton and Cedric since their interference made him look weak. Shelton and Cedric lost a handicapped match against Drew McIntyre on the same night. Lashley then put out the offer that whoever would take out Drew McIntyre would get a title shot at WrestleMania.
Next week on RAW, Ricochet and Mustafa Ali tried to beat McIntyre but were unsuccessful in their attempt. Lashley hit the ring after McIntyre defeated Mustafa Ali in the match to start a brawl. Baron Corbin, from SmackDown, attacked McIntyre and helped Lashley put McIntyre in the Hurt lock.
Asuka(c) vs Rhea Ripley – WWE RAW Women's Championship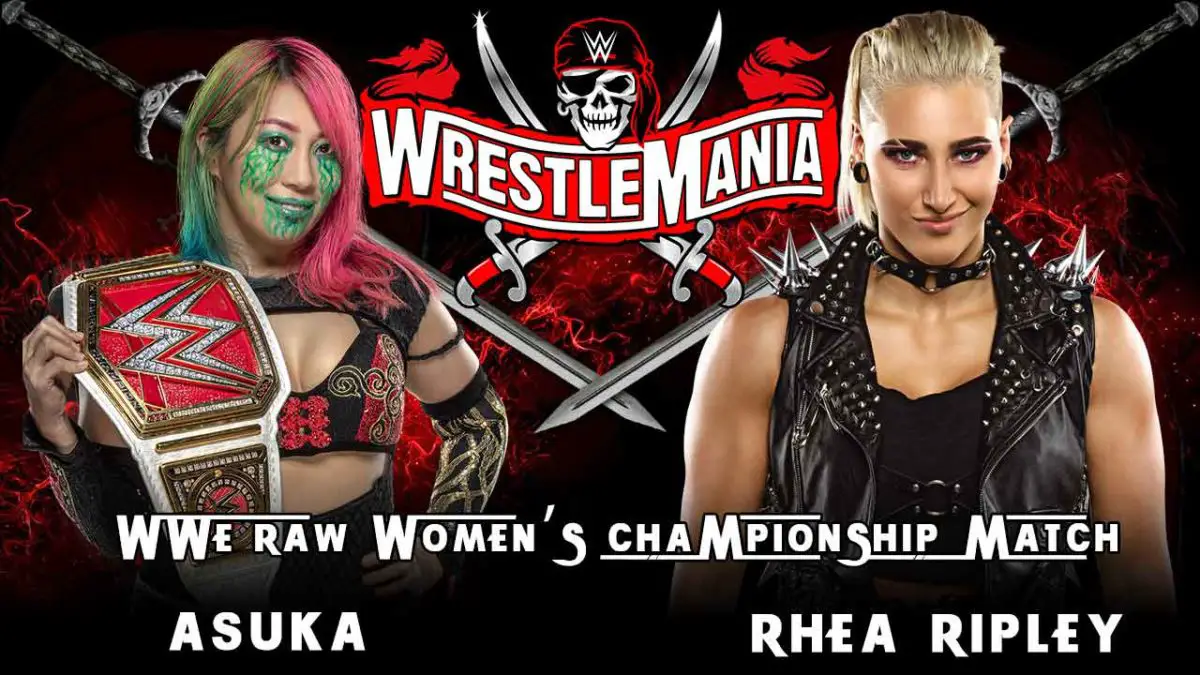 Rhea Ripley made his WWE RAW debut on 22 March 2021 episode. She came out after Asuka's match against Peyton Royce and challenged her for the RAW Women's title match at Wrestlemania. Asuka accepted the challenge and confirmed the match. Next week, they signed the contract to make the match official.
Sasha Banks(c) vs Bianca Beliar – WWE SmackDown Women's Championship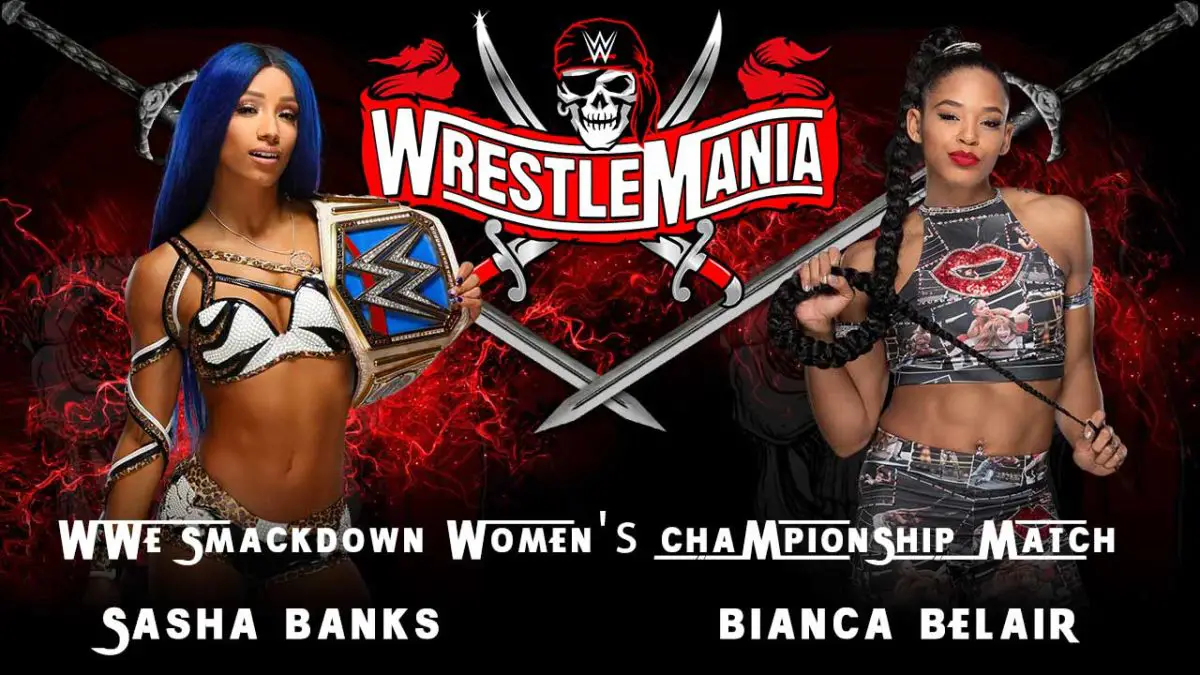 Bianca Belair won the Women's Royal Rumble match for 2021. Sasha & Bianca teamed up to face WWE Women's Tag Team Champions Nia Jax & Shayna Baszler at Elimination Chamber. They lost that match after some distraction from Reginald(who was Sasha's at the time
On following SmackDown, Bianca announced that she will challenge Sasha Banks for the SmackDown Women's Championship at WrestleMania 37. Reginald continued to feature in the storyline and cost several other matches. Sasha ultimately dumped Reginald, but Nia Jax picked him up.
After Sasha and Bianca lost another tag title match at Fastlane due to Reginald, Bianca once again blamed Sasha. 26 March edition of SmackDown was the first time that Sasha and Bianca brawled for the first time.
Big E(c) vs Apollo Crews – Nigerian Drum Match for WWE Intercontinental Championship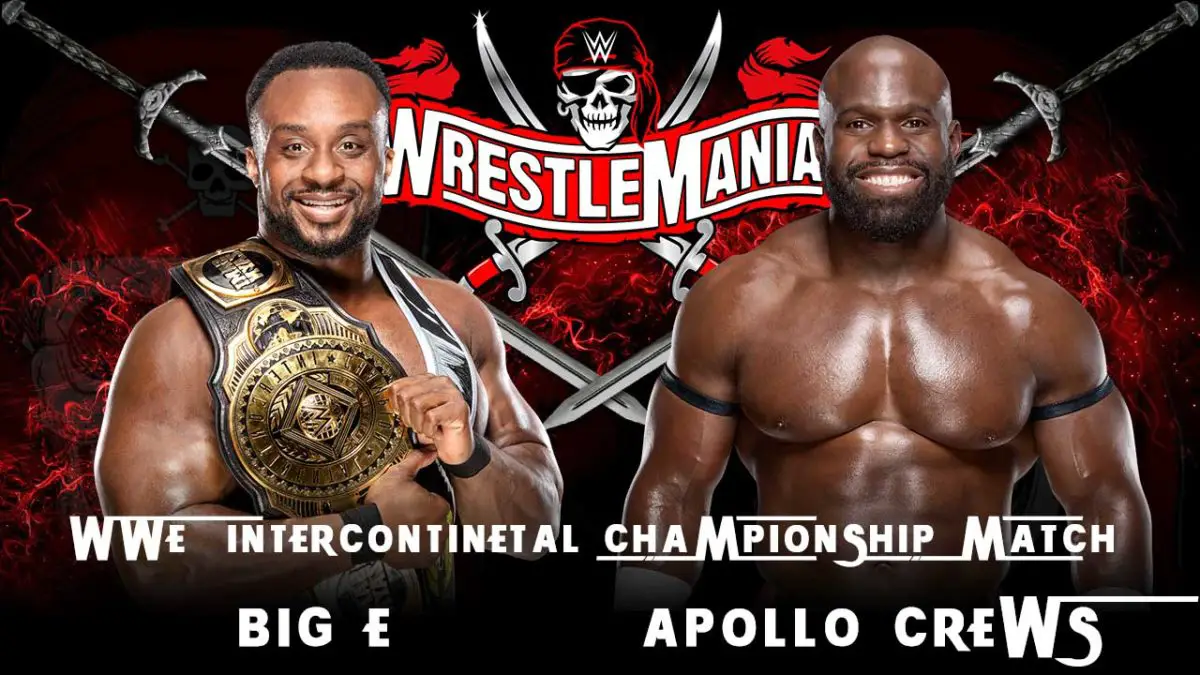 Apollo Crews answered to Big E's IC title open challenge but lost both matches. A rematch between them ended with a double pin and Big E was able to retain the title upon restart. Big E then refused another title match when Crews asked.
Crews lost a #1 contender match against Shinsuke Nakamura. Crews snapped and attacked Nakamura after that match and turned heel. Big E tried to stop him but Crews attacked him also. Crews introduced a new Nigerian Royalty character. Big E returned after three weeks hiatus and offered Crews a title match at Fastlane. Crews attacked Big E after his match against Nakamura.
Big E retained the title at Fastlane in a controversial fashion. Crews pinned Big E in a tag team match. WWE then announced another Intercontinental title match between Big E and Apollo Crews at WrestleMania 37.
On 2 April's SmackDown, Apollo Crews proposed that he and Big E will face off in a Nigerian Drum match. The match is essentially a No Disqualification match with Drum Players around the ring.
Riddle(c) vs Sheamus – WWE United States Championship Match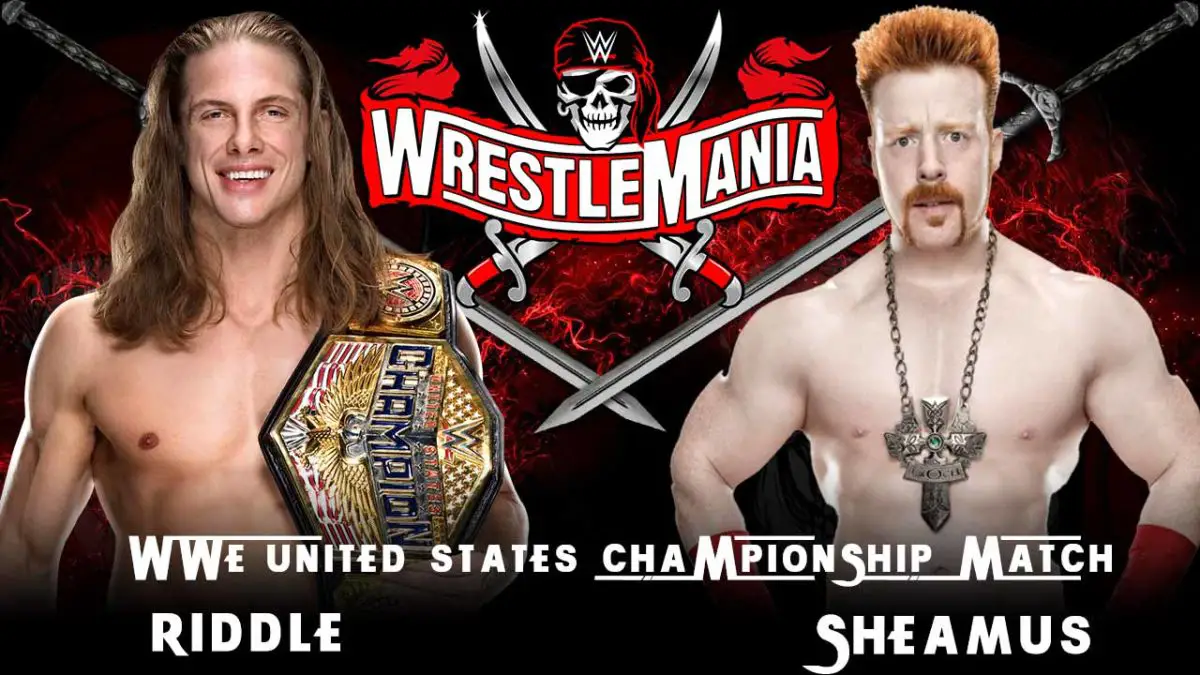 Riddle interrupted Sheamus' backstage interview on RAW 22 March episode with some useless questions which infuriated Sheamus. Sheamus took his scooter and attacked Riddle. A non-title match took between them where Sheamus won. After the match, Riddle attacked Sheamus and laid him out. Sheamus got the title shot since he had pinned the champion.
New Day(c) vs AJ Styles & Omus – WWE RAW Tag Team Championship Match
New Day won the RAW Tag Team Championship back from Hurt Business' Shelton Benjamin and Cedric Alexander at RAW 15 March 2021 episode. Just after their win, AJ Styles and Omos came out and challenged New Day for a title match at WrestleMania 37. New Day accepted the challenge to fix the match.
Next week, New Day tried to create a rift between Styles and Omos. Kofi Kingston also defeated AJ in a singles match on the same night. The following week, both teams faced off in a Games Night where New Day won all the games. AJ defeated Xavier Woods in a singles match.
Tag Team Turmoil Match for #1 Contender for WWE Women's Tag Team Championship
4 teams- 2 each from RAW and SmackDown – will face off in a tag team Turmoil match for the #1 contender spot for Women's Tag Team Championship on Night 2. Dana Brooke & Mandy Rose, Lana & Naomi, Tamina & Natalya, Liv Morgan & Ruby Riott, and Carmella & Billie Kay will take part in this match. Tag Team Turmoil match is essentially a Gauntlet match for Tag Teams.
Shayna Baszler & Nia Jax(c) vs #1 Contenders from Night 1 – WWE Women's Tag Team Championship
Shayna Baszler and Nia Jax will defend their titles on night 2 of WrestleMania 37 against the winners of Tag Team Turmoil match from night 1.
Braun Strowman vs Shane McMahon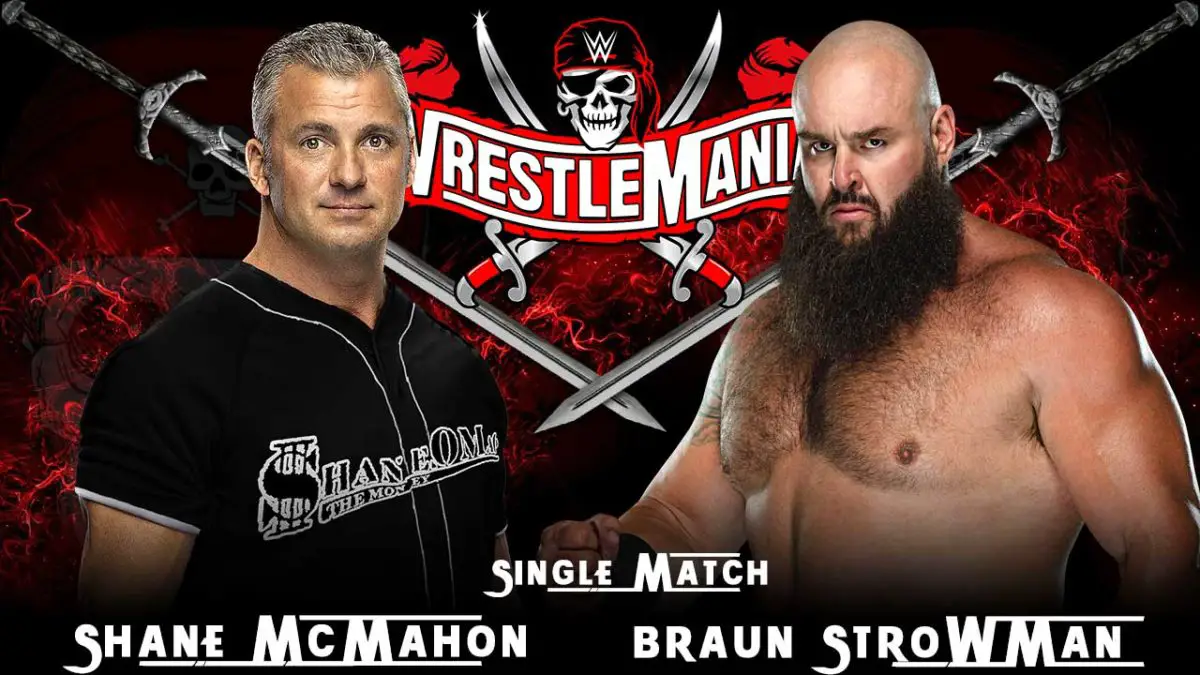 Braun Strowman told Shane McMahon to add him to WWE Championship Elimination Chamber match. Shane told him in the following week that Braun is a former Universal Champion and that's why he was put in the match. Next week, Shane put Braun into a tag team with Adam Pearce. Strowman and Pearce lost that match and Strowman turned angrier.
The following week, Strowman asked Shane to apologize to him for the disrespect shown to him in recent weeks. Shane called him stupid and tricked him into chasing an SUV. Strowman challenged Shane for a match which Shane accepted. Shane attacked him and put him through the announce table and bath him in the slime.
A match was announced between them for Fastlane but Shane got injured in the pre-match training. Strowman then faced Elias and defeated him at Fastlane. On RAW 22 March episode, Shane attacked Strowman with a crutch but Strowman no-selled it.
Strowman challenged Shane for a match at WrestleMania 37 which was accepted by Shane. Next week, Strowman revealed that their match will be a steel cage match so that Shane could not run away and also that Elias and Jaxson Ryker could not interfere in the match.
Seth Rollins vs Cesaro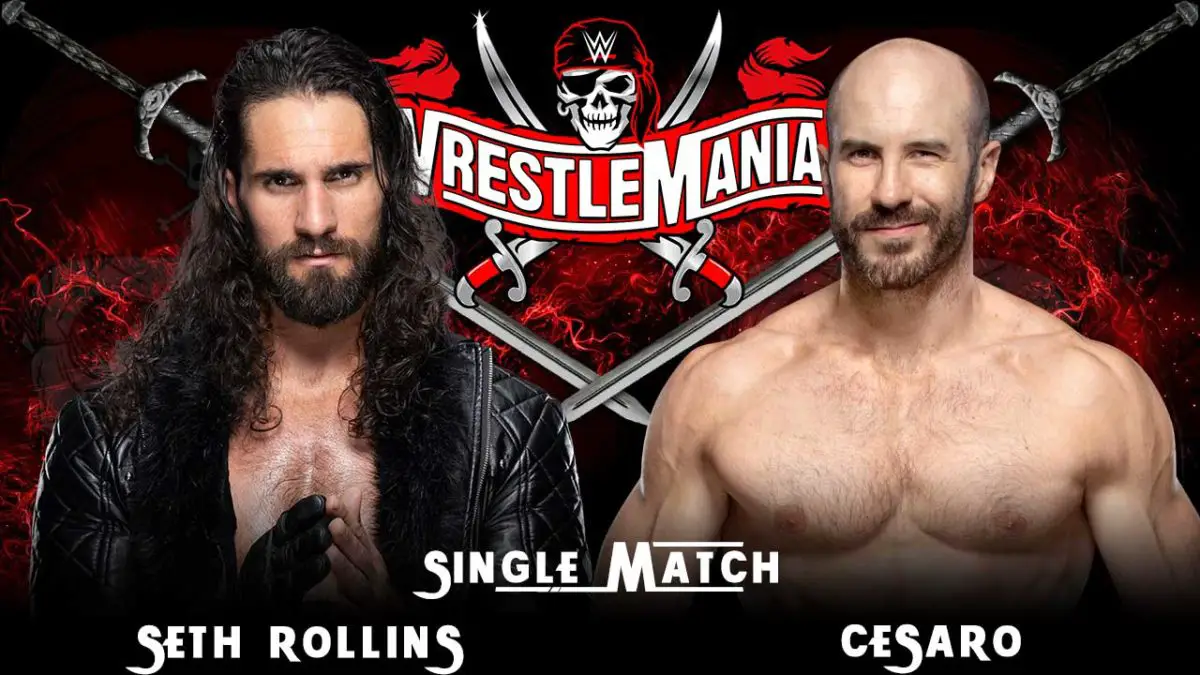 Seth Rollins came back from a break on SmackDown 12 February 2021 episode. The whole locker room came out to the ringside to listen to his return speech but walked out on him when he continued to proclaim himself as the SmackDown's saviour. Cesaro was still at ringside and Rollins tried to make him a follower. When Cesaro also started to walk back, Rollins attacked him.
Next week, Cesaro attacked Rollins back and swung him 22 times. Rollins then filed a complaint to WWE against Cesaro the following week. Murphy, Rollins' earlier follower, faced Cesaro in a match and lost. Rollins attacked Cesaro after this match. Cesaro's former tag team partner Shinsuke Nakamura confronted Rollins to start a feud. Rollins defeated Nakamura at Fastlane 2021.
Rollins attacked Nakamura on SmackDown 26 March episode and Cesaro came out to make the save. As Rollins was ranting backstage, Cesaro attacked and put him in a swing once again. WWE then announced the match between them for WrestleMania.
Kevin Owens vs Sami Zayn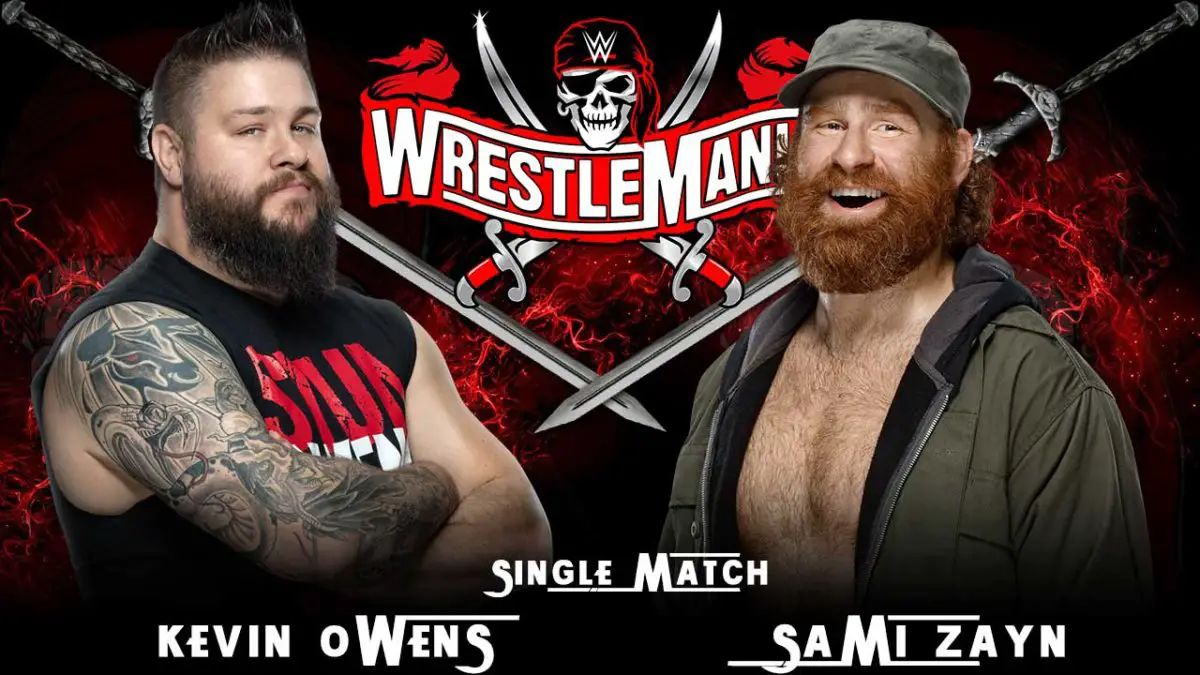 Sami Zayn has been shooting for a documentary to prove his conspiracy theory that WWE wants to sabotage his career. On 12 March edition of SmackDown, he asked Kevin Owens to appear in the documentary. Owens was busy at the time preparing for the KO show. Next week, he was at commentary when Sami faced Corbin in a single match which he lost.
When Owens told him that he did not see anything suspicious in his loss, Sami ran him over the Helluva kick. The following week, Owens hosted Sami in the KO show and asked him whether he would like to face him in a match at WrestleMania 37. Sami agreed. Owens then attacked Sami and beat him up for a while.
Logan Paul came to SmackDown on 2 April episode on the release of trailer of Sami's documentary. Sami asked him to be his guest of honor at WrestleMania. Paul agreed to it. KO sneaked up on Sami and hit him with a stunner.
The Miz & John Morrison vs Bad Bunny & Damian Priest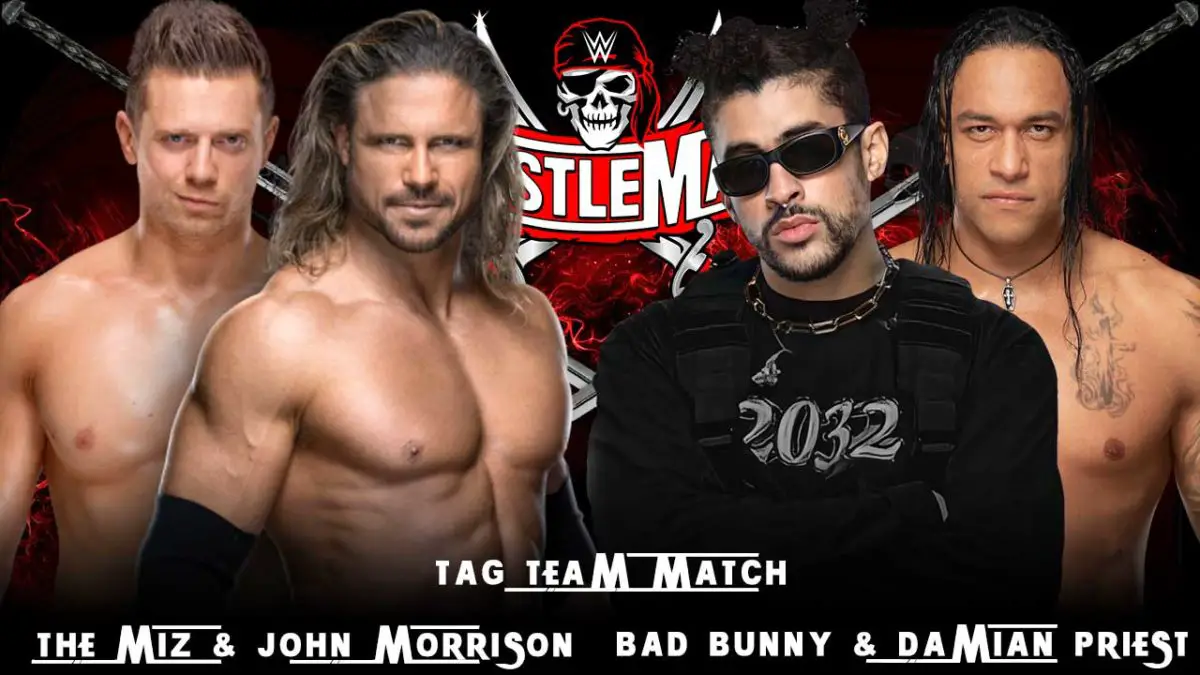 Bad Bunny appeared at Royal Rumble to perform his new single "Booker-T." Later, Miz and John Morrison approached him for a music collaboration but he refused their advances. During his entrance for the men's Royal Rumble match, Miz broke Bunny's DJ which was at the stage. Bunny came out in anger and the distraction allowed Damian Preist to eliminate both Miz & Morrison from the Royal Rumble match.
On next RAW episode, Bunny appeared on the MizTV segment and once again declined Miz's offer for music album. He then introduced Damian Preist as his friend. Priest defeated Miz in a singles match. Next week, Priest defeated Angel Garza. During this match, Miz & Morrison were in Garza's corner but Bunny got them evicted.
On 15 February episode of RAW, Bad Bunny won the 24/7 Championship after Priest threw Akira Tozawa into a production crate. On 15 March 2021, Bunny mocked Miz on losing the WWE title and punched him in the face. Later, Damian Preist defeated Jaxson Ryker. Post-match, Morrison came out to taunt them and lured Priest out to the stage. Miz came from behind and smacked Bunny with his guitar.
On 22 March's RAW, Miz & Morrison cut a promo on Bunny and Miz challenged him for a match at WrestleMania 37. Miz defeated Jeff Hardy on the show. Bad Bunny sneaked up him post-match and smacked him with the guitar. He also accepted Miz's challenge for WrestleMania match.
Randy Orton vs The Fiend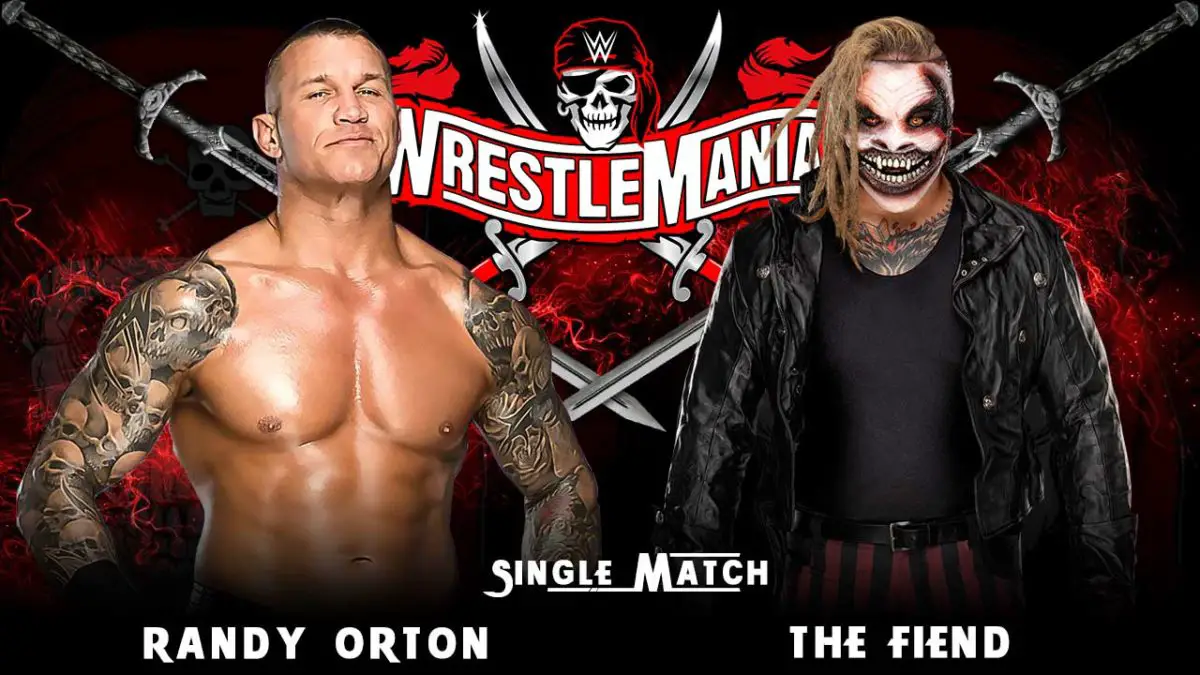 Office Website: WWE Wrestlemania