WWE WrestleMania 37 Night 2 Live Results – 11 April 2021
Welcome to the Live Results and Updates blog of WWE WrestleMania 37(WM 37) Night 2 on 11 April 2021 from Raymond James Stadiums, Tampa, Florida.
Date– 11 April 2021
Location- Raymond James Stadiums, Tampa, FL, US
Start Time- Pre-show: 7 PM EST(11 PM GMT/12 April 2021 4:30 AM IST)
Main Show: 8 PM EST(12 April 2021 12 AM GMT/ 5:30 AM IST)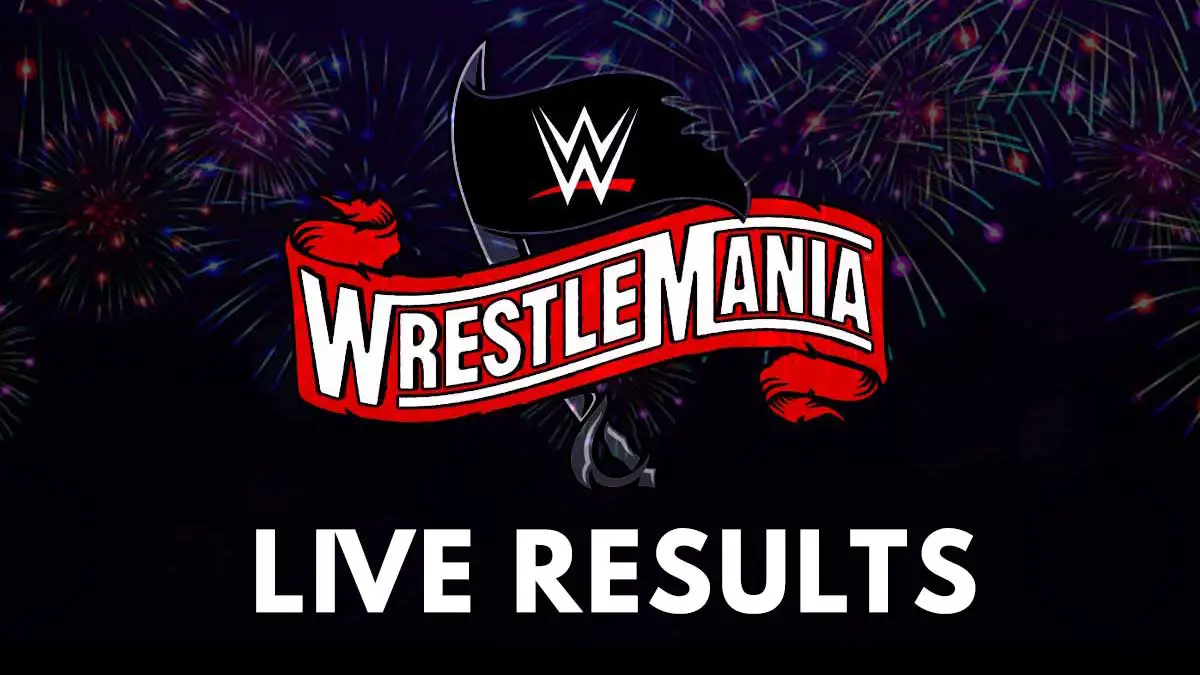 Night 1 of WrestleMania 37 knocked it out of the park with both in-ring action and the entertainment perspective. This hypes up the expectation a lot more for the night 2 as it boasts of much better matches on the card with no green Giant like Omos and a celebrity like Bad Bunny to accomodate.
The biggest attraction on night 2 of WrestleMania 37 will be the main event where Roman Reigns will defend the WWE Universal Championship against Edge and Daniel Bryan. United States, Intercontinental, Women's Tag Team, and RAW Women's Championship – All will be on the line in various matches.
Plus, the Fiend will make a grand entrance in his match against Randy Orton. And Kevin Owens vs Sami Zayn will have yhe Youtuber Logan Paul present at the ringside. So, buckle up as bring you the best of action, live results and updates from night 2 of WrestleMania 37.
Check the results and updates from night 1 of WrestleMania 37 here. Also, you can know how to live stream online WrestleMania 37 here.
WWE WrestleMania 37 Night 2 Quick Results
Randy Orton defeated The Fiend in a singles match.
Nia Jax & Shayna Baszler(c) defeated Tamina Snuka & Natalya to retain WWE Women's Tag Team Championship.
Kevin Owens defeated Sami Zayn(w/Logan Paul as his special guest)
Sheamus defeated Riddle(c) to become the new United States Champion.
Apollo Crews defeated Big E(c) in a Nigerian Drum Fight to become the new Intercontinental Champion.
Rhea Ripley defeated Asuka(c) to become the new RAW Women's Champion.
Roman Reigns(c) defeated Edge and Daniel Bryan in a – Triple Threat match to retain Universal Championship.
WWE WM 37 Night 2 Pre-Show
The pre-show for WM 37 will be available for free to watch at the Youtube video above. We will also post major updates from the pre-show. No match is currently announced for pre-show. So, join us for the live results and updates from WWE WrestleMania 37 night 2 here.
The pre-show kicks off with the same panel as last night – Kayla Braxton, Booker T, Jerry Lawler, JBL and Peter Rosenburg. They talk about it being wet and windy. We see some fans in raincoats already. They go through the card for the night. They announced that Randy Orton vs The Fiend will start tonight's main card.
The discussion moves to Women's Tag Team Championship and everyone has praises for Tamina. United States title match is talked next. Jerry Lawler wonders why Riddle does not wear shoes. Rosenburg tries to explain that it might be due to his MMA background.
A special video package from the last night. As of now, there is not talk of a delayed start. Bad Bunny is hailed for his performance and they agree that he should be called a new WWE Superstar instead of a celebrity wrestler.
WWE Hall of Fame 2021 inductees are introduced with a video package. A special video package for the match between Big E & Apollo Crews now. What is Nigerian Drum Fight? It is still not explained.
Sonya Deville joins the panel. Sonya says only Apollo knows what the Nigerian Drum fight is and Big E does not know what he is getting into. Booker T tries to explain the history and says it will be something the world needs to understand. The bottom line is you beat the drum!
Sami Zayn vs Kevin Owens is discussed. They all talk about Sami's conspiracy claims. They go through the card one more time before coming back to discuss the main event Universal Championship match.
Keep logged in for the live results and updates from WWE WrestleMania night 2.
WWE WrestleMania 37 Night 2 Main Show
Ashland Craft is out in the ring to sing America The Beautiful as the main show kicks off! The airplanes in the sky and big pyro takes us to the opening video package. The same video package as last night but with some clips changed to last night's clips.
Big pyro work once again as the video package ends. We see fireworks in the sky. Co-hosts of WrestleMania – Titus O'Neal and Hulk Hogan come out. They are dressed as pirates tonight. WWE showing some Hogan posters from the crowd. They hype tonight's card. Some boos can be heard every time Hogan says something. This would be awkward.
Randy Orton vs The Fiend
Titus says the first match is darker than Davey Jones' locker. We cut to the commentary team. Randy Orton enters for the match. Orton's entrance is grand in simple ways. We cut to the video package for the match. We cut to the Fiend who is in his burnt-out form in some pathway. He transforms into his usual self as he ways down.
Firefly Fun House music hits as Alexa Bliss makes her entrance. Orton is muttering something at her in anger. Bliss has her eyes painted. She has a pandora box placed at the ringside. Alexa goes to open it with a big lever and the Fiend comes out it as his music hits. Orton is almost looking at him in shock as Fiend is back to his original form. Fiend goes to work the crowd on top of the pandora box.
Fiend clotheslines Orton as he jumps from the top of the pandora box. Fiend beats down Orton in the corner. He sets up in the corner to charge at Orton. Orton takes time to get back up and slips out. Fiend follows him and Orton drops him on the announce table which is no sold by him. Fiend beat down Orton as he takes him back to the ring. Orton hits the draping DDT but Fiend gets back to his feet.
Orton manages to send Fiend in the pandora box head first and hits draping DDT. Orton with more punches as Fiend slowly gets back to his feet. They run the ropes and Fiend hits the running headbutt. He misses a standing senton and Orton sends him out. Orton kicks at him as he comes back and hits another draping DDT. Orton was looking for the RKO but Fiend puts him in the mandible claw. He turns it into sister abigail position and the fire goes off from the ringposts.
Fiend's attention turns to Alexa Bliss sitting on top of Pandora Box. She is covered in black paint/black blood. Fiend is shocked. Orton catches him with an RKO and gets the pin.
Winner – Randy Orton
Orton runs away from the ring right after the match. Fiend states at Bliss and she also stares back. The lights go off. When they come back, the Fiend and Alexa are gone.
Bayley catches with Hogan and Titus backstage as they talk with Eric Bischoff. She brings her Ding Dong Hello! segment once again. She largely gets hung up by all others as they walk out on their ways.
Nia Jax & Shayna Baszler(c) vs Tamina Snuka & Natalya – WWE Women's Tag Team Championship
Both teams enter. Natalya and Shayna start. Shayna takes down Natalya as they come to a stalemate. Another takedown from Baszler into a side headlock. Shayna with a shoulder tackle. Natalya's hiptoss is blocked and Shayna tags in Nia. Natalya gets thrown back and Nia asks Tamina to enter. Natalya tags in Tamina. The crowd cheers Tamina.
Tamina no-sells the headbutts from Nia. Nia gets unloaded. Tamina tags in Natalya for a double team back body drop. Shayna takes the blind tag and gets hit by double suplex. Shayna tries to get Natalya into a cradle for a two-count. Natalya hits a German suplex before Tamina runs Shayna over with a clothesline. Natalya sends Shayna into Tamina's superkick from a catapult.
Shayna comes back with quick strikes and hits a big knee to her face. Nia picks up Tamina at the ringside and slams her to the floor. Shayna starts to work on Natalya's legs now. Natalya's ankle is damaged as Shayna stomps on it. Nia with a leg drop on that ankle before putting the pressure on it. Natalya tries to punch her way out but Nia drops her. Nia picks her up from the stretch muffler for Shayna to hits another big knee to her face. Nia comes back for a big body slam.
Natalya sidesteps to send Nia into the ringpost. Natalya takes down Nia with a big discuss clothesline. The crowd cheers her but Nia picks her up to hit a big spine buster. Tamina breaks the pin in time. Shayna and Tamina tags in. Tamina with clotheslines and a big takedown. Shayna hits sidekicks but Tamina takes her down with dragon screw. Shayna grabs her ankle to work on it. Tamina drops Nia from the apron and hits Samoan drop on Shayna for a near fall.
Tamina gets to the top as the crowd cheers. Shayna decks her and tags in Nia. Natalya decks Shayna away and Nia hits double crossbody on both opponents. The chants for Tamina goes on as Nia picks up Tamina. Nia runs down her mouth. Tamina slowly gets back to her feet and stuns her with a big punch. Tamina bodyslams Nia to get a nearfall. More chants for Tamina now as she goes to the top. Tamina misses the superfly splash.
Both women are down. Their partners are not in the corners. They both come up. Natalya gets the tag first and tries to deck Shayna. Shayna tags in before getting dropped. Natalya puts Nia in the sharpshooter. Shayna Baszler comes in as she is legal and puts Natalya in the Kirifuda clutch to get the win.
Winners – Shayna Baszler & Nia Jax(retain Women's Tag Team Championship)
Keep tuned in for more results and updates from WrestleMania 37 night 2.
Kevin Owens vs Sami Zayn – Logan Paul as special guest
We get the video package for the match. JBL will be at the commentary for the match. Sami Zayn comes out and get surprising cheers from the crowd. He takes the mic now and introduces his special guest of honor. Some boos and Sami asks crowd to show some respect. He introduces Logan Paul. The crowd gives a mixed response to Logan. He comes into the ring and shakes hands with Sami. Logan waves at the crowd as Kevin Owens' music hits. He is pumped up for the crowd.
The crowd is on fire as they face-off. Sami runs into a pop-up powerbomb. Sami slips out to the floor. KO tries to hit another powerbomb on the floor but Sami grabs the ropes and get back to the ring. KO with a suplex, a corner clothesline and a cannonball. KO goes to the top but Sami slips to the apron. They tussle on the apron and Sami hits the brainbuster to KO on the apron.
Sami goes back to the ring and the referee starts to count. KO enters the ring at 8. Sami unloads with punches and kicks and big blows to the back. KO comes back with punches before Sami hits the michonoku driver for a two-count. Sami takes KO to the top for a superplex. KO fights back with punches and elbows. They trade strikes on the top. KO headbutts Sami down and hits the frog splash for a near fall. Logan Paul is watching interestingly from the ringside.
Sami ducks the pop-up powerbomb but KO drops him headfirst into his knees. KO goes for a powerbomb again but Sami sends him into turnbuckle with an exploder. Sami misses the Helluva kick but manages to hit the blue thunderbomb for another near fall. Another exploder suplex from Sami and a brainbuster for another near fall. The crowd chants "This is Awesome."
Sami unloads in the corner now. He takes KO to the top. KO turns superplex into a fisherman suplex from the top. Both get back to their feet. KO with back to back clotheslines but Sami hts the Helluva kick the third time. Sami goes for another Helluva kick but runs into a superkick from Owens. Owens with another superkick. Owens picks Sami up and hits the stunner to get the win.
Winner – Kevin Owens
Logan Paul comes into the ring after the match. He tells Sami that there is no conspiracy in this loss. Sami gets irritated at him and goes away cursing at him. Logan takes KO's hand and celebrates with him. The crowd gets pumped as they see a Stunner to Logan incoming. KO hits the stunner and hits the corner to get big cheers from the crowd.
Riddle catches up with WWE Hall of Famer The Great Khali backstage and proposes a "Giant" Store. Khali tells him he should think about the branding first in Hindi, his native language. WWE Hall of Famer RVD comes up and works as the translator to tell Riddle that Khali is talking about branding just like his RVD Rolling paper. Khali then tells Riddle to not think about them and about his game now.
Riddle(c) vs Sheamus – United States Championship
Riddle kicks at him in the corner and hangs him in an armbar with the ropes. Sheamus decks him and goes to hit his signature clubbing blows to the chest. Sheamus with a suplex to get a two-count. He goes to the top and Riddle jumps up to take him down with a belly to belly suplex from the top. Both men are down and get to their feet in some time. Riddle with quick strikes, ducks from the ropes and hits a big kick. Forearms in the corner, senton and a jackhammer from Riddle for a near fall.
Riddle goes for the bro-derek but Sheamus counters. Riddle with kicks before he gets sent to the apron. Riddle hits another kick but runs into a big knee from Sheamus for a near fall. Sheamus hits the alabama slam for another two-count. Sheamus tries to hit the white noice at the apron but Riddle sends him into the ringpost and hits a suplex on the apron. Riddle with a crossbody on the floor.
Back to the ring, Riddle hits a broton from the top but Sheamus kicks out. Riddle goes for the armbar but Sheamus picks him to hit the powerbomb. Riddle puts him in the kirifuda clutch and Sheamus had to reach the ropes to break it. Sheamus rocks Riddle and tries to go to the top for white noise. Riddle delays it for a while but Sheamus hits the white noise. Sheamus hits the knee drop from the top for another two-count.
Sheamus stands up in the corner and signals for the Brogue kick. Back and forth and Sheamus catches Riddle from a springboard with the Brogue kick for the pin and win.
Winner – Sheamus(new United States Champion)
After the match, Sheamus gets the title and celebrates. Riddle has blood running down his mouth. Sheamus celebrates at the ramp as Riddle looks at him angrily from the ring.
Keep tuned in as we keep bringing you results and updates from WrestleMania 37 night 2.
We get a video package with Bad Bunny and Triple H. Hunter tells Bad Bunny that he did good but he should now go back to what he does. Triple H hands him a briefcase. Bunny gets on this 18 wheeler and opens the briefcase. It has skull themed dagger, a Triple H special. Bunny signals his truck to ride away. This was a promo for Bad Bunny's tour in 2022.
Big E(c) vs Apollo Crews – Nigerian Drum Fight for Intercontinental Championship
We get the video package for the match. Wale gets introduced to perform Big E's theme "Feel the Power." Wale raps his way down to the stage and performs. Big E makes his entrance as pyro goes off. Big E heads down to the ramp and into the ring. Apollo enters. There are some drums and other stuff around the ring.
They both bring out the kendo sticks and unload. Big E gets better of that and Apollo had to go out of the ring. Big E unloads with kendo stick on the floor. Apollo gets the control back before Big E takes him out with a big suicide dive. Big E sets up the steel steps but Crews scoops him and drops at the apron. Crews throws a steel step at Big E but he moves away. Big E hits a urinagi on Crews on the steel steps.
Big E sets up a table in the ring. Apollo recovers and unloads with a kendo stick. He sets up Big E on the table and goes for the splash from the top. Big E moves away and Crews goes through the table. Big E hits the big ending. He goes for the pin but Dabba Kato attacks him and plants him with a big slam. Kato picks up Apollo and covers him on Big E. Apollo gets the pin and the win.
Winner – Apollo Crews(new Intercontinental Champion)
After the match, Apollo asks Kato to be cautious as he sells injuries. Apollo gets the title and celebrates in the corner. Dabba Kato is behind him. The pyro goes off as the segment ends.
Steve Austin announces WrestleMania 38 for Dallas, Texas in a video package. The package for WWE Hall of Fame 2021 Inductees. The inductees get honored by the crowd. Kane is the main event and he fires up the place.
Asuka(c) vs Rhea Ripley – RAW Women's Championship
Rhea gets the grand entrance with her theme performed. I had to say that musical performance was not good not though. Asuka enters for the match next.
They start with some pin attempts. Asuka takes down Rhea but misses the hip attack in the corner. Rhea with a big slap before Asuka drops her with toe hold into the turnbuckle. Rhea goes to the floor and gets kicked at her face by Asuka. Back to the ring, Asuka hits a few kicks to her back. Rhea moves out of another hip attack and hits a big reverse kick. Rhea slams her down to get a two-count.
Rhea slams her face to the mat. The chants of "Rhea wrestle, Asuka wrestle" as Rhea keeps Asuka down and continue to slam her face. Rhea wraps her legs around Asuka now. She now kicks at Asuka for a while. Asuka tries to fight back but Rhea's slaps are too much for her. Rhea hits a few clotheslines before Asuka catches her ankle for an ankle lock.
Rhea looked in trouble and powers out to turn it into a German suplex. The pacing has been slow after a rapid start. Rhea slams Asuka's face in the corner. Rhea beats down Asuka for a while. She takes her to the top but Asuka fights back.
Asuka hits the missile dropkick. She gets to her feet and hits a release German suplex. Asuka with big knee and a hip attack to get a two-count. Asuka goes to top again and Rhea hits a dropkick on her to send her to the floor. Rhea catches Asuka at the arpon and slams her face-first. They get back to the apron and Asuka hits a DDT on Rhea.
Asuka hits a running knee in the ring for a two-count. Rhea catches another running knee and goes for the cloverleaf submission. Asuka counters with the armbar. Rhea overpowers to hit a powerbomb. Asuka goes to the apron and Rhea picks her up for a suplex for a two-count. Rhea goes for the German suplex. Asuka with elbows and brings down Rhea into armbar again. She turns it into the Asuka lock.
Rhea rolls out of it, invites Asuka for the running kick, catches her and hits the riptide for the pin and the win.
Winner – Rhea Ripley(new RAW Women's Champion)
Titus O'Neal and Hulk Hogan are out on the stage now. They thank everyone and especially the fans. Bayley comes out to interrupt them. She says they forgot to thank them. Bayley asks for some pyro and she gets it.
Bayley runs her mouth until The Bella Twins' music hits as they come out. Bayley takes shot at them and says it is her time. Bayley brings up John Cena and Nikki Bella drops her mic out of her hand. The Bellas beat up Bayley and hit their tag team finisher at the stage. They throw Bayley down the ramp. The crowd did not like that climax at all as we hear heavy boos.
Backlash is announced as the next PPV after WrestleMania. Check all the upcoming WWE PPVs for 2021 here.
Roman Reigns(c) vs Edge vs Daniel Bryan – Triple Threat match for Universal Championship Match
Daniel Bryan comes out to a Yes! chant. He gets into the ring and starts a much louder Yes! chant. Edge comes out next and gets a huge response as he walk side to side at the stage. He walks down the ramp as the pyro goes off. Some boos and some cheers as Roman Reigns' music hits.
Roman makes them wait though. He comes out and walks down the ramp along with Jey Uso and Paul Heyman. All of them have garlands around their necks. They stop in the middle of the ramp and Roman raises the title in the air to kick off massive pyro. The atmosphere gets electric as all three of them are in the ring and the announcements get done.
Roman decks Bryan to start. Edge jumps on him but Roman turns it around to take him to the corner. Bryan jumps on him now. Roman sends Bryan out and Jey Uso superkicks him and sends him into the steel step. Edge is also sent to the floor and gets superkicked by Jey. Roman clears the announce table. Jey goes to pick Edge when Bryan hits a suicide dive. Jey with a superkick to Bryan before Edge whips him into the steel steps. Edge goes and manhandles Roman by sending him into the barricade many times.
Edge goes and hits a DDT to Jey into the steel steps. Edge has hurt himself also. All three men are down on the floor. Bryan gets into the ring as well as Edge. Jey is helped out and taken to the back. Bryan and Edge go at it in the ring as Roman watches from the floor. Bryan with kicks in the corner. Edge counters a headscissors into a crucifix. Edge decks Bryan. Roman comes to the apron and decks Edge. They tussle for suplex.
Bryan slips in between and takes down Roman into the apron. Bryan goes to the top to hit a missile dropkick. Bryan goes to hit Roman with a suicide dive but get caught and hit with a suplex. Edge hits Roman with a basement slide. Edge tosses Roman back to the ring but runs into a jumping clothesline. Roman goes for the superman punch but Edge counters with a DDT. Edge gets ready for the spear but runs into a Superman punch. Roman gets ready for spear now. Edge sunset flips him for a two-count. Both go for spears and collide in the middle.
This is awesome chants. Bryan hits both men with flying headbutt one by one. Bryan gets a two-count on Roman. Bryan gets up and starts the series of Yes kicks to Roman and Edge. Roman counters the final kick and sends Edge into the running knee. Bryan counters the superman punch and hits the big Yes kick. Bryan goes and stomps on Roman before putting him in the Yes lock. Roman was in trouble when Paul Heyman tells Edge to break it. Bryan now gets Edge into the Yes lock. Roman breaks it this time. Roman unloads on Bryan on the floor now. Roman powerbombs Bryan on Edge now.
Bryan is thrown out of the ring now. The fans chant "Roman Suck" and agitates Roman some more. Roman sets up a steel step beside the announce table. "Roman suck" chants continue as Roman powerbombs Bryan through the announce table. Roman goes to pose but suddenly run over by Edge with a spear. All three men are down again.
Edge picks Roman and takes him into the ring. He picks a few steel chairs and takes it back to the ring. Roman throws the chair away and goes for the Guillotine. Edge takes him down into the crossface. He even uses a piece of a chair in the crossface. Reigns was about to tap out when Bryan stops his hand and puts on the Yes lock from his side.
Edge and Bryan headbutt each other as they had Roman in submission. Bryan goes to unload on Edge. Bryan goes to hit stomps on Edge's neck. He gets ready for a charge in the corner as Edge slowly gets to his feet. Edge hits him with a spear. Roman misses Superman punch and Edge hits him with another spear. Edge covers but Bryan takes the referee away to stop the three count.
Edge gets angrier now and picks more steel chairs now. He goes and hits Bryan with steel chair. He takes Bryan back to the ring and unloads on both Bryan and Roman with steel chairs. He then put both men in chair-con-to position. He takes a moment of madnes before hitting Bryan with chair-con-to.
Edge was going after Roman when Jey interferes. Edge takes him down with a spear and rains on him with chair. Roman hits a spear on Edge. Roman puts Edge in chair-con-to and hits it. Roman drags Edge on top of Daniel Bryan and covers both men to get the pin.
Winner – Roman Reigns(retains Universal Championship)
After the match, Roman gets the title as Paul Heyman comes in. Roman stares into the crowd as they boo him. Jey is also up now as Roman celebrates with him and Paul Heyman. Pyro goes off to close WrestleMania 37 night 2.