WWE Survivor Series 2019 Matches, Date, Tickets, Storylines
Check out the details regarding date, location, tickets, matches, storylines and more for WWE Survivor Series 2019.
The 33rd edition of the WWE Survivor Series will take place at Allstate Arena in Rosemont, Illinois. Also, Survivor Series will return to Rosemont, Illinois for the first time after 30 years. Also, for the first time in its history, WWE NXT will also be part of the Survivor Series as it has now become WWE's third global brand.
Date: 24 November 2019
Location: Allstate Arena, Rosemont, Chicago, Illinois, US
Pre-Show Time: 5 PM EST(10 PM GMT/ 25 November 2019 3:30 AM GMT)
Main Show Time: 7 PM EST(12 PM GMT/ 25 November 2019 5:30 AM GMT)
WWE Survivor Series 2019 Tickets
WWE will actually be holding events in Rosemont for 4 continuous nights with Friday Night SmackDown, NXT TakeOver: War Games 2019, Survivor Series and then Monday Night RAW from 22 November to 25 November 2019. You can buy the complete 4 nights pack below.
WWE Survivor Series 2019 Matches and Storylines
Brock Lesnar (c) vs Rey Mysterio – No Holds Barred, WWE Championship Match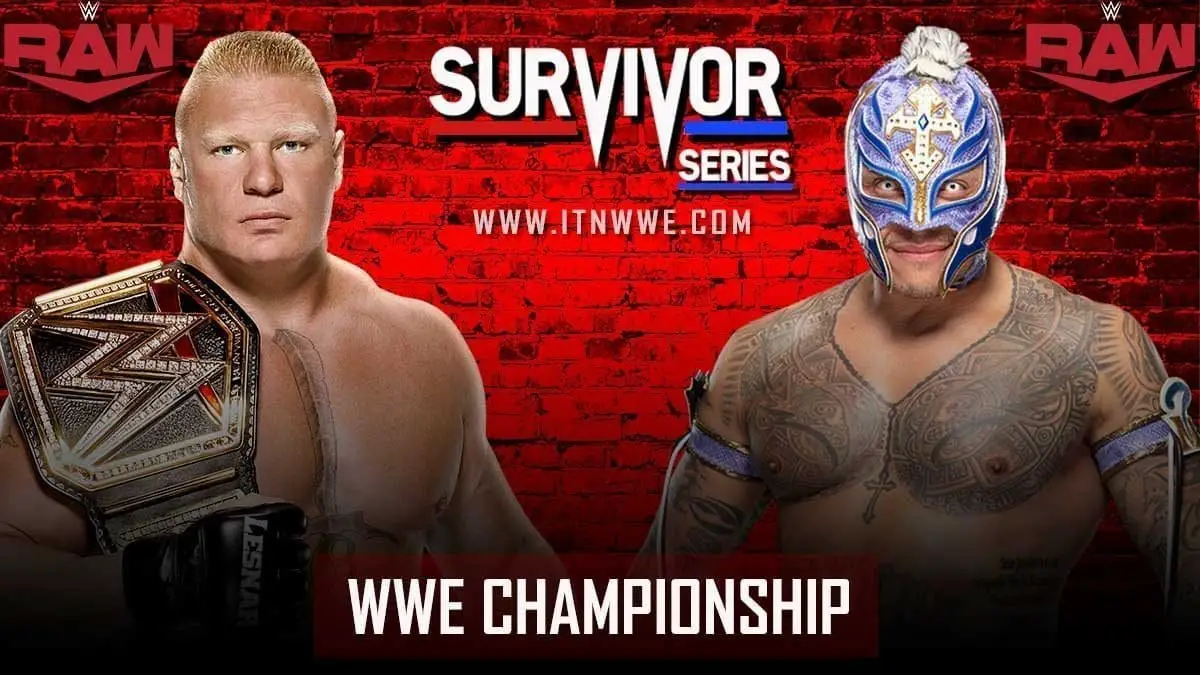 The storyline between Rey Mysterio and Brock Lesnar started on the fine day of 30 September 2019. Rey Mysterio was supposed to face Seth Rollins for the Universal Championship on that day. He came out to open the show and cut a promo. Brock Lesnar came out and attacked Rey Mysterio inadvertently. Lesnar did not stop there. He also attacked Rey's son Dominic and the assaulted led to Dominic being hospitalized.
Brock Lesnar then won the WWE Championship at SmackDown's Fox Premiere episode. Just a few seconds later, Rey Mysterio came out and with him, he brought Cain Velasquez. Velasquez had earlier defeated Brock Lesnar for UFC World Heavyweight Championship in 2010. In WWE, Velasquez was portrayed as Rey Mysterio's friend and Dominic's Godfather. Velasquez hit the ring and tackled Lesnar down, forcing him to run away.
WWE announced the match between Lesnar and Velasquez at WWE Crown Jewel 2019. At the Crown Jewel go-home edition of SmackDown, Lesnar would once again attack Dominic backstage and also laid out Velasquez and Mysterio when they went back to help Dominic. At Crown Jewel, Brock defeated Velasquez but refused to release him from Kimura Lock. Rey Mysterio then attacked him with a chair and forced Lesnar to retreat.
At SmackDown after Crown Jewel, Lesnar's advocate Paul Heyman announced that Brock Lesnar wanted a grudge match against Rey Mysterio, but his request is denied by WWE Chairman Vince McMahon since Mysterio and Lesnar are on different brands. Due to this, Lesnar has decided to quit SmackDown and will join RAW.
Lesnar then appeared at the RAW episode of 4 November and was hunting for Mysterio. Mysterio attacked him with a baseball bat, focusing his attack on Lesnar's leg. Later, Mysterio challenged Lesnar for the WWE Championship at Survivor Series, which Lesnar accepted.
The Fiend Bray Wyatt(c) vs Daniel Bryan – WWE Universal Championship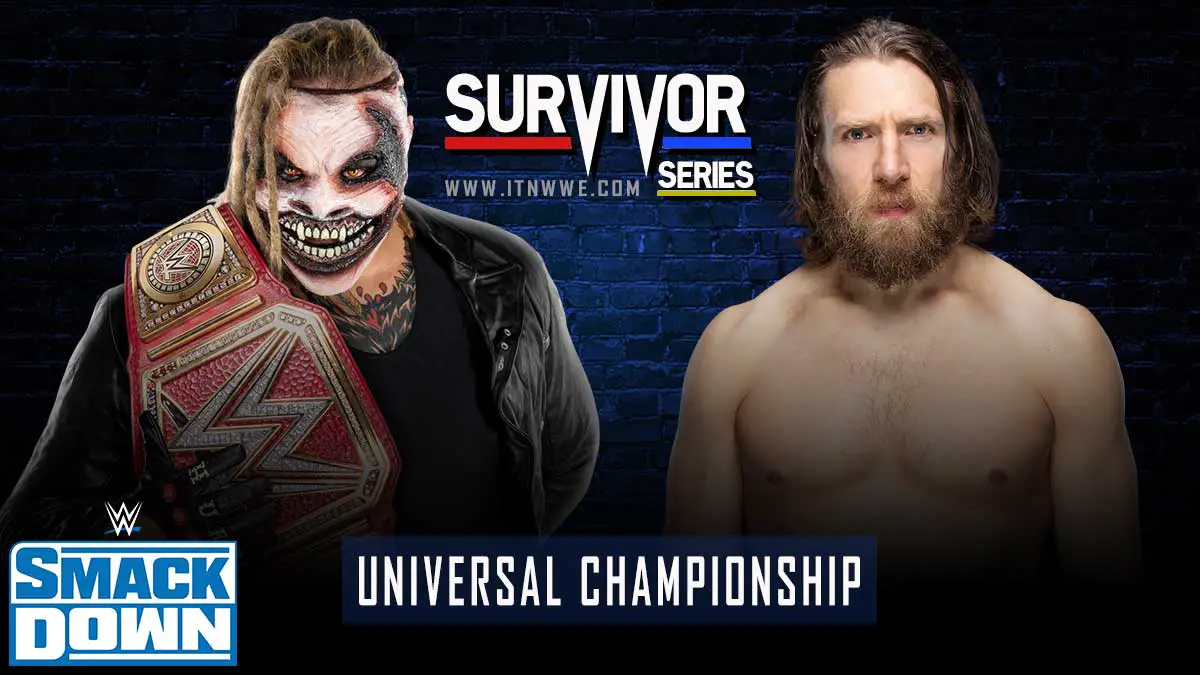 Bray Wyatt, in the Fiend avatar, won the WWE Universal Championship from Seth Rollins at WWE Crown Jewel 2019. Prior to that match, Bray Wyatt was already moved to SmackDown roster during the WWE Draft 2019. On his first act as the SmackDown superstar, Wyatt attacked Daniel Bryan when he was in an argument with Sami Zayn backstage.
Daniel Bryan then appeared at the Miz TV segment on SmackDown episode of 15 November 2019. On the segment, Bryan explained that he is a bit mentally stable but his passion is unbridled, which makes a dangerous combination. Bray Wyatt then appeared on the screen and wanted Bryan to come and play with him in the Firefly Fun House. Bryan replied that he only wanted to play if Universal Championship in on the line. The Miz then announced Bray Wyatt vs Daniel Bryan for Universal Championship at Survivor Series.
Becky Lynch vs Bayley vs Shayna Baszler – Women's Triple Threat Champions Match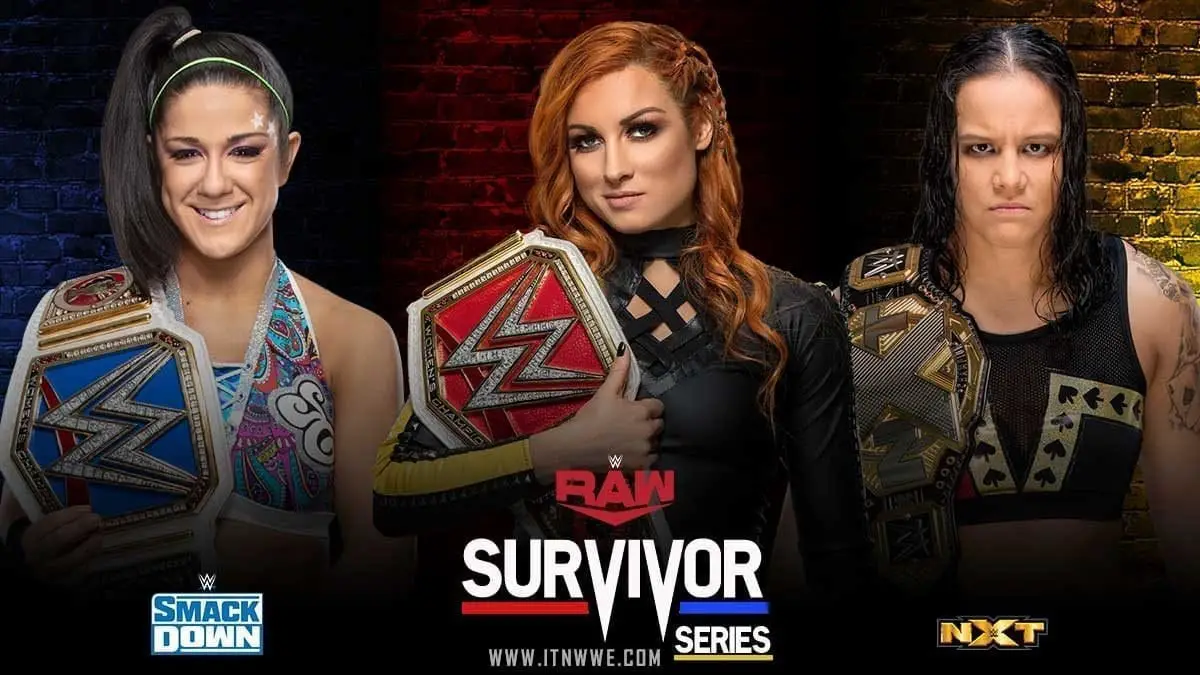 WWE has been booking the champion vs champion matches between different brand champions for Survivor Series for the last few years. The trend continues for Survivor Series 2019 with a match between the Women's Champions of RAW, SmackDown and NXT. But this time, there is some additional motivation for all three champions.
RAW Women's Champion Becky Lynch can brag about putting the friends of her opponents to bed, which makes her the prime target. She pinned Ronda Rousey, Shayna Baszler's friend, at WrestleMania this year. And she also defeated Sasha Banks, Bayley's friend, at Hell in a Cell.
NXT Women's Champion Shayna Baszler had made it clear to Becky that she is coming for her. And she is not like Ronda Rousey to not keep an eye on both of her opponents. SmackDown Women's Champion Bayley has also chimed in and warned both Becky and Baszler against treating her as an afterthought.
Since then, Baszler had attacked Bayley coming to SmackDown while also going to RAW once. Bayley also replied to Baszler when she went to NXT to attack several of their Women athletes.
Adam Cole(c) vs Pete Dunne- NXT Championship Match
Storyline- Pete Dunne, Damien Priest and Killian Dain have been feuding for a long time now. They have interrupted multiple matches and even attacked each other afterward. On 13 November 2019 episode of NXT, Pete Dunne and Killian were finally booked for a match. But Dain attacked Dunne before the match. Damien Priest also got involved in the brawl. Later, NXT announced the match for NXT TakeOver: WarGames 2019 between these three. The winner would face Adam Cole for NXT Championship at Survivor Series on the next night. Pete Dunne won the match at NXT TakeOver: WarGames 2019 and will now face Adam Cole.
AJ Styles(RAW) vs Shinsuke Nakamura(SmackDown) vs Roderick Strong(NXT) – Triple Threat Champions Match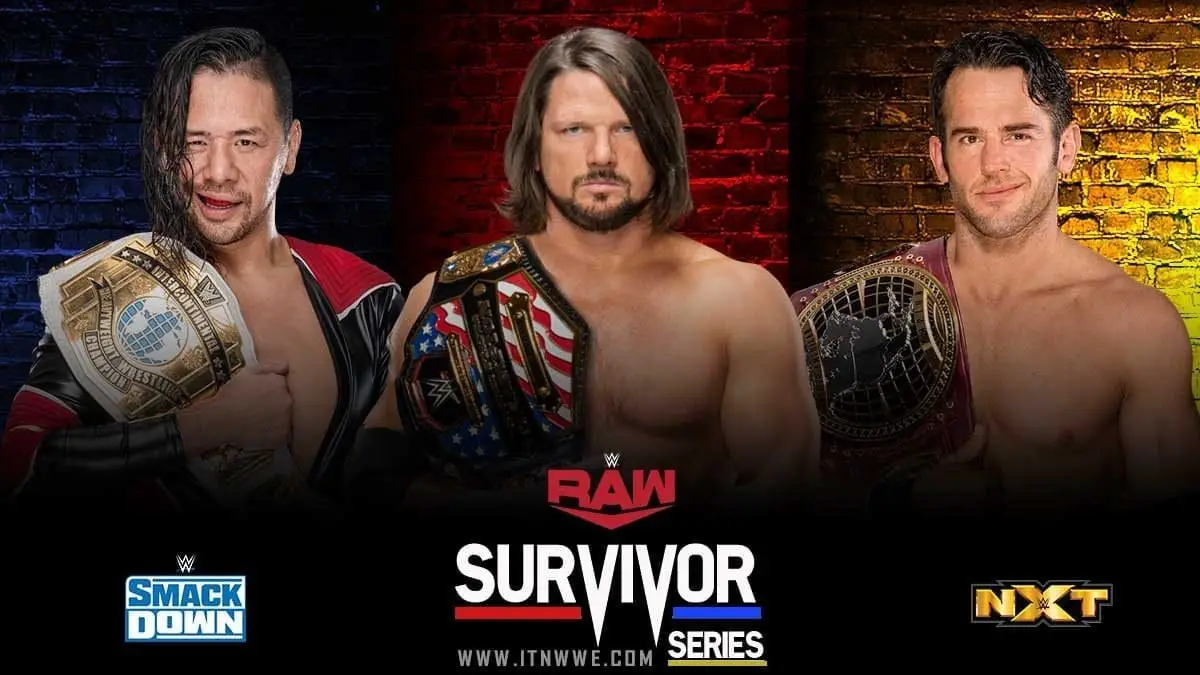 This is the champions clash holding the secondary titles on RAW, SmackDown and NXT. The three champions at the time are:
AJ Styles – WWE United States Champion from RAW
Shinsuke Nakamura – WWE Intercontinental Champion from SmackDown
Roderick Strong – NXT North American Champion from NXT
The Viking Raiders vs The New Day vs The Undisputed ERA – Tag Team Champions Match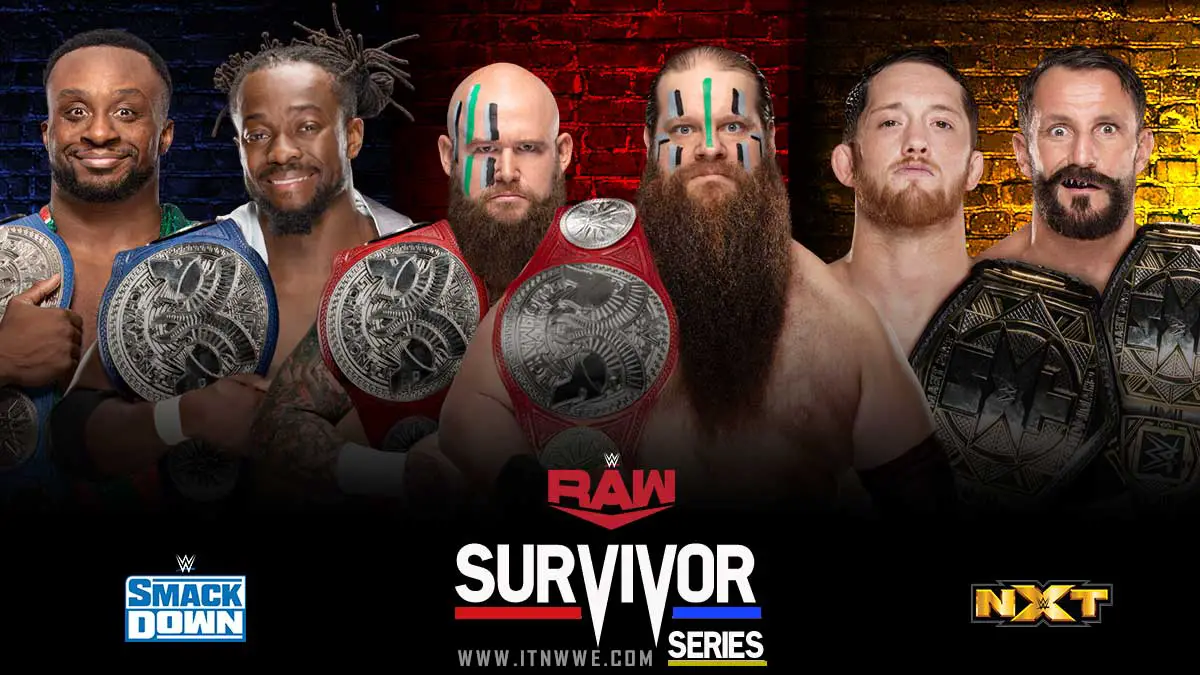 This is another traditional tag team champions match at Survivor Series 2019 between NXT, RAW and SmackDown. Also, this will be the first time that tag team champions from all three brands have previously been the NXT Tag Team Champions. The SmackDown Tag Team Champions the Revival were NXT Tag Champs in 2017 while the Viking Raiders were NXT Champions as recently as May this year. The current NXT Tag Team Champions The Undisputed ERA are also in their second title reign.
The Viking Raiders cut a promo on 4 November episode of RAW, saying that they will bounce back from upset at Crown Jewel and come out victorious at Survivor Series. Later, The New Day defeated The Revival for the SmackDown Tag Team Championship and therefore replaced them in the Survivor Series 2019 match.
Men's 5-on-5 Tag Team Elimination Match- RAW(Seth Rollins, Drew McIntyre, Kevin Owens, Randy Orton & Ricochet) vs SmackDown(Roman Reigns, Shorty G, Mustafa Ali, Braun Strowman & Baron Corbin) vs NXT(TBA)
Seth Rollins was announced as the captain for Team RAW and the rest of the team will be announced at the RAW episode of 11 November 2019. WWE later revealed that Drew McIntyre, Kevin Owens, Randy Orton, and Ricochet will form the rest of the team for RAW.
SmackDown announced Roman Reigns as the captain along with Shorty G, Mustafa Ali, Braun Strowman and Baron Corbin for their team. Corbin wanted Robert Roode and Dolph Ziggler to be added to the team in place of Ali and Shorty G. Four of them faced off in a tag team match where Ali and Gable came out on the winning side and retained their places in the team.
Women's 5-on-5 Tag Team Elimination Match- RAW(Charlotte Flair, Natalya, Asuka, Kairi Sane, Sarah Logan) vs SmackDown(Sasha Banks, Carmella, Dana Brooke, Lacey Evans) vs NXT(Rhea Ripley, Candice LeRae, Io Shirai, Bianca Belair, Toni Storm)
The Women's 5-on-5 Tag Team Elimination match was announced on 8 November 2019 episode of SmackDown. Sasha Banks was announced as the captain of the SmackDown Team. Dana Brooke and Carmella qualified for SmackDown's team by defeating Sonya Deville and Mandy Rose in a tag team match. Lacey Evans was later announced to be added to the SmackDown Team.
From RAW's side, Charlotte Flair announced that she will be leading the team. Later, WWE Women's Tag Team Champions Asuka and Kairi Sane were also announced for the match, along with Natalya and Sarah Logan. Rhea Ripley announced the NXT team after NXT TakeOver WarGames to be Candice LeRae, Io Shirai, Bianca Belair, and Toni Storm.
Tag Team Battle Royal
Lio Rush (c) vs Kalisto vs Damian Priest – Cruiserweight Championship
Official Website – WWE Survivor Series