Canelo Alvarez vs Jermell Charlo: Results, Live Blog, Highlights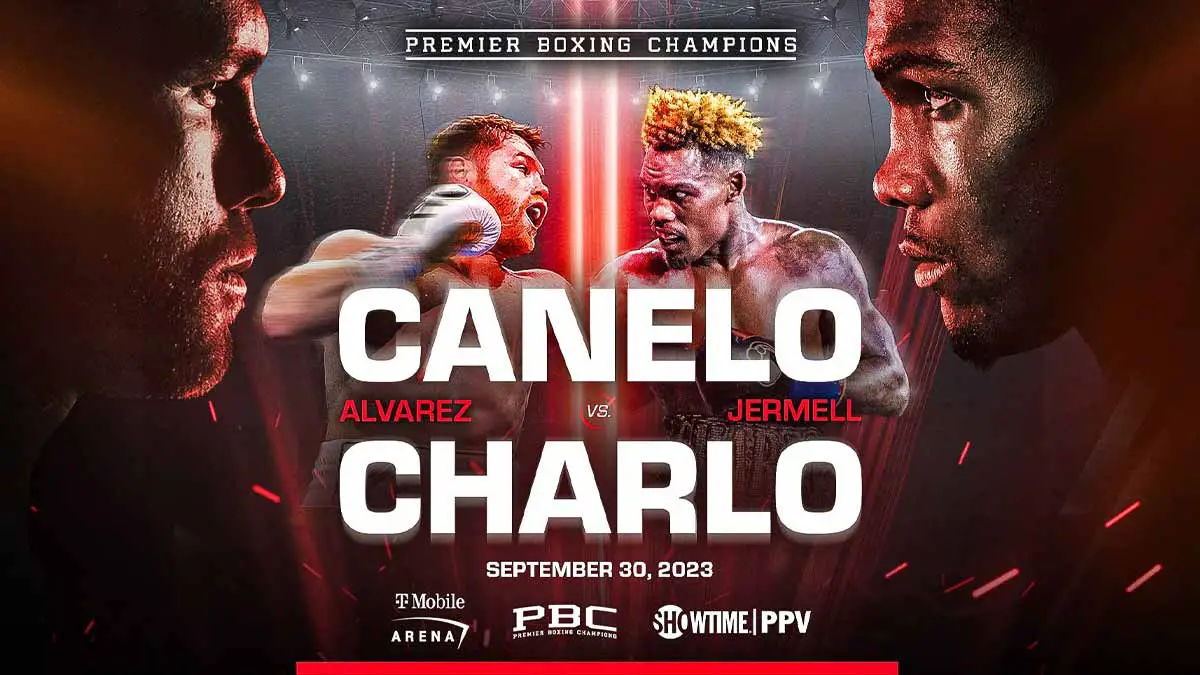 Welcome to the live coverage for Canelo Alvarez vs Jermell Charlo Boxing PPV event with results from the complete card, and live updates from the main event.
Two reigning undisputed champions were set to collide for the first time ever as Canelo defended undisputed Super Middleweight titles against Jermell Charlo, who was an undisputed champion at super welterweight division. Was Charlo able to upset Canelo after jumping up the weight class?
The PPV undercard saw Elijah Garcia taking on Armzndo Resendiz in a middleweight bout. Yordenis Ugas returned to action after 19 months as he took on Mario Barrios for interim WBC Welterweight Championship. Jesus Ramos was in the co-main event to take on Erickson Lubin in a super welterweight bout.
Frank Sanchez also returned to action in a heavyweight bout as he faced Scott Alexander on the prelims. Tune in below for all the results.
QUICK RESULTS
Unaired Prelims Card
Gabriel Gollaz Valenzuela def. Yeis Solano via KO at 2:33 in round 6 – 8 rounds Super Lightweight Bout
Abilkhan Amankul vs Joeshon James ended in a majority draw(39-37, 38-38, 38-38)- 4 rounds Middleweight Bout
Bek Nurmaganbet def. Abimbola Osundairo via split decision – 6 rounds Super Middleweight Bout
Curmel Moton def Ezequiel Flores via TKO at 1:58 in round 1 – 6 rounds Super Featherweight Bout
Prelims Card(on Youtube)
Oleksandr Gvozdyk def. Isaac Rodrigues via KO at 0:39 in round 2 – 8 rounds Light Heavyweight Bout (Watch Video)
Terrell Gausha def. KeAndrae Leatherwood via majority decision(78-74, 78-74, 76-76)- 8 rounds Middleweight Bout (Watch Video)
Frank Sanchez def. Scott Alexander via TKO(corner stoppage) at 3:00 in round 4 – 10 rounds Heavyweight Bout (Watch Video)
Main Card
Elijah Garcia def. Armando Resendiz via TKO at 1:23 of round 8 – 10 rounds Middleweight bout (Watch Video)
Mario Barrios def. Yordenis Ugas via unanimous decision (117-108, 118-107, 118-107) – 12 rounds bout for Interim WBC Welterweight Championship
Erickson Lubin def. Jesus Ramos via unanimous decision(115-113, 116-112, 117-111) – 12 rounds bout for WBC Silver Super Welterweight Championship and WBC Super Welterweight Eliminator.
Saul "Canelo" Alvarez(c) def. Jermell Charlo via unanimous decision(119-108, 118-109, 118-109) – 12 rounds bouts for WBA(Super), IBF, WBO & WBC Super Middleweight Championship
MAIN EVENT LIVE BLOG
We are getting ready for the main event now with the whole undercard completed. Dona Paula signs the Mexican National Anthem. Sherie signs America is Beautiful. We cut to the hype video package next. Jermell Charlo walks out first for the fight. Canelo walks out before we go to Jimmy Lennon Jr. for the official introductions.
Round 1: An electric atmosphere at T-Mobile as they take the center of the ring. They do not engage for the first 30 seconds. Jermell throws a jab. Canelo has not thrown anything in the first minute. He attempts a big swing in the middle of the round. A lot of sideways moves. Canelo blocks a jab and lands a heavy punch. Canelo pushes Jermell to the ropes but he blocks a body shot. Jermell jabs again and Canelo answers with more powerful attempts.
Round 2: Canelo cuts the distance early in the round and tries to land on the body. Jermell blocks the jab as his hands are up all the time. Canelo lands a big right to the ribs. Jermell ducks a couple of big swings. Canelo lands a left to the body. Charlo attempts to push him back with quick jabs. Both men are patient in the final minute.
Round 3: Charlo is much more busy with his jabs to start this round. Canelo gets him in a headlock when he tries to get into a clinch. Canelo lands the bigger shots once again in the round and has put Jermell under pressure. Jermell is only looking for jabs for now.
Round 4: Canelo starts with a body punch. Charlo lands a left hook as the first big shot in the fight. Another hook connects. Canelo also lands a big left hook. Canelo does not want to let Charlo get the upper hand. Charlo fires some quick jabs but can not breach the defense. Canelo lands on the ribs again. Charlo gets into a clinch. Charlo goes back to jabs but Canelo is the one to land a stiff jab to end the round.
Round 5: A big left hook from Canelo. Charlo lands a counter left and a straight right. The round settles in a quiet pattern. Charlo fires combination jabs with the last 30 seconds to go. Canelo answers him with another big shot.
Round 6: Jermell tries to get his range with jabs. He lands one in the first 30 seconds before they get into a clinch. Charlo lands a weak shot on the ribs. Good jabs from Charlo as the second minute starts but Canelo is back to cutting off the ring. Charlo ducks a big shot. He lands a counter left. Canelo lands a jab to push him back again. The third minute starts with Charlo on the ropes. He attempts a big shot after a double jab from Canelo. Charlo keeps moving sideways before Canelo gets him in the corner to connect on the body. Charlo throws his hand but Canelo is the one looking good.
Round 7: Canelo lands a left jab to start the round. Charlo goes for the body now. Canelo staggers Charlo with a big right and an uppercut. It takes a couple of seconds for that punch to register. He gets up on the referee's count though. Canelo back him to the corner again. The referee has to separate them. Charlo lands a left but Canelo walks him down to land one himself. Charlo is throwing hands to keep Canelo away but Canelo lands a double jab and some body punches. Canelo lands a right uppercut. The referee pushes Canelo away after a right.
Round 8: A big uppercut from Canelo. Charlo throws a left but Canelo lands another right. Charlo throws a double jab to keep him away. Charlo starts moving sideways again but Canelo corners him again to land on the body. Charlo also counters with the body shots. Canelo lands a left hook to the body. Charlo fires back but Canelo counters easily. Canelo backs Jermell to the ropes again to land more punches in the final minute. Canelo lands more punches to the face and body on the ropes to end the round.
Round 9: Charlo is also trying to target the body more. Canelo fires a hook to the body. More urgency from Charlo with more attempted punches. They get into a clinch a couple of times after Canelo's shots. Canelo lands a hard right. Charlo pushes him back with a double jab. Charlo has to keep moving away from the corner. Charlo lands a lead left to pearce Canelo's guard. Canelo lands a triple punch combo with the final 15 seconds left.
Round 10: They start with jabs. Canelo is pushing Jermell towards the ropes again. It ultimately pays off with Canelo landing a big right uppercut. Jermell lands some straight jabs. Canelo lands shots on each shoulder. Charlo turns it around in the corner and lands a couple of beautiful rights but Canelo does not show much effect.
Round 11: Charlo keeps backing towards the ropes but keeps throwing jab. Canelo gets him in the corner in the final 10 seconds of the first minute. More back and forth in this round as Charlo is countering more with jabs. Nothing much else happens though in the round until Canelo lands a body combo in the final 30 seconds.
Round 12: Charlo attempts quick jabs. Canelo swings big but Charlo ducks. They are back to the ropes in no time. Nothing notable happens until the final minute when Charlo gets more urgent in his punching. Canelo cuts him off to back up on the ropes.
Official Decision: Saul "Canelo" Alvarez(c) won via unanimous decision(119-108, 118-109, 118-109).