WWE NXT Live Results & Updates- 13 November 2019
Welcome to ITN's Live Results and Updates Blog for the WWE NXT episode of 13 November 2019(11/13/2019).
Date- 13 November 2019
Location- Full Sail Live, Winter Park, Florida, US
Time- 8 PM EST(2 July 2019 12 AM GMT/5:30 AM IST)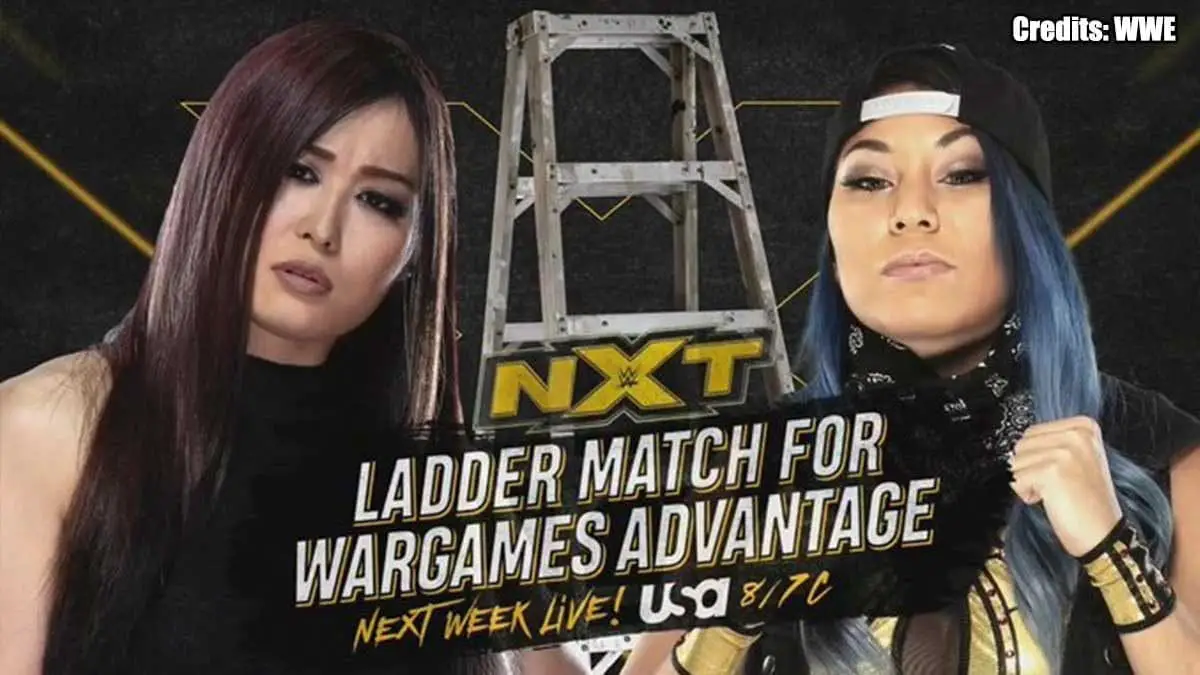 As we continue to the double bonanza weekend of NXT TakeOver WarGames 2019 and Survivor Series 2019, there is still a lot for NXT to figure out in terms of the matches for those shows. The men and women teams for NXT for Survivor Series 2019 elimination matches are not confirmed yet. Both are likely to be announced this week. Also, Io Shirai and Mia Yim will face-off in a ladder match. The winner will earn the entry advantage for their team in the WarGames match. Lio Rush will defend the Cruiserweight Championship against Angel Garza and there will be plenty more to come this week on NXT. So, keep tuning in. Also, you can keep an eye on the AEW Dynamite episode of 13 November 2019, which running parallel to this show.
Lio Rush (c) vs Angel Garza – WWE NXT Cruiserweight Championship Match
Rush and Angel dodge each other to start. Garza offers a handshake and flips Rush. Garza goes outside the barricade and rips off his pants in front of Rush's family. He gets back to ringside and eats a Tope Suicida from Rush. Rush throws Garza back in the ring. Garza dodges The Come Up. Rush sends Garza to the outside. Rush hits a Wrecking Ball Dropkick. Garza counters a Tope Suicida with a powerslam on the floor. We head to commercial.
During the commercial, Garza gets Rush back in the ring. Garza hits a rebound reverse suplex. Garza gets a nearfall. Garza dominates Rush in the corner and gets another nearfall. Garza. He continues to keep Rush on the mat. Rush counters a Death Valley Driver with a Frankensteiner. Garza fights back and locks in a double shoulder lock. Garza stretches Rush during a distractingly.
Back from commercial, Rush fights back with a series of strikes. Rush hits a handspring back elbow for a nearfall. Garza slaps Rush's chest. Garza hits a stiff knee strike. Rush dodges a Wingclipper and hits a Bicycle Kick. Garza counters The Come Up with a Dropkick to the back of Rush's neck. Garza covers for two. Rush dodges a Moounsault and hits a Spinning Unprettier for a nearfall. Rush climbs to the top rope but Garza stops him.
Garza hits a Moonsault Fallaway Slam for a nearfall. Garza pummels Rush. Rush hits a Standing Spanish Fly and a spinning heel kick. Rush hits The Come Up. He goes for a second Come Up, but Garza counters with the Wingclipper for two. Garza climbs the top rope with Rush in his clutches. Rush counters an Avalanche Wingclipper. They trade headbutts and Rush hits a body scissors hurricanrana. Rush climbs to the top rope and hits Final Hour. He hits a rope-hung Final Hour for the pin.
Winner- Lio Rush(retains the WWE Cruiserweight Championship)
The camera cuts outside to the backstage area where Tegan Nox down is being checked by officials. Rhea Ripley is also laid out. Back from the break, we see how NXT Women's Champion Shayna Baszler has left a path of destruction on her way to Survivor Series.
Xia Li vs Aliyah
Aliyah tries to overpower Xia but Xia fights back with a series of strikes. Xia kicks at Vanessa Borne outside and stops her from interfering. Aliyah hits a Northern Lights Suplex for a nearfall. Aliyah hits a series of stiff kicks. Li hits a pair of mid kicks and a cartwheel elbow. Li hits a Springboard Axe Handle. Li kicks Aliyah right in the face with a roundhouse kicks for the pinfall.
Winner- Xia Li
Balor Club For Everyone
After the commercial break, Finn Balor comes out to the ring. He says "This is it. This is NXT, now." Balor asks what has happened to this place and to his business. He says it's become a joke since a bunch of boys moved in. He trash-talks Gargano first and then Matt Riddle. Riddle appears and they start a brawl. They fight and go out to the floor. Riddle kicks Balor over the barricade and Balor runs off. The Undisputed Era comes out and surrounds the ring around Matt Riddle.
Adam Cole says Riddle is in the "wrong place" at the "wrong time" just when Tommaso Ciampa and Keith Lee run out to help. Lee tells them to get their asses in the ring and calls out Adam Cole for a match. Roderick Strong takes his challenge.