AEW Dynamite Live Results & Updates- 13 November 2019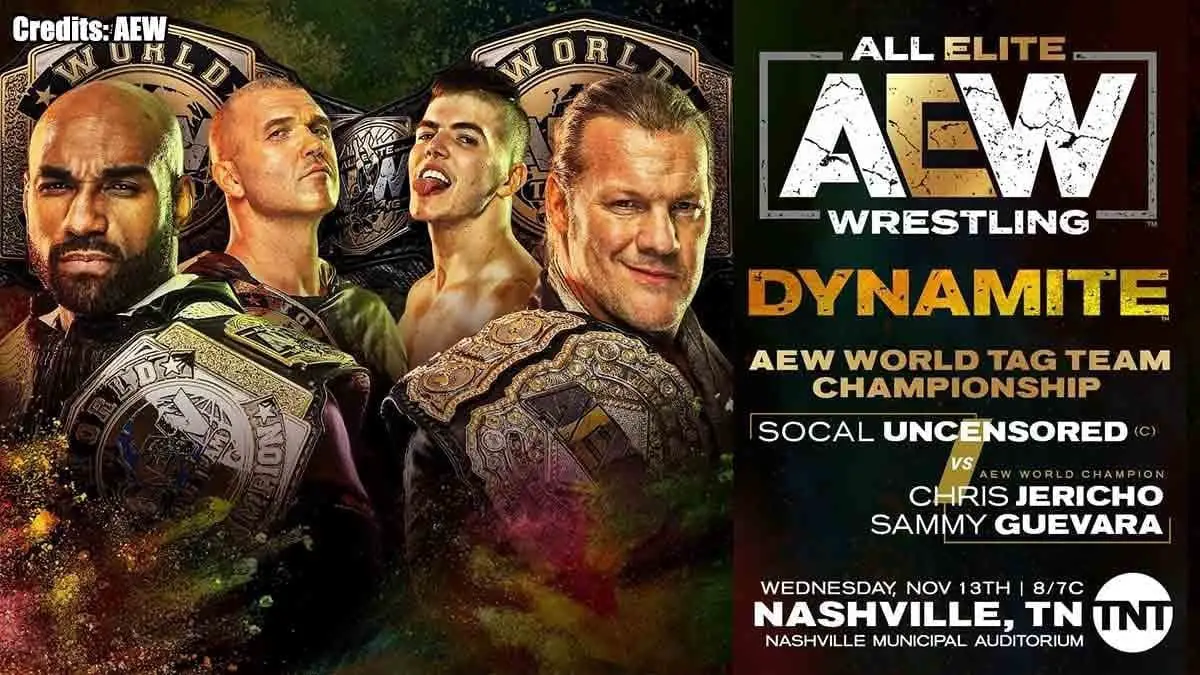 Welcome to ITN's Live Results and Updates Blog for the AEW Dynamite episode of 13 November 2019(11/13/2019).
Date- 13 November 2019
Location- Nashville Municipal Auditorium, Nashville, TN, US
Time- 8 PM EST(14 November 2019 1 AM GMT/6:30 AM IST)
Post AEW Full Gear 2019 PPV edition of AEW Dynamite will air from Nashville Municipal Auditorium. After AEW World Championship, Chris Jericho is going after AEW World Tag Team Championship. Also on the show is the rematch between Adam Page and PAC. Also, keep an eye on the results from the WWE NXT episode of 13 November 2019.
We see Kenny Omega getting checked out by the medical team amid the highlights from his match at AEW Full Gear. The doctor has not cleared him for action. He asks him how is Moxley. The doctor says Moxley is also pretty beat up, but he is cleared for action. Michael Nakazawa and Riho were there in the room with Omega. Nakazawa is angry
Jon Moxley vs Michael Nakazawa
Moxley enters through the crowd after the backstage segment. Michael Nakazawa is waiting for him in the ring. Nakazawa has bottle of baby oil but he throws it away. Moxley drops him with a clothesline. He unloads in the corner before Nakazawa fights back with some kicks. Moxley hits the Paradigm shift to get a quick win.
Winner- Jon Moxley
He takes the mic and asks whether this match counts. He says that he already told us what he was gonna do to Kenny Omega and he did what he said. Moxley then says he respects Omega for what he had done in their match. He goes on to proclaim that he will go to scourge the last corner of AEW until he is the last man standing. He warns that if someone wants to take on him, they should have an ambulance on speed dial. Moxley goes out through the crowd as he entered.
Jurrasic Express vs Dark Order
Stunt and Uno start. Stunt hits an armdrag before they bout tag out. Jungle Boy takes down Grayson after some back and forth. Quick tags between Stunt and JB. Stunt jumps off JB to hit cannonball on Grayson. Grayson tags out to Uno, who drops Stunt with a boot and a power slam.
Dark Order keep Stunt control for a while. Stunt hits a flatliner on Uno. JB and Grayson are fighting on the floor now. JB drops Grayson and tags in. He runs rampant on Uno with penalty kick and a splash. Jungleboy hits Grayson with a moonsault. Stunt comes in and hits a flipping hurricanrana to Grayson. Jungle Boy goes for a suicide dive on both opponents, but gets cut off. Grayson and Uno hits Stunt with Fatality for the win.
Winners- The Dark Order
Uno offers Stunt a spot in The Dark Order. He refuses and Jungle Boy comes up to try to save him. Uno unleashes his minions on them. This brings out Luchasaurus, who is returning from the injury. He wipes out the minions outside the ring and goes in to take on Grayson.
Shawn Spears vs Darby Allin vs Peter Avalon
Avalon tries to take out his opponents with a crossbody, but thet move out of the way and then throw him out of the ring. Allin hits a few armdrags on Spears and sends him out of the ring. Allin then sends Avalon back to the floor. Spears throws him off the top. Joey Janela attacks Spears and they brawl into the crowd. Darby hits Avalon with a back elbow. Leva Bates tries to attack Allin but he hits Avalon with a stunner and a coffin drop for the win.
Winner- Darby Allin
After the match, Allin accepts Jon Moxley's open challenge.
Nyla Rose vs Dani Jordan
Rose beats up Jordan right after the bell. She drops her with a big boot. Jordan slips out of a chokeslam but gets dropped with a lariat. Rose hits a Samoan drop and powerbomb for the win.
Winner- Nyla Rose
Tony Schiavone interviews Allie in the ring. The Lights go out and Awesome Kong and Brandi Rhodes come out to the stage. They enter the ring and Kong attacks Allie. Kong beats up Allie for a while before Brandi hands her a knife to take a lock of Allie's hair.
MJF Wants to Join The Inner Circle??
Chris Jericho is out to the ring and he says he will be a double champion by the end of the night. Jericho says he has not got his "thank you" from AEW. Jericho takes some shots at Cody. Cody's music hits but MJF comes out instead. The crowd is booing MJF. MJF says if he hadn't thrown in the towel at Full Gear, Cody's career would have been over. MJF claims that Cody is a villian who only thinks about himself. MJF claims that Cody has just been using him and keeping him down because he knew he is better than Cody.
MJF praises Jericho and then says he has heard about Jericho wanting him in the Inner Circle. Jericho says he heard MJF wants to join the group. Jericho claims that MJF wants to be Jericho and lists down similarities between them. They both come to the conclusion that Cody is the biggest jacka**. Cody comes out and attacks both of them. Wardlow comes out and attacks Cody. He chokes Cody until some referees come out to help him.
PAC vs Adam Page
Pac starts with a big kick. Page avoids Black Arrow and rolls to the floor. He returns to the ring but Pac sends him out again to hit him with a dive. Pac misses another Black Arrow once again. Page hits him with a suicide dive and a powerbomb. PAC comes back with a springboard kick and a missile dropkick. Page sends him to the apron and hits a moonsault.
Back and forth action as both men hit quick moves. Page hits a brainbuster and a Buckshot Lariat. Pac hits a pump kick and then unleashes with stomps on his head. PAC hits the Black Arrow and then puts on the Brutalizer to get the submission.
Winner- PAC
We cut to backstage where Young Bucks and Proud and Powerful are fighting all over the place. They fight to the ringside before security and referees control them. Back from the break, we still see them fighting. Santana and Ortiz gets better of the Young Bucks. Brandon Cutler tries to make the save but he also gets dropped. Private Party confront Santana and Ortiz. The security finally get things under control.
SCU(Scorpio Sky & Frankie Kazarian) vs Inner Circle(Chris Jericho & Sammy Guevara)
Kazarian backs Jericho to the corner at the start of the match. They lock up again and Y2J puts Kaz in the corner. Jericho takes a cheap shot but Kazarian ducks and hits an arm drag. Chris hits a few chops before Frankie hits a dropkick. Jericho forgets which corner is his before he tags Guevara. Sammy is dragged to the corner so Sky can hit a double team and a backbreaker for a near fall. SCU hits a nice sequence of moves on both opponents.
Guevara has taken control of the match. He does a quick pose with Jericho before he puts Kaz in a rear chinlock. Guevara hits a Spanish fly but misses the shooting star press. Sky gets the tag and he takes Guevara down with a clothesline and a back elbow. Scorpio hits a unique neckbreaker for a two count. Guevara hits a knee to the face but Sky hits a slingshot cutter for two. Jericho breaks up a dragon sleeper. Kazarian dispatches Jericho with a guillotine leg drop.
Jake Hager pulls Kaz out of the ring and wipes him out right in front of the ref with no repercussions. Hager takes out Daniels, too. Guevara tags Jericho and Sky hits a Thesz press to take him down. He hits the TKO for a close two count. Scorpio misses an elbow drop but blocks a Lionsault with his knees. Jericho hits the Codebreaker for another near fall. Sky rolls him up for the pin and the win. They not only retain the tag titles but give Jericho his first loss in AEW.
Winners- SCU(retains the tag team titles)
Jericho has lost it and is throwing everything around the ringside- table, chairs, bell, etc. He slams the chair on the ring post and then on the AEW logo on the barricade.
AEW Dynamite 13 November 2019 Quick Results
Jon Moxley defeated Michael Nakazawa
Dark Order defeated Jurrasic Express
Nyla Rose defeated Dani Jordan
PAC defeated Adam Page
SCU defeated Chris Jericho & Sammy Guevara to retain the AEW Tag Team Championship