WWE RAW 16 November 2020(11/16/20)- Live Results, Updates & Grades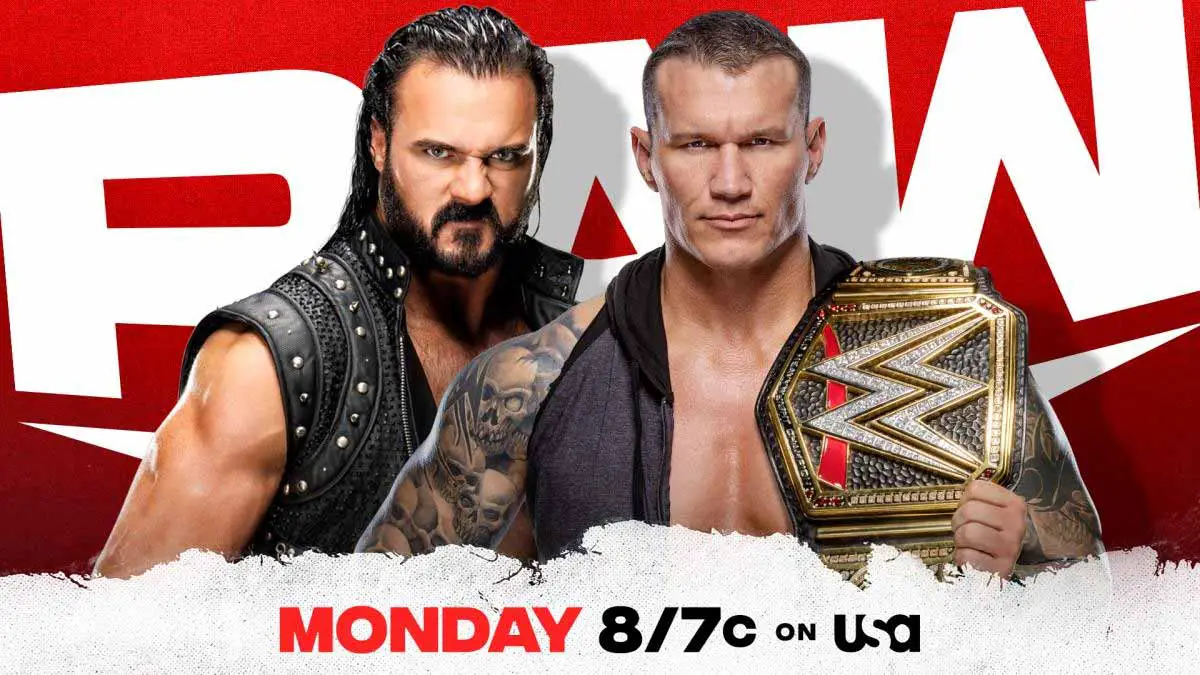 Welcome to ITN's Live Results & Updates Blog for WWE Monday Night RAW episode of 16 November 2020(11/16/2020) with grades for each segment and match. This will be the go-home version of RAW for Survivor Series 2020 PPV.
Two title matches are announced for the show. Randy Orton vs Drew McIntyre WWE Championship match will likely main event the show. RAW Tag Team Champions Kofi Kingston and Xavier Woods of The New Day will defend against Cedric Alexander and Shelton Benjamin of The Hurt Business. More You can check the preview for the show here.
Who Will Be the Champions By The End Tonight?
Drew McIntyre opens the show and cuts a promo hyping the main event match tonight. He once again says Roman Reigns should not worry about Orton but him. Drew says he will win the WWE title tonight and then Claymore Roman back to Earth at Survivor Series. Randy Orton appears on the big screen and cuts a brief promo saying how he is the greatest of all time.
The Miz and Morrison come out to the ring now. Miz says he will be at the ringside for the title match tonight. He also takes a shot at The Fiend/Bray Wyatt. Miz then says the change is coming and there is nothing Drew can do about it. Drew approaches the ring and Miz and Morrison exit while still ranting at McIntyre. Miz raises the briefcase and continue to taunt McIntyre.
Grade: C. Basic promos where nothing really happened to take the story forward. Just that Miz reminded everyone of the MITB.
Lana is backstage warming up when Shayna Baszler & Nia Jax approach her. Lana says she deserves her spot in the RAW's Survivor Series team and is out to prove that it's not just a fluke. Baszler says this match isn't about Lana, but about she and Jax and them proving that they run the division. Jax warns that Lana better not tag herself in.
Lana, Shayna Baszler and Nia Jax vs Mandy Rose, Dana Brooke and Asuka
Dana Brooke and Lana start for either team. Baszler tags Lana out to start with to her surprise. Baszler takes control after a few hits from Dana Brooke. She knocks Asuka off the apron before sending Brooke out to the floor. Jax tags in and work on Brooke. Rose runs in to save Dana but Jax drops her. Jax holds Rose's arm against the steel steps and Baszler stomps it. We go to break.
Back from the break and Baszler is working on Brooke's arm. Brooke counters to tag in Asuka. Asuka goes after Baszler and also knocks Jax to the floor. Hip Attack, ducks a kick and drops Baszler. Jax breaks the pin. Asuka blocks a gutwrench suplex and kicks Jax off the apron.
Baszler puts her in the Kirifuda Clutch now, but Lana has tagged herself in. Baszler yells at Lana since she has basically got the submission from Asuka. Lana comes in and kicks at Asuka. Asuka kicks out of the pin. Asuka drops Lana with a kick and puts on the Asuka Lock for the win.
Winners- Asuka, Mandy Rose, and Dana Brooke
After the match, Jax clears the announce table and Baszler throws Lana out to her. Jax tells Lana that she is proud of the courage shown and welcome her to Team RAW. Then Jax puts Lana through the announce table again with a Samoan Drop.
Grade- D. The story about demolishing Lana continues and the very little time that this match got, shows the sorry state of women's division on RAW.
RAW Men's team for Survivor Series is backstage arguing. AJ Styles tells them to put aside egos for the sake of the team. He says he is ready to take his share of blame being the team captain. Other says AJ is not the captain. AJ says he hates losing and proposes a match against RETRIBUTION tonight and hands everyone a RAW shirt.
Charly Caruso approaches Dana Brooke outside of the trainer's room in the back. She says Mandy Rose's arm is in bad shape and Nia Jax was out of line. Reckoning from RETRIBUTION suddenly attacks and beats Brooke down as officials try to break it up.
We go to Firefly Fun House with Bray Wyatt and Alexa Bliss. Wyatt address the Miz and proposes a match tonight. He says it is short notice but his friends will help him prepare. Some comedy as Wyatt uses the puppets to help train for the match.
New Day vs Hurt Business – WWE RAW Tag Team Championship Match
MVP cuts a promo explaining that The Hurt Business needed to represent Raw at Survivor Series as the group was the best of the best. Shelton Benjamin adds that they will win tonight and defeat The Street Profits at Survivor Series and that Bobby Lashley will take out Sami Zayn. Kofi Kingston and Xavier Woods come out and taunt them calling them the Jerk Business.
Cedric Alexander gets the better out of Kofi in the early exchange. Kofi comes back with a dropkick and tags in Woods. Cedric punches him in the throat and tags in Benjamin. Kofi comes in and but Hurt Business dominate him. They hit an impressive top rope famouser and powerbomb combination on Kofi as we went to the break.
After the break, Kofi fights out with a top tilt-a-whirl DDT to get the tag to Woods. Woods goes wild and keep the momentum going to clear the ring of both men. An impressive missile dropkick on Alexander nearly took the win. Kofi survives an Angle Slam and brainbuster then set up Daybreak for the pinfall win on Alexander.
Winners- New Day(retains the tag team title)
Grade- B. The match came into the life after the first commercial break and was a fest after that with quick action all around.
Sheamus catches up with Drew McIntyre backstage. Sheamus talks about their history together and says he's found something that belongs to Drew. He walks off, leaving a wooden chest for Drew. Drew opens it and says he thought he'd never see this stuff again. It looks like some of Drew's old gear, or from his family. He turns around and Sheamus is there, presenting him with a sword. Drew thanks Sheamus and Sheamus walks off as Drew looks the sword over.
Team RAW vs RETRIBUTION
AJ Styles is on commentary while the other 4 men compete against RETRIBUTION. The match turns into another bickering fest between team RAW and AJ had to go meet Braun Strowman and Sheamus at the ringside as the two argued. This resulted in Retribution isolating Riddle for a bit.
T-Bar, Mace and Slapjack keep beating Riddle for some time as Mustafa Ali guides them. Riddle counters and Keith Lee gets the hot tag. He runs over each RETRIBUTION member one by one. However, Sheamus and Strowman get back to arguing. Ali manages to roll up Riddle after knocking him into Strowman and steals the win.
Winner – RETRIBUTION
Grade – C-. The match was all about the infighting between Team RAW which resulted in a disjointed match. But it gave Retribution a much-needed win.
Nikki Cross is searching for Alexa Bliss backstage. McKenzie Mitchell asks her why she is searching for Bliss when she made it clear last week that she chose The Fiend over her. Cross says Bliss is clearly under his control and needed to be saved.
McKenzie then turns her attention to Jeff Hardy, who is upset at a flyer that Elias allegedly made with photos from the car wreck that happened earlier in June this year where Elias was run over. Hardy says he is about to give Elias a taste of his own medicine and walks away.
Hardy confronts Elias about the flyers who is playing his guitar in the back. Elias says he is just looking for some justice after someone tried to end his career. Hardy asks how many times he has to say he didn't hit Elias with the car. Elias insists Hardy is the only one who knows what happened that night. Hardy shoves Elias up against the wall and says he's going to be found guilty of a lot worse things if Elias keeps accusing him. Hardy leaves and Elias isn't happy.
Bray Wyatt vs The Miz
The Miz and Morrison come out to the ring. Miz says there is no need for a match between them tonight and asks Wyatt for a peaceful solution that could help him become WWE Champion again. Alexa Bliss comes out in response and tells Miz that the answer to that request is 'no.'
Nikki Cross comes out and begs Bliss to leave Wyatt. Bliss says Cross is right but then slaps Cross to the ground and keep beating her up. Officials come out to separate them. The Firefly Fun House music hits and Bray Wyatt comes out. Bliss and Wyatt walks arm in arm to the ring.
Match starts after the break and Wyatt tells the Miz that he can forgive him. Miz hits a kick first but Wyatt levels him. Miz uses the ropes and Morrison also takes a cheap shot. Bliss threatens Morrison now. Wyatt unloads on the Miz and launches him into the steel steps outside. Miz turns it around in the corner and hits a DDT.
Wyatt blocks the It kick and comes back with a vicious clothesline when Miz blocks Sister Abigail. He hits a running headbutt before hitting Miz with Uranage. He goes to the corner and does his signature upside down. Morrison grabs his leg and this angers Wyatt. Bliss jumps onto Morrison and unloads on him. Miz jumps onto Wyatt for a corner clothesline but Wyatt is not affected by it. Wyatt hits the Sister Abigail for the win.
Winner – Bray Wyatt
After the match, Bliss walks on the barricade to join Wyatt. They walk up the ramp together. The lights go red and the Fiend appears on the big screen. They both look at him just as the lights go off.
Grade- B. The match was short and fun and the storyline around The Fiend has always been intriguing.
We get a video promo hyping the main event match between Drew McIntyre and Randy Orton.
WWE RAW Results Chronology