WWE Hell in a Cell 2019 Live Results & Updates – The Fiend's Night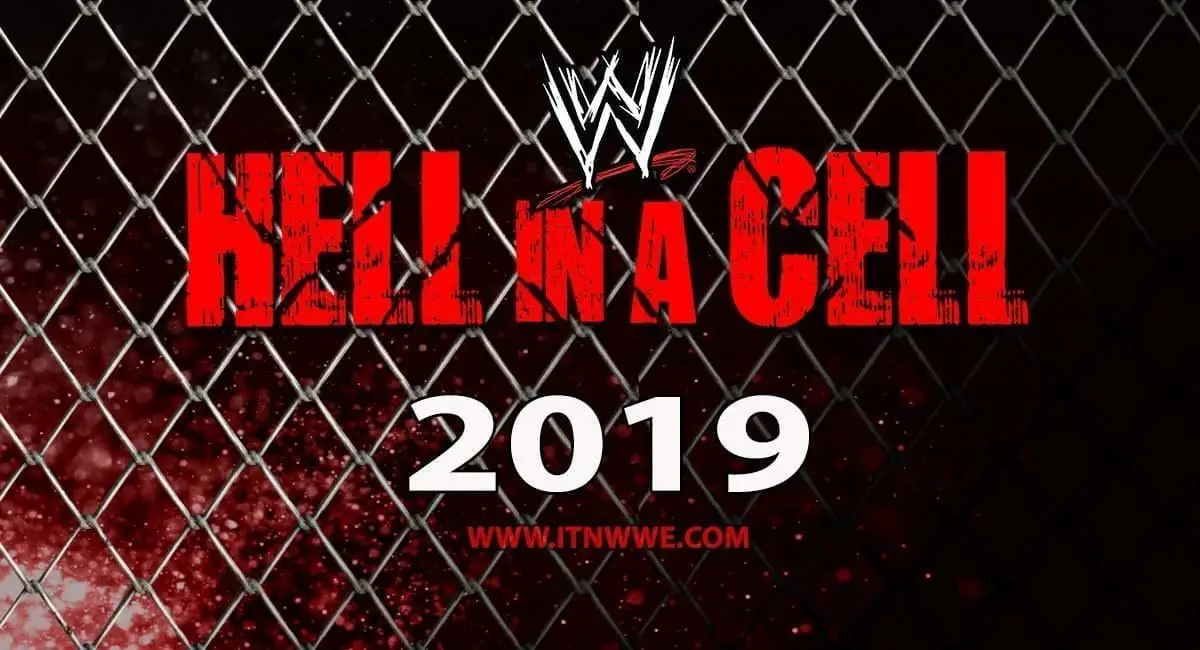 Welcome to the Live Results and Updates blog for WWE Hell in a Cell 2019 PPV show on 6 October 2019.
Location: Golden 1 Center, Sacramento, California, US
Date: 6 October 2019
Kick-off Show Time: 6 PM EST(10 PM GMT/7 October 2019 3:30 AM IST)
Main Show Time: 7 PM EST(11 PM GMT/7 October 2019 4:30 AM IST)
After the major debuts of AEW Dynamite on TNT and then Friday Night SmackDown on Fox, its time to cap off the week with a good show at Hell in a Cell. But, will WWE be able to deliver that? With less number of matches, and by avoiding booking mistakes, it can entirely be possible.
WWE Hell in a Cell 2019 Quick Results
Natalya defeated Lacey Evans
Becky Lynch defeated Sasha Banks in a Hell in a Cell match to retain WWE RAW Women's Championship
Roman Reigns & Daniel Bryan Defeated Bludgeon Brothers
Randy Orton defeated Ali
Kabuki Warriors(Kairi Sane and Asuka) defeated Alexa Bliss and Nikki Cross to become the new WWE Women's Tag Team Champions
Braun Strowman and The Viking Raiders defeated the OC by disqualification
Chad Gable defeated Baron Corbin
Charlotte Flair defeated Bayley to become the new WWE SmackDown Women's Championship
Bray Wyatt defeated Seth Rollins by Disqualification
Kick-Off Show(Pre-Show)
Kick-off show kicks off with the usual panel of Jonathan Coachman, Charly Caruso, Sam Roberts and WWE Hall of Famer Booker T. They chit chat for a while before going through the match card for tonight. The Women's Tag Team Championship match is added to the card while Roman & Bryan vs Bludgeon Brothers is a Tornado tag team match.
We cut to the replay of Becky Lynch vs Sasha Banks feud from the last two months. Sam Roberts comments that Sasha has taken Becky to the limits.
Alexa Bliss and Nikki Cross are interviewed by video connect and Bliss wonders what the Kabuki Warriors have done to get the title shot here. When Booker T mentions Asuka being former SmackDown Champ and Sane being a former NXT champ, Bliss interrupts him saying that this is a tag team match, not singles competition. Cross also tells Booker repeatedly that Bliss is a 5 times champion.
Natalya vs Lacey Evans
The match starts and both women grapple for a bit before Natalya slams Evans down. They lock up again and Natalya tries for a German Suplex, but Evans holds her ground and puts Natalya in a headlock. Natalya gets up and runs the ropes, only to eat an elbow in the gut. She counters and locks in the arm but Evans reaches the ropes. They toy with each other a bit and Nattie tries for the sharpshooter early.
Evans slips out and hits Nattie in the middle outside of the ring to start a period of domination. Evans slams Nattie in the barricade and then slams her leg against the steel steps. She works on her leg for a bit more before bringing her back in the ring.
Evans continues to work on Nattie's leg, locking her in some submission move. Nattie tries to rally but Evans cuts her off. Nattie manages to knock her to the floor for a breather. Natalya counters a Senton with her boots up but Evans nails her with a lariat to take her down. Evans goes for a moonsault but nobody is home. Natalya picks the legs for the sharpshooter and gets the win.
Winner- Natalya
Post-match, Natalya decks Evans to put her down for good and celebrate while going back.
Ali was in a backstage interview with Sarah Schrieber and Randy Orton comes to pick a fight with him.
We get a promo for Roman Reigns and Daniel Bryan vs Bludgeon Brothers. Kayla Braxton is backstage with Rowan who says this is a war he plans on winning. He says Bryan and Rowan think they're tough but he and Harper will get the respect they deserve by getting a win tonight and Reigns and Bryan will get put down for good tonight.
After the replay for the confrontation between Braun Strowman and Tyson Fury, the commentary team confirms that Fury will indeed come to RAW tomorrow night. Also, Sasha Banks vs Becky Lynch will open Hell in a Cell.
The kick-off show comes to an end after the promo and discussion over the Fiend taking on WWE Universal Champion Seth Rollins.
Main Show
The show opens with some pyrotechnics before Sasha Banks comes out. The Cell is still hanging in the air right now. Becky Lynch follows shortly afterward. The introductions get done and Sasha tries to get into Becky's face. The cell was still descending when Sasha attacks Becky.
Becky Lynch(c) vs Sasha Banks – Hell In A Cell, WWE RAW Women's Championship
Sasha slams Becky's face to the base of the Cell before slamming her back to the barricade. The cell has finally descended and Sasha gets inside of it to pose on the top of the turnbuckle. Becky sells her back but as Sasha goes towards her, she slams the door right in her face. Now both of them get inside the cage. As the referee tries to lock in, Becky snatches the lock and the chain from him and punches Sasha in the middle with it.
Sasha gets a couple of shots before Becky sends her into the walls. Becky goes to bring out a table but Sasha grabs a chair in the meantime to rock it on her back. Now, Sasha tries to bring in a Ladder but Becky recovers and slams her head into the ladder. They get inside the ring and Sasha tries some pinning combinations one after another to get two-counts multiple times. Becky tries to use a chair for an armbar but Sasha was quick to get out from it.
Becky hits a Bexploder and sends Sasha to the outside for a couple of basement slide dropkicks. Sasha stabs Becky between her knees and the ladder. After a couple of strikes, she puts Becky's arm in between the door and slams it. Back in the ring, Sasha gets a two-count. Sasha sets up a chair and slams Becky's arm on it. Becky tries to come back but Sasha hits a Meteora from the second turnbuckle, and into a pin for a two count.
Becky gets a breather while Sasha brings in another chair and she hits rocks Sasha with some strikes. Sasha gets send on the apron and Becky hits a dropkick on her, sending her into the cell. A bexploder on the cell by Becky gets her two-count. They trade strikes in the middle of the ring before Becky hits a bulldog onto the chair to get another two-count. Becky goes to the top and hits a dropkick while Sasha was grabbing a steel chair to get another two-count.
Sasha moves outside and as Becky follows her, she uses a kendo stick to rock Becky. She sticks up a couple of kendo sticks into the cell, which gives Becky an opportunity to come back. Becky sets up a chair on the kendo sticks, decks Sasha a couple of more times. She sets up Sasha on the chair and hits a dropkick there. Back in the ring, she hits a leg drop from the second rope to get a nearfall.
As Becky was setting up the table, Sasha hits her with a backstabber. She adjusts the table and goes for a superplex. They toy around at the top and the sequence ends with Sasha sending Becky through the table with a diving Meteora. But could only get two-count. Sasha uses a kendo stick to lock in the Bank statement. Becky gets out of it and rocks Sasha with the same stick. Becky tries to whip Sasha but it gets reversed with Becky getting slammed onto a chair.
Sasha throws around 15 chairs inside the ring and rocks Becky with them. She goes to the top and Becky hits a chair on her face. Becky hits a Bexploder from the top, sending Sasha into the chairs. Instead of a pin attempt, she locks in the DisArmHer and gets the submission after 15 seconds.
Winner- Becky Lynch(still RAW Women's Champion)
Post-match, Becky celebrates in the ring and Sasha looks devastated.
Roman Reigns and Daniel Bryan vs Bludgeon Brothers(Erick Rowan and Luke Harper)
Roman Reigns comes out with the pyro. Daniel Bryan is out next, followed by Erick Rowan and Luke Harper. The bell rings and Rowan and Bryan brawl with Reigns and Harper on the other side. Reigns ends up sending Harper out but Rowan sends Roman out. Bryan drops Rowan and kips up. Rowan hits a dropkick but Reigns recovers and hits a Samoan drop. Harper nails Roman with a superkick for a two count. Bryan comes in to help but he gets sent back out of the ring.
Harper and Rowan take out Reigns at ringside with the steps and focus on Bryan inside the ring. Roman knocks Harper off the top turnbuckle but Rowan manages to keep the upper hand for his team. The Redwood hits a jackhammer suplex for a two count. Bryan starts to build some momentum until Harper hits a Michinoku driver. Reigns breaks up the pin. The Big Dog hits a series of corner clotheslines on Harper before Rowan low-bridges him out of the ring. Bryan goes after Harper with the Yes Kicks.
Rowan slams Harper onto Reigns. Harper hits a suicide dive into Roman and his face hits the announce table. Everyone is down. Harper and Rowan take apart all three of the announce tables now. They double team Bryan and send him face-first into the edge of the apron. Rowan slams Reigns on the floor.
They use a barricade to slam Roman through it. They try to put Bryan into the table with a double team powerbomb but Bryan takes down Harper with a scissor takedown and Roman spears Rowan through the table. Back in the ring, Bryan hits back to back running knee strikes and goes for a hurricanrana from the top. Harper counters and hits a powerbomb off the top and follows it with a couple of suplexes. He goes for the third one but Bryan prevents it and Roman Reigns runs in to cut him in half with a spear and gets the pin.
Winners- Roman Reigns and Daniel Bryan
Bludgeon Brothers clear from the ring and Roman and Bryan are having a staredown now. Roman goes for a handshake but refuses it and wants a hug instead. Both men leave while selling the match injuries.
Randy Orton vs Ali
Orton brings Ali down with a wristlock to start. Ali reverses the hold so Orton puts him in the corner for a stiff chest chop. Randy hits a thumb to the eye. Ali heads to the top turnbuckle and Orton trips him to send him crashing down to the floor. The Viper hits a front suplex and a back suplex onto an announce table. Ali nails a dropkick on the outside but Orton was quick to recover to slam him into the barricade.
Back in the ring, Orton applies a chinlock and keeps Ali grounded for more than a minute. Ali tries to fight out and gets whipped into the corner. He hits a kick on Orton's face and follows with a beautiful dropkick moments later. As Orton escapes the ring for a breather, Ali nails a tope suicida and unloads on Orton near the commentary table. Orton replies with some punches of his own before they get into the ring. Ali gets whipped in the corner where he hits an overhead kick and then a bulldog to get a two-count.
Orton comes back with his signature crossbody slam to get a nearfall of his own. Ali replies with a spinning kick and goes to the top. After a couple of counters he takes down Orton with a tornado DDT but nobody is home for 450-splash. Orton starts working on Ali and hits a DDT from the middle rope. Orton gets ready for the RKO but Ali counters it to hit blockbuster. He quickly follows it with an overhead kick but ultimately runs into an RKO. Orton takes his sweet time to cover Ali and gets the pin.
Winner- Randy Orton
Alexa Bliss & Nikki Cross vs Kabuki Warriors(Asuka & Kairi Sane) – WWE Women's Tag Team Championship Match
Alexa Bliss & Nikki Cross vs Kabuki Warriors(Asuka & Kairi Sane) – WWE Women's Tag Team Championship Match
Sane and Cross start. Sane dupes Cross into a handshake and nails Bliss off the apron. Kabuki Warriors double team on Cross in their corner and keeps Bliss ot of the match for a while. Cross fights out and tags in Bliss, who is destroying Asuka. After slamming her down for a couple of times, Bliss tags in Cross and whips him for a corner splash. Asuka punches Cross a couple of times but Cross counters with a headbutt and traps Asuka in the apron cloth to unload on her.
Bliss gets the tag but is sent to the barricade by Asuka. Sane tags in and rocks Bliss with a couple of punches. Bliss tries to roll her up but to no avail. Asuka and Sane are keeping control. Asuka kicks on Bliss' face with disdain and puts her in an ankle lock when she tries to kick her back. It is now turned into a single leg Boston crab until Bliss is slammed onto the mat.
Sane gets the tag and pokes Cross in the eyes at the apron. Sane hits the insane elbow but Cross gets into the ring to show her frustration to distract the referee. Asuka tags back in and Bliss counters the leg lock to tag in Cross. Cross takes down both her opponent in quick moves to get a two-count on Sane. Sane blocks the twisted neckbreaker but runs into Cross' knees when she goes for the insane elbow off the top.
Cross hits the swinging neckbreaker on Sane but Asuka breaks the pin. Asuka gets the tag and slaps Cross for a while. Cross fights her off and slams her down. Meanwhile, Sane gets engaged with Bliss on the outside where both women get down after a summersault dive from Bliss. The referee gets distracted by it and Asuka spits green mist on Cross and nails her with an overhead kick to get the pin.
Winners- Kabuki Warriors(New WWE Women's Tag Team Champions)
Cross is still in shock and Bliss is consoling as Kabuki Warriors celebrate in the ring.
The OC(AJ Styles, Gallows and Anderson) vs The Viking Raiders & Braun Strowman
The OC – Luke Gallows, Karl Anderson and WWE United States Champion AJ Styles. The Viking Raiders, Erik and Ivar, are out next for this six-man match. They stop and wait for their mystery tag team partner, which is Braun Strowman. Ivar and Anderson start the match for their teams. Ivar tries a headlock but gets tossed away. Gallows gets the tag and corners Ivar for some body blows. Ivar jumps over him to tag Erik. Styles kicks Erik in the face to turn advantage to his team. Gallows hits a fallaway slam before tagging AJ into the match.
Erik returns to the ring but Gallows nails a big kick to the head. Gallows with a big fall-away slam. Gallows works Erik over and takes him to the corner. AJ tags in for the double team with Gallows but Erik tosses Gallows to the floor. Strowman gets the hot tag and goes on a rampage. AJ tags in and knocks Ivar off the apron before the tag. Erik with a big backdrop to AJ.
Strowman gets the hot tag and runs over all three opponents. He starts the running truck at ringside. Styles sidesteps him into the ring post and follows up with a chop block. AJ with the Calf Crusher on Braun now. Erik runs in with a knee to AJ and fights out Anderson. Gallows boots Erik but Ivar takes hum out. AJ takes out Ivar with a Phenomenal Forearm. Anderson and Gallows take out Braun after he hits AJ and the referee is forced to call for a DQ.
Winners- Braun Strowman and The Viking Raiders by DQ
After the bell, The OC continues to attack Braun until Erik and Ivar make the save. Erik and Ivar hit suicide dives on Gallows and Anderson. Braun counters AJ but runs into a shot in the corner. AJ flies in for the Phenomenal Forearm but Braun knocks him out of the air. Braun stands over AJ and looks at his fist, then smiles. Clearly, that's a message for Tyson Fury. Styles is selling the punch in a big way as he walks back stumbling.
The Street Profits are backstage hyping next week's Draft. Tamina Snuka knocks R-Truth and WWE 24/7 Champion Carmella and covers Carmella to win the title. She goes to leave but Tyler Breeze appears. She punches him in the face and runs away. Truth asks Profits where did Tamina go. They both point in different directions. Carmella gets frustrated before they run after her.
Baron Corbin vs Chad Gable
Corbin grabs a mic and says he is upset to be facing Gable again. He mentions putting The Rock in his place on SmackDown and then renames Gable as Shorty Gable. Gable hits a running kick in the corner as soon as the bell rings. Corbin takes him down but Gable is still able to apply the ankle lock. Corbin kicks him away but Gable gets right back on him with a rain of punches.
Corbin counters a sleeper and sends Gable sliding into the bottom of the ring post. The crowd chants STD at Corbin as he beats on Gable mercilessly. Corbin turns Gable inside out with a clothesline. Corbin sits him on the top turnbuckle and tees off with a few rights. Gable sends him back and hits a missile dropkick. Corbin plants him with a spinebuster for two. Gable recovers and hits a flurry of forearms to the face as he yells at Corbin. He hits a rolling German suplex for a near fall. Corbin plants Gable on the mat for another two-count.
Gable brings him to the corner and whips his leg into the post. The King hits Deep Six for yet another two-count. Corbin decks Gable and sends him on the apron. Gable slides through and hits a kick in the gut. He counters End of Days and hits a moonsault from the top. He puts in the ankle lock, Corbin reaches the ropes and slips outside.
As Gable follows him to the outside, Corbin picks him up for a chokeslam on the apron. Corbin grabs his scepter and gets in the ring. As the referee tries to stop him from using the scepter, Gable rolls him and gets the pin. Gable is announced as the Shorty Gable by Greg Hamilton. It's his name now. I guess.
Winner- Chad Gable
After both Bayley and Flair enter for the match, Tamina is seen running off with 24/7 Championship in the international commentary area. R-Truth comes running after him and Tamina gets behind former WWE superstar Funaki who was in the Japanese Commentary team.
Truth mimics some karate moves and Funaki replies with some moves of his own. Carmella superkicks Tamina from behind and let Truth cover her. Truth is again the 24/7 champion.
Bayley(c) vs Charlotte Flair – WWE SmackDown Women's Championship
Bayley dodges a big boot right after the bell. Flair hits a neckbreaker and whips her to the mat. She hits a hard chop to knock Bayley down. Flair avoids a crossbody and locks in a Boston crab. Bayley takes control and corners Charlotte for some shoulder thrusts. Flair hits a knee and a clothesline to regain the upper hand. Bayley drags her out of the ring and drops her on the floor.
Bayley keeps going after the leg to weaken Flair. She hits a neckbreaker for a two count on The Queen. Flair hits a kick to the face to stall Bayley's momentum. Charlotte slams her leg in the ring post and works on it after it. A leg sweep, a few kicks are followed by a backstabber and natural selection. Flair covers her but Bayley grabs the ropes. Flair also gets kicked on her leg but she manages to slam Bayley down. Flair goes for the moonsault off the top but Bayley gets her legs up. The fight moves to the outside and works more on Bayley's leg.
Back in the ring, Bayley counters a figure four and tries a small package pin for two-count. Bayley rolls up Flair near the ropes and uses the rope for the pin but the referee has caught her in the act. Flair finally locks her in figure four and bridges it to figure eight to get the submission.
Winner- Charlotte Flair(New WWE SmackDown Women's Champion)
After the bell, Bayley retreats to the floor as Flair stands tall with the title and Bayley throws a fit and screams at ringside. She cries and yells at the referee to getaway. They keep the camera on Bayley for a few minutes until she finally gets up.
Seth Rollins (c) vs "The Fiend" Bray Wyatt – Hell in a Cell Match, WWE Universal Championship
The Fiend has made his grand entrance. And yes, he has the severed head lantern.
They start and Rollins tries to rain some punches but the Fiend tackles him down. They run the ropes and Fiend hits the running headbutt. Rollins rolls outside and had to grab a kendo stick to find the courage to get back in. The screen has turned red light for this match. Rollins grabs a kendo stick and Wyatt lets him hit him a few times with no impact at all. The Fiend plants Rollins with a side slam.
He throws him around in the outside before running a corner splash. Fiend brings him to another corner and sends him through the steel steps. As the Fiend goes to grab something from under the ring, Rollins grabs the steel steps and strikes him a couple of times. He brings a chair into the ring and hits a couple of suicide dives back to back. He sends the Fiend into the ring post and sets up the table in the ring. The Fiend catches Rollins as he goes for another suicide dive and nails him into the cell with Sister Abigail.
Wyatt sets up the table but Rollins avoids being put through it. He superkicks Wyatt onto the table and heads to the top rope to hit a frog splash and put him through the table. The Beastslayer hits The Stomp but Wyatt just pops back up. Fiend catches him to hit another Sister Abigail but could only get two-count. He rains more punches on Rollins and forces him to get to the outside.
The Fiend brings out the dice themed malled. Rollins superkicks him and then hits a stomp on the mallet. Rollins hits two springboard knees and another Stomp. He hits two more Stomps but Wyatt is still now down properly. Rollins hits the Pedigree and another Stomp but Wyatt kicks out at one-count. Rollins hits three more Stomps but Wyatt keeps getting back up again and again. Seth grabs a chair and hits him square in the head with the chair but Wyatt still kicks out at one-count. Seth gets a ladder and uses it to smash the chair onto Wyatt's head for a two count.
Rollins sets up a chair in between the ladder. He grabs a toolbox and uses it to crush Wyatt under a ladder and chair. Next, he brings out a sledgehammer but the referee tries to talk him out of using it. When does that become illegal in Hell in a Cell match? Rollins uses it to smash Fiend's head with everything on top of it. The referee calls for the bell and gets the cell raised. Several officials and medics come down to check on Wyatt.
Winner- Bray Wyatt by Disqualification
The crowd has started chanting for AEW until Wyatt grabs Rollins in the Mandible Claw. He clears the match and hits Rollins with Sister Abigail on the exposed floor. He puts on the Mandible Claw again and this time, some blood is coming out of Rollins' mouth. The lights go out and Wyatt's laugh starts along with the loud boos from the crowd. The show ends with a shot of the Fiend standing on the stage.