AEW Dynamite Live Results & Updates- 2 October 2019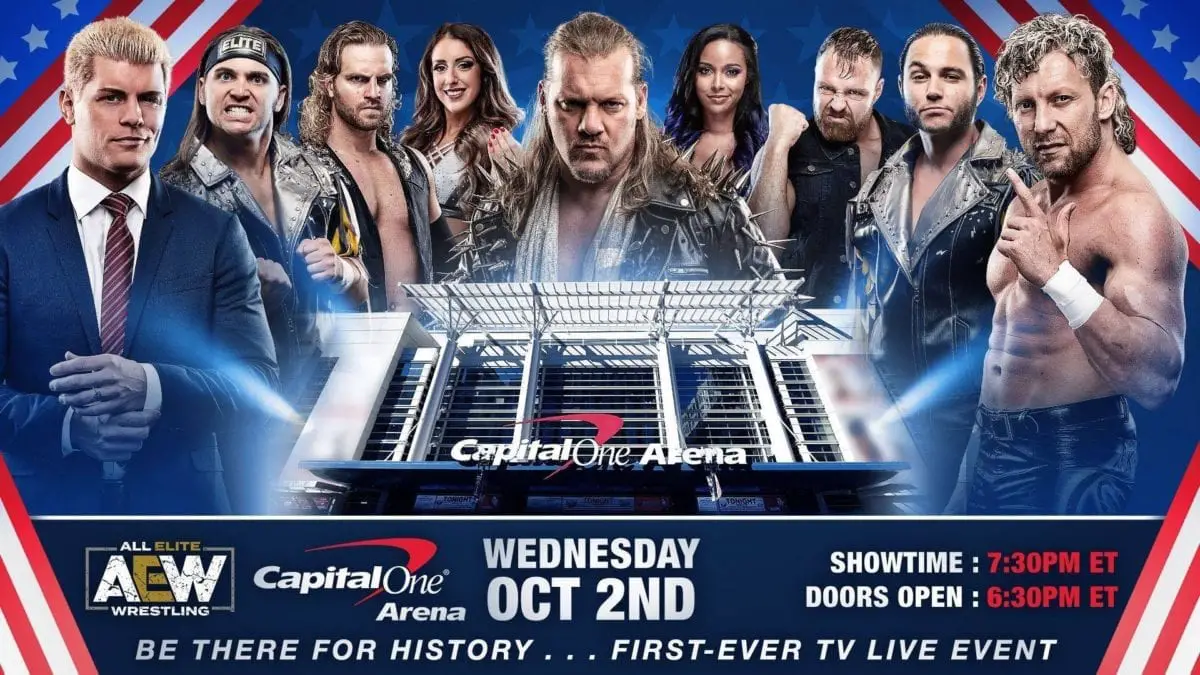 Welcome to the Live Results and Updates blog for AEW Dynamite's first-ever episode on 2 October 2019, from Capital One Arena in Washington DC. The lineup for the show is as follows:
Some pyro to start the show before the commentary team of Jim Ross, Tony Schiavone, and Excalibur welcomes us with the preview of all the matches on tonight's show. Brandi Rhodes is with Cody as he makes his entrance. Sammy enters next.
Cody Rhodes vs Sammy Guevara
They start with a quick exchange that leads to Cody taking a breather. Cody rolls to the floor for a moment. Guevara hits a dropkick and a moonsault. Cody hits a shoulder tackle and Guevara slaps him. Another quick exchange leads to Cody hitting a power slam. Cody puts him figure four but Sammy gets to the rope. Guevara hits a kick. Cody hits him with a springboard stunner for a two-count.
Guevara hits a springboard cutter to get a near fall. Rhodes drops him at the apron. Cody goes for a suicide dive but Sammy pulls Brandi it. Cody checks on his wife while Guevara recovers. Sammy shoves Cody into the ring post. He hits a moonsault for a two-count as they get back to the ring. Brandi takes a cheap shot at Sammy while the referee is distracted. Rhodes hits the Disaster Kick off the rope but Guevara kicks out.
Cody hits reverse superplex to get another two-count. Sammy hits Cody with a Spanish Fly from the top. Cody gets his knees up on a shooting star press from Guevara. Cody gets the pin with a roll-up.
Winner- Cody Rhodes
Post-match, Schiavone gets in the ring to talk with Cody. Cody takes the mic but Guevara offeres him a handshake. Chris Jericho runs out and attacks Cody from behind. Guevara leaves as Jericho continues to betup Cody. He runs Cody over with the title and then powerbombs Cody through chairs. Jericho takes the mic and says, "I am Chris Jericho and I am the champion of AEW. You're welcome!"
Brandon Cutler vs MJF
MJF trips Cutler and slaps him. Cutler slaps MJF after a backflip. Cutler hits a sunset flip for a two-count. MJF rakes his eyes as he goes for a move. MJF throws him into the ring post. Cutler sends MJF to the floor as he wastes time in trash talk. Cutler hits suicide dive right. Cutler goes up top but his knee are damaged. MJF pulls the referee in front of him and then nails Cutler with a cheap shot. MJF puts on the Fujiwara Armbar to get the submission.
Winner- MJF
SCU are outside the White House and does their 'this is the worst town they've ever been in' bit before cutting to the stage with Schiavone. Scorpio Sky tells us that Christopher Daniels and Frankie Kazarian will be in the tag tournament which starts next week. Pentagon Jr. and Fenix come out to interrupt them. Fenix says they are the best tag team in the universe while Pentagon gives them "cero miedo". After SCU does their "SCU!" gesture, the two sides start fighting on the stage. A lot people from Atlas Security intervene quickly along with Dean Malenko and some referees.
PAC vs Adam Page
PAC was outside the ring as we return from the break. As PAC runs back in, he had to take some shots from Page. They trade strikes before Pac hits a few kicks. Hangman replies with a big boot and runs PAC down with a clothesline. PAC is put in the corner for a stiff chop before runs him into the barricade outside the ring a few times and nails a suicide dive.
A standing shooting star press from Page gets him a nearfall. Pac hits a springboard moonsault on the floor. Back in the ring, he hits a springboard 450 for two-count. Hangman hits a superkick to Pac on the top rope. He hits an avalanche fallaway slam and then a flapjack cutter for a two-count.
Pac rams Page into the ring post. Pac dominates as we go for a picture-in-picture ad break. Page gets to his feet and unloads with rights and lefts. He hits a spine buster but Pac recovers. Page hits a popup powerbomb for a near fall and follows with a moonsault from the top. Pac hits a low blow behind the referee's back. PAC hits the Black Arrow and puts on Brutalizer lock to get submission.
Winner- PAC
Nyla Rose vs Riho – AEW Women's Championship
Britt Baker joins the commentary team before both the competitors enter. Riho ducks a clothesline to start. She fires with elbows, dropkick and takes down Rose with head-scissor. Rose hits shoulder tackle and a running splash. Riho stomps on Rose. She replies by choking her on the ropes. Riho breaks a submission by getting to the ropes. Riho sends Nyla to the floor with a running knee. Rose hits a backbreaker after catching Riho's dive. Nyla misses a senton on a pile of chair. Riho hits her with a stomp on the apron.
Rose has taken back the control during the break and attempts a powerbomb. Riho tries and fails to get her up on her shoulders. Some back and forth action. Riho counters a powerbomb with a rolls her for a two-count. Both women end up on the top and Riho hits a superplex and then hits a running knee for the win.
Winner- Riho(become first AEW Women's Championship)
Post-match, Michael Nakazawa comes out with a microphone to interview Riho in Japanese. Rose comes back in the ring and destroy Nakazawa with a big powerbomb. Rose then goes to hit a death valley driver on Riho on the apron, but Kenny Omega runs out to stop her. Rose heads off to the back.
Kenny Omega and The Young Bucks vs Chris Jericho, Santana, and Ortiz
Kenny and Santana start with quick back and forth action. Kenny sends Santana and Ortiz to the floor. Jericho comes in and locks Kenny in the Walls of Jericho. The Young Bucks superkick Jericho to break it. Nick and Matt hits suicide dive on everyone on the floor. Jon Moxley attacks Kenny in the ring. They go into the crowd and brawl there. Jericho and Nick are going at it in the ring. Kenny gets his hands on a mop and brings out his inner cleaner. Moxley gets upper hand and hits Dirty Deeds through a glass table. We cut to a break.
Matt was looking for a tag but Santana drops Nick from the apron. Santana and Ortiz hits crossbody. Matt gets the knees up on Jericho's Lionsault. Matt hits with northern lights suplex on Santana. He hits a double suplex on Santana and Ortiz next. Nick drops Jericho off the apron. Young Bucks and Santana and Ortiz go at it before Jericho hits codebreaker on Nick and then nails Matt with Judas effect for the pin and the win.
Winners- Chris Jericho, Santana, and Ortiz
Post-match, Cody runs out to attack Jericho. Guevara comes out and hits a low blow on Cody. Dustin Rhodes runs out and hits a low blow on Guevara. Jake Hager (Swagger) comes out from the crowd and attacks Rhodes Brothers and Young Bucks. He takes out everyone with big moves. Jericho hits Judas Effect on Cody to end the show.