AEW Dynamite Live Results & Updates- 2 October 2019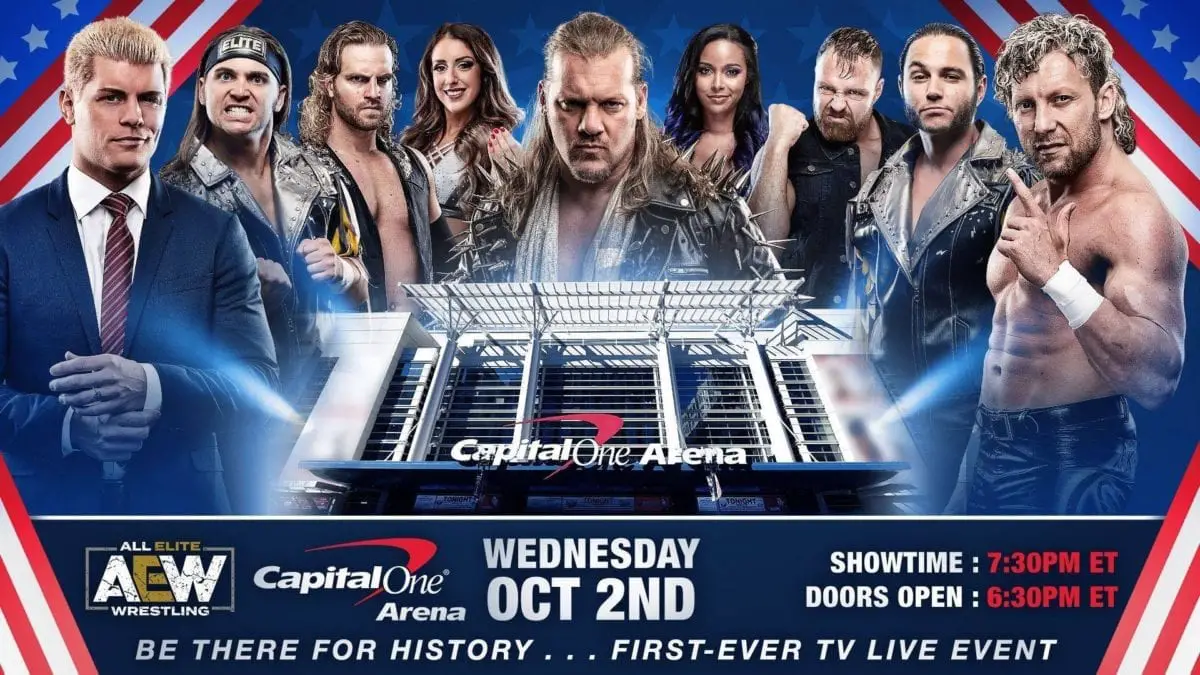 Welcome to the Live Results and Updates blog for AEW Dynamite's first-ever episode on 2 October 2019, from Capital One Arena in Washington DC. The lineup for the show is as follows:
Pyro starts the show before the commentary team of Jim Ross, Tony Schiavone, and Excalibur welcomes us with the preview of all the matches on tonight's show. Vignette for the first match of the night Cody Rhodes vs Sammy Guevara where they go back and forth. Brandi Rhodes is right beside Cody as he makes his entrance to a big pop. Sammy enters shortly afterward.
Cody Rhodes vs Sammy Guevara
They start with a quick exchange that leads to Cody taking a breather. Cody bails out to the floor for a moment as he gets back in which leads to Guevara taunting him a bit. Guevara tries for a superkick, but nobody home. Rhodes goes for a waist lock but Sammy counters out of it and hits a dropkick to the face followed by a rolling moonsault for one-count. Cody knocks Sammy down with a shoulder tackle but Guevara pops back up and slaps him in the face.
Another quick exchange leads to Cody hitting a power slam for a quick one count. The American Nightmare puts him in a Figure Four but Sammy eventually gets to the bottom rope to force a break. Guevara hits a kick but Cody comes back with a springboard stunner for a pair of two counts. Guevara hits a springboard cutter of his own for another near fall. Rhodes kicks him off the apron to the floor. Cody lines up for a suicide dive but Sammy pulls Brandi into the line of fire. Cody checks on his wife while Guevara recovers.
Sammy shoves Cody into the ring post. He hits a triple moonsault for a two count as the action returns to the ring. Brandi takes a cheap shot at Sammy while the referee is distracted. Rhodes hits the Disaster Kick off the rope but Guevara kicks out. Cody puts him on the top turnbuckle and climbs up for a reverse superplex to get another close two count. Sammy jumps up to the top rope while Cody is up there and hits a Spanish Fly for a near fall. Guevara goes for a shooting star press but Cody gets his knees up to block and rolls Guevara up for the pin and the win.
Winner- Cody Rhodes
Post-match, Schiavone gets in the ring to talk with Cody. Cody hugs Schiavone but as he was going to talk with him, but Guevara shoves Cody for a handshake. Chris Jericho runs out and attacks Cody from behind. Guevara leaves without intervening. Jericho drops Cody again, nails a codebreaker on Cody, smacks Cody in the head with the title. He then sets two chairs up next to each other and powerbombs Cody on the two of them. Jericho takes the mic and says, "I am Chris Jericho and I am the champion of AEW. You're welcome!"
Brandon Cutler vs MJF
MJF gives a typical heel promo on his way to the ring, calling himself the fastest rising star in pro-wrestling. He takes control early but Cutler does a backflip from the corner and slaps him in the face. He follows up with a sunset flip before MJF rakes his eyes. Friedman slams Cutler before he starts working on his arm. Cutler sends him out of the ring and nails a suicide dive before raining him with punches. He rolls MJF back into the ring but he loses his balance on the top turnbuckle. MJF nails an elbow to the face to bring him down. MJF quickly locks in an armbar called 'The Salt of the Earth' to get the win.
Winner- MJF