WWE Hell in a Cell 2019 – Match Preview and Predictions
Amid the season premiere week, most of the fans have already forgotten that the 11th edition of Hell in a Cell 2019 PPV takes place this Sunday. You can't blame WWE to focus more on SmackDown's big Fox debut rather than a PPV just two days later. But a lot more could have been done from them to build for Hell in a Cell. There are just 4 matches announced for the show yet and most of the writers and fans are clueless over matches will be added to the main card later in the day.
Regardless of all the distractions till now, WWE creative needs to put on a great show at Hell in a Cell to cap off a big week which saw the emergence of AEW Dynamite vs NXT battle and SmackDown's big move. Maybe less number of matches could work in the favor of Hell in a Cell and pave the path for future WWE PPVs. Let's hope for the best and go through with the preview and predictions for all the matches announced till now for WWE Hell in a Cell 2019.
Location: Golden 1 Center, Sacramento, California, US
Date: 6 October 2019
Kick-off Show Time: 6 PM EST(10 PM GMT/7 October 2019 3:30 AM IST)
Main Show Time: 7 PM EST(11 PM GMT/7 October 2019 4:30 AM IST)
Seth Rollins (c) vs "The Fiend" Bray Wyatt – Hell in a Cell Match, WWE Universal Championship
Preview- WWE started teasing the return of Bray Wyatt via small vignettes post WrestleMania. Those vignettes featured the characters from the Firefly Fun House which turned out to the platform through which he returned at the start of May. Over the next months Wyatt's alter-ego, The Fiend, started to make appearances in Firefly Funhouse. The segments became an instant hit over the internet wrestling community and they craved more. Although the Fiend kept on attacking various persons over the course, his target soon became clear- WWE Universal Championship.
Seth Rollins got the taste of what the Fiend has to offer just after he gained a hard-fought win over Braun Strowman at Clash of Champions. Since then, the Fiend has attacked Rollins four more times and Rollins has become more fearful of the Fiend with each attack. The story in the match is gonna revolve around this point only: whether Rollins will be able to get over his fear or will the Fiend succeed in getting what he needs, which is "Let Him In".
Prediction- The Fiend is so over that it is hard to imagine that he will lose this match at Hell in a Cell. Unless WWE has not cleared how are they gonna work with him as a champion, Fiend is winning this one.
Bayley(c) vs Charlotte Flair – WWE SmackDown Women's Championship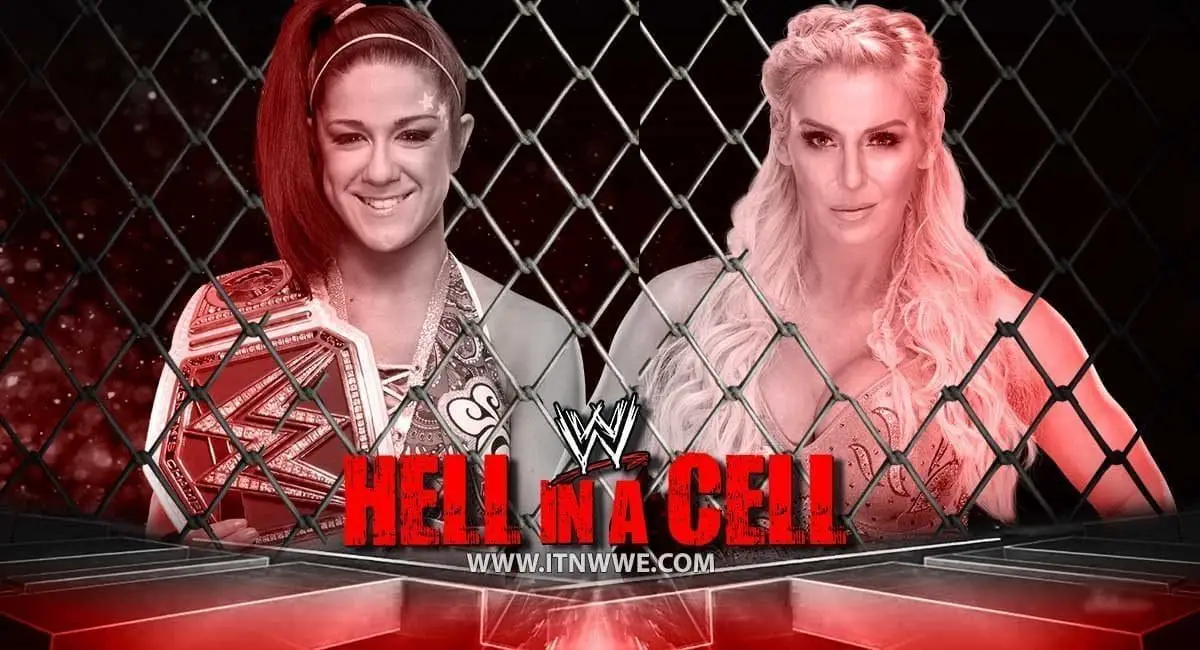 Preview- Bayley originally won the title from Charlotte itself at Money in the Bank. But her 4-month title reign can only be considered as just ok. Since this feud started, Bayley has changed from a fighting champion to a meek sidekick. The feud between Becky and Sasha has actually made people forget that Bayley is a champion.
When they meet at Clash of Champions, Charlotte was dominating the match like anything. But Bayley got the win with some opportunistic choice. Charlotte has actually pinned or submit Bayley twice over the last 4 weeks but in tag team matches. But in singles matches, Bayley still holds a better win rate over Charlotte over their 9 meetings.
Prediction- With the draft coming up next week, there remains a high possibility that Bayley's uninspiring run will come to an end. Charlotte Flair to take the title for 10th time.