List of Drew McIntyre WrestleMania Matches & Win-Loss Record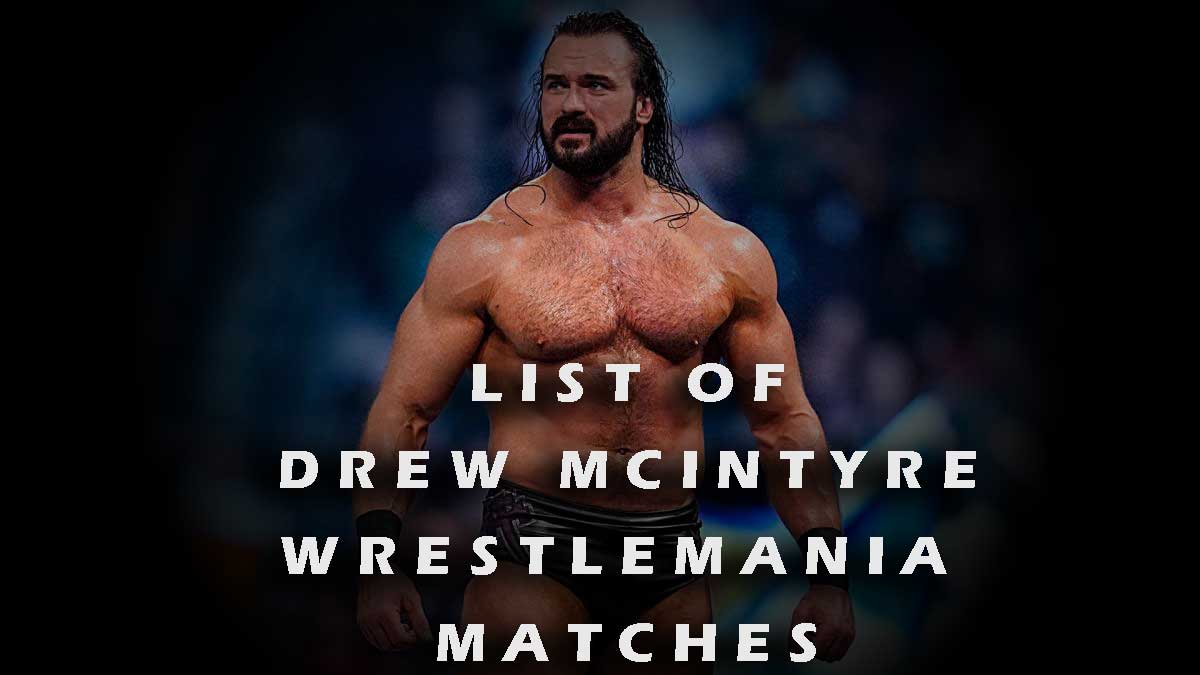 Drew McIntyre's WrestleMania journey is an exact reflection of his status in WWE. In his first year, he was inserted in the Money in the Bank ladder match while his next two appearances came as filler. However, since his return on the main roster in 2019, he has been in marque matches every year at WrestleMania.
Keep reading to check the complete list of Drew McIntyre's WWE WrestleMania along with brief storylines, and his win-loss record.
Drew McIntyre WrestleMania Win-Loss Record
The Scottish Warrior has taken part in 7 WrestleMania matches so far including Money in the Bank Ladder match. Andre The Giant Battle Royal and several title matches. McIntyre has won 3 of them so far while losing the 5.
| Matches | Win(%) | Loss(%) |
| --- | --- | --- |
| 8 | 3(38%) | 5(62%) |
1. WrestleMania XXVI – Money in the Bank Ladder Match
WrestleMania 26 was Drew McIntyre's first WrestleMania appearance and that came in the Money in the Bank Ladder match. McIntyre lost two qualifying matches to Kane and Matt Hardy. However, being Vince McMahon's favorite, McIntyre was given another match against a local competitor, where he qualified for the match.
There was hardly anything noteworthy that McIntyre did in this match. His early attempt to climb the ladder was thwarted by Matt Hardy with a Twist of Fate. He spent most of his time on the sidelines. As McIntyre tried to set up another ladder in the final minutes of the match, Hardy pushed off his ladder to end his time in this match. Jack Swagger won the MITB briefcase ultimately.
Winner – Jack Swagger(Wins- 0, Losses- 1)
2. WrestleMania XXVIII – Team Teddy vs Team Johnny – 12-Man Tag Team Match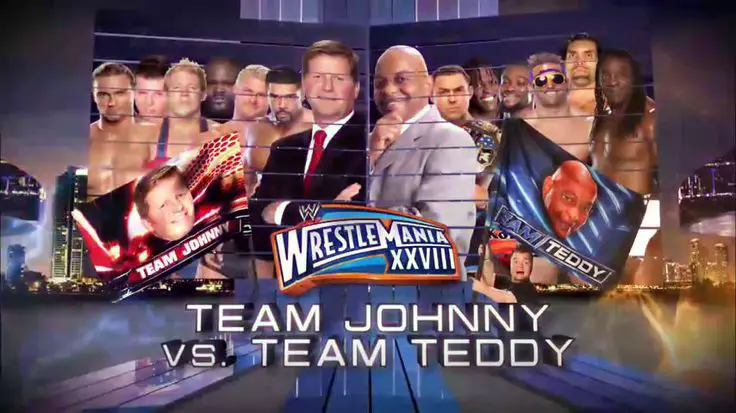 At WrestleMania 28, John Laurinaitis and Teddy Long were in a feud to become the manager of both RAW and SmackDown brands. A 12-man tag team match was set up between their teams. Drew was the late replacement for Christian, who got injured by CM Punk.
Drew did not do much in the match apart from hitting some moves in a spot fest. But, ultimately his team, Team Johnny, won the match.
Winner – Team Johnny(Wins- 1, Losses- 1)
3. WrestleMania 30 – Andre the Giant Battle Royal
McIntyre was part of the first-ever Andre the Giant Battle Royal at WrestleMania 30. Joined by other 3MB members, he eliminated The Great Khali, Zack Ryder and Darren Young before being eliminated by Mark Henry.
Winner – Cesaro(Wins- 1, Losses- 2)
4. WrestleMania 35 – vs Roman Reigns
McIntyre was feuding with the Shield on the road to WrestleMania after he attacked Roman Reigns in March 2019 when he returned to WWE after recovering from Leukemia. This led to a match between Baron Corbin, McIntyre, and Bobby Lashley vs the Shield at Fastlane, where The Shield won. Later, McIntyre attacked Roman before his first match at RAW after his return. Next week, McIntyre challenged Roman for a match at WrestleMania.
This was McIntyre's first singles match at WrestleMania and the first one since his return to WWE. McIntyre dominated the match for the most part as the duo told a classic babyface vs heel story during the match. McIntyre would hit the Glasgow kiss before Roman rallied back to hit a Superman punch and a spear to get the win.
Winner – Roman Reigns(Wins- 1, Losses- 3)
5. WrestleMania 36 – vs Brock Lesnar – WWE Championship
Royal Rumble 2020 was a turning point in Drew McIntyre's WWE career as he won the men's Royal Rumble match. He earned a world title shot to challenge for either of WWE Championship or Universal Championship at WrestleMania 36. However, his storyline with WWE Champion Brock Lesnar already started during the Royal Rumble match as Drew eliminated Lesnar from the match after his dominating display.
After the event was hit by COVID-19, Drew main-event WrestleMania for the first time without fans in attendance. The match itself was a short one, lasting under 5 minutes. Drew kicked out of Lesnar's F5 three times. He then hit Lesnar with 4 Claymore kicks back to back and won the WWE Championship.
Winner – Drew McIntyre(Wins- 2, Losses- 3)
6. WrestleMania 37 – vs Bobby Lashley – WWE Championship
Drew McIntyre lost the WWE title to The Miz at Elimination Chamber 2021 as he cashed in his Money in the Bank briefcase. Although, that cash-in came after Bobby Lashley has roughed him up. Lashley won the WWE title from The Miz two weeks after Elimination Chamber. With Drew asking for another shot at the title, WWE announced that he will indeed get to challenge Lashley.
The match was the first one in front of a Live Crowd since the start of the Pandemic as it opened night 1 of WrestleMania 37. Drew fought valiantly and had Lashley on his target for Claymore Kick. But, MVP shouted at him from behind to distract him, which gave Lashley time to duck under the Claymore and put him in the Hurt lock. McIntyre refused to tap out but passed out to force a referee stoppage.
Winner – Bobby Lashley(Wins- 2, Losses- 4)
7. WrestleMania 38 – vs Baron Corbin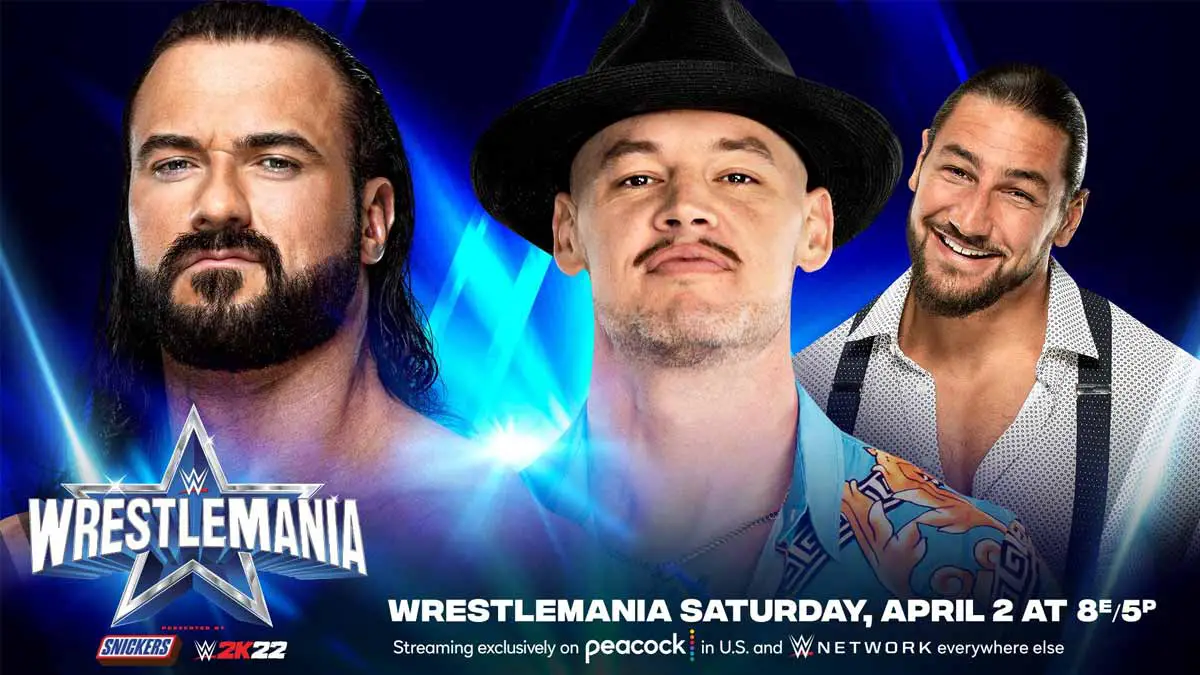 The storyline between Happy Corbin and McIntyre started in November 2021 when McIntyre teamed up with Hardy to beat Corbin and Madcapp Moss. McIntyre defeated Madcapp Moss at the Day 1 event. But, he was later attacked by Corbin and Moss backstage, which led to a neck injury to put him on the sidelines. Drew returned to eliminate Corbin and Moss from the men's Royal Rumble match. Later, he once again defeated Moss at Elimination Chamber. The storyline continued with McIntyre challenging Corbin to face him at WrestleMania 38.
Corbin proved to be a more stern test than McIntyre imagined and was able to hit End of Day on McIntyre. However, McIntyre kicked out of the pin, becoming the first wrestler ever to kick out after End of Days. McIntyre then caught Corbin with Futureshock DDT and Claymore kick for the pin and the win.
Winner – Drew McIntyre (Wins- 3, Losses- 4)
8. WrestleMania 39 – vs Gunther(c) vs Sheamus – WWE Intercontinental Championship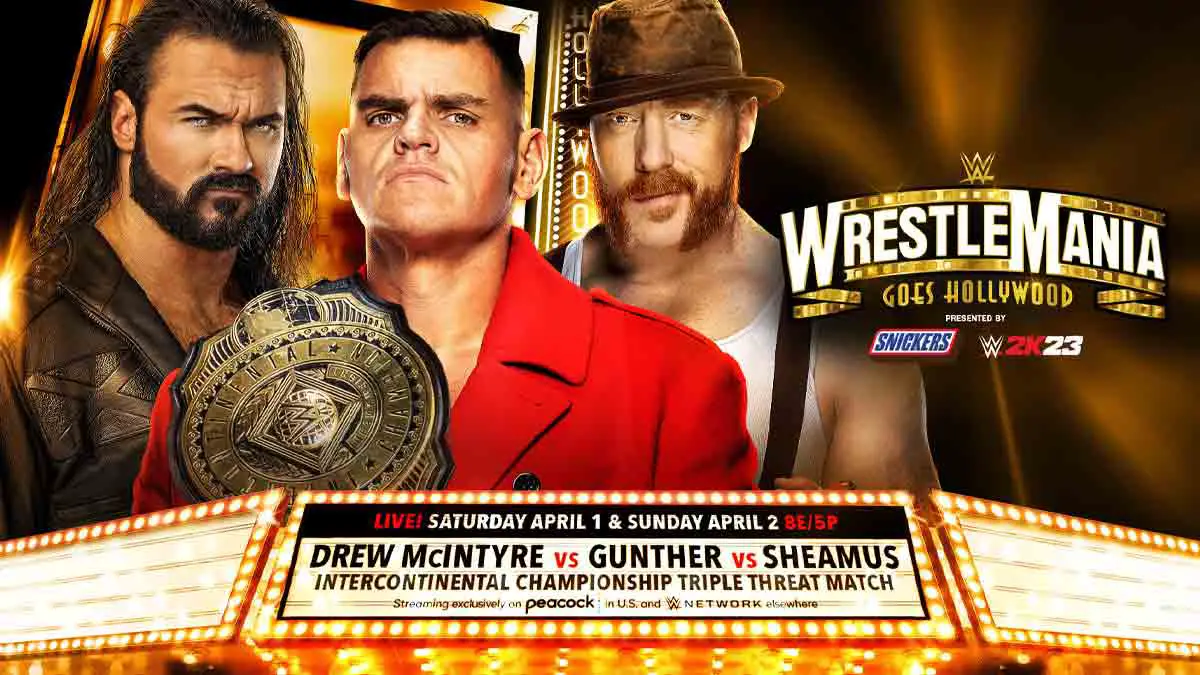 Gunther was the reigning champion for around 9 months when Drew McIntyre expressed his desire to challenge him at WrestleMania 39. Sheamus, who had unsuccessfully challenged Gunther twice already, saw this callout as backstabbing. WWE booked a fatal 5-way match to identify Gunther's challenger at WrestleMania which ended with Sheamus pinning Xavier Woods and McIntyre pinning Karrion Kross at the same time. A match between McIntyre and Sheamus was booked the next week, but Gunther and his Imperium buddies caused a double disqualification. As a result, WWE Official Adam Pearce announced the match at WrestleMania as a triple threat.
Winner – Gunther