Drew McIntyre Wins Royal Rumble 2020 After Lesnar Dominates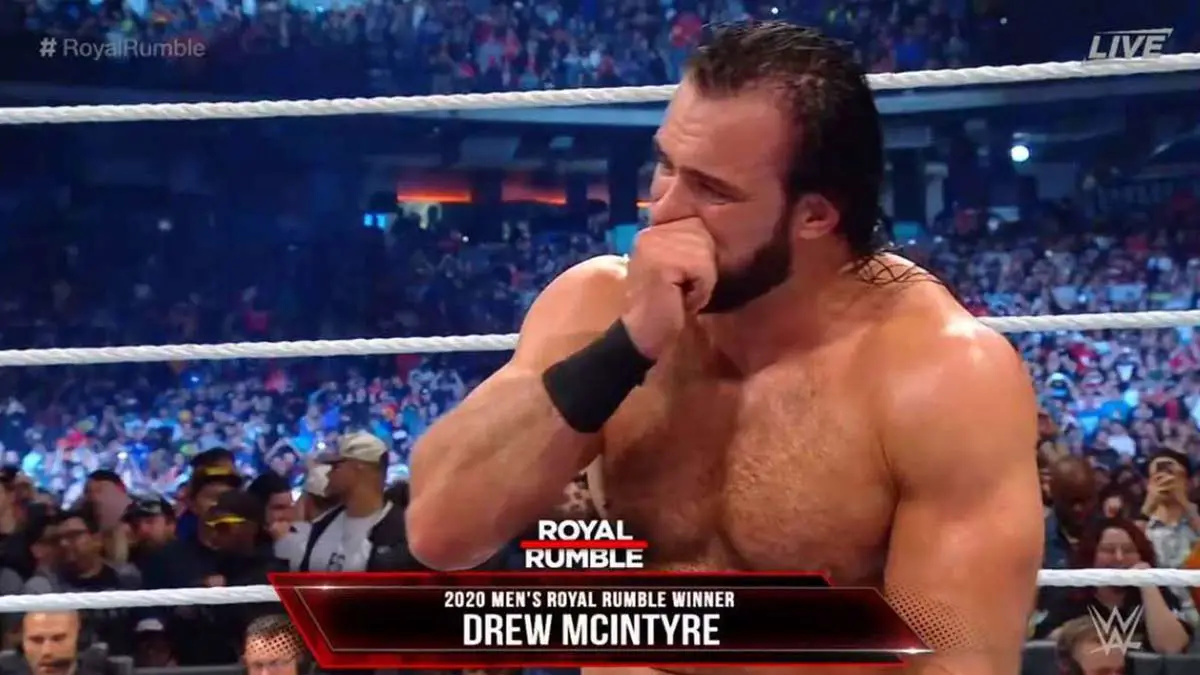 Drew McIntyre has won the men's Royal Rumble edition of 2020, winning the chance to compete for the World title at WrestleMania 36.
This year's Royal Rumble match was refreshing as the early part was dominated by Brock Lesnar but after McIntyre eliminated him, the match opened up for others. WWE Champion Brock Lesnar entered this year's Royal Rumble match at number #1 position and was dominant from the start. He eliminated the next 13 contestants from the match, equalling the record for the most elimination in a single match.
It all started with Lesnar eliminating #2 entry in Elias and then eliminating Erick Rowan in merely 8 seconds. Robert Roode(#4) and John Morrison(#5) also did not mount any credible challenge for him. Kofi Kingston became the first person in the match who survived the 90 seconds mark against him. Rey Mysterio(#7) came in but was beaten down.
Big E entered at #8 and the trio of Kofi, Mysterio and Big E worked to neutralize his threat against Lesnar. But that was short-lived Lesnar turned the tables shortly and eliminated all three of them. The trend of Lesnar's domination continued until Keith Lee entered at #13 and stopped Lesnar's momentum. Another big guy joined the fray as Braun Strowman entered at #14. But when Strowman and Lee shifted their focus from Lesnar, he pushed both of them over to once against stand alone in the ring.
Ricochet entered at #15 and Lesnar battered him. Drew McIntyre entered at #16 and stood face to face with Lesnar. This gave Ricochet an opening to hit a low-blow on Lesnar and Drew eliminated him with a Claymore kick, drawing a wild cheer from the fans. McIntyre tossed out Ricochet and easily eliminated The Miz next. Lesnar gave a threating look to McIntyre as he recovered at the ringside, before leaving from the crowd.
The match returned to normalcy as Randy Orton, Dolph Ziggler, and AJ Styles entered. Another major moment came in the match when Edge made his return at #21. Edge teased a confrontation with AJ Styles before joining with Rated RKO partner Randy Orton. The match continued with the likes of Roman Reigns, Kevin Owens and Samoa Joe joining in before Seth Rollins entered with his stable at number 30.
Aleister Black, Kevin Owens and Samoa Joe were eliminated by the stable. But with AOP and Buddy Murphy engaged in the brawl, Seth Rollins was eliminated by the last four men in McIntyre, Orton, Reigns and Edge. Orton teased turning on Edge but Edge got the hang of it and eliminated Orton. Roman and Edge tussled at the apron for a while which led to Edge being eliminated. Drew McIntyre then hit Claymore kick on Roman to get the final elimination and won the Royal Rumble match.
With him eliminating Brock Lesnar, and then also winning the Royal Rumble, it looks like Drew McIntyre will face Brock Lesnar at WrestleMania 36 for WWE Championship now. WWE WrestleMania 36 will take place at Raymond James Stadium in Tempa Bay, Florida, US on 5 April 2020.