Kevin Owens: List of WWE WrestleMania Matches & Win-Loss Records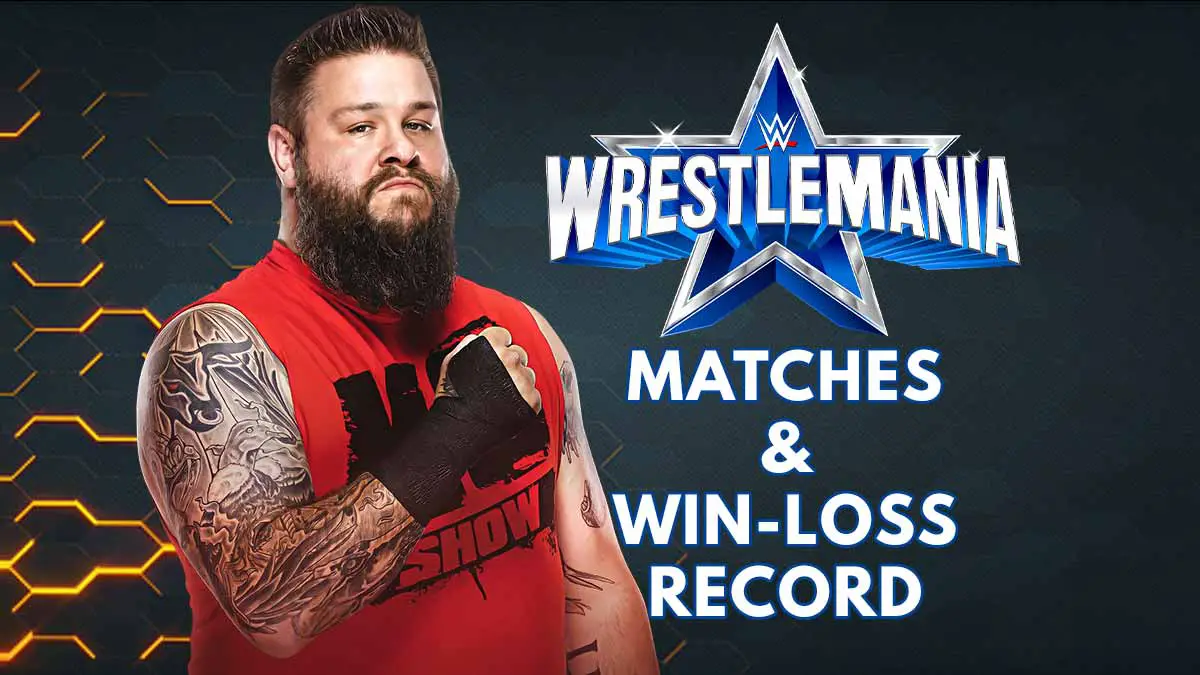 Kevin Ownes is undoubtedly one of the boldest performers in the current WWE roster. After wrestling all over the world, Owens came to NXT in 2014, and it didn't take long for him to get on the top. His first WrestleMania match came in 2016 and he has had some memorable moments on the show every year since then.
Check here for the list of WWE WrestleMania matches for Kevin Owens, storylines, and his win-loss record.
Kevin Owens Wrestlemania Win-Loss Record
Kevin Owens has participated in 7 WrestleMania matches so far. He has won 4 matches while losing 3 of them. Interestingly, he has won 3 singles match at the Showcase of the Immortals so far and two losses have come in multi-men matches before one loss to Stone Cold in a singles match at WrestleMania 38.
| Matches | Win (%) | Loss (%) |
| --- | --- | --- |
| 7 | 4 | 3 |
List of Kevin Owens Wrestlemania Matches
| YEAR | EVENT | MATCH | RESULT |
| --- | --- | --- | --- |
| 2016 | WrestleMania 32 | vs Zack Ryder vs Sin Cara vs Star Dust vs The Miz vs Dolph Ziggler vs Sami Zayn – Intercontinental Championship Ladder Match | Lost |
| 2017 | WrestleMania 33 | vs Chris Jericho(c) – United States Championship Match | Won |
| 2018 | WrestleMania 34 | Kevin Owens & Sami Zayn vs Daniel Bryan & Shane McMahon | Lost |
| 2020 | WrestleMania 36 | vs Seth Rollins | Won |
| 2021 | WrestleMania 37 | vs Sami Zayn | Won |
| 2022 | WrestleMania 38 | vs Stone Cold Steve Austin | Lost |
| 2023 | WrestleMania 39 | The Usos vs Kevin Owens & Sami Zayn – Undisputed WWE Tag Team Championship | Won |
Kevin Owens WrestleMania Matches
1. Intercontinental Championship Ladder Match – WrestleMania 32
Kevin Owens entered his very first WrestleMania with the Intercontinental Championship on his shoulder. Owens was supposed to face one among Dolph Ziggler, The Miz, and Sami Zayn at WM32. However, the #1 contender triple threat match was interfered with by Sin Cara, Star Dust, and Zack Ryder. 
Stephanie McMahon then announced that Kevin Owens would defend his Intercontinental Championship against all the six participants at WrestleMania 32. The match featured several jaw-dropping moments and was one of the most memorable ladder matches of all time. However, Owens failed to pick up the win, and Zack Ryder went home with the IC title.
Winner – Zack Ryder
2. Chris Jericho(c) vs Kevin Owens – WWE United States Championship – WrestleMania 33
Kevin Owens vs Chris Jericho was one of the best storylines heading into WrestleMania 33. In mid-2016, Owens and Jericho formed an alliance and assisted each other in winning their matches. Jericho accepted Goldberg's challenge for the Universal title before Owens turned on him at "the Festival of Friendship" in one of the most famous segments in WWE in the last few years. Jericho, in turn, distracted KO during his title defense against Goldberg, and cost him the title.
Owens then challenged Jericho for the US title match at WM33, which the latter accepted. The match was filled with near falls. Owens even used Walls of Jericho on Chris Jericho himself. In the ending moments of the match, Kevin Owens hit Jericho with the Powerbomb onto the ring apron to win the United States Championship for the very first time.
Winner – Kevin Owens
3. Kevin Owens & Sami Zayn vs Daniel Bryan & Shane McMahon – WrestleMania 34
Kevin Owens was feuding with Shane McMahon. They faced off in a Hell in a Cell match at the namesake event in 2017. During the match, Owens' former friend Sami Zayn saved him from Shane's fall from the top of the cell. Shane McMahon announced that Zayn and Owens would wrestle each other at WrestleMania 34. However, both of them reacted to this by attacking Shane McMahon. Later, they also attacked Daniel Bryan when he fired them from SmackDown. As a result, a tag-team match was set between Daniel Bryan & Shane McMahon vs Kevin Owens & Sami Zayn with the stipulation that if Owens and Zayn won, they would be re-hired to SmackDown.
Owens and Zayn, being the heels, attacked Bryan and McMahon before the match began and powerbombed Bryan on the apron to incapacitate him for a while. McMahon started the match alone and survived a few near falls before Bryan recovered and got in the match. Bryan also kicked out of a near fall from a pop-up powerbomb before rallying and forcing Sami Zayn to submit via Yes Lock to win the match. 
Winner – Daniel Bryan & Shane McMahon
4. Kevin Owens vs Seth Rollins – WrestleMania 36
The feud between Kevin Owens and Seth Rollins started at Survivor Series 2019 as Rollins continuously questioned Owens's loyalty to the red brand. Soon, the Authors of Pain began to target Kevin Owens. Seth Rollins created a faction with AoP and Buddy Murphy. Kevin Owens cost Seth Rollins and Buddy Murphy the Raw Tag Team championship match.  As a result, Rollins challenged KO for a match at WrestleMania 36.
Initially, the match ended via disqualification as Rollins used the ring-bell to attack Owens. However, Owens then challenged Rollins in a No Disqualification match on the spot. The most memorable moment of this match was Kevin Owens' elbow drop from the WrestleMania sign. Owens later hit Rollins with the stunner in the ring to win the match.
Winner – Kevin Owens
5. Kevin Owens vs Sami Zayn – WrestleMania 37
At WrestleMania 37, Kevin Owens faced one of his oldest rivals in the form of Sami Zayn. The latter even brought Logan Paul along with him, to accompany him at the ringside. Everyone knows that Kevin Owens and Sami Zayn have great chemistry inside the squared circle and they proved it once during their match at WM 37. 
Both the wrestlers used some great moves, Zayn hit Owens with the Brainbuster on the apron, and he even used the blue thunder bomb. However, these moves were not enough to put Owens down, and the latter won the match by hitting the Stunner. After the match, Logan Paul entered the ring to congratulate Owens, but it pissed off Zayn. Paul shoved Zayn in the ring, but when he turned around, he got stunned by Kevin Owens.
Winner – Kevin Owens
5. Kevin Owens vs Stone Cold Steve Austin – WrestleMania 38
After failing to get into a title match at WrestleMania 38, Kevin Owens was desperate to get onto the card. So, instead of having any singles match, he decided to call out Stone Cold Steve Austin to host him at a special edition of The Kevin Owens Show. After some insults from Owens towards him and the state of Texas, Austin agreed to appear at WrestleMania 38. And Austin arrived ready to fight. Owens also told Austin that he brought him there to fight in a No Holds Barred Match. Austin said he had his first match in Dallas, and would like to have his last match also in Dallas that night.
While Austin was a bit slow to start the match, he got into the groove and smashed open a beer as assaulted Owens. Later, he sent Owens through a table before the action went into the crowd. Austin also drove his ATV up the ramp to chase down Owens. Owens hit a stunner but Austin was able to kick out of it. As Austin ducked a chair shot, it slingshot from the ropes and back into Owens' face. Austin then hit a stunner to get the win.
Winner – Stone Cold Steve Austin
6. The Usos(Jimmy Uso & Jey Uso)(c) vs Kevin Owens & Sami Zayn- Undisputed WWE Tag Team Championship – WrestleMania 39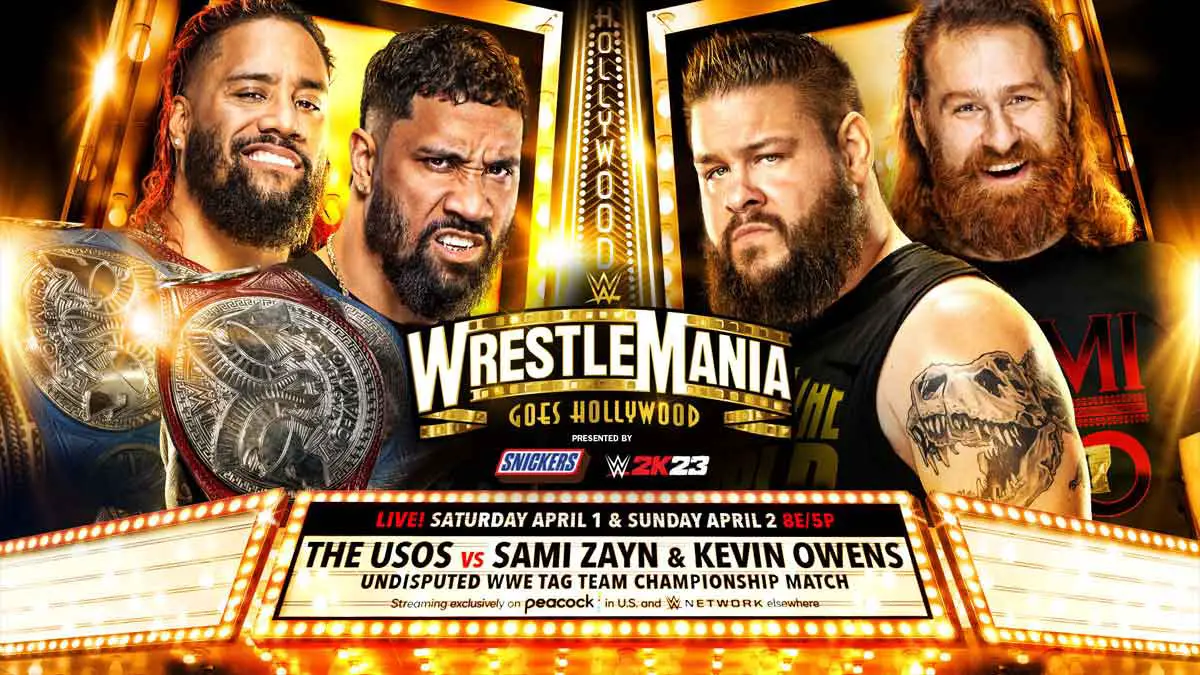 Kevin Owens opened a crusade against the Bloodline once again when he joined The Brawling Brutes and Drew McIntyre at WarGames match. Sami Zayn cemented his place in the Bloodline by hitting a low blow and a Helluva kick on Owens during that match and won it for the Bloodline. Although, Sami refused to hit Owens with chair shots after he lost to Roman Reigns at Royal Rumble. Sami instead turned on Roman, leading to his divorce with the Bloodline.
Sami asked for Owens to team up with him in the battle against the Bloodline but Owens did not agree readily. Cody Rhodes tried to play mediator between them but Owens was still adamant mad at Sami. It was only after Sami said that they are not friends but brothers that Owens' mind finally changed and he saved Sami from an attack from the Usos. With their enemies uniting, The Usos confronted them. Owens then challenged them for the tag team championship which was accepted by the Usos on the pretext that they would take care of two problems at once.
Winner – Kevin Owens & Sami Zayn