List of All Brock Lesnar WWE WrestleMania Matches & Win-Loss Record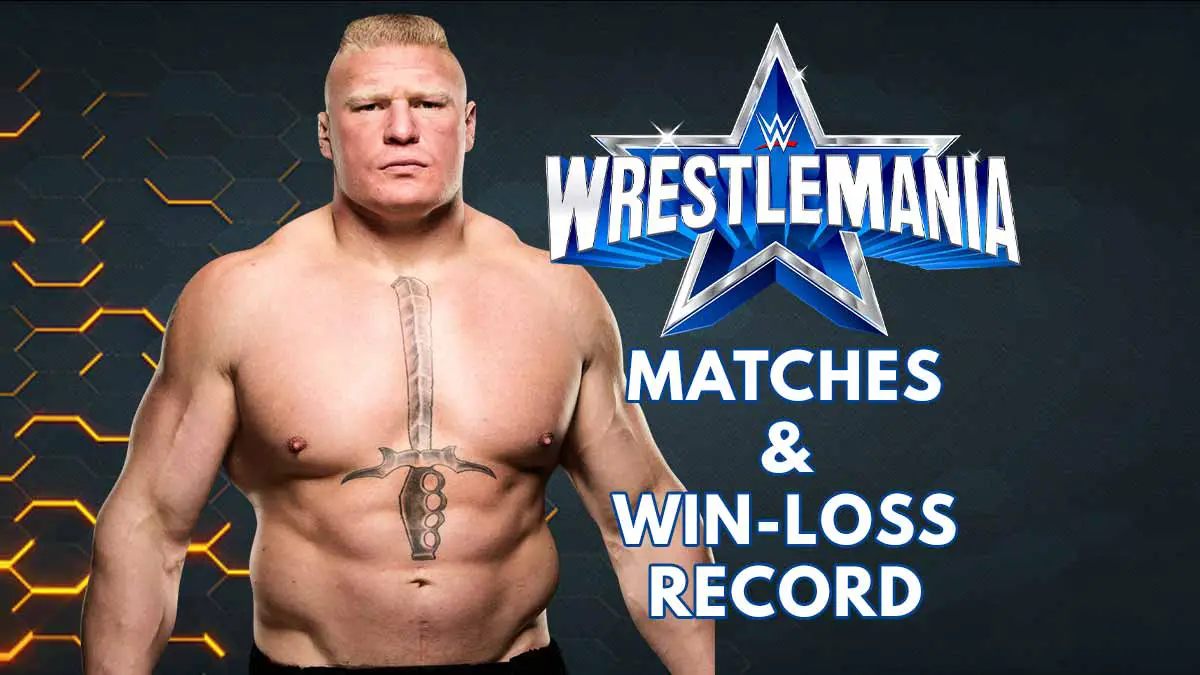 Despite his hot and cold relationship with the crowd through the years, Brock Lesnar remains one of the biggest attractions for WWE WrestleMania events. So much so that he has now headlined WrestleMania 5 times. The Beast Incarnate has faced some of his biggest opponents at WrestleMania and came out on top against big names like The Undertaker, Kurt Angle and Roman Reigns to name a few.
Read on to find the complete list of WWE WrestleMania matches for Brock Lesnar along with the win-loss record, complete storylines and more details.
Brock Lesnar Wrestlemania Win-Loss Record
Brock Lesnar has had 11 matches at WrestleMania so far and has won 5 wins and 6 losses. All but one of his matches have been singles matches. That one match was also a singles match at first but was later turned into triple threat match due to Money in the Bank cash-in. Lesnar has been part of 7 World title matches during this time. Out of these 7, he entered the match twice as the challenger and 5 times as a World Champion.
| Match Type | Matches | Wins(%) | Losses(%) |
| --- | --- | --- | --- |
| Single Matches | 12 | 6(50%) | 6(50%) |
| Title Matches | 7 | 3(43%) | 4(57%) |
1. Kurt Angle(c) vs Brock Lesnar – WWE Championship Match WrestleMania XIX(2003)
The storyline started when Big Show attacked Lesnar during his WWE Championship defense against Kurt Angle at Armageddon. Lesnar lost the title to Angle due to Big Show's infraction. Later, Lesnar won the Royal Rumble in 2003 and on the same night, Kurt Angle retained the WWE Championship against Chris Benoit to set up their match at WrestleMania. They continued their feud in the build-up to WrestleMania with a tag team match at No Way Out and a fluke championship match at SmackDown.
In reality, Angle was working through a neck injury and, at one point, was even doubtful for the match. Another curios fact related to this match was that Lesnar was main eventing WrestleMania in his first WrestleMania match itself. Unfortunately, a botched shooting star press from Lesnar became the main talking point of the match.
Lesnar had executed the move successfully previously during his time in developmental. However, he tried to execute it from the far turnbuckle. As a result, he was left short of hitting Angle and suffered a concussion. This was supposed to be the finish of the match and they had to improvise the finish with the third F5 of the match from Lesnar to get the win.
Winner – Brock Lesnar
2. Brock Lesnar vs Goldberg – WrestleMania XX(2004)
The seeds for this rivalry were sown when Goldberg dismissed Lesnar's claim that he can beat anyone during a backstage segment at Survivor Series. Lesnar later interfered in Royal Rumble match to get Goldberg eliminated from the match. Goldberg speared Lesnar at No Way Out during his WWE title defense against Eddie Guerrero and cost him the title.
After more back and forth over the next weeks, their match became official with Steve Austin as the special referee. But even with such a blockbuster lineup, the match can be considered one of the worst match in WrestleMania history.
Fans came to know that both Goldberg and Lesnar were about to leave the company and turned hostile during their match. The match itself was set up very poor as almost nothing happened for the first few minutes or so. They came out of the blocks after that with some big moves, but the crowd was having none of it.
After both kicked out of each other finishers, Goldberg hit Lesnar with the Jackhammer to win the match. The most entertaining spot came after the match when Steve Austin hit Stunner on both of them. Lesnar left WWE after this to pursue other ventures and returned only after 8 years.
Winner – Goldberg
3. Brock Lesnar vs Triple H – No Holds Barred Match WrestleMania 29(2013)
After Brock Lesnar came back in 2012, he broke Triple H's hand a couple of times during their feud over the summer. After being away from WWE for the next 6 months or so, they resumed their rivalry when Hunter saved Vince McMahon from an attack from Lesnar.
During their brawl, Lesnar suffered a legitimate injury on his head, requiring 18 stitches. When Hunter put forward a challenge for a match at WrestleMania, Lesnar asked for the No Holds Barred stipulation to be added while also asking Hunter to put his career on the line.
Lesnar being the heel in the match, controlled a good portion of it. But, Hunter used the chair and ring post to injure Lesnar's arm to get an advantage to make it hard for Lesnar to execute the Kimura Lock. Hunter shocked everyone when he himself started using Kimura lock on the Beast Incarnate. Both men used the move three times each until Lesnar became vulnerable enough so that Hunter could hit Pedigree on the steel steps to get the win.
Winner – Triple H
4. Brock Lesnar vs The Undertaker, WrestleMania 30, 2014
This is the match where the greatest streak in the history of sports came to an end. This was the match where Undertaker finally lost a match at WrestleMania. To start with, Lesnar actually wanted to be in the WWE World Heavyweight Championship match at WrestleMania. But instead, he was offered a match against any other superstar. Undertaker appeared on RAW during the Road to WrestleMania and chokeslamed him through the table to set up their match.
Both men were at their striking best in the match but Lesnar controlled most of the match as usual. He hit a German Suplex that ended up giving Taker a concussion. Also, he countered an Old School by Taker into an F5. Kimura Lock, Hell's Gate, Powerbomb, multiple German Suplexes, Piledriver- all were executed.
But the end did not come until Lesnar hit the third F5 of the match and shocked the world by pinning the Undertaker at WrestleMania. Shocking it may have been, but Undertaker had never beaten Lesnar until that day in a singles televised match.
Winner – Brock Lesnar
5. Brock Lesnar(c) vs Roman Reigns and Seth Rollins – WWE World Heavyweight Championship Match, WrestleMania 2015
Project Roman Reigns was in full swing on the Road to WrestleMania 31. But, he was getting a negative reaction from the crowd even after winning the Royal Rumble and being endorsed by the Rock. The build-up to the match was also not too good with Lesnar being absent from weekly shows for the most part.
The Beast Incarnate came out of the blocks in an explosive fashion and introduced everyone to the Suplex City! phrase. But, Reigns somehow managed to survive even after two F5s. Then, the biggest ever Money in the Bank Cash in the history of WrestleMania came when Seth Rollins came out as both men were spent.
Rollins nailed a Curb Stomp on Lesnar but Lesnar caught him on the second attempt. The Big Dog hit Lesnar with a spear with Rollins still in the fireman's carry. Rollins followed up by hitting the Curb Stomp on Reigns to win the title. While Lesnar was lost the title, Lesnar was protected and WWE managed to avoid the ugly reaction from the fans if Reigns had won.
Winner – Seth Rollins
6. Brock Lesnar vs Dean Ambrose – No Holds Barred Street Fight, WrestleMania 2016
Dean Ambrose, Brock Lesnar and Roman Reigns were involved in the triple threat match at Fastlane for the no. 1 contender to challenge Triple H for the WWE World Heavyweight Championship. As Lesnar had Roman Reigns in the Kimura Lock and was about to win the match, Ambrose attacked Lesnar with a steel chair to incapacitate Lesnar. Reigns later pinned Ambrose to win the match after a spear.
An irate Lesnar attacked Ambrose on the next day backstage during a RAW episode. Next week, Ambrose came out in an Ambulance to challenge Brock Lesnar for the No Holds Barred Street Fight and Paul Heyman accepted the challenge on behalf of Lesnar.
The Lunatic Fringe gave Lesnar the fight of his life by using any weapon he could find and making good use of the stipulation. In reply, Lesnar kept toying with Ambrose with even more German Suplexes. The finish came when the Beast Incarnate hit Ambrose with an F5 over the chairs.
Winner – Brock Lesnar
7. Brock Lesnar vs Goldberg – WWE Universal Championship Match, WrestleMania 33, 2017
This match somewhat redeemed both Goldberg and Lesnar from the disastrous 2004 match. Goldberg returned to WWE after 12 years for a match against Lesnar at Survivor Series and squashed Lesnar to win in 1 and a half minutes.
Goldberg later eliminated Lesnar at the Royal Rumble 2017 match, which prompted Lesnar to challenge him for a final match at WrestleMania. At the same time, Goldberg won the Universal Championship from Kevin Owens at Fastlane.
Lesnar hit 3 German Suplexes back to back but Goldberg answered with a couple of spears. Goldberg again hit a spear to send Lesnar through the barricade. Later, Lesnar kicked out of the pin after a jackhammer. 10 continuous suplexes from Lesnar set up the finish and Lesnar got the pin after the F5. An explosive match that ended in under 5 minutes but it was so explosive that the crowd was on their toes throughout it.
Winner – Brock Lesnar
---
8. Brock Lesnar vs Roman Reigns – WWE Universal Championship Match, WrestleMania 34, 2018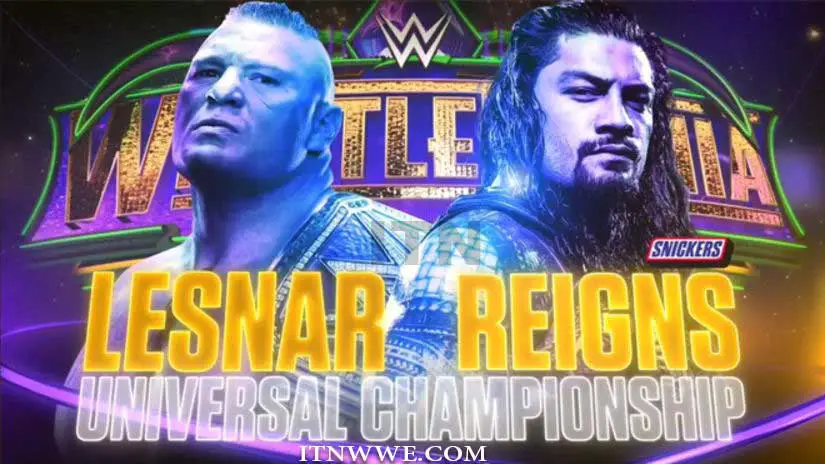 Roman Reigns had main event WrestleMania for the last three years by that point. Although he did not win the Royal Rumble to get the title shot, he later won the Elimination Chamber match to become the contender for the Universal Championship. Many thought this was going to be the moment when Roman Reigns would become the top face of the company by beating the Beast Incarnate at WrestleMania.
As Reigns went on to survive F5 after F5, the feeling among the crowd was becoming more prominent that Roman would win the match as he speared Lesnar twice in a row. But WWE pulled off a major surprise as Lesnar hit F5 for the fifth time in the match and pinned Reigns. Reigns finally won the championship at SummerSlam, but Lesnar survived to fight for another time at WrestleMania 34.
Winner – Brock Lesnar
9. Brock Lesnar(c) vs Seth Rollins – WWE Universal Championship Match, WrestleMania 35, 2019
This was the time when fans were fed up with Lesnar as the part-time champion. With Roman Reigns being away due to his battle with cancer, WWE turned to Seth Rollins as the new face of the company. He won the Royal Rumble and decided to face Lesnar at WrestleMania for the Universal Title. The buildup to the match was very basic with Rollins taking a detour with some Sheild drama.
Although the result was predictable, the execution of the match was enthralling. Lesnar attacked Rollins during his entrance and tossed him around the ring even before the bell could ring. Once they went inside the ring, Lesnar unleashed suplex city on Rollins. Rollins avoided an F5 and pushed Lesnar into the referee, knocking the official out of the ring. Rollins then capitalized by hitting a low blow. He followed up with three back-to-back Curbstomps. Rollins won the match and took the title away from Lesnar to fans' delight, and gave us the most shocking opening match in the history of WrestleMania.
Winner – Seth Rollins
10. Brock Lesnar(c) vs Drew McIntyre – WWE Championship, WrestleMania 36, 2020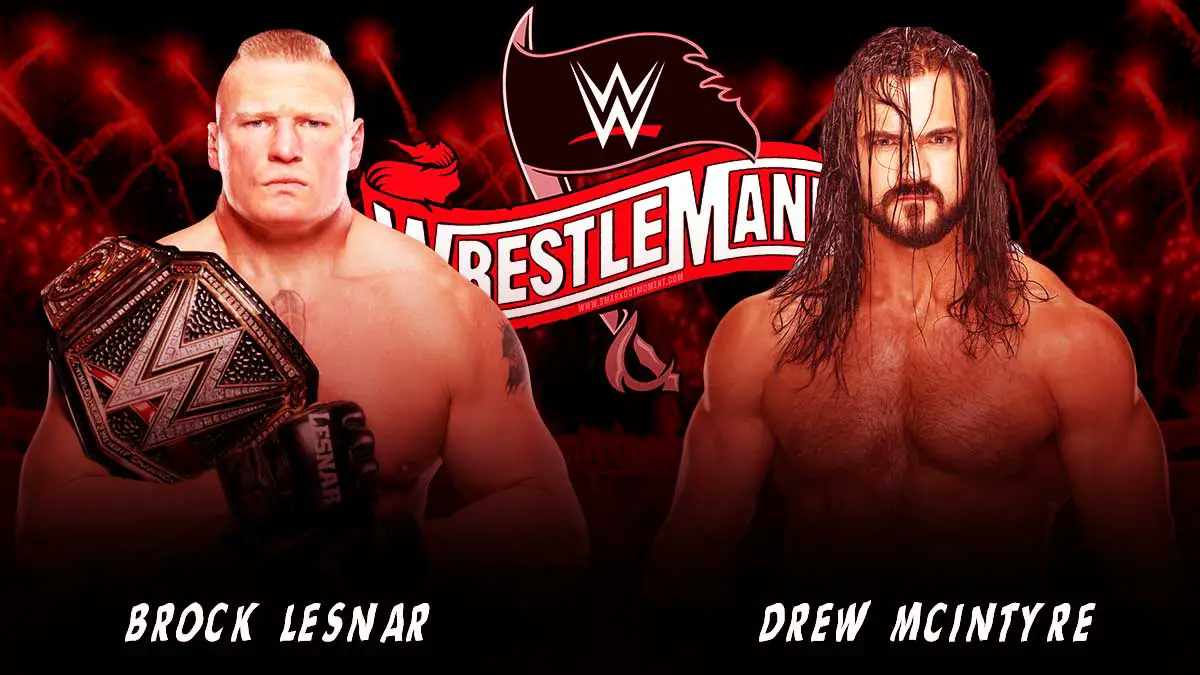 During this time, such has been the state of WWE programming that Brock Lesnar was actually devoid of any credible challenger to face at Royal Rumble. So, WWE had to dig deep to create one such star. The winner of Royal Rumble challenging Lesnar has become a normal thing at WrestleMania. But this time, the storyline took one more step prior to that.
Lesnar entered the men's Royal Rumble match at number 1 spot and dominated everyone until #16 entry Drew McIntyre. Drew hit Lesnar with a Claymore kick to eliminate Lesnar from the match. McIntyre went on to win the Royal Rumble and, obviously, challenged Lesnar for WWE Championship at WrestleMania 36.
After the usual buildup, these two men faced off in the main event of WrestleMania, but with no crowd due to COVID-19 pandemic. McIntyre would corner Lesnar as soon as the match started. However, Lesnar also turned into beast mode immediately and started throwing around McIntyre with German Suplexes and F5s. As McIntyre kept kicking out of the pin after each F5, Lesnar got frustrated and angry. That's when McIntyre started his series of Claymores and after the third one, he got the pin over Lesnar to win his first WWE World Championship.
Winner – Drew McIntyre
11. Brock Lesnar (WWE Champion) vs Roman Reigns (Universal Champion) – Title Unification Match – Wrestlemania 38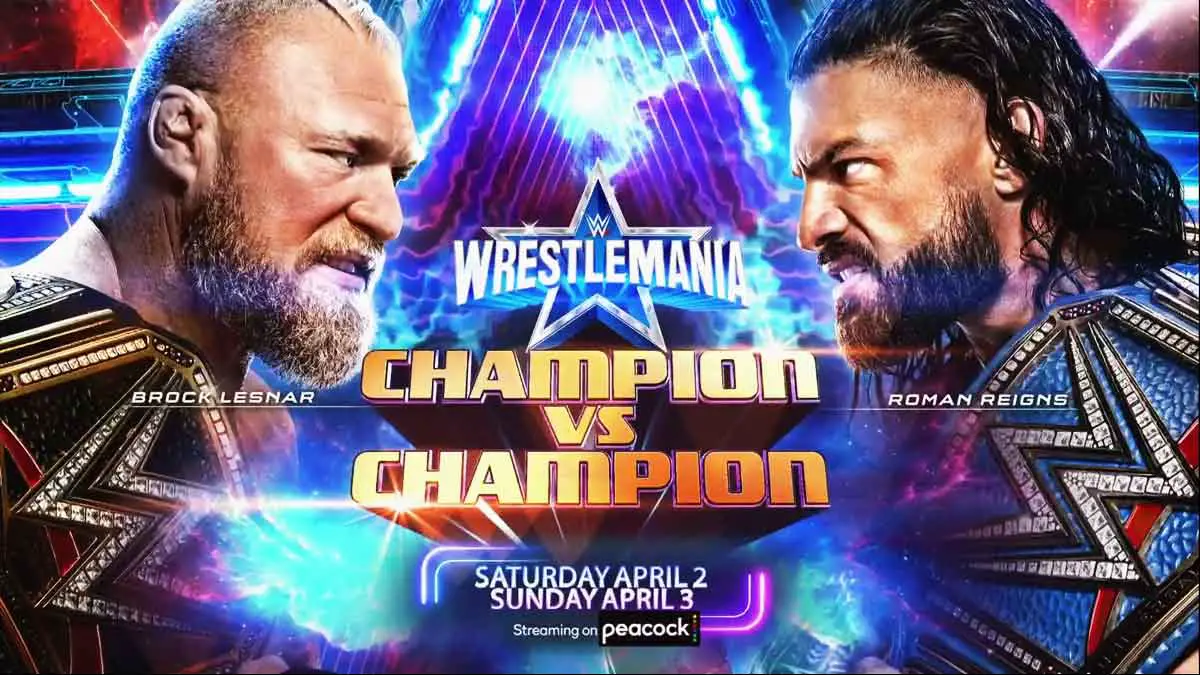 After being away from WWE since WrestleMania 36, Lesnar returned after 16 months at Summerslam 2021 to confront The Tribal Cheif Roman Reigns. Roman managed to retain the Universal Championship over Lesnar at Crown Jewel after help from The Usos. An enraged Lesnar was suspened from WWE for a while before returning to set up a match against Roman at Day 1 2022 event. However, Roman caught COVID-19, and Lesnar was instead put in WWE Championship match and went on to win it.
At Royal Rumble 2022, Roman cost Lesnar the WWE title in his match against Bobby Lashley. Later that night, Lesnar won the Royal Rumble match to earn the right to challenge for a World title. The Beast Incarnate went on to challenge Roman for Universal title. He was also granted his request to be added to Elimination Chamber match for WWE Championship. In that match, Lesnar won the WWE title back and the match at WrestleMania 38 was turned into Winner Takes All Title vs Title match.
At WrestleMania 38, Brock took early control until Paul Heyman distracted him to allow Roman to hit a spear. Back-and-forth action continued for a while until Roman hit with a low blow when the referee was down. Roman also hit Lesnar with the title belt, but Lesnar kicked out of the pin. Lesnar managed to put Roman in Kimura lock, putting much pressure on it. When Roman refused to tap out, Lesnar tried to hit an F5 but Roman countered to hit another spear to get the pin.
Winner – Brock Lesnar
12. Brock Lesnar vs Omos – Wrestlemania 39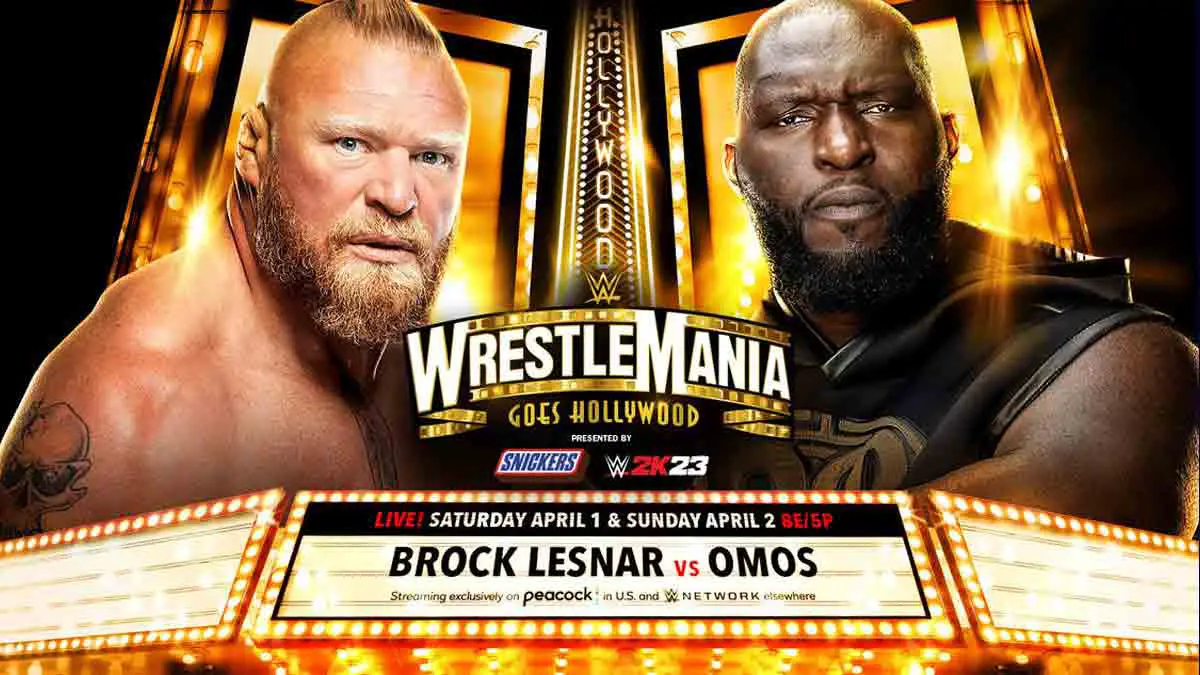 Lesnar was in a feud with Bobby Lashley since Crown Jewel 2022. Lesnar attacked Lashley during United States title match on RAW 30th Anniversary show. Later, Lashley eliminated Lesnar from men's Royal Rumble match. A match was then set up for Elimination Chamber where Lesnar hits a low blow on Lashley to cause a DQ. In the aftermath, Lashley's former manager MVP challenged Lesnar to face Omos at WrestleMania 39. Lesnar appeared on RAW the following week to accept the challenge.
Winner – Brock Lesnar
---
---
See Also
---