Roman Reigns vs Brock Lesnar WWE WrestleMania 38 Complete Storyline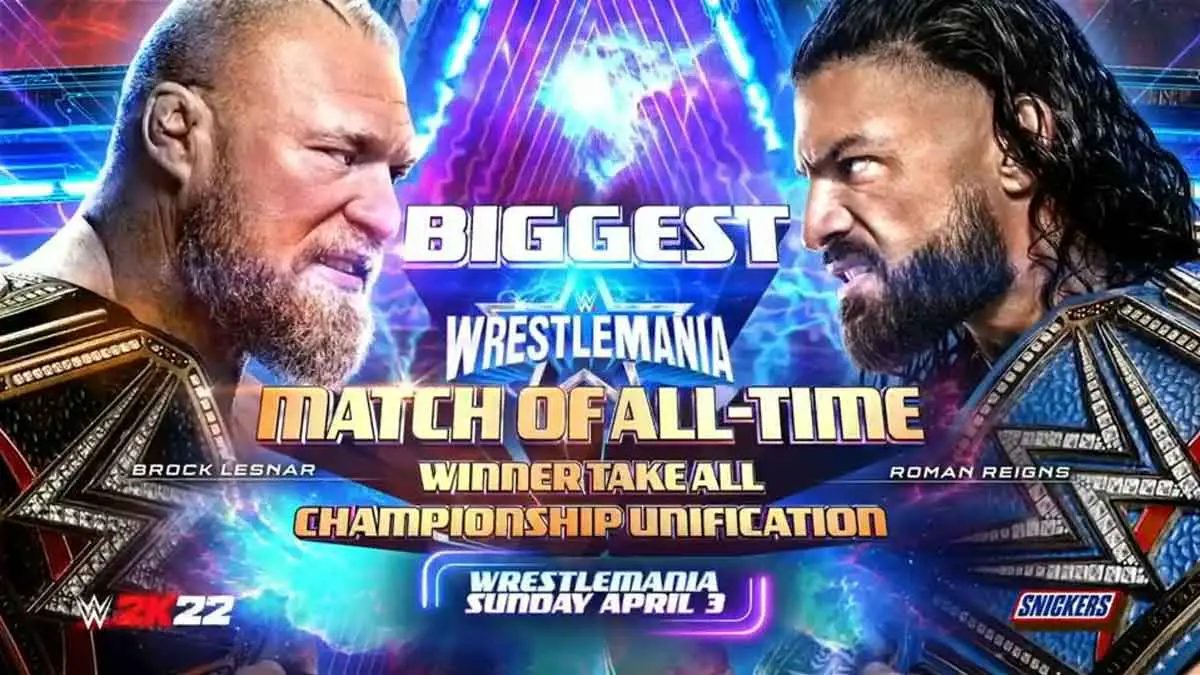 WWE Universal Champion Roman Reigns and WWE Champion Brock Lesnar will clash at WrestleMania 38 in a title unification match which will also serve as the main event of night of the event. Here is the complete storyline for this match.
SummerSlam – Aug 21, 2021: Roman had successfully defended the Universal Championship against John Cena. Just then, Brock returned to WWE and stood face to face with Roman Reigns, making it clear that he wanted the Universal title.
SmackDown Sept 3, 2021: Brock called Heyman on his phone and told him to deliver a message to Roman.
SmackDown Sept 10, 2021: Brock Lesnar appeared on Super SmackDown and asked Paul Heyman why he did not inform Reigns about his SummerSlam appearance. He asked Heyman to accept his title challenge for Roman. When Heyman did not do that, Lesnar picked up Heyman for F5. Roman came out and saved Heyman. The Usos attacked Lesnar but he takes them down. However, the segment ended up creating some distrust between Reigns and Heyman. Roman took the Universal title belt from Heyman and left without him.
SmackDown Sept 17, 2021: Heyman clarified to Roman that Brock is making things up and was unaware of Brock coming back to WWE. WWE announced a match between Brock Lesnar and Roman Reigns for Crown Jewel 2021 event.
SmackDown Oct 1, 2021: Brock and Roman were involved in a brawl, and Brock sent Roman and the Usos packing with suplexes. Later, Brock Lesnar announced that he would be a free agent and not drafted to any brand in WWE Draft 2021.
SmackDown Oct 15, 2021: Reigns and Lesnar signed the contract for their match at Crown Jewel. Reigns taunted Lesnar by saying that he was a fool not to read the contract before signing it. Lesnar replied that he had already read it in the morning with his advocate Paul Heyman. Reigns got miffed about this revelation and left the ring, staring at Heyman.
Crown Jewel – Oct 21, 2021: Roman defeated Brock to retain the Universal title. The Usos hit Brock with a double superkick, and Roman ran him over the title belt to get the pin.
SmackDown Oct 22, 2021: Brock, angry at being cheated at Crown Jewel, attacks Roman in the ring. He also beat up other members of the locker room when they tried to stop him. Brock also attacked WWE Official Adam Pearce and left him unconscious in the ring.
SmackDown Oct 29, 2021: It was revealed that Lesnar has been suspended from WWE indefinitely and was fined $1 million.
SmackDown Nov 26, 2021: Kayla Braxton revealed that Lesnar's suspension is lifted and he will return to SmackDown in the coming week. Sami Zayn won the Black Friday Invitational Battle Royal to become the #1 contender for Universal Championship.
SmackDown Dec 3, 2021: Brock Lesnar convinced Sami Zayn to cash in his title shot against Roman on the same night. Sami, out of fear from Lesnar, agreed to face Roman. Lesnar attacked Sami before his match with suplexes. Roman easily defeated Sami in the title match.
SmackDown Dec 10, 2021: Sami came out to the ring in a wheelchair with nurses. Heyman mocked Sami for a while before Sami threatened him that he would rip his head off. Brock also came out to the ring and offered Sami to come on a hunting trip with him. Heyman got pissed off at seeing Brock showing sympathy towards Sami and did his usual promo for Brock. Brock got hyped up and attacked Sami once again.
SmackDown Dec 17, 2021: Roman Reigns asked Heyman whether he had been working as Brock's advocate or Roman's special counsel. Heyman got in tears and told Roman that he had been trying to protect Roman from Lesnar. Roman hit Heyman with a superman punch. Brock came out to save Heyman.
SmackDown Dec 24, 2021: Heyman talked about Reigns pulling him out of obscurity and giving him a new leash. He once again said that Reigns is needed to be protected from Lesnar.
Day 1 – Jan 1, 2022: Roman Reigns tested positive for COVID-19 and withdrew from the event. Paul Heyman then worked to put Brock Lesnar in WWE Championship match. Brock won the title by defeating Big E, Bobby Lashley, Seth Rollins and Kevin Owens.
RAW Jan 3, 2022: Brock Lesnar announced that he wants to face Roman Reigns in a title vs title match at WrestleMania 38. Bobby Lashley became the #1 contender for WWE Championship.
SmackDown Jan 7, 2022: Lesnar and Roman meet in the ring and Lesnar challenged Reigns for title vs title match. But Reigns refused saying that he did not want to do any business with a trash bag like Heyman. Heyman gets emotional over this barb from Reigns. Lesnar got offended at Heyman getting emotional for Reigns. As Lesnar and Heyman argued, Reigns took advantage to nail Lesnar with a Superman punch.
Royal Rumble – Jan 29, 2022: Roman Reigns retained the Universal title, despite losing to Seth Rollins by disqualification. Lashley defeated Lesnar for the WWE title after Roman Reigns attacked Lesnar. During his attack, Roman also asked Heyman to hand him the WWE title and ran Lesnar down with it. Heyman gave Roman the title and aligned with him again. Later, Brock Lesnar entered the men's Royal Rumble match at #30 and won it to earn the World title shot at WrestleMania 38.
RAW Jan 31, 2022: Brock Lesnar announced that he chose to face Roman Reigns at WrestleMania 38. But, he also wants a rematch with Lashley for the WWE title. Adam Pearce puts him in the WWE Championship Elimination Chamber match.
SmackDown Feb 4, 2022: Paul Heyman explained that he understood at Royal Rumble that Roman the Tribal Chief does not need any protection. He also revealed that he tried to keep Lesnar away from Reigns by pushing him towards WWE Championship, but the first idea that Lesnar had after winning that title was to have a title vs title match with Reigns. Later, Goldberg challenged Reigns for a match at Elimination Chamber.
Elimination Chamber – Feb 19, 2022: Roman successfully retained the Universal title against Golberg. Brock won the WWE Championship Elimination Chamber match by defeating Seth Rollins, AJ Styles, Austin Theory, Riddle and Bobby Lashley. WWE then confirmed that Lesnar vs Reigns would be a title vs title match at WrestleMania 38.
RAW Feb 21, 2022: Lesnar cut a promo arguing with Paul Heyman and told him that he would be at SmackDown on Feb 25.
SmackDown Feb 25, 2022: WWE announced that Brock Lesnar vs Roman Reigns match at WrestleMania 38 would be a title unification match now. It is also billed as the "Biggest WrestleMania Match of all Time." Lesnar and Roman met in the ring for a contract signing segment with the security guards present in the ring to stop any altercation between them. Roman told Lesnar that this show, this ring, the fans, and the security are all his. The guard then attacks Lesnar, but he dealt with them easily.
SmackDown Mar 4, 2022: Roman cut a promo saying Lesnar will hand-deliver the WWE title to him at WrestleMania 38, and will acknowledge him.
WWE Live Event Mar 5, 2022: Reigns attacked Lesnar after he defended the title against Austin Theory. After Lesnar hit him with suplex, Heyman interfered to allow Roman to attack Lesnar from behind. The Usos and Roman took down Lesnar and stood tall over him.
SmackDown Mar 11, 2022: An enraged Brock Lesnar came out to the ring and called out Roman. Paul Heyman informed him that Roman is not at the show. Lesnar chased down Heyman instead, but Heyman ran away in a car.
SmackDown Mar 18, 2022: Roman Reigns came out with The Usos and talked trash about Lesnar. When told that Lesnar has arrived at the arena, they left to the back hurriedly. Lesnar ran a forklift through their car and turned it over. After The Bloodline ran away in another car, Lesnar came to the ring to cut a promo saying he is coming for Roman's blood.
SmackDown Mar 25, 2022: Brock Lesnar was waiting for Roman in his locker room. He went on to destroy the locker room while waiting for Roman. Roman got to the ring and warned Lesnar to leave his locker room. When the camera zoomed into the locker room, Lesnar was not there. Lesnar was in the parking lot and destroyed Roman's SUV. Lesnar came to the ringside, but the security stopped him from attacking Roman. Lesnar ripped apart security but The Usos took Roman away. Roman said at Gorilla Position, "Brock will acknowledge me as the Undisputed Universal Championship."
RAW March 28, 2022: Brock cut a promo in the ring saying that he will stand on top of Roman at WrestleMania and will be announced as the reigning, defending unified Heavyweight Champion. Roman also cut a counter promo later in the show and said while Lesnar thinks this rivalry is personal for him, it is also very personal for Roman also since Lesnar defeated him at WrestleMania in 2018.