Roman Reigns VS Brock Lesnar Rivalry in WWE
This article is about the rivalry and storyline for Roman Reigns vs Brock Lesnar in their WWE career.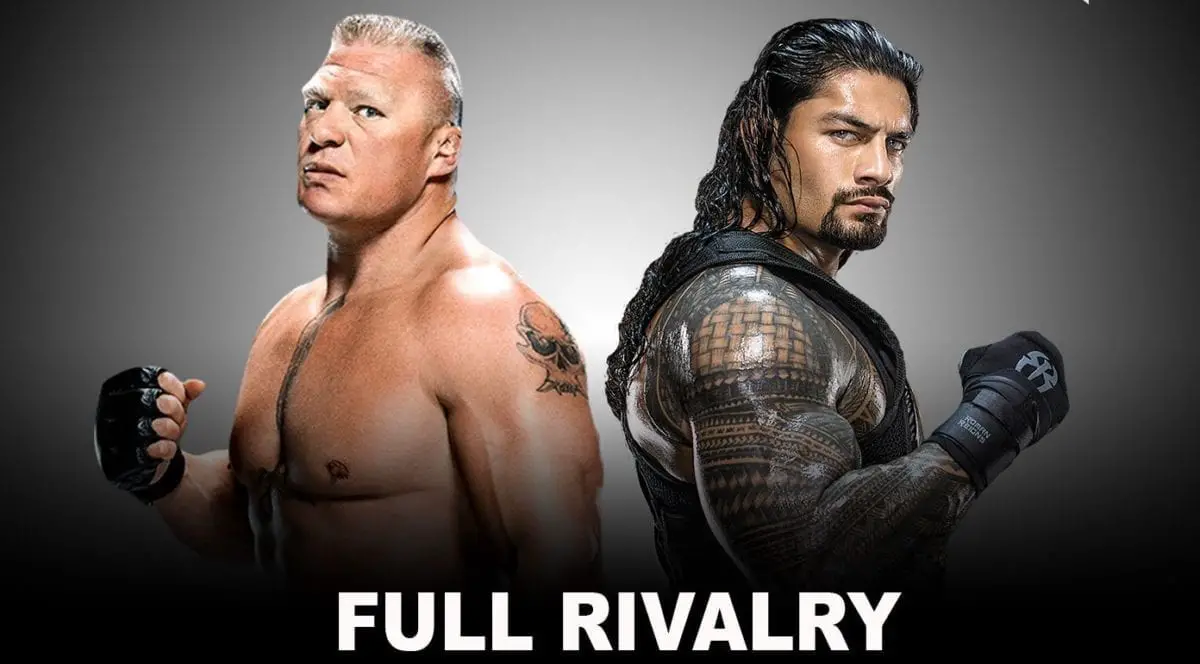 Roman Reigns is in the list of WWE Superstars who were not liked enough by the fans but were still pushed by WWE regardless. Ever since Brock Lesnar returned to WWE in 2012, he was built as the invincible menacing monster. When the time came, he was turned into the stepping stone for Roman Reigns to join the upper echelon of WWE legends. Without much running around, let's just dive into arguably the most hated rivalry in WWE.
How many times have Brock Lesnar and Roman Reigns had matches against each other?
Brock Lesnar and Roman Reigns have had 6 matches in total against each other. It includes 3 singles matches, 2 triple threat, and 1 fatal 4-way match.
How many matches have Roman Reigns won against Brock Lesnar?
Roman Reigns wins- 2, Brock Lesnar wins- 3
#1 Brock Lesnar(c) vs Roman Reigns vs Seth Rollins – WWE World Heavyweight Championship, WrestleMania 2015
WWE had started their project to make Roman Reigns the face of WWE. But even after winning the Royal Rumble in 2015 and being endorsed by the Rock at the same event, the Big Dog was still getting a negative reaction from the crowd. As the winner of Royal Rumble, Roman got the chance to face Lesnar who was the WWE World Heavyweight Champion at the time. The build-up to the match was that good during which Lesnar and Roman got involved in a literal tug of war with the WWE Championship belt.
Lesnar came out of the blocks in an explosive fashion and introduced everyone to Suplex City! phrase. But Reigns somehow managed to survive even after two F5s. Then came the biggest ever Money in the Bank Cash-in in WWE's history when Seth Rollins came out with the briefcase as both men were spent.
Rollins nailed a Curb Stomp on Lesnar but Lesnar caught him on the second attempt. The Big Dog hit Lesnar with a spear with Rollins still in the fireman's carry. Rollins capitalized with hitting the Curb Stomp on Reigns to win the title. The first ever face-off between these two became more about Seth Rollins and one of the most iconic WrestleMania Moments.
Winner– Seth Rollins
#2 Roman Reigns vs Brock Lesnar vs Dean Ambrose – For No. 1 Contender for WWE World Heavyweight Championship, Fastlane 2016
Roman Reigns was forced to defend his WWE World Heavyweight Championship title in the Royal Rumble match in 2016. Triple H won the Royal Rumble that year and with it, the title. To get his title back, Roman had to get through Lesnar and Ambrose first.
Twice did Reigns and Ambrose had to put Lesnar through the table to tame him. Still, he came back and had Roman Reigns in the Kimura Lock. As Lesnar was on the verge of winning, Ambrose attacked him with a steel chair to incapacitate him. He was out of the match for long enough for Reigns to pin Ambrose to win the match.
Winner– Roman Reigns
Please continue to next page for more!!