Roman Reigns vs Brock Lesnar Rivalry in WWE
This article is about the rivalry and storyline for Roman Reigns vs Brock Lesnar in their WWE career.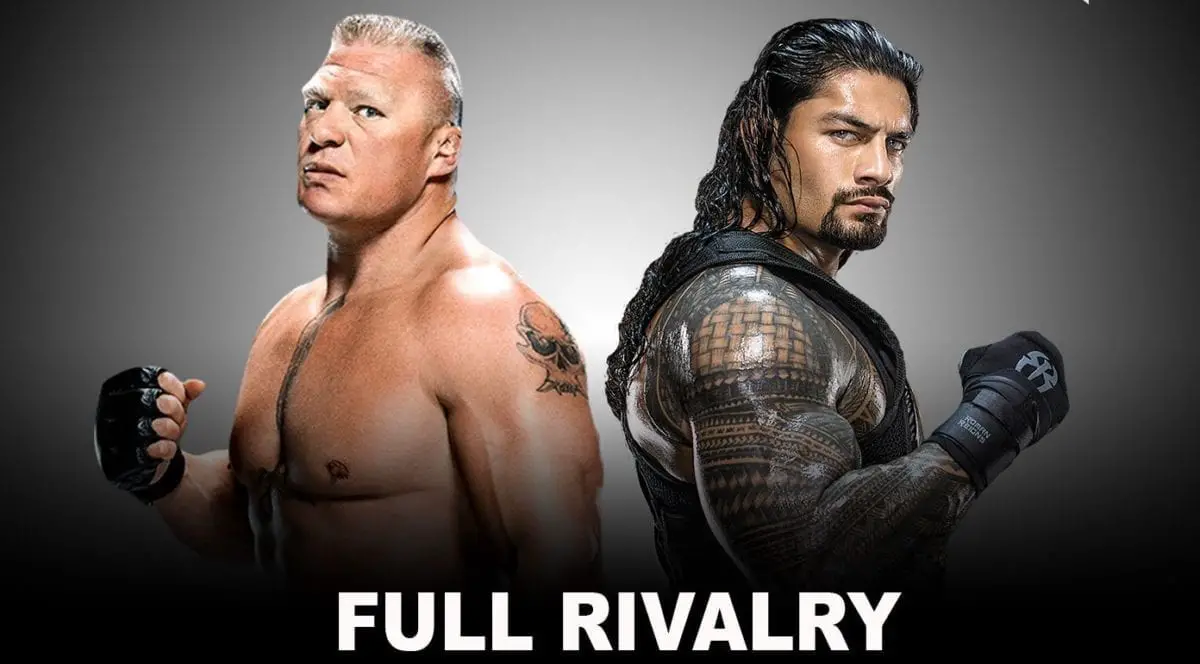 Before his Tribal Chief Persona, Roman Reigns was on the list of WWE Superstars who were not liked enough by the fans but were still pushed by WWE regardless. Ever since Brock Lesnar returned to WWE in 2012, he was built as the invincible menacing monster. When the time came, he was turned into the stepping stone for Roman Reigns to join the upper echelon of WWE legends. Without much running around, let's just dive into arguably the most hated rivalry in WWE.
How many times have Brock Lesnar and Roman Reigns had matches against each other?
Brock Lesnar and Roman Reigns have had 9 matches in total against each other. It includes 6 singles matches, 2 triple threats, and 1 fatal 4-way match.
How many matches have Roman Reigns won against Brock Lesnar?
Roman Reigns wins- 5, Brock Lesnar wins- 3
#1 Brock Lesnar(c) vs Roman Reigns vs Seth Rollins – WWE World Heavyweight Championship, WrestleMania 2015
WWE had started their project to make Roman Reigns the face of WWE. But even after winning the Royal Rumble in 2015 and being endorsed by the Rock at the same event, the Big Dog was still getting a negative reaction from the crowd. As the winner of the Royal Rumble, Roman got the chance to face Lesnar who was the WWE World Heavyweight Champion at the time. The build-up to the match was that good during which Lesnar and Roman got involved in a literal tug of war with the WWE Championship belt.
Lesnar came out of the blocks in an explosive fashion and introduced everyone to Suplex City! phrase. But Reigns somehow managed to survive even after two F5s. Then came the biggest ever Money in the Bank Cash-in in WWE's history when Seth Rollins came out with the briefcase as both men were spent.
Rollins nailed a Curb Stomp on Lesnar but Lesnar caught him on the second attempt. The Big Dog hit Lesnar with a spear with Rollins still in the fireman's carry. Rollins capitalized with hitting the Curb Stomp on Reigns to win the title. The first-ever face-off between these two became more about Seth Rollins and one of the most iconic WrestleMania Moments.
Winner– Seth Rollins
#2 Roman Reigns vs Brock Lesnar vs Dean Ambrose – For No. 1 Contender for WWE World Heavyweight Championship, Fastlane 2016
Roman Reigns was forced to defend his WWE World Heavyweight Championship title in the Royal Rumble match in 2016. Triple H won the Royal Rumble that year and with it, the title. To get his title back, Roman had to get through Lesnar and Ambrose first.
Twice, Reigns and Ambrose had to put Lesnar through the table to tame him. Still, he came back and had Roman Reigns in the Kimura Lock. As Lesnar was on the verge of winning, Ambrose attacked him with a steel chair to incapacitate him. He was out of the match for long enough for Reigns to pin Ambrose to win the match.
Winner– Roman Reigns
#3 Brock Lesnar(c) vs Roman Reigns vs Samoa Joe vs Braun Strowman – Fatal 4-Way Match for WWE Universal Championship, SummerSlam 2017
To start with, Braun Strowman was in a feud with Roman Reigns at the time and cost him the no. 1 contender's match against Samoa Joe. Strowman again beat Reigns at the Great Balls of fire in an Ambulance Match. The same night, Lesnar retained the title against Joe. Reigns and Joe faced off for another no. 1 contender match Joe with the winner to face Lesnar at SummerSlam, only for Strowman to interfere in the match again. Finally, the SummerSlam match was booked with all four men.
Each of them had some good moments in the adrenaline-filled match as we saw one big move after another big move. Tables were broken, each of them was sent through the barricades and after many advantage changes and nearfalls, the Beast Incarnate pinned Reigns to retain his title.
Winner– Brock Lesnar
#4 Brock Lesnar(c) v Roman Reigns – WWE Universal Championship, WrestleMania 34, 2018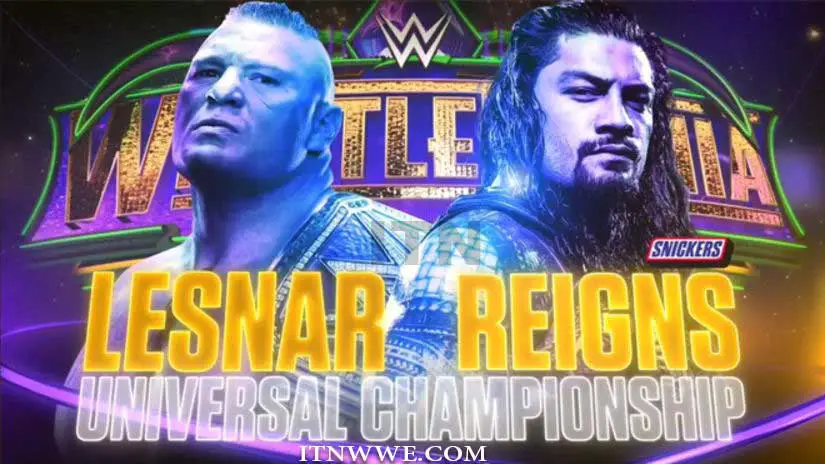 Roman Reigns had main evented WrestleMania for the last three years by that point but still, fans did not like him at all. Although he did not win the Royal Rumble but later won the Elimination Chamber match to become the no. 1 contender for the Universal Championship. Before the match, the news was paramount that this is Lesnar's last WWE match and he will return to UFC. Due to this, many thought this was going to be the moment when Roman Reigns would finally become the top face of the company.
As Reigns went on to survive F5 after F5, the feeling among the crowd was becoming prominent that he is going win as he speared Lesnar twice in the row. But WWE pulled off a major surprise as Lesnar hit F5 for the fifth time in the match and pinned Reigns. Suddenly, the tired crowd erupted with joy as the Big Dog was denied the Championship again.
Winner– Brock Lesnar
#5 Brock Lesnar(c) v Roman Reigns – Steel Cage Match, WWE Universal Championship, WWE Greatest Royal Rumble, 2018
The very next night to WrestleMania, WWE announced that Lesnar has resigned with WWE and will face Roman Reigns in a Steel Cage Match at the Greatest Royal Rumble show in Saudi Arabia.
The Beast Incarnate started this match just like he ended it at WrestleMania 4 weeks earlier. He hit 4 German Suplexes and two F5s before Reigns came with three continuous Superman Punches. As Reigns looked to leave the cage, Paul Heyman slammed the door on his face. More finishers and nearfalls followed and the finish came when Roman speared Lesnar to take both of them through the steel cage. However, as Lesnar's back touched the floor first, he was given the win.
Winner- Brock Lesnar
#6 Brock Lesnar(c) v Roman Reigns – WWE Universal Championship, SummerSlam 2018
To get another chance to take the title, the Big Dog won the triple threat match against Finn Balor and Drew McIntyre and then defeated Lashley to become the no. 1 contender to face Lesnar again at SummerSlam. To add to the drama, Braun Strowman came out to before the match and made it clear that he will cash in the Money in the Bank briefcase after the match.
Unlike their earlier matches, it was Reigns who started strongly with three Superman Punches and spears on Lesnar. In reply, Lesnar locked him with the guillotine choke a couple of times and both times Roman broke the lock with spinebusters. Lesnar sidestepped from another spear which resulted in Reigns taking out Strowman through the ropes at ringside. At this point, Lesnar destroyed Strowman with an F5 and then multiple shots from MITB briefcase and steel chairs. But as he went back in the ring, Reigns hit another spear to get the win.
Winner– Roman Reigns
#7 Roman Reigns(c) v Brock Lesnar- WWE Universal Championship, Crown Jewel 2021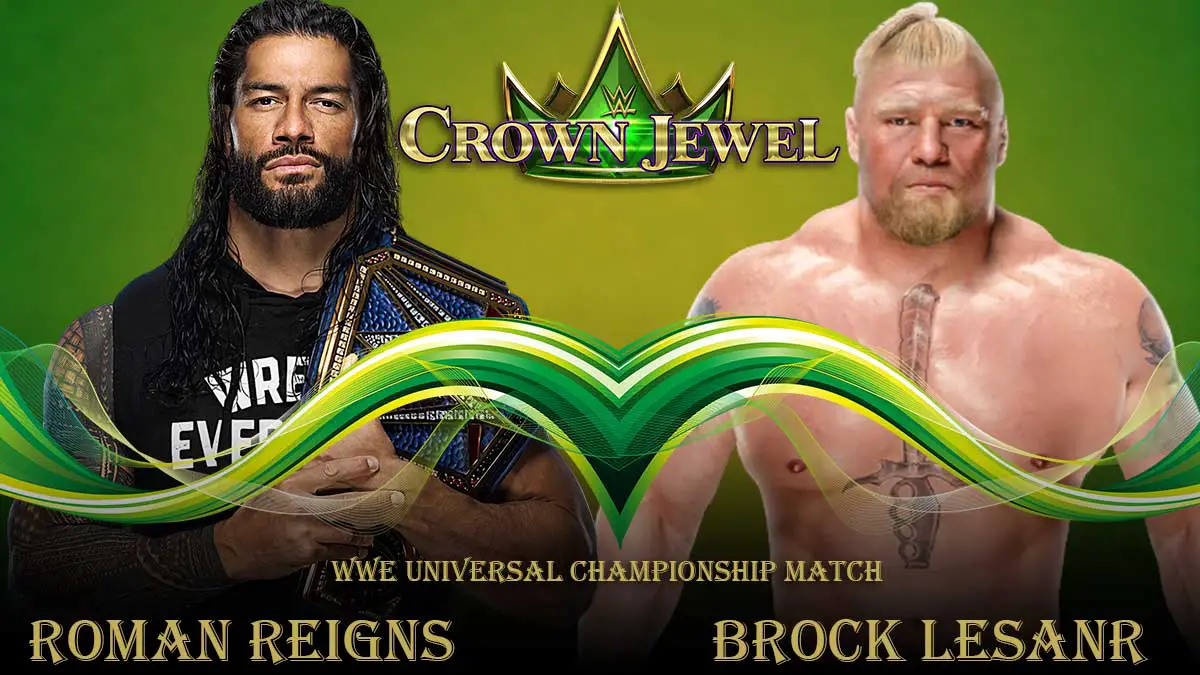 The scenario for the latest iteration of Roman vs Brock rivalry is completely different than all their previous storylines. This time Roman Reigns is an unconquerable heel and Brock is working as a non-heel(can't exactly say that he is a babyfacce).
Roman was already one year into his Universal title reign when Brock returned to confront him at Summerslam. Later, Roman refused to face Lesnar but agreed when Lesnar beat up The Usos. WWE announced the bout to take place at Crown Jewel PPV.
Both men once again put everything into the match, but neither one of them was able to get the pin. Lesnar kicked out of multiple superman punches and spears, while Roman also broke F5 and several suplexes. Ultimately, it came down to The Usos interfering in the match and Roman decking Lesnar with the title belt for Roman to win the match,
Winner– Roman Reigns
#8 Roman Reigns vs Brock Lesnar- Champion vs Champion Match, WrestleMania 38(2022)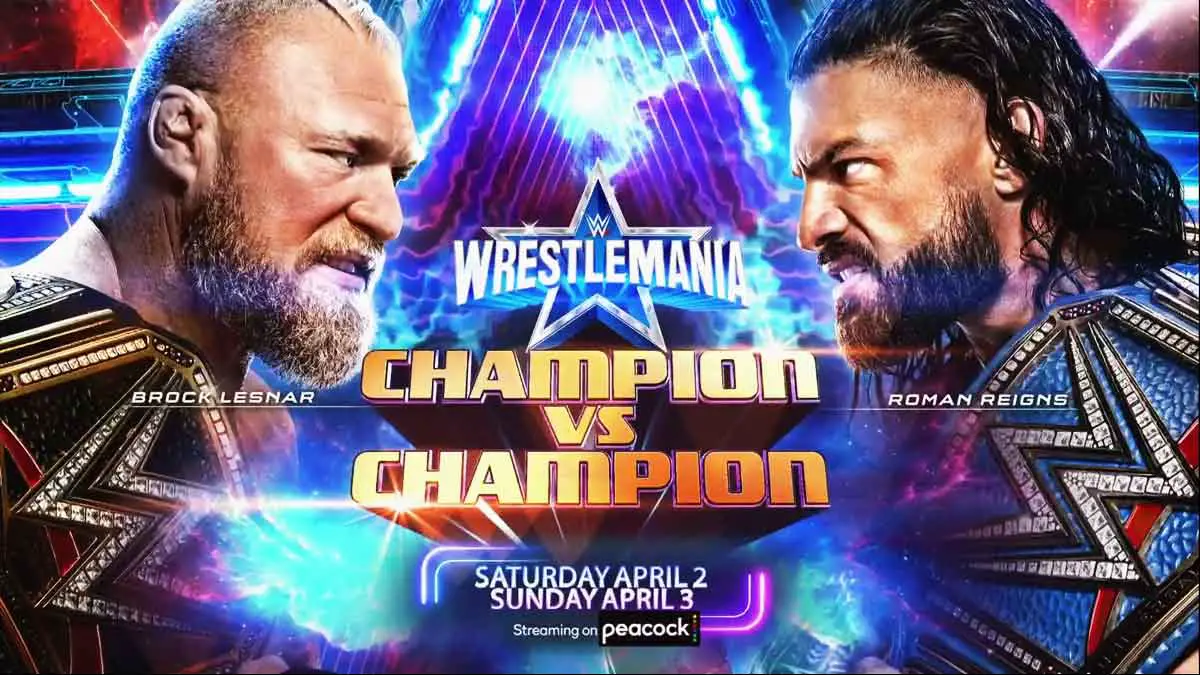 After his loss at Crown Jewel 2021, Lesnar went rampant on SmackDown and attacked everything in his way. He was suspended from WWE due to this behavior and was also fined $1 million. However, he was reinstated a month later and asked for a rematch against Roman, which was duly granted. The match was however cancelled as Roman Reigns tested positive for COVID-19.
Brock then won the WWE Championship at Day 1 event after getting added to the Fatal 4-way title match. At Royal Rumble, Roman attacked Brock during his WWE title defense against Lashley and cost him the title. Lesnar entered the Royal Rumble match and won it. He then chose to face Roman Reigns at WrestleMania 38. Lesnar also entered the WWE Championship Elimination Chamber match and won the WWE title back to turn their clash into a Champion vs Champion match.
Winner– Roman Reigns
#9 Roman Reigns(c) vs Brock Lesnar – Last Man Standing Match for Undisputed WWE Universal Championship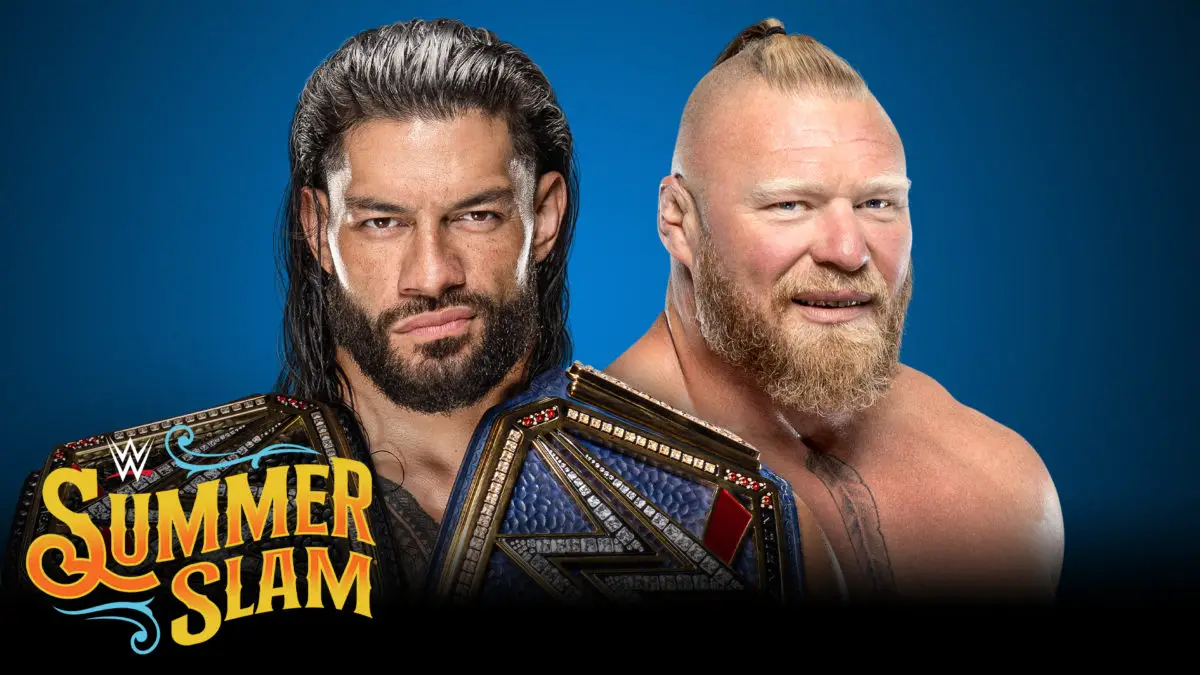 Brock went away from WWE after Roman defeated him at WrestleMania 38. However, he returned on SmackDown episode of June 17, 2022, and attacked Reigns. WWE immediately announced that Lesnar will challenge Roman at Summerslam in a Last Standing Man match. Money in the Bank Briefcase holder Theory kept teasing throughout the build-up that he will cash in the briefcase during this match, in a repeat of what Seth Rollins did at WrestleMania 31.
Lesnar brought a tractor to ringside for this match and jumped on Roman off the tractor as the bell rung. Both men pulled out big moves from their arsenal but refused to stay down for the 10 counts. Lesnar uprooted the ring using the tractor. The Usos tried to interfere but were quickly brought down by Lesnar. Lesnar even hit Paul Heyman with an F5 when he tried to distract him. When both Lesnar and Roman were down, Theory tried to cash in the MITB briefcase. He was quickly shut down by an F5 from Brock. The finish came after The Usos helped Roman in taking down Lesnar and buried him under the table, chair, steel steps and a lot of other rubble.
Winner– Roman Reigns
---
See Also
---