WWE WrestleMania 38 Results Night 1(Saturday) & Live Updates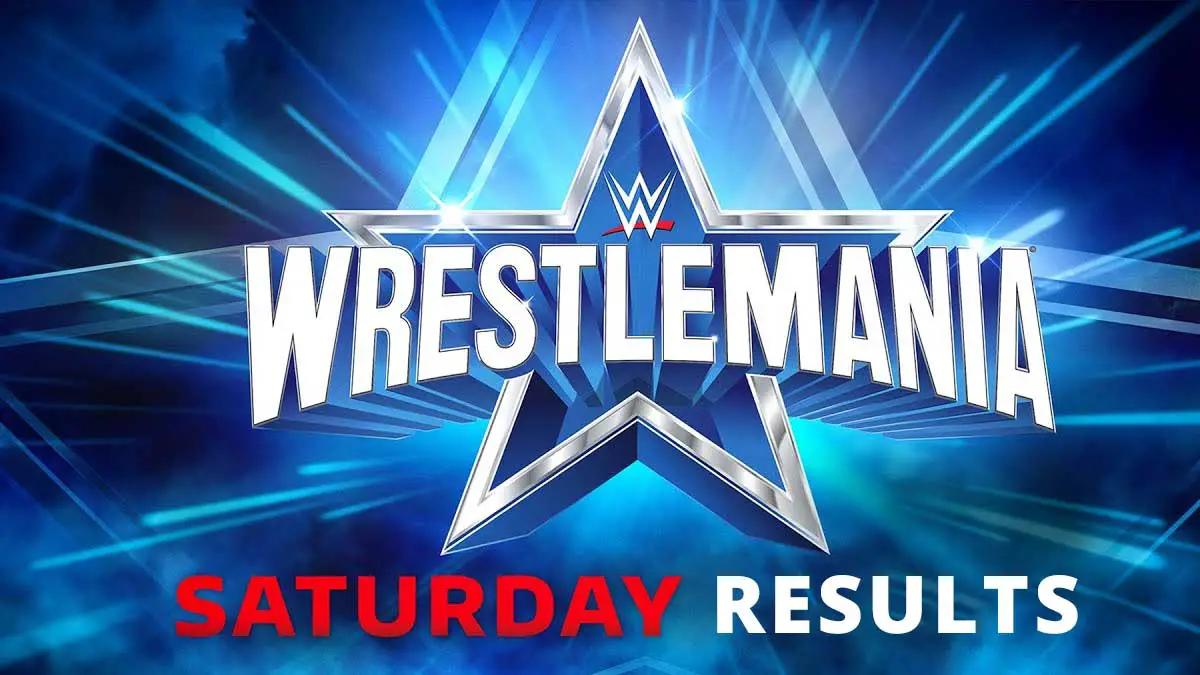 WWE WrestleMania 38 is here and we are also here with the live results blog for night 1 of the event on April 2, 2022. The show is airing from AT&T Stadium in Arlington, TX, near Dallas.
For night 1, Texas' own Stone Cold Steve Austin is advertised for the main event with The Kevin Owens Show. WWE RAW Women's Championship will be on the line as Becky Lynch defends her title against Bianca Belair. Royal Rumble Winner Ronda Rousey will challenge SmackDown Women's Champion Charlotte Flair on WrestleMania Saturday itself.
Additionally, Drew McIntyre will finally get his hands on Happy Corbin as they clash in a singles match. Seth Rollins' crusade to get on the WrestleMania card will also be completed tonight, but he faces a mystery opponent. Cody Rhodes is long rumored to be that mystery opponent for the past one month now. Rey Mysterio and Dominik will face The Miz and Youtuber & Boxer Logan Paul in a tag team match.
The Usos will defend their tag team championship against Shinsuke Nakamura and Rick Boogs. New Day pair of Kofi Kingston and Xavier Woods will take on Sheamus and Ridge Holland. Gable Steveson, Bayley and Asuka are teased as surprises at the event. But, it remains to be seen if any of them do appear on the show.
Follow us as we bring results from WWE WrestleMania 38 Night 1 on Saturday, April 2, 2022, with live updates, winners and highlights with complete action.
WWE WrestleMania 38 Night 1 Results
The Usos(Jimmy Uso & Jey Uso)(c) defeated Shinsuke Nakamura & Rick Boogs via pinfall to retain SmackDown Tag Team Championship.
Drew McIntyre defeated Happy Corbin in a singles match via pinfall.
The Miz & Logan Paul defeated The Mysterios(Rey Mysterio & Dominik Mysterio) in a tag team match via pinfall.
Bianca Belair defeated Becky Lynch(c) via pinfall to win WWE RAW Women's Championship.
Cody Rhodes defeated Seth Rollins in a singles match via pinfall.
Charlotte Flair(c) defeated Ronda Rousey via pinfall to retain WWE SmackDown Women's Championship.
Stone Cold Steve Austin defeated Kevin Owens via pinfall in a No Holds Barred match.
Live Updates from WWE WrestleMania 38- April 2, 2022
The pre-show was all about discussing the main card. No matches took place on kick-off show. The main show starts with "America is Beautiful" performance. A video package follows, narrated by Mark Wahlberg, who is promoting his upcoming movie. The pyro goes off and Michael Cole welcomes us. Dallas Cowboy Cheerleaders perform on the stage next.
The Usos(Jimmy Uso & Jey Uso)(c) vs Shinsuke Nakamura & Rick Boogs- SmackDown Tag Team Championship Match
Rick Boogs is on the stage now with his guitar and screams his name and Nakamura's name on the mic to bring out Shinsuke Nakamura. Boogs and Nakamura make their entrance dancing down. Pat McAfee is dancing on the announce table. The Usos make their entrance. We quickly cut to a recap of how Boogs faked an injury which led to Jey Uso challenging him for a singles match with title shot on the line.
Nakamura hits a single leg dropkick to start against Jimmy. He boots Jimy to the corner. He sets Jimmy up on the top turnbuckle and hits a runnign knee. Jey tags in and hits a double ax handle. He hits a side suplex next. Nakamura nails him with an elbow after Jey shows off a bit. Jey replies with an uppercut. Jimmy comes in and uses ropes to hurt Nakamura.
Nakamura hits bodyshots but Jimmy nails him with a step-up enziguiri. Nakamura tries to tag out but Jimmy stops him. Nakamura hits an enziguiri now. Tags to Boogs and Jey. Boogs hits double ax handles on both opponents. Jey nails an uppercut before Boogs puts him in a bear hug. Boogs transitions into a delayed vertical suplex to get a two-count.
Boogs gets Jey on his shoulders. Jimmy comes in and Boogs tries to take both men on his shoulders. Boogs' knees give up. Nakamura tags in and hits a dive on the floor. He brings in Jey and hits quick moves, ending with a sliding German suplex. Nakamura goes for kinshasa, but Jey hits a superkick instead. Jimmy hits an elbow drop but Nakamura kicks out of a close two-count. Jimmy hits a superkick as Jey holds Nakamura in the corner. The Usos hit 1D on Nakamura and get the pin.
Winners – The Usos
Medics come out to check on Rick Boogs as The Usos celebrate their win.
We cut to a video package featuring the rivalry between Sami Zayn and Johnny Knoxville.
Drew McIntyre vs Happy Corbin
We get the video package for this match starting with the Rags to Riches story of Corbin. Corbin enters with Madcapp Moss. Drew follows quickly.
Drew starts by nailing Corbin with a big punch. Corbin also replies with his punches. A clothesline from McIntyre. Back and forth punches. McIntyre clotheslines him to the floor. He drives Corbin into the barricade. Corbin is sent into the ring. Corbin catches McIntyre on the ropes with a knee with a little distraction from Moss. Corbin sends McIntyre into the ring post. He then sends him into the barricade.
Back to the ring, McIntyre fires a couple of punches but Corbin whips him to the corner. Corbin hits a suplex and a back suplex. Corbin hits some punches. Moss gets on the ropes to cheer Corbin. Corbin gets upset with him and tells him to gt back. Corbin turns around into a spinebuster. McIntyre follows with clotheslines and punches.
McIntyre hits a belly-to-belly suplex and a neck breaker. Corbin stops Futureshock DDT and hits Deep Six on McIntyre for a near fall. McIntyre avoids a chokeslam and drops Corbin. Corbin slips to the floor and McIntyre hits him with a suicide dive. McIntyre hits a belly-to-belly suplex on Moss next. Back to the ring, Corbin goes for the End of Days. McIntyre avoids it and hits a headbutt.
Corbin ends up hitting End of Days, but McIntyre kicks out of it. McIntyre is the first wrestler to kick out of End of Days. Corbin is frustrated with this. He goes to pick McIntyre, but McIntyre hits him with Futureshock DDT and Claymore kick to get the pin and the win.
Winners – Drew McIntyre
After the match, McIntyre celebrates in the ring with his sword. Moss gets on the apron to sneak an attack, but stops when McIntyre turns towards him. Drew breaks the ring ropes and turnbuckles with his sword. Drew celebrates for a bit more, shakes hands with the commentators and cheers to the crowd as the segment ends.
The Mysterios(Rey Mysterio & Dominik Mysterio) vs The Miz & Logan Paul
The video package starts for this match. We cut to Rey Mysterio talking about Dominik getting involved in wrestling from his young days. We see the rushes from their tag team matches before moving onto the rivalry. The Mysterios enter for the match. Dominik is wearing ring gear like the American Flag while Rey's gear is inspired from Mexico's flag. The Miz comes out next and waits for Logan Paul to come out. Paul has matching gears with Miz, with the most expensive Pokemon card around his neck.
Logan runs a distraction early as Rey starts against Miz. Logan tags in and hits shots at Rey's ribs. Rey goes to a waistlock and then to a headlock. Logan does leapfrog to avoid Rey, and then does the split. Rey goes to kick him but Logan tags out. Miz comes in and is sent to the corner with a hurricanrana. Dominik tags in and hits quick moves on Miz. Logan comes in and Dominik hits a headscissors and arm drag combo.
Dominik hits a dive on the floor. Miz runs a distraction for the referee as they return to the ring. Logan takes a cheap shot on Dominik. Logan tags in and hits a powerslam on Dominik. More shots from Logan before tagging in Miz for stereo kicks. Double team work between Miz and Logan continues. Miz sends Dominik into a big boot from Logan. Logan hits a neck breaker after jumping from the top turnbuckle.
Miz distracts the referee again and Logan works on Dominik on the ropes. Dominik hypes up now and knocks off Logan off the apron. He hits a DDT on Miz and tags in Rey. Rey hits tornado DDT, seated senton, sunset flip and a kick to the face for a two-count. Rey hits a moonsault from the top and Logan breaks the pin. Miz and Logan goes for double suplex but Dominik save Rey. Rey gets a two-count with a cradle.
Rey goes for a 619, but Miz gets up and Rey turns it into a tornado DDT for another two-count. Rey goes for three amigos, but Miz stops the third one. Logan gets a tag and he knocks off Dominik off the apron. Logan hits threee amigos, which drives boos from the crowd. Logan plays up the heel gimick to rile up the crowd. He goes to the top, mimicks Eddie Guerrero and hits a frog splash. Dominik breaks the pin.
Dominik hits a suicide dive on Miz after sending Logan to the floor. Stereo 619s on Logan, followed by frog splashes on Logan by both the Mysterios. Rey covers Logan but Miz comes in and drops Dominik on Rey with a bodyslam. Miz hits the Skull Crushing Finale on Rey and gets the pin.
Winners – The Miz & Logan Paul
After the match, The Miz and Logan Paul celebrate their win. Miz raises Logan's hand. Miz then goes to hit Logan with Skull Crushing Finale.
We get a video package for Edge vs AJ Styles match which will take place tomorrow night.
Stephaine McMahon comes out to the stage. She introduces Gable Steveson who comes out to the stage.
Becky Lynch(c) vs Bianca Belair – WWE RAW Women's Championship Match
The video package for this match covers the long rivalry between the two women. Becky Lynch gets WWE intro style package with "Big Time Becks" graphic. An SUV get on the stage as Becky's music hits. Becky comes out of the SUV and makes her entrance. Becky has a makeover after Bianca cut her hair on RAW. Texas Southern University marching band comes for Bianca Belair's entrance. They play Bianca's theme. When their performance ends, Bianca's music hits and she comes out.
The bell rings and the crowd is hyped for this match. Bianca offers the handshake just like Becky did at Summerslam. Becky decks Bainca and goes for the Manhandle slam. Bianca counters with KOD attempt but Becky slips out and hits the Manhandle slam. Bianca kicks out of a very close count. Becky could not believe it. Becky goes for the disarm-her, but Bianca gets to the ropes quickly.
Becky tries more pin attempts but Bianca kicks out everytime. Bianca gets another a two count as she also counters with a pin. Becky tries to use the ropes but the referee catches her. Becky misses a moonsault from the top. Bianca puts on the disarm-her now and Becky reaches the ropes. More reversals follow from both women. Becky drags Bianca to the floor using her braids. Bianca goes for a bodyslam but Becky sends her into the steel steps.
Back to the ring, Becky hits bexploder suplex. She hits another one and invites more boos from the crowd. She gets a two-count with another bexploder. Becky sends Bianca to the ropes by picking her arm. Biacna sidesteps in the corner and nails some shots from the apron. Becky hits a kick to the midsection to set up for the leg drop on the ropes. Bianca kicks out from another two-count. Becky puts on a chinlock now. Bianca gets to her feet and hits a snapmare. Becky trips her from the second ropes. Becky follows with double underhook suplex and puts on disarm-her again. Bianca rolls over with a pin attempt.
Becky puts on an arm triangle. Bianca picks her up for powerbomb. Becky counters by taking Bianca over the ropes and to the floor. Becky tries to hit a back drop on the floor but Bianca uses the ropes to hit handspring and hits a suplex. Back to the ring, Bianca starts hitting big shots. She hits big tackles in the corner. The referee seperates them. Bianca hits a backbreaker for a two-count.
Becky counters with roll-up for a two-count. Bianca hits a Glam Slam and a handspring moonsault for a near fall. Bianca goes to the top. Becky follows her. Bianca drops her on the top turnbuckle. She follows with a 450-splash but Becky kicks out of a near fall again. Bianca gets ready for Becky to get up. Becky drops Bianca on the ropes from the apron and then hits a senton from the top to get a near fall. Bianca avoids the Manhandle slam but Becky decks her. Bianca hits a spinebuster. Becky gets her knees up on the handspring moonsault. They trade pin attempts and Becky manages to send Bianca face-first into the turnbuckles. Bianca goes for the KOD and Becky grabs the ropes.
Bianca ends up dropping Becky to the floor with KOD. She brings her back but Becky goes out from the other side. Becky uses her braids to slam Bianca into the ring post. Becky hits a manhandle slam on the steel steps. The referee starts to count down Bianca as Becky gets into the ring. Bianca gets life at 8 and beats the count. Becky rolls her over in a sitout pin and gets a near fall again. Becky tries to pick Bianca for another Manhandle slam. Bianca escapes with a backflip and hits KOD for the pin and the win.
Winners – Bianca Belair(wins RAW Women's title)
A video package for Sasha Banks airs.
Seth Rollins vs Cody Rhodes
We get a video package of how Rollins has landed himself a mystery opponent. A group of vocals is singing Seth Rollins' theme. Seth's music hits and he comes out in a blue robe. He wraps up his entrance and waits in the ring for his opponent. The crowd gets hyped as Rollins continues to scream don't make me wait.
The pyro goes off and the lights go out. Mobile flashlights take over the arena. The music starts back again and it is indeed Cody Rhodes who is the mystery opponent.
Seth has a smirk on his face as Cody rises up from underneath the stage. He walks down the ramp and removes his belt. He hands the belt to a fan in the front row. Cody gets on the apron and waits for a while there. The crowd is hyped now. Cody gets into the ring and the bell rings. Rollins is frozen in his spot as the crowd hypes some more.
They finally lock up, but quickly get away. Cody puts on a side headlock now. Cody runs the ropes and Seth avoids him a couple of times. Cody hits an armdrag. He does a handspring to showboat a bit. They lock up again and Seth puts on a side headlock. Rollins runs the ropes now and hits a shoulder tackle. They both avoid armdrags. Cody hits a big boot and an uppercut after a dropdown.
Rollins says welcome back. Cody replies with a punch. Rollins goes for a pedigree. Cody tries to counter with crossrhodes. Cody goes for a suplex but Rollins ends up taking both of them to the floor. Cody gets up and slams his hand to the apron. He slams the hand into the ringpost next. Cody puts on an armwrench next. He continues to work on the arm. He hits an armdrag before putting an armbar. Rollins struggles for a while before countering with a roll-up.
Cody gets a waistlock on. Rollins gets to the ropes. Cody hits a kick to the midsection. Rollins hits an enziguiri. Cody picks up Rollins' arm again. Cody goes to the top now. Rollins catches him with a dropkick midair. Rollins hits knee strikes by taking Cody to the ropes. He follows with a gutbuster. Rollins hits more shots at the back. Rollins puts on a bear hug. Cody gets out of it and picks the arm again. Rollins hits chops.
Cody hits a knee and a body slam. He clotheslines Rollins to the floor and follows with a suicide dive. Rollins is knocked over the announce table. Cody hits a moonsault. Rollins goes to the floor. Rollins counters with a powerbomb on the barricade. He quickly brings Cody back to the ring for a knee drop, a superkick and a falcon arrow for a close two-count. Cody avoids the stomp. Back and forth action and Cody hits crossrhodes to get a near fall.
Cody goes to the top again. Seth trips him on the top turnbuckle. Cody hits back elbows to send Rollins back to the floor. Rollins jumps back up for a dragon sleeper superplex and follows with another inverted suplex for a near fall. Rollins is frustrated a bit now. Rollins misses a moonsault. Cody goes for a pedigree but Rollins counters with double leg takedown. Cody powers up and hits double underhook powerbomb. Cody hits the Cody cutter to get another near fall.
Rollins hits back with a pedigree for a near fall of his own. Both men get on their feet and start trading shots. Cody hits another dropdown uppercut. Rollins hits him back with a kick to the ribs. Kicks to the face and rolling elbows follow quickly. Cody hits crossrhodes out of nowhere and holds on to hit another one. He brings out Dusty Rhodes' jabs and bionic elbow before hitting another crossrhodes to get the pin and the win.
Winners – Cody Rhodes
A recap of WWE Hall of Fame Ceremony from last night. Mike Rome is in the ring now and he introduces all the Hall of Fame inductees for this year.
A video package for Pat McAfee vs Austin Theory match.
Michael Cole and McAfee are on the commentary now. They tells us that Rick Boogs indeed got injured. He is checked by the medical team.
Charlotte Flair(c) vs Ronda Rousey – WWE SmackDown Women's Championship Match
The video package airs for this match. Ronda comes out first. Flair follows her shortly later. The bell rings and they lock up. Ronda explodes out of the corner with punches. The referee tries to seperate them. Flair hits at Ronda from behind the referee. Ronda goes for the ankle lock but Flair rolls out. Flair goes for a figure four but Ronda counters with arm triangle. Flair tries to power bout and Ronda has to let her go.
Flair gets to the ropes and Ronda cuts off her attack. Ronda uses the ropes for a choke with her legs around Flair's neck. Flair takes her to the apron and slams her face into the ring apron. Flair drops Ronda on the apron again. She drops Ronda on the floor again. She gets a two-count in the ring. Flair hits a snapmare and an elbow to the temple. Flair puts on a choke. Ronda coutners with an armdrag. She hits a knee to the face for a two-count. Flair sends Ronda into the turnbuckle.
Flair misses a knee drop. Ronda hits her with a tornado DDT quickly for a two-count. flair blocks a knee but Ronda nails her with a kick to the face. Ronda drops Flair with armdrags in quick succession. Flair catches Ronda with a spear out of nowhere for a near fall. Ronda puts on a choke but flair hits a side suplex. Flair goes for the moonsault and gets it in the second attempt. Flair nails big chops.
Ronda counters with a suplex for a two-count. Flair puts her in a tree of woe in the corner and drives her knees to the ribs. Flair gets to the top and puts on the Boston Crab on the top rope. Ronda gets up and hits a punch. Flair drops her with a punch of her own. Ronda hits an armdrag from the top rope for another two-count. Ronda hits a piper's pit. Flair avoids the pin attempt. Flair hits a boot the face.
Ronda hits a scoop and slam for another two-count. Flair counters the piper's pit, but Ronda puts on an ankle lock. Flair reverses it into an ankle lock of her own. Ronda tries the armbar but ends up sending Flair into the turnbuckle. Flair counters an armbar with a powerbomb. Ronda puts on an ankle lock once again. Ronda puts on the leg bar in addition. Flair struggles and screams before she manages to kick at Ronda's face to break it.
Ronda counters Figure four with an armbar. Flair counters quickly to put on figure four and bridges to figure eight. Ronda struggles for a while before rolling around and reaching the ropes. Ronda lands on the floor. Flair tries to go to the top but Ronda drops her to the floor with another armdrag. Flair hits an exploder to send Ronda into the barricade. Both women beat the 10-count from the referee. They face off in the ring now. Flair runs her mouth a bit. Ronda picks her up and hits Piper's pit.
Flair gets her leg on the bottom rope to break. Ronda asks the referee why he stopped the pin. Flair catches Ronda with Natural Selection for a near fall. Flair goes for the figure four, but Ronda kicks her away. Flair took out the referee with her. Ronda puts on armbar and Flair taps out. But, the referee was down. Ronda goes and wakes up the referee. Flair hits a big boot on Ronda and gets the pin.
Winners – Charlotte Flair
Flair gets the title and celebrates with it on the ramp. Ronda is shocked at the conclusion and looks disheartened. This is her second pinfall loss in WWE now.
A special video package for Bobby Lashley.
The commentators run through the card for tomorrow night.
We are onto the video package for Roman Reigns vs Brock Lesnar match tomorrow.
We are moving into the main event now. It seems like WWE has nixed New Day vs Sheamus & Ridge Holland match.
The Kevin Owens Show with Stone Cold Steve Austin
Kevin Owens comes out for the KO show with Steve Austin. KO takes the mic as the crowd cheers for Stone Cold. Owens recalls saying terrible things about Texas. He says if North America was a body, Texas would have been the a**. Owens says it was taking it too far and wants to apologize now.
Owens then says he knows that the crowd is anticipating the arrival of his guest. But, he will bring him out only when he wants to. Owens says he is going to sit down Austin and berate him, and Austin is gonna listen to him since he knows Owens can hit him with a stunner anytime and dig him into the ring.
Stone Cold's music cuts him off and he comes out. Austin poses in both the corners of the stage. He was about to come down but goes back while his music is still on. Owens taunts the crowd for it. Austin comes back on his ATV.
Austin poses in the four corners and then clears all the props from Kevin Owens show. Owens asks to cut the music as Austin adjusts his knee pad. The crowd cheers for Austin and Owens tells them not to encourage Austin. Owens orders Austin to take a seat since it is his show. Austin stares at him. Owens says he is not here for a fight and want to have a talk. Austin takes the seat. Owens thanks him for accepting his invitation.
Austin asks whether KO brought him down here for a talk with that stupid hair cut. Austin brings up how Owens was talking shit about Texas. Owens says he does not get what is great about Texas, since it is hot as hell during the summer. He talks more trash about Texas. Owens tells Austin that it must have been hard for him to be from Texas, and that Austin should have just moved to Mexico across the border.
Austin says more than 75,000 people will call Owens an a—–e in about 5 seconds. The crowd chants "a—–e!" at Owens. Owens tells Austin not to be the stereotypical rude, crass Texan, be more like Owens – a sophisticated French-Canadian. Owens says he is going to look past the insults and let Austin in on a little secret.
KO says he lied about bringing Austin here for a little talk and it was for a good reason. Owens says even though he has a bad back right now, he is looking for a fight. He has brought Austin out here to challenge him to a match. Owens knows it's been 19 years since Austin's last match and his body is worse than than before, but Austin has no reason not to accept the challenge. Owens challenges Austin to a No Holds Barred match right away. The crowd cheers. Austin is just looking at Owens now. Owens says Austin knows he can't beat him and he should get out of his ring and back to his ranch.
Austin stares Owens down again before starting to speak. He says he had his first match right here in Dallas, and he could have his last match right here in Dallas. Austin asks the crowd if they want him to compete in a match Owens, give him a Hell Yeah. The crowd gives him a Hell Yead. Austin calls for a referee. Owens clears the ring.
Kevin Owens vs "Stone Cold" Steve Austin – No Holds Barred
The referee gets into the ring. The bell ring and they start to brawl. Austin sends KO to the corner and hits him with mudhole kicks. Austin is a bit slow but he is getting into it as the match goes on. Austin whips KO from corner to corner. He asks for a beer and smashes it open. He hits more stomps in the corner. On the floor now, Owens whips him to the barricade. Austin hits a clothesline on the floor. He unloads on Owens some more. Owens sends him into the ring post.
Owens brings out a table. Austin sends KO through it. He takes Owens into the crowd. Owens fires back with punches. Owens hits a suplex on Austin in the crowd. Owens start to get back to the ringside area. Austin starts to fire with some punches. Owens hits back with a knee. Austin throws him over from the top of barricade. Austin drinks another can of beer and starts to unload on Owens on top of the announce table.
Back to the ring, Owens is looking to exit. He drops Austin on top of the ropes. He goes to Austin's ATV. Austin gets behind on the ATV and drives it up the ramp. Austin hits a suplex on the stage.
Austin hits another suplex on the stage. He brings Owens down the ramp and back to the ring. Owens hits a Stunner on Austin but he kicks out. Owens brings in a steel chair. He goes to hit Austin, but Austin ducks it and the chair bounces back to Owens' face. Austin hits a Stunner and gets the pinfall.
Winners – Steve Austin
After the match, Austin gets more beers and celebrates. He gets back to the ring and hits Owens with another stunner. A couple of Texas Police Officers take Owens away. Stone Cold opens more beers. He asks the commentator Byron Saxton to get into the ring and shares a beer with him. Saxton finishes his can and Austin hits him with a stunner. Austin brings in his brother to share a beer in the ring. The show closes as Austin exits.