List of Becky Lynch WrestleMania Matches & Win-Loss Records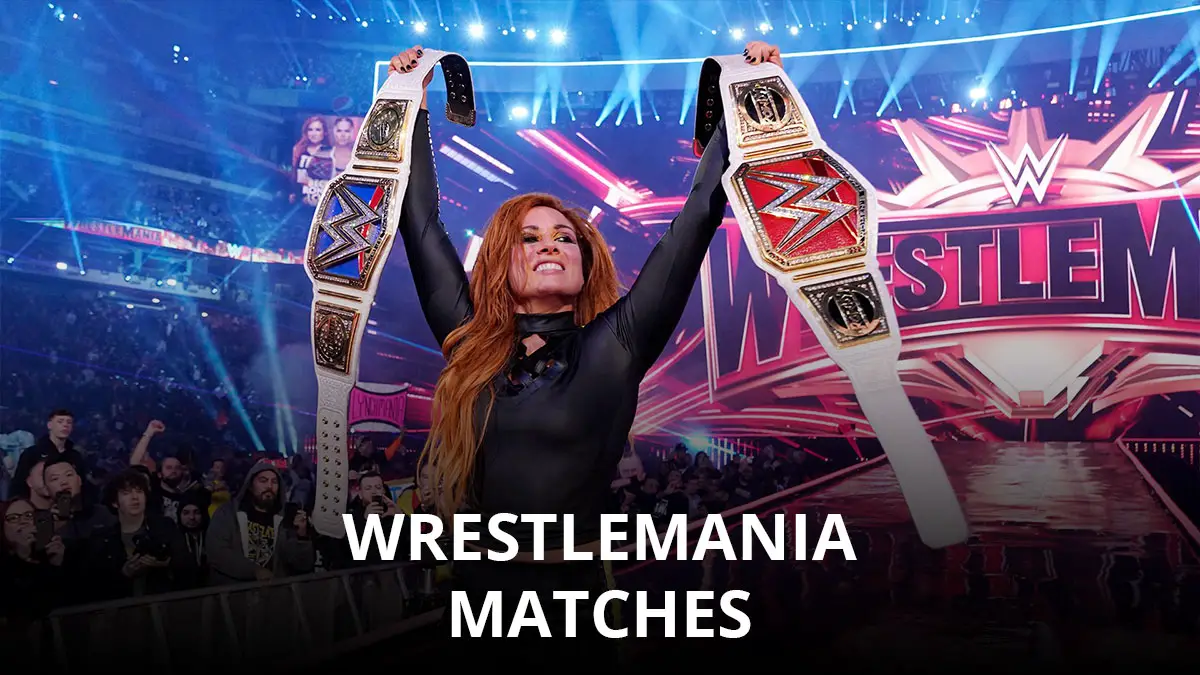 Becky Lynch was among the first three women who headlined WrestleMania and was the first woman to win the main event of WrestleMania. She got her career-defining moment at the grandest stage of them all by winning the RAW & SmackDown Women's Championship simultaneously. Apart from that, Becky has been mostly part of world title matches at WrestleMania.
Check here for the list of all the WWE WrestleMania matches of Becky Lynch along with brief storylines and her win-loss record.
Becky Lynch WrestleMania Win-Loss Record
Becky Lynch has had 7 matches at WrestleMania so far and 5 of those are for World titles. She just had two wins at the Grandest Stage of Them All. Interestingly, main event win at WrestleMania 35 was her first win at WrestleMania.
1. Charlotte Flair(c) vs Becky Lynch vs Sasha Banks – WWE Women's Championship Triple Threat Match – WrestleMania 32
Becky Lynch's first WrestleMania match took place at WM 32 where she faced Charlotte Flair and Sasha Banks in a triple-threat match. Charlotte defeated Lynch at Royal Rumble controversially, only to get attacked by returning Sasha Banks the following week. Becky Lynch and Sasha Banks later face each other in a #1 contender match, but the match ended in a double pin. Both these women got another chance, but the second match ended in a no contest as Charlotte attacked both of them. As a result, WWE booked a triple-threat match for the inaugural women's title which replaced the Diva's title at the Grandest Stage of Them All. 
It was quite an action-packed match as all three horsewomen gave an incredible performance, and delivered some amazing moves. Sasha paid a tribute to Eddie Guerrero during the match by hitting a frog splash. Meanwhile, Becky Lynch took out Ric Flair with a dive. Becky Lynch applied Disarm-her to both Sasha and Charlotte on separate occasions but failed to win the match. In the ending moments, Sasha Banks locked Becky in Banks Statement, but Charlotte threw Sasha out of the ring. She then locked Becky Lynch in a Figure-Eight submission to win the match.
Winner – Charlotte Flair(Wins – 0, Losses – 1)
2. Alexa Bliss(c) vs Becky Lynch vs Naomi vs Carmella vs Natalya vs Mickie James – SmackDown Women's Championship Six-Pack Challenge – WrestleMania 33
Alexa Bliss defeated Becky Lynch for the vacant SmackDown Women's title after it was relinquished by Naomi due to an injury. However, soon Becky Lynch, Natalya, and Mickie James demanded a championship match at WrestleMania 33. As a result, SmackDown's GM Daniel Bryan decided that Alexa Bliss would defend her title against every single available woman on the roster. Just a few days before the shows of the shows, Naomi made her return and confirmed that she would be part of the Women's Championship match at WM making it a six-pack challenge. 
Becky Lynch was quite impressive in this match. She hit James Elsworth, Natalya, and Mickie James with Bexploder during the match. However, even after putting up an impressive show, she failed to win the title as in the ending moments, Naomi locked Alexa Bliss Slay-o-Mission and won the match via submission.
Winner – Naomi(Wins – 0, Losses – 2)
3. WrestleMania Women's Battle Royal – WrestleMania 34 Kickoff
The Irish Lasskicker was a part of the very first WrestleMania women's battle royal that took place in the kick-off show of WM 34. Becky Lynch didn't do much in the match and was eventually eliminated by Mickie James. Naomi lastly eliminated Bayley to win the battle royal.
Winner – Naomi(Wins – 0, Losses – 3)
4. Becky Lynch vs Ronda Rousey vs Charlotte Flair – Raw & SmackDown Women's Championship – WrestleMania 35
At WrestleMania 35, Becky Lynch created history along with Charlotte Flair and Ronda Rousey as the three of them become participated in the very first women's match that headlined WrestleMania. Ronda Rousey and Becky Lynch were scheduled to face each other at Survivor Series in an interbrand Champions match, being the RAW and Smackdown Women's champion, respectively. But Lynch was ruled out of this match due to a nose injury and Charlotte served as her replacement. During this rivalry, there was enough competition that Ronda later cost Charlotte and Becky a ladder match for SmackDown Women's Championship against Asuka at TLC 2018 event. 
Becky Lynch failed to win back the championship at the Royal Rumble PPV, but she won the Royal Rumble match later on the show. She chose Ronda Rousey as her WrestleMania opponent for RAW Women's Championship, only to be suspended by Vince McMahon for erratic behavior and getting replaced by Charlotte once again. In protest of Becky's suspension, Ronda Rousey laid down her title in the ring and left. After Becky was cleared by a medical team outside of WWE, Stephaine McMahon later announced that she would face Charlotte at Fastlane. IF Becky would manage to beat Charlotte, she would be added back to the title match at Mania. Rousey attacked Becky and Becky got the win by disqualification. As a result, Becky became a part of the match once again. Charlotte Flair defeated Asuka at SmackDown two weeks before WrestleMania to make the match a Winner Takes All match. It was also announced that the show.
Becky's match at WrestleMania 35 was one of her best and most important performances so far. The match was quite competitive as all three women dominated a fair part of the match. After some back-and-forth action, Charlotte locked Rousey in Figure-Eight lock, but Becky made the save. She then put Charlotte through the table with the help of Rousey. The latter tried to hit Becky with Piper's Pit, but The Man countered it with a crucifix to win the very first women's main event of WrestleMania. She delivered Ronda Rousey her first pinfall loss in WWE. Lynch created history with this win as she also became the first woman to hold the RAW and SmackDown Women's title at the same time.
Winner – Becky Lynch(Wins – 1, Losses – 3)
5. Becky Lynch vs Shayna Baszler – Raw Women's Championship – WrestleMania 36
Shayna Baszler defeated Becky Lynch and Bayley in a triple-threat match at Survivor Series. After the match, Becky angrily attacked Baszler and put her through the table. Later, Baszler made her main roster debut in the Royal Rumble match. In February, Baszler appeared on Raw and attacked Becky Lynch to take her revenge. Baszler then entered the Elimination Chamber match and eliminated all the other five participants to earn the opportunity to face Lynch at WrestleMania 36 for the RAW Women's title. 
Shayna Baszler dominated the first half of their match. However, soon the Man bounced back and made Shayna feel her presence. There was some back-and-forth action before Baszler tried to apply the Kirifuda clutch on Lynch, but the latter countered it with a roll-up to secure the pinfall and retain her RAW Women's title.
Winner – Becky Lynch(Wins – 2, Losses – 3)
6. Becky Lynch vs Bianca Belair – Raw Women's Championship – WrestleMania 38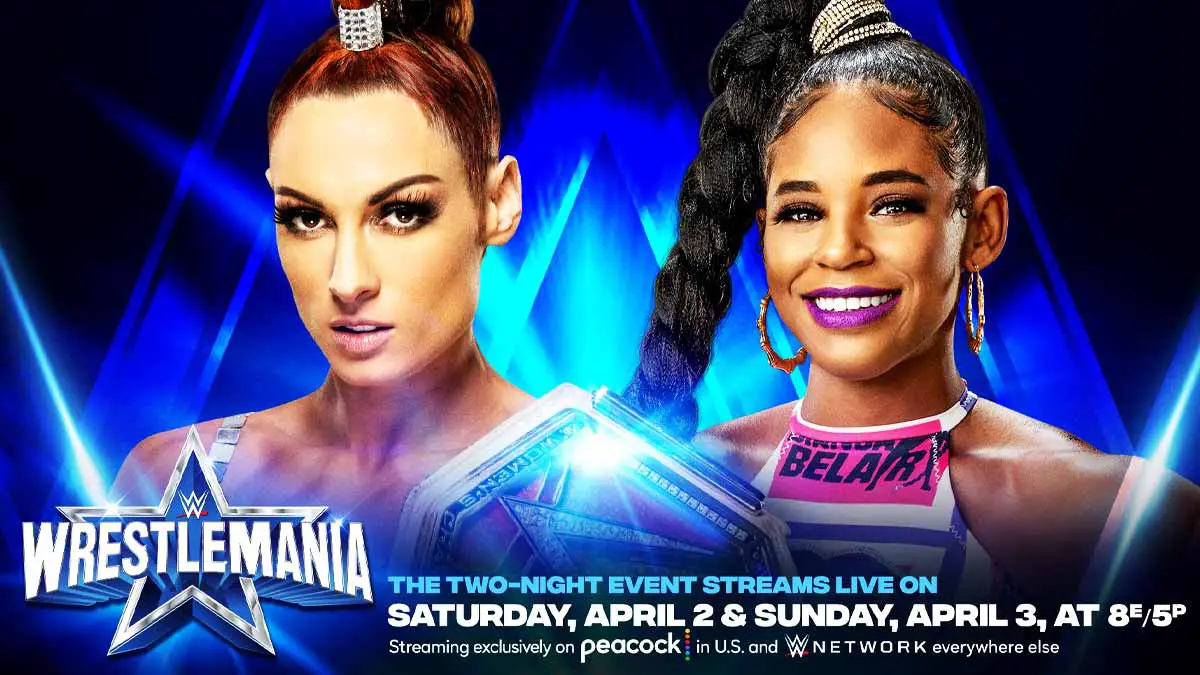 The rivalry between Becky Lynch and Bianca Belair started back at SummerSlam 2021 where Becky returned from a haitus due to her pregnancy and defeated Bianca Belair in 26 seconds. Bianca attempted to win the title back but Sasha Banks interfered in the match between Lynch and Bianca at Extreme Rules. Becky then traded SmackDown Women's title with Charlotte Flair for RAW Women's title after they switched brands in WWE Draft 2021. Becky retained the title once again at Crown Jewel 2021 event in a triple threat against Sasha and Bianca. Bianca then became the #1 contender after winning the Elimination Chamber match at the namesake 2022 event.
The match at WrestleMania 38 started with Becky blocking KOD and hitting The Manhandle Slam once again but Bianca kicked out of the pin this time. A back and forth match followed after this. Bianca hit KOD in the final moments of the match, but Becky avoided a pin by rolling out to the floor. Becky then pulled Bianca into the ringpost using her braids and then hit Manhandle Slam on the steel steps. Bianca managed to beat the countdown and went on to counter Manhandle Slam with a backflip and hit KOD to get the win.
Winner – Bianca Belair (Wins – 2, Losses – 4)
7. Damage CTRL(Bayley, Dakota Kai & Iyo Sky) vs Becky Lynch, Lita & Trish Stratus – WrestleMania 39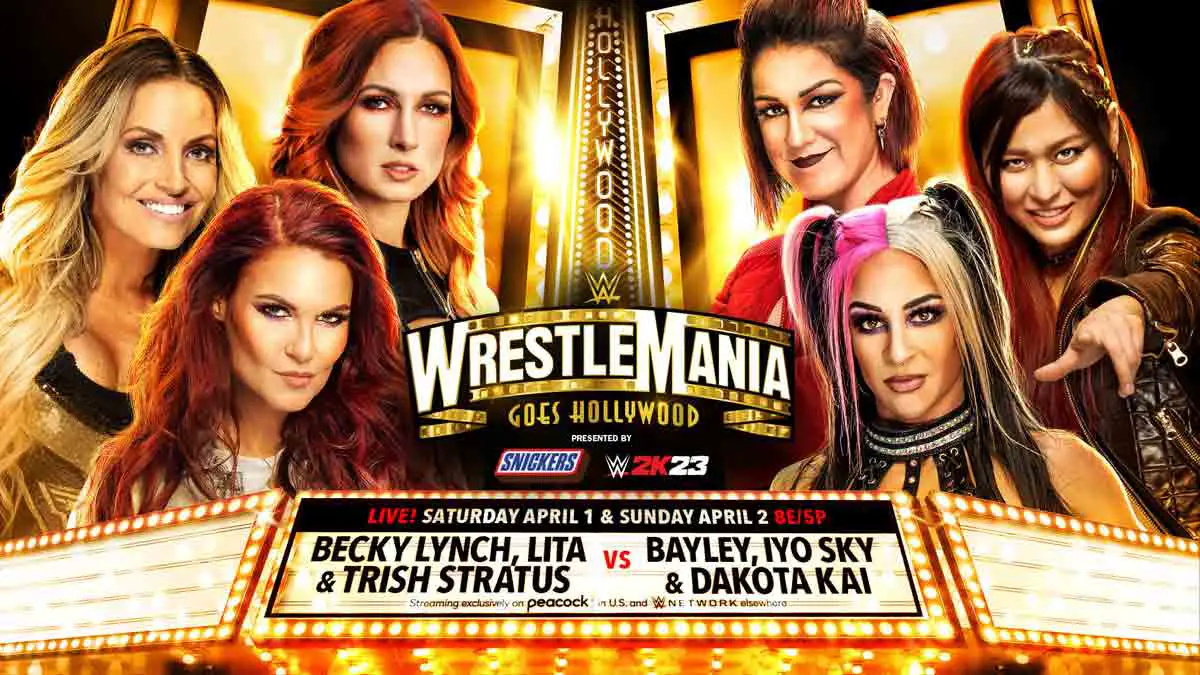 Becky Lynch and Damage CTRL's feud started at SummerSlam 2022 where Becky stood alongside Bianca against them. After being sidelined with an injury for 4 months, Becky returned for Women's WarGames match at Survivor Series 2022 to join Team Bianca and beat Team Damage CTRL. Becky and Bayley's feud continued and with both women getting a win each in singles matches.
Becky vs Bayley's Steel Cage match at RAW 30 Anniversary episode was canceled after Damage CTRL beat up Becky. Their match was rescheduled for 3 weeks later where Lita helped out Becky by taking out Dakota Kai and Iyo Sky from interfering. Becky and Lita then defeated Sky and Kai to win WWE Women's Tag Team Championship with Trish Stratus blocked Bayley from interferring. Lita, Trish and Becky then challenged Damage CTRL for a trios match at WrestleMania 39, which was quickly accepted by Bayley.
Winner – Becky Lynch, Lita & Trish Stratus (Wins – 3, Losses – 4)