List of Bayley WrestleMania Matches & Win-Loss Record
Former WWE Women's Champion Bayley's WrestleMania journey has been full of ups and downs. She never had a singles match at the shows of the shows. The great thing is that she walked in at the grandest stage as a champion in most of her appearances. Check below for the complete list of Bayley WWE WrestleMania matches along with storylines and win-loss record. 
Bayley WrestleMania Win-Loss Record
Bayley's WrestleMania win-loss record is at 2-3 right now with her five matches.
| Matches | Win(%) | Loss(%) |
| --- | --- | --- |
| 5 | 2(40%) | 3(60%) |
1. Bayley vs Charlotte Flair vs Sasha Banks vs Nia Jax – Raw Women's Championship Fatal Four Way Elimination – WrestleMania 33
Bayley's days as WWE Raw Women's champion began right after the long feud between Charlotte Flair and Sasha Banks. Bayley managed to win the title from Charlotte thanks to the distraction by Sasha Banks. After that, Flair feuded with Becky, and at the same time, Sasha Banks was feuding with Nia Jax. However, these women soon managed to beat Bayley in a singles match. Initially, WWE announced a triple-threat match, but later Nia Jax was also added to make it a fatal-four-way elimination match for the title. 
Nia Jax was the first one to get eliminated from this match as the other three women teamed up against her and performed a triple powerbomb. All three of them pinned her at the same time to eliminate her. Sasha Banks managed to put Charlotte in a Banks Statement but the latter escaped, and Banks collided with the exposed turnbuckle. Flair pinned Banks to eliminate her, but she also crashed into the same turnbuckle, which allowed Bayley to hit her with the diving elbow drop and secure the pinfall.
Winner – Bayley(Wins – 1, Losses – 0)
2. WrestleMania Women's Battle Royal – WrestleMania 34 Kick-Off
Bayley was a part of the inaugural WrestleMania Women's Battle Royal. Bayley and Sasha Banks worked together throughout the match. However, in the ending moments, Bayley eliminated Sasha and thought that she won the match. However, Naomi was still a part of the match, she entered the ring, and performed a rare view on Bayley before eliminating her to win the first-ever WrestleMania Women's, Battle Royal. 
Winner – Naomi(Wins – 1, Losses – 1)
3. Bayley & Sasha Banks vs The IIconics vs Nia Jax & Tamina vs Beth Phoenix & Natalya – Women's Tag-Team Championship Fatal Four Way Tag Match – WrestleMania 35
The Boss n' Hug Connection(Bayley and Sasha Banks) entered WrestleMania 35 as the very first WWE Women's tag-team champions. They won the titles a few months back at the Elimination Chamber by defeating five other teams. Nia Jax & Tamina were feuding with the champs and at the same time, Billie Kay and Peyton Royce of The IIconics also called out them for a title opportunity. Beth Phoenix also came out of retirement and reformed a team with Natalya in order to get the tag titles. As a result. A fatal-four-way women's tag-team championship match was announced for the shows of the shows. 
Initially, Tamina and Nia Jax dominated the match with raw power. However, soon Beth and Natalya end their domination by sending Nia Jax into the steel steps. There was some back-and-forth action before Nia and Tamina took control of the match again. In the ending moments, Bayley delivered a frog splash to Beth Phoenix but it ended in a near fall. Soon, Beth hit the Glam Slam to Bayley from the second rope but failed to secure the pinfall as Peyton Royce threw her out of the ring, and Billie Kay secured the pinfall to win the match for The IIconics.
Winner – The IIconics(Wins – 1, Losses – 2)
4. Bayley vs Lacey Evans vs Sasha Banks vs Tamina vs Naomi – WWE SmackDown Women's Championship Fatal-5-Way Elimination Match – WrestleMania 36
Before WrestleMania 36, Bayley and Sasha Banks stated that they would not participate in the mania this year. However, Paige revealed to them that Bayley would be defending the SmackDown Women's Championship against five other women namely Sasha Banks, Dana Brooke, Tamina, Lacey Evans, and Naomi. However, Dana Brooke was later removed from this match, and it became a fatal-5-way elimination match. 
Bayley, Lacey, Sasha, and Naomi teamed up against Tamina and eliminated her from the match by piling on Tamina to get the pinfall. Soon, Sasha Banks applied a Bank Statement on Naomi to eliminate her. Later, Bayley unintentionally attacked Sasha Banks as Lacey Evans moved out of the way. Banks saved Bayley from Lacey Evans but got eliminated by her. Lacey Evans was about to perform her signature move on Bayley, but Sasha Banks returned to the ring and hit Evans with the Backstabber allowing Bayley to hit a DDT to Evans to secure the pinfall.
Winner – Bayley(Wins – 2, Losses – 2)
5. Damage CTRL(Bayley, Dakota Kai & Iyo Sky) vs Becky Lynch, Lita & Trish Stratus – WrestleMania 39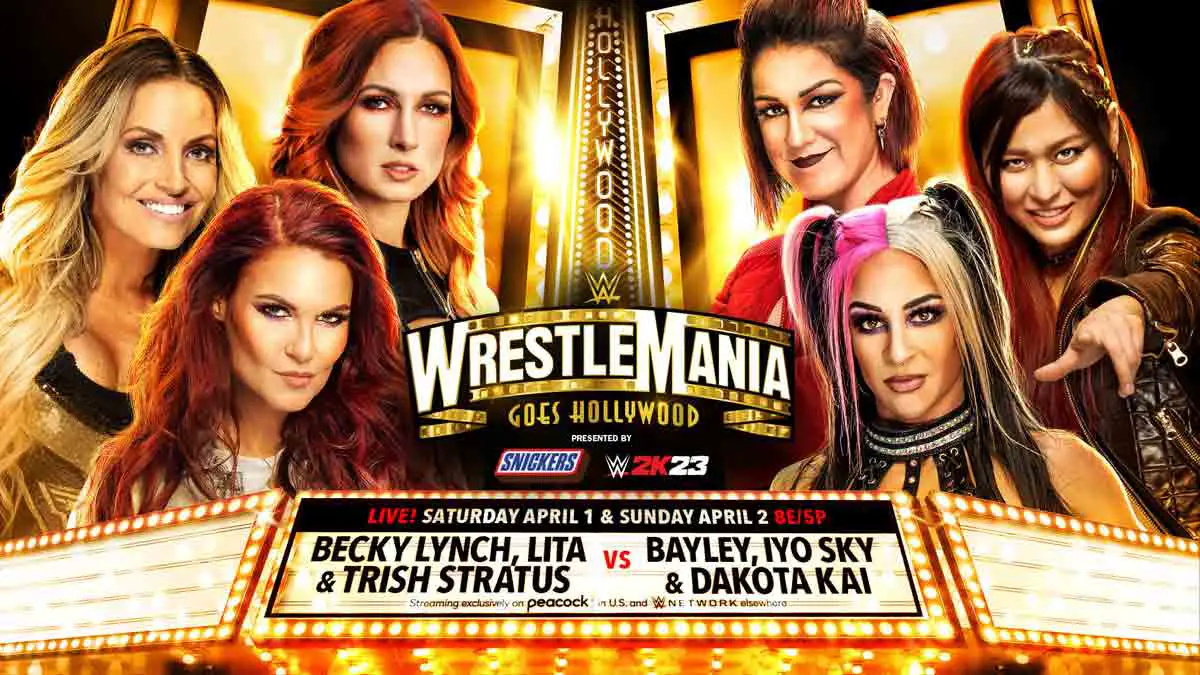 Since her return at SummerSlam 2022, Bayley was leading Damage CTRL in feuds against Bianca Belair and Becky Lynch. After a spell on sidelines due to injury, Becky returned for Team Bianca to beat Team Damage CTRL in the WarGames match. Becky continued her rivalry with Bayley and was able to beat her in a singles match. Later, on January 2 episode of RAW, Bayley got a win back over Becky. A steel cage match was set up for RAW 30th anniversary but Dakota Kai and Iyo Sky joined Bayley to attack Becky prior to the match.
Becky forced Bayley into rescheduling the match for later date in February 2023. Lita attacked Sky and Kai from interferring in the match, leading to Becky's win over Bayley. Lita and Becky beat Sky and Kai for Women's Tag Team Championship two weeks later where Trish Stratus played an important role by blocking Bayley from interferring. The following week, Becky, Lita and Trish challenged Damage CTRL for a match at WrestleMania 39.
Winner – Becky Lynch, Lita & Trish Stratus(Wins – 2, Losses – 3)