List of Charlotte Flair WWE WrestleMania Matches & Win-Loss Record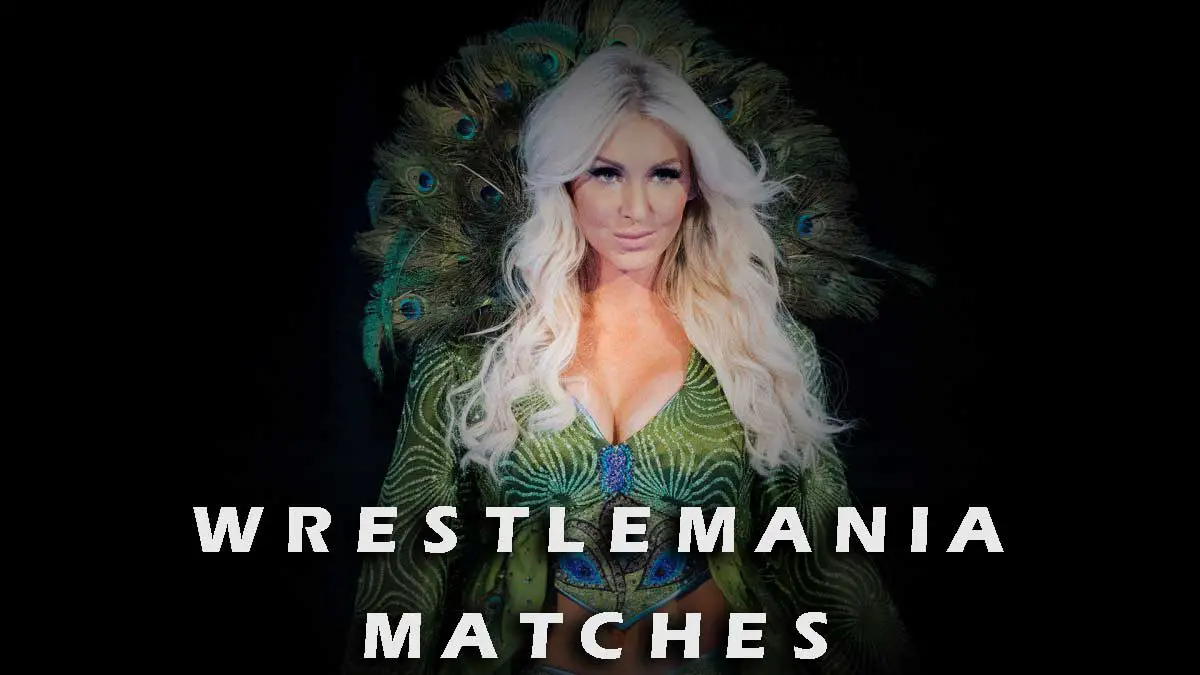 Charlotte Flair is one of those women who is always involved in the important matches at WrestleMania. She became the inaugural WWE Women's Champion at the grandest stage of them all and was also a part of the very first women's main event of WrestleMania. Interestingly, all of Charlotte's WrestleMania matches were for a title till now. 
Read below to check the complete list of all the WWE WrestleMania matches of Charlotte Flair along with the win-loss record and brief storylines. 
1. Charlotte Flair(c) vs Becky Lynch vs Sasha Banks – WWE Women's Championship Triple Threat Match – WrestleMania 32
Charlotte made her WrestleMania debut at WM 32 where she entered the match as the Diva's champion and walked out of it as the inaugural WWE Women's champion. After defending the Diva's title against Becky Lynch, Charlotte was attacked by the returning Sasha Banks. As a result, she started feuding with both of them simultaneously. She also caused a #1 contender's match between Becky and Sasha to end in a no contest as she attacked both the participants. Therefore, she defended her title against both Becky and Sasha at WrestleMania 32.
The triple threat match was one of the best matches of the event as it featured some nail-biting sequences. It was competitive till its very end. During the match, Charlotte managed to lock Becky in a Figure-Eight submission hold, but Sasha Banks broke it with a frog splash. The champion even performed a Moonsault outside the ring and took out both Sasha and Becky at the same time. In the ending moments, Sasha Banks applied her signature submission hold to Lynch, but Charlotte broke the submission and throw Sasha out of the ring. Then, she put Becky Lynch in a Figure-Eight lock again to become the inaugural WWE Women's champion. 
Winner – Charlotte Flair(Wins- 1, Losses- 0)
2. Bayley(c) vs Charlotte Flair vs Sasha Banks vs Nia Jax – Fatal 4-Way Raw Women's Championship Elimination Match – WrestleMania 33
In February, Charlotte lost the Raw women's title to Bayley thanks to a distraction from Sasha Banks. Charlotte demanded her rematch with Bayley at WrestleMania. However, in the following weeks, Bayley lost a singles match against both Sasha Banks and Nia Jax. As a result, these two women also demanded to be a part of the title match at the show of the shows. Hence, WWE booked a fatal four-way elimination match for the RAW Women's title at WrestleMania 33. 
The Queen teamed up with Bayley and Sasha and delivered a devastating powerbomb to Nia Jax to eliminate her from the match. After that, the arch-rivals, Charlotte and Sasha Banks exchanged some back and forth blows. Eventually, Sasha managed to apply the Banks Statement to Charlotte. However, the latter survived the submission hold and then also eliminated Sasha by making her collide with the exposed turnbuckle. But, Bayley used the same turnbuckle to her advantage and then hit the diving elbow drop to Charlotte to secure the pinfall.
Winner – Bayley(Wins- 1, Losses- 1)
3. Charlotte Flair (c) vs Asuka – SmackDown Women's Championship Match – WrestleMania 34
Asuka won the first-ever women's Royal Rumble match, and then eventually challenged Charlotte Flair for a SmackDown Women's Championship match at WrestleMania 34. Asuka explained that she wants to face the best woman on the main roster, whereas Charlotte vowed that she would be the one to end Asuka's undefeated streak. 
Charlotte and Asuka delivered a fast-paced match at WrestleMania 34. Initially, Asuka was in control as she tried different submission maneuvers on the Queen. When the latter was performing a moonsault from the top rope, Asuka countered it with the Asuka lock. Charlotte somehow managed to survive it. Eventually, Charlotte managed to put Asuka in a Figure-Eight lock and made her submit for the very first time in WWE.
Winner – Charlotte Flaor(Wins- 2, Losses- 1)
4. Charlotte Flair vs Ronda Rousey vs Becky Lynch – SmackDown & RAW Women's Championship – WrestleMania 35
At WrestleMania 35, Charlotte Flair became one of the three women who headlined WWE WrestleMania for the very first time. It was a result of the feud that began back at the Survivor Series PPV. Becky Lynch was supposed to face Ronda Rousey in a Champion vs Champion match at the event. However, the former was forced out of the match due to injury, and Charlotte replaced her at the event. The match ended in a no-contest as the Queen brutally attacked the RAW Women's Champion Ronda Rousey. 
At the TLC event, Ronda Rousey cost Charlotte and Becky a triple-threat match against Asuka. Later, Becky Lynch won the women's Royal Rumble match, and in the following weeks, Charlotte defeated Asuka to become the SmackDown Women's champion once again. After that, Becky Lynch faced Charlotte with a stipulation that if she managed to beat the latter, then she would be a part of the title match at WrestleMania. Ronda Rousey attacked Becky during the match, and the Man won it by DQ, and the title match at WrestleMania became a triple-threat match. 
It was one of the biggest matches of Charlotte's career. All three women were determined to win the first-ever women's WrestleMania main event, and hence they gave it all in the match. Charlotte was very close to winning the ultimate showdown as she put Ronda Rousey in the Figure-Eight lock. However, Becky Lynch broke the submission. Then, both Rousey and Lynch worked together and put Charlotte through a table. In the ending moments, Becky Lynch countered Rousey's Piper's Pit with a crucifix and secure the pinfall to win both Raw and SmackDown Women's title.
Winner – Becky Lynch(Wins- 2, Losses- 2)
5. Charlotte Flair vs Rhea Ripley(c) – NXT Women's Championship – WrestleMania 36
Charlotte Flair won the Royal Rumble and earned herself a title shot at WrestleMania. In her promo, Flair mentioned how she had already defeated both RAW and SmackDown Women's Champions previously. She was then confronted by NXT Women's Champion Rhea Ripley who asked Charlotte to choose her as she has never defeated Ripley in a singles match. Charlotte attacked Rhea Ripley at NXT TakeOver: Portland after she successfully defended her title, and accepted her challenge for a match at WrestleMania. 
Rhea Ripley showcased her strength right from the beginning of the match, but the Queen countered it with her swiftness. It was a match full of back-and-forth action which featured both women using almost every move in their arsenal. Charlotte Flair worked on Ripley's knee throughout the match. It came in handy in the end when Charlotte put Rhea Ripley in the Figure-Eight submission and the latter tapped out.
Winner – Charlotte Flair(Wins- 3, Losses- 2)
6. Charlotte Flair (c) vs Ronda Rousey- WWE Smackdown Women's Championship – WrestleMania 38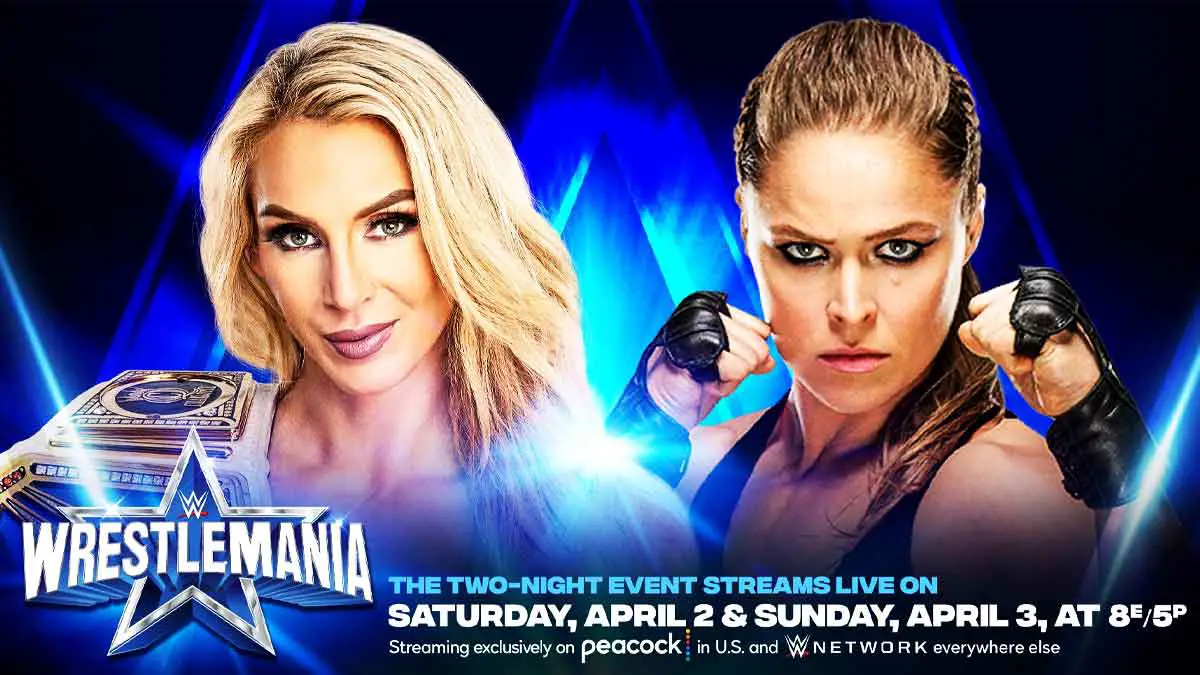 Ronda Rousey returned at Royal Rumble 2022 and won the women's rumble match to earn a women's title shot. Ronda later chose to face SmackDown Women's Champion Charlotte Flair at WrestleMania 38. During the build-up, most of the discussion was around who will force whom to tap out during the match. The rivalry got intense as Flair continued to attack Ronda, leading to several brawls between the duo.
The agression carried on into their match at WM38 as both women went back and forth. In the final minutes of the match, Ronda hit Flair with the Piper's pit but Flair got her legs on the ropes to break the pin. Flair also hit back with Natural Selection, only for Ronda to kick out. Flair tried to put on figure four but Ronda kicked her away, which led to a referee bump. With the referee down, Ronda forced Flair to tap out to an armbar. As Ronda woke up the referee, Flair hit her with a big boot to get the pin and retain her title.
Winner – Charlotte Flair (Wins- 4, Losses- 2)
7. Charlotte Flair (c) vs Rhea Ripley – WWE Smackdown Women's Championship – WrestleMania 39
Rhea Ripley won the women's Royal Rumble 2023 match and decided to challenge Charlotte Flair. Ripley recalled how Charlotte dethroned her as NXT Champion in 2020 when Charlotte won the Royal Rumble match, and now she wants to do the same thing to Charlotte at WrestleMania 39.
Winner – Rhea Ripley (Wins- 4, Losses- 3)