List of Sasha Banks WrestleMania Matches & Win-Loss Record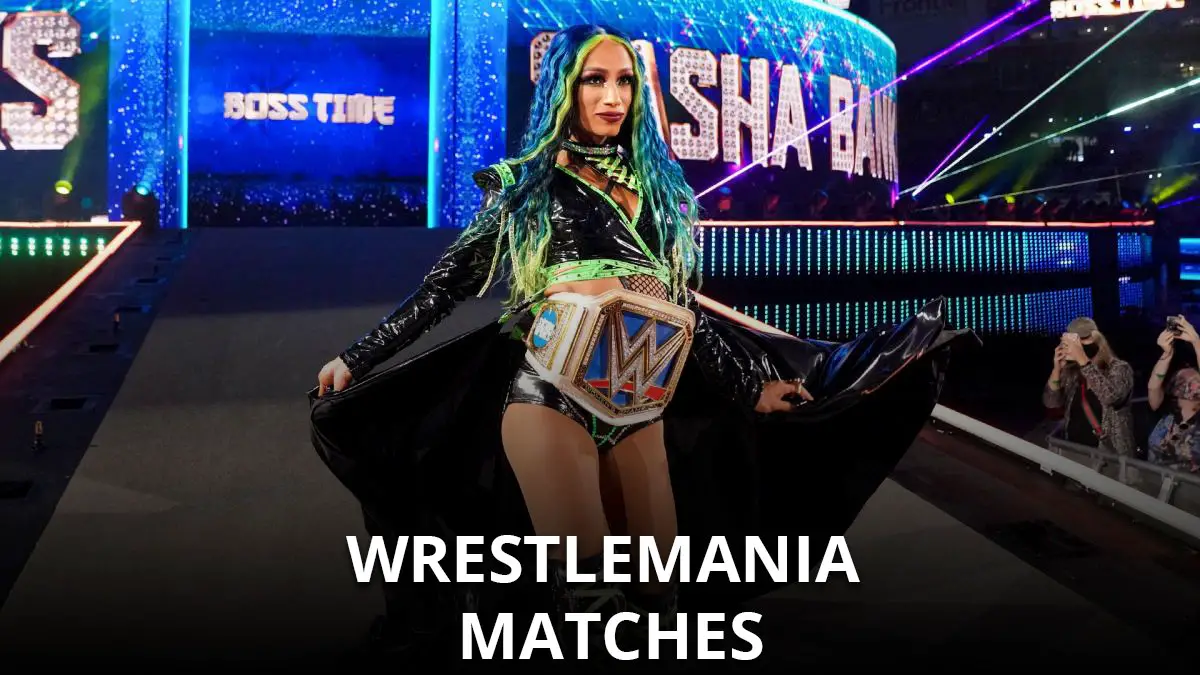 Sasha Banks is one of the most prominent women's wrestlers in WWE currently. She has been part of some marquee matches at WrestleMania including RAW, SmackDown, and Women's Tag Team title matches. She is also one of only five women to the main event WrestleMania.
Check here for the complete list of all the matches for Sasha Banks at WWE WrestleMania matches along with win-loss records and brief storylines.
1. Sasha Banks vs Charlotte Flair vs Becky Lynch – WWE Women's Championship – WrestleMania 32
Sasha Banks made his WrestleMania debut in 2016 against Charlotte Flair and Becky Lynch in the inaugural WWE Women's Championship match. Sasha Banks returned after the Royal Rumble PPV and ambushed Diva Champion Charlotte. The latter was feuding with Becky Lynch for the title. As a result, Sasha Banks had to fight Becky Lynch for earning a title opportunity at the grandest stage of them all. The first match between them ended in a double pin whereas the second one ended in a no contest. As a result, WWE announced Charlotte would defend her title against both Becky and Sasha and WM 32. 
Sasha Banks made her first entrance at WrestleMania flanked by her cousin Snoop Dog, who performed her theme. Three women present one of the best matches of the night where Sasha even got to pay a tribute to the late Eddie Guerrero with his signature frog splash. Sasha Banks was close to winning the match by putting Becky in the Banks Statement. However, Charlotte broke the lock and threw Sasha outside the ring before locking a Figure-Eight Lock on Becky. As Charlotte transitioned to Figure Eight, Ric Flair prevented Sasha from intervening and Becky submitted to Charlotte. 
Winner – Charlotte Flair(Wins – 0, Losses – 1)
2. Sasha Banks vs Charlotte Flair vs Nia Jax vs Bayley – Raw Women's Championship Fatal Four-Way Elimination – WrestleMania 33
Before WM 33, Sasha Banks handed Nia Jax her very first loss in the main roster. After that, she helped Bayley in retaining her title against Charlotte. However, in the following weeks, both Nia Jax and Sasha Banks managed to get wins over Bayley. All this led to a Fatal Four-Way Elimination for WWE Women's Championship at WrestleMania.
Sasha Banks, Bayley, and Charlotte teamed up against Nia Jax and eliminated her delivering a triple powerbomb. After some back and forth action, Sasha Banks put Charlotte in the Banks Statement, but the latter managed to escape, and Banks collided with the exposed turnbuckle. As a result, Charlotte pinned and eliminated her from the match. Later, Bayley pinned Charlotte after hitting her with the diving elbow drop.
Winner – Bayley(Wins – 0, Losses – 2)
3. WrestleMania Women's Battle Royal – WrestleMania 34 Kick-Off
Sasha Banks was one of the women who took part in the inaugural WrestleMania women's battle royal. She and Bayley worked together throughout the match. However, in the ending moments, Bayley turned on her and eliminated her. Later, Naomi eliminated Bayley to win the match.
Winner – Naomi(Wins – 0, Losses – 3)
4. Boss N' Hug Connection vs Nia Jax & Tamina vs The IIconics vs The Divas of Doom – Fatal Four-Way Women's Tag Team Championship Match – WrestleMania 35
Sasha Banks & Bayley(The Boss n Hug Connection) entered WM 35 as inaugural women's tag-team champions. Beth Phoenix came out of retirement and reformed her team with Natalya in order to challenge the champions. Peyton Royce and Billie Kay also claimed to be deserving enough to be a part of the women's tag-team match at the grandest stage of them all. Nia Jax & Tamina were also feuding with the champions to get their hands on the tag titles. 
The team of Nia Jax and Tamina proved her dominance throughout the match. Their raw power helped them handle the other women with ease. However, Beth Phoenix has enough of them, and hence she sends Nia into the steel steps. In the ending moments of the match, Billie Kay pinned Bayley after Beth delivered a GlamSlam to her from the top rope. Billie threw Beth out of the ring and covered Bayley to win the match. 
Winner – The IIconics(Wins – 0, Losses – 4)
5. Sasha Banks vs Lacey Evans vs Bayley vs Naomi vs Tamina – WWE SmackDown Women's Championship Fatal-5-Way Elimination Match – WrestleMania 36
Sasha Banks and Bayley's alliance continued till WrestleMania 36. Before the PPV event, they even announced that they would not be a part of the show of the shows this year. However, Paige made an appearance at SmackDown to announce that WWE management has ordered Bayley to defend her SmackDown Women's Championship against Lacey Evans, Naomi, Tamina, and Sasha Banks in a Fatal-5-Way Elimination match. 
All four women teamed up against Tamina and piled up in order to eliminate her from the match. Sasha Banks delivered an impressive performance and eliminated Naomi by applying Banks Statement on her. However, later in the match, she was unintentionally attacked by Bayley. Lacey Evans took advantage of it and eliminated Sasha Banks from the match. However, the Boss returned to the ring and attacked Lacey allowing Bayley to retain her title.
Winner – Bayley(Wins – 0, Losses – 5)
6. Sasha Banks vs Bianca Belair: SmackDown Women's Championship Match – WrestleMania 37
In, Sasha Banks got her biggest WrestleMania moment as she entered the show of the shows as the SmackDown Women's Champion and competed in the main event of WrestleMania 37 Night 1 against Bianca Belair. Bianca won the 2021 Women's Royal Rumble match and earned the opportunity to face the champion of her choice at the grandest stage of them all. She later chose Sasha Banks as her opponent after Banks provoked her by saying that she is not the best woman on the roster.
It was one of the best matches of Sasha Banks's career as both women were at the top of their game. Bianca Belair tried to attempt the 450 Splash early in the match, which Sasha blocked by getting her knees up. Later, Banks successfully locked Belair into the Banks Statement but she reached the bottom rope to force the break. Bianca showed immense feat of strength as she bench-pressed Sasha on the floor. Bianca eventually connected a 450 Splash but Sasha kicked out of the pin. After Sasha tried to use Bianca's braid in Bank Statement, Belair hit slashed her with the braid and hit KOD to become the new SmackDown Women's Champion. The match later won the ESPYs award for the Best WWE Moment of the Year.
Winner – Bianca Belair(Wins – 0, Losses – 6)
7. Queen Zelina & Carmella (c) vs Sasha Banks & Naomi vs Natalya & Shayna Baszler vs Liv Morgan & Rhea Ripley – WWE Women's Tag Team Championship Match – Wrestlemania 38