Austin Theory Fails MITB Cash-In After Bobby Lashley's Attack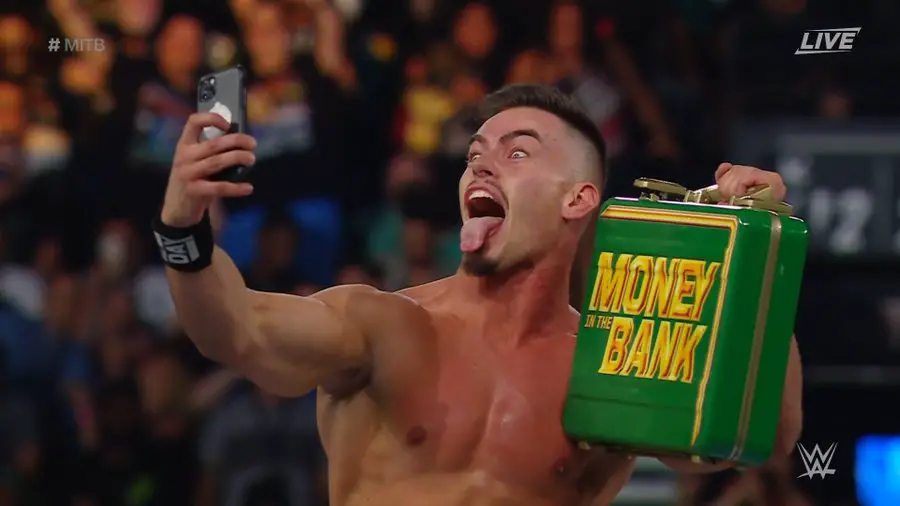 Austin Theory has joined a short list of wrestlers who have failed to cash-in Money in the Bank briefcase successfully.
Theory cashed in MITB briefcase against WWE United States Champion Seth Rollins after Bobby Lashley attacked Rollins. However, as Theory was about to get his win, Lashley pulled out the referee and also attacked Theory. Rollins then capitalized to hit Theory with a stomp to get the win.
Bobby Lashley was WWE United States Champion until October 9 episode of WWE RAW. He was scheduled to defend the title against Seth Rollins that night, but he got confronted and attacked by Brock Lesnar that night. Rollins then enticed an injured Lashley into defending the title and defeated him to win United States title.
Since then, Rollins defended the titles against Matt Riddle and Austin Theory in the past few weeks. He put out an open challenge for the title this week on RAW. Mustafa Ali was answering him from backstage but Bobby Lashley tackled him aside. Lashley explained that he is here to right the wrongs against him. Lashley said he took care of Brock Lesnar at Crown Jewel and would win the title from Rollins now.
Lashley came out but attacked Rollins at ringside. Rollins and Lashley continued to fight ringside for a bit of back and forth, but Lashley ended up standing tall over Rollins in the end. Lashley was taken backstage by security. The match never started. But, just as Lashley left, Austin Theory walked out with MITB briefcase to cash it in.
Theory took the upper hand early but Rollins kept kicking out of the pin. Theory hits him with second ATL but Lashley pulled out the referee before he could count the pin. Lashley then drove Theory into the ring post and then put him out with the Hurt Lock. Theory managed to beat the countdown but Rollins hits the Stomp to get the pin and retain the title.
Austin Theory has become the fifth wrestler who has failed to cash in Money in the Bank briefcase, but he is the first wrestler to cash the briefcase for United States Championship.