WWE Money In The Bank Briefcase Winners list | MITB Ladder Matches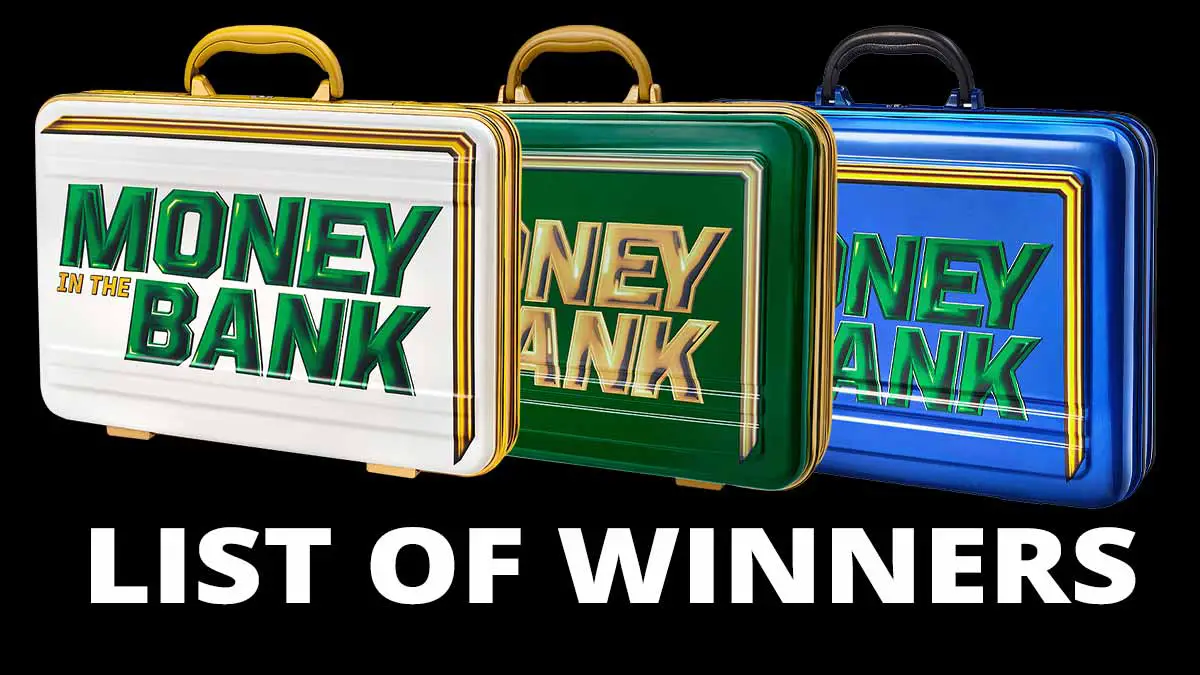 Money in the Bank briefcase has been a revolutionary idea in WWE which brought a sort of uncertainty and surprise factor. The basic idea for the MITB briefcase is that the winner/holder has one year to cash in the briefcase for a World title match at the time of his choosing. MITB winner is determined by a special Money in the Bank ladder match involving six or more wrestlers.
The idea has become so popular that WWE has introduced a separate PPV for this match. Money in the Bank PPV has reportedly become the fourth-best WWE PPV in recent years by surpassing Survivor Series in popularity and gross revenue for WWE.
Here, we will cover the list of all Men and Women Money in the Bank briefcase winners, the date and event for winning the briefcase and cash-ins.
Men's Winners
No.
Winner
Event & Date
Held For
Cash In Date Event & Date
Cash in Against
1.
Edge
Wrestlemania 21 (April 3, 2005)
280 Days
New Year's Revolution (8 January 2006)
John Cena(WWE Championship)
2.
Rob Van Dam
WrestleMania 22 (April 2, 2006)
70 Days
ECW One Night Stand(11 June 2006)
John Cena(WWE Championship)
3.
Mr. Kennedy
WrestleMania 23 (April 1, 2007)
36 Days
Lost Briefcase to Edge
–
4.
Edge
RAW(May 7, 2007)
4 Days
SmackDown(11 May 2007)
Undertaker(World Heavyweight Championship)
5.
CM Punk
WrestleMania XXIV (March 30, 2008)
92 Days
RAW(30 June 2008)
Edge(World Heavyweight Champion)
6.
CM Punk
WrestleMania 25 (April 5, 2009)
63 Days
Extreme Rules(7 June 2009)
Jeff Hardy(World Heavyweight Championship)
7.
Jack Swagger
WrestleMania XXVI (March 28, 2010)
4 Days
SmackDown(2 April 2010)
Chris Jericho(World Heavyweight Championship)
8.
Kane
Money in the Bank (July 18, 2010)
49 minutes
Money in the Bank (July 18, 2010)
Rey Mysterio(World Heavyweight Championship)
9.
The Miz
Money in the Bank (July 18, 2010)
127 Days
RAW(22 November 2010)
Randy Orton(WWE Championship)
10.
Daniel Bryan
Money in the Bank (July 17, 2011)
154 Days
TLC (18 December 2011)
Big Show(World Heavyweight Championship)
11.
Alberto Del Rio
Money in the Bank (July 17, 2011)
28 Days
SummerSlam(14 August 2011)
CM Punk(WWE Championship)
12.
Dolph Ziggler
Money in the Bank (July 15, 2012)
267 Days
RAW(8 April 2013)
Alberto Del Rio(World Heavyweight Championship)
13.
John Cena
Money in the Bank (July 15, 2012)
8 Days
RAW(23 July 2012)
Failed Cash-in Against Big Show
14.
Damien Sandow
Money in the Bank (July 14, 2013)
106 Days
RAW(28 October 2013)
Failed Cash-in Against John Cena
15.
Randy Orton
Money in the Bank (July 14, 2013)
35 Days
SummerSlam(18 August 2013)
Daniel Bryan(WWE Championship)
16.
Seth Rollins
Money in the Bank (June 29, 2014)
273 Days
WrestleMania 31(29 March 2015)
Brock Lesnar(WWE Championship)
17.
Sheamus
Money in the Bank (June 14, 2015)
161 Days
Survivor Series(22 November 2015)
Roman Reigns(WWE Championship)
18.
Dean Ambrose
Money in the Bank (June 19, 2016)
57 minutes
Money in the Bank (June 19, 2016)
Seth Rollins(WWE Championship)
19.
Baron Corbin
Money in the Bank (June 18, 2017)
58 Days
SmackDown(15 August 2017)
Failed Cash-in Against Jinder Mahal
20.
Braun Strowman
Money in the Bank (June 17, 2018)
70 Days
Hell in a Cell(16 September 2018)
Failed Cash-in Against Roman Reigns
21.
Brock Lesnar
Money in the Bank (May 19, 2019)
56 Days
Extreme Rules(14 July 2019)
Seth Rollins(Universal Championship)
22.
Otis
Money in the Bank (May 10, 2020)
193 Days
–
–
23.
The Miz
Hell in a Cell (October 25, 2020)
119 Days
Elimination Chamber(21 February 2021)
Drew McIntyre(WWE Championship)
24.
Big E
Money in the Bank
(18 July 2021)
57 Days
RAW (September 13. 2021)
Bobby Lashley(WWE Championship)
25.
Theory
Money in the Bank
(2 July 2022)
128 Days
RAW (November 7, 2022)
Failed Cash in Against Seth Rollins
26.
Damian Priest
Money in the Bank
(1 July 2023)
–
–
–
Women's Winners
No.
Winner
Event & Date
Held For
Cash In Date & Event
Cash In Against
1.
Carmella
Money In The Bank
(June 18, 2017)
2 Days
–
–
2.
Carmella
Money in the Bank
287 Days
SmackDown
(10 April 2018)
Charlotte Flair
(SmackDown Women's Championship)
3.
Alexa Bliss
Money in the Bank (June 17, 2018)
2 hours and 52 minutes
Money in the Bank (June 17, 2018)
Nia Jax
(RAW Women's Championship)
4.
Bayley
Money in the Bank
(May 19, 2019)
1 hour and 25 minutes
Money in the Bank
(May 19, 2019)
Charlotte Flair
(SmackDown Women's Championship)
5.
Asuka
Money in the Bank
(May 10, 2020)
1 Day
RAW
(11 May 2020)
Was Handed the
RAW Women's Championship
by Becky Lynch
6.
Nikki ASH
Money in the Bank
(18 July 2021)
1 Day
RAW
(19 July 2021)
Charlotte Flair
(RAW Women's Championship)
7.
Liv Morgan
Money in the Bank
(2 July 2022)
1 hour and 45 minutes
Money in the Bank(2 July 2022)
Ronda Rousey(SmackDown Women's Championship)
8.
Iyo Sky
Money in the Bank
(1 July 2023)
36 Day
Summerslam(August 5, 2023)-
Bianca Belair(WWE Women's Champion)