WWE RAW Results & Live Results November 7, 2022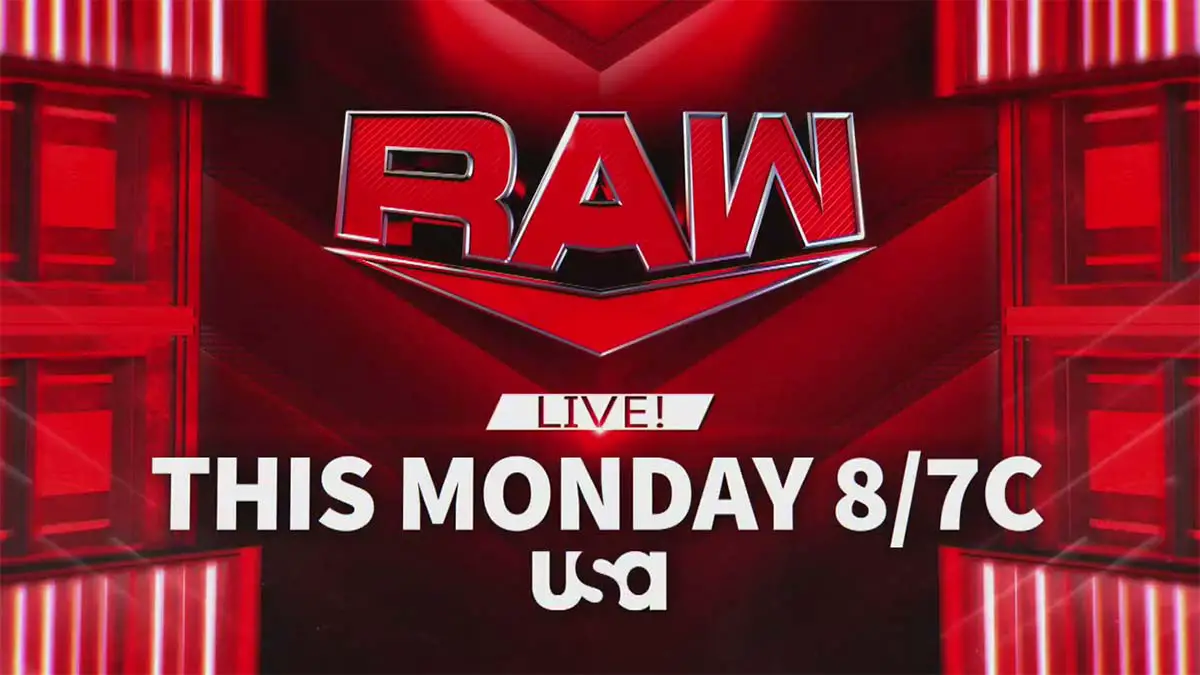 Welcome to the Live Results blog for WWE RAW episode of November 7, 2022, which will be live from Mohegan Sun Arena in Wilkes-Barre, PA.
A new cycle starts for the show as the build-up for Survivor Series WarGames starts. We might come to know who will be in the WarGames match from RAW side. Apart from that, we will get to know if Bianca Belair's rivalry with Bayley's Damage CTRL would continue or not.
Only one match is announced beforehand, which is Seth Rollins' open challenge for United States Championship. What will be the next chapter in The Miz vs Dexter Lumis storyline? Will The OC be able to find out how to neutralize Judgment Day's Rhea Ripley?
Tune in below to catch results from WWE Monday Night RAW episode of November 7, 2022, with live updates, winners, highlights, complete action and videos.
Results
The Bloodline(Solo Sikoa, Jimmy Uso & Jey Uso) defeated Matt Riddle & New Day(Kofi Kingston & Xavier Woods) in a tag team match via pinfall.
Baron Corbin defeated Cedric Alexander in a singles match via pinfall.
Otis defeated Elias in a singles match via pinfall.
Austin Theory defeated Shelton Benjamin in a singles match via pinfall.
The Miz defeated Johnny Gargano in a singles match via pinfall.
Nikki Cross defeated Dana Brooke(c) in a singles match via pinfall to win WWE 24/7 Championship
Seth Rollins(c) defeated Austin Theory in a singles match via pinfall to retain WWE United States Championship.
Live Updates
Who is the Greatest Tag Team?
The Usos come out to open the show with Solo Sikoa. The commentary mentions that The Usos have not heard from Sami Zayn from Friday. "Sami" chants from the crowd. Jimmy talks about Roman Reigns and their own title defenses at Crown Jewel and show us a picture to them celebrating to close the show. They talk about their match against New Day and how they are nearing the record for longest-reigning tag team champions. New Day interrupt them.
Kofi congratulates them for their win at Crown Jewel and ask how them feel. The Usos joke about being private jet-legged. Woods hype their match on Friday and how they will defend their reign of 483 days as champions. The Usos say they are proud of New Day for all their work and it will good for them to be the second-best tag team. Woods retorts that The Usos are currently at second and chasing New Day's record. Woods tells The Usos that they got WWE tryout due to their family. The Usos got their chance due to their family while they have to start from ground up. The Usos reply by saying that nobody know about the pressure they face.
Woods retorts by saying pressure is being in catering and not knowing anything about the future, building a Youtube channel outside of the company to get noticed here. The Usos return to hype their title. Jey reminds Kofi about how they fought for KofiMania and that he got his chance because of them. Kofi says this title reign signifies so much more. He talks about their title reign coming at a time when they were stuck with a positivity gimmick. Matt Riddle interrupts them and comes out with his bong.
Riddle asks Woods to join his band with Elias. Jimmy asks him to shut up. Riddle makes bong joke. He asks everyone to hit his bong. Woods and Kofi tap the bong. Jimmy also plays the bong. Riddle jokes about "Ucey" and Jey slaps away the bong. Riddle proposes a 6-man tag team match right on the spot.
Matt Riddle & New Day(Kofi Kingston & Xavier Woods) vs The Bloodline(Solo Sikoa, Jimmy Uso & Jey Uso)
Jimmy starts with a big shot and hits a big chop. Riddle leapfrogs in the corner and hits a body kick. He hits a gut-wrench suplex. Quick tags between Riddle and New Day as they stomp on Jimmy in the corner. Kofi hits a big boot on Jimmy to get a two-count. Jimmy takes Kofi to his corner after an arm wringer. Jey comes in and hits a blow ot his back. Jey hits a shoulder tackle before Kofi hits back with an uppercut. Woods tags in to hit ax-handle while Kofi holds Jey. Woods uses a stretch to keep Jey grounded.
Riddle tags in and hits body kicks. Jey hits back with a step-up enzuigiri. Riddle takes Jey to the floor with arm scissors. Riddle was looking for a moonsault from the apron but Sikoa decks him to knock him off.
Jimmy hits a blockbuster as we return from the break. Jimmy hits a hip attack in the corner. Solo tags in and hit a kick to the chest, headbutts, and a leg drop. Jey hits a kick to the ribs. Riddle fights back with elbows in the corner. He hits an overhead kick to drop Solo and tags in Woods. Woods and Kofi come in to hit quick kicks on The Bloodline. They double-team on Solo with kicks and more quick moves. Woods tries to roll him up but Solo stomps on him.
Kofi hits a crossbody to get a quick two-count. He hits another kick and a boom drop. Kofi kicks Jey from the apron and Solo takes advantage of the distraction to hit him with belly-to-belly suplex. Kofi is taken to the floor and slammed into the announce table.
Kofi is trying to fight back against Solo but Solo hits him with a leg drop. Jimmy tags in to hit a headbutt. Jey hits a standing elbow drop to get two-count. Solo hits a headbutt before Kofi makes a comeback with big boot and a tornado DDT. Riddle gets a hot tag and fires kicks on The Usos. He hits Pele kick on Jey, ripcord knee on Jimmy, running elbows to both men, suplexes, penalty kick and Bro-ton. He hits a powerbomb and a ripcord knee on Jey to get a close two-count. Riddle goes to the top but Jey gets away from the moonsault.
Jey hits a superkick and swinging neckbreaker. Jimmy tags in before Riddle puts Jey in an Arm Triangle. Jimmy hits a splash and Woods has to break the pin. Woods fights against all three from Bloodline. Solo throws Woods into the announce table and Kofi into the steel steps. Riddle hits a penalty kick on Solo. He counters Jimmy's dive. Riddle hits a draping DDT and RKO but Solo tags in. Solo hits Spinning Solo to get the pin on Riddle.
Winner – The Bloodline
The commentators take us to highlights from Crown Jewel.
Baron Corbin vs Cedric Alexander
JBL makes his entrance before the break. He takes offense at being booked at this not-so-great arena. He quickly brings out Baron Corbin. Cedric Alexander is his opponent.
Corbin throws Cedric to the corner and continues to beat him up for a minute of so. Cedric avoids a charge in the corner but Corbin rolls around the ring post and hits him with a big clothesline to get a close two-count. Cedric hits a low dropkick to trip Corbin. Cedric hits a crossbody, another kick and a neutralizer to get a two-count. Corbin leaves to the floor. Cedric dives on him. Corbin comes back to the ring and catches Cedric with End of Days on his way back to get the pin.
Winner – Baron Corbin
The OC Fight Back!
Seth Rollins makes his entrance. He takes the mic and the crowd is still signing his theme. He hypes the US title open challenge. The Judgment Day's music hits and they come out. They surround the ring. Finn Balor enters the ring first. Balor says he has a bone to pick with Rollins. He reminds Rollins that he cost him gold a couple of years back. So, tonight he will cost him gold. The OC come out to the stage. They make their entrance and stand up to Judgment Day. Seth Rollins sneaks out of the ring and goes backstage.
AJ says their business is not finished yet. Balor retorts by talking about their supremacy. AJ points out how Rhea Ripley has been the difference in their matches. So, someone has found The OC to counter Rhea. Rhea is suddenly dropped by someone. It is Mia Yim. A brawl breaks out between OC and Judgment Day in the ring. Yim unloads on Rhea with a kendo stick on the floor. OC clear the ring and only Styles and Balor are left in the ring.
Yim throws Rhea over the barricade. Gallows throws Priest over the announce table. Balor has to bail out of the ring as AJ was taking the upperhand. Anderson drops Balor on the floor. Dominik tries to attack AJ, but AJ counters to hit him with Styles Clash. The OC and Mia Yim stand tall in the ring.
---
Cathy Kelley catches up with Seth Rollins backstage. Rollins says it got tense between OC & Judgment Day, but his open challenge is still on.
Otis vs Elias
They lock up and come to a stalemate. Elias tries to whip Otis but Otis hits him with a tackle. Otis hits a headbutt and big strikes in the corner. Elias tries to bodyslam Otis but he proved to be too big for him. Elias comes back with a couple of ripcord knee strikes. Elias goes to the top but had to take out Gable off the apron. Otis catches Elias with a running splash on the ropes. Otis hits powerslam to get the pin.
Winner – Otis
The Judgment Day are backstage. Balor rants that OC have not solved any problem, but have invited more of them. Dominik says Mia Yim is no one to stand up to Mami Rhea Ripley. They leave. Bianca is walking backstage and Rhea crosses path with her.
Women WarGames
Bianca Belair, Alexa Bliss and Asuka make their entrance. We cut to a footage from outside the arean earlier in the day where this trio got into an argument with Damage CTRL. Bianca takes the mic and says she stands as RAW Women's Champion, but not everything went as per the plan, and this is not over. She calls out Damage CTRL. Dakota Kai takes the lead in the promo and tells Bianca how she has not pinned Bayley yet, while she has done it twice already. They remind Bliss and Asuka that they have won the tag team titles twice.
Asuka and Iyo start arguing in Japanese. Iyo calls Asuka a "bitch." Asuka starts a brawl and everyone gets involved. Bianca and team stand tall in the ring. Bianca then announces that this will end at WarGames. Nikki Cross attacks Bianca from behind. Damage CTRL join her in the attack and take down Bianca's side.
Austin Theory vs Shelton Benjamin
Theory comes out for a match. Shelton Benjamin is his opponent tonight. We cut to a backstage video where Shelton offered his help to Theory, but Theory called him irrelevant. It has led to this match.
Back and forth start to the match. Theory trips him into the turnbuckle. Shelton hits back with punches. Theory hits him with a clothesline. A snapmare from Theory, but he misses a stomp. Shelton puts on an ankle lock. Theory kicks him away. Shelton hits a suplex to counter ATL. Shelton puts him on the ropes and Theory drops his face into the ropes. Shelton jumps to the top and Theory gauges at his eyes. Theory hits ATL to get the pin.
Winner – Austin Theory
Miz's Truth
The Miz is out in the ring. Before his match, he wants to make it clear that Johnny Gargano's interview is smearing. Everything shown in it is fake and involved some of best deep fakes he has ever seen. He says not even his father is believing him on this. Miz tells us that he has met a hollywood producer to tell his side of story, but it will take time to be made. In the mean time, his team is preparing for a lawsuit. Johnny Gargano interrupts him and says he always liked his dad. Gargano says he did not want to start the match without doing something first.
Gargano says when he blew the whistle on Miz last week, he thought that Miz would pay Dexter Lumis after he reveals everything. So, now he has got hold of more evidence, but he had to use some underhanded tactics. Gargano reveals that the hollywood producer that Miz met was a private investigator and she has got everything on camera. Gargano plays the video on the big screen. Miz accepts that he has paid Dexter Lumis to attack him. He brags how his career has sky-rocketed after this. He also accepts that he stopped paying Lumis because he got out of control. Miz is shocked in the ring.
The Miz vs Johnny Gargano
Gargano ducks Miz's swing to start. He ducks a chop in the corner and hits a chop himself. They run the ropes and hits a dropkick. Miz goes to the floor and Gargano kicks at his arm from the apron. Gargano hits a senton dive on the floor. Gargano showboats a bit before hitting chops on Miz on the announce table. Miz tries to catch him on the ropes but Gargano slips under and flips him over for a two-count. Gargano hits an armbreaker to get a two-count. Miz goes for a dropkick but Gargano holds back to avoid it. Gargano kicks at his arm. He continues to work at his arm in the corner.
Miz counters with kick midair from the corner. Miz hits a penalty kick next. Miz rakes his face before hitting a running knee against the ropes. Gargano fires back with lefts. Miz hits him with a knee and running boot to get a two-count. Miz puts on a chinlock. Miz goes to top but Gargano counters his dive with a manhatten drop. Gargano hits a kick to the jaw and a neckbreaker for a two-count. Gargano rolls up Miz for a two-count, goes for Garga-No escape. He kicks Miz to the floor when he tries to counter. Garga-No dives on Miz on the floor. Miz drops him on the groin on the barricade. We cut to a break.
Gargano hits a backstabber as we return. Gargano hits a crossbody, double knees in the corner and a tornado DDT to get a two-count. Miz nails him with a big left. Gargano comes back with a slingshot spear to get a near fall. Miz jabs at his throat before hitting a DDT to get a two-count himself. Miz hits It Kicks on Gargano's chest. Gargano ducks the final kick and they trade more kicks. Gargano unloads with clothesline. Miz counters slingshot spear with a knee strike to get a near fall.
Miz poses for Skull Crushing Finale but Gargano counters it. Gargano hits a superkick for another two-count. Gargano hits a suicide dive on the Miz to drive him into the announce table. Miz replies by slamming him into the table. Miz throws Gargano into the ring. Gargano hits a dropkick to keep him out of the ring. Miz is dragged under the ring by someone. Miz comes out holding a turnbuckle. He asks the referee to check under the ring and hits Gargano with turnbuckle. The referee does not find anyone under the ring. Miz gets the pin on Gargano easily.
Winner – The Miz
Dexter Lumis slams Miz with a chair. He has to run into the crown as security chases him.
---
Backstage, Nikki Cross is pacing backstage with Damage CTRL surrounding her. Dakota Kai talks about how similar she is to them. Iyo Sky says she should destroy Dana Brooke tonight. Bayley tells her to let it all out.
Dana Brooke (c) vs. Nikki Cross (WWE 24/7 Championship)
Damage CTRL comes out with Nikki Cross for the match. Bayley gets on the commentary. Cross starts with some quick moves. A choke from Nikki brings Dana down to the mat. Brooke gets back to her feet and fights out it. Dana unloads in the corner. Nikki slams her to the mat and smashing her over and over again. Nikki hits fisherman neckbreaker to get the pin.
Winner – Nikki Cross
After the break, Nikki Cross is walking backstage with Damage CTRL. She throws 24/7 title into the dustbin.
---
The OC are with Mia Yim. They put her over as an equalizer.
Who Answers Seth Rollins' Open Challenge
Seth Rollins comes out to the ring. He says he has promised an open challenge and will keep that promise. He talks about how it has been 10 years of Seth Rollins in WWE this month and his journey in the company. He then talks about how he has made US title the main title on RAW in few weeks only. He then asks for his challenger to come out.
Mustafa Ali appears on the screen from backstage. He starts to talk but he is tackled aside and gets beaten up. It is Bobby Lashley. Lashley says Ali won't be accepting the challenge. Lashley says there are two reasons for him losing US title. He took care of Brock Lesnar at Crown Jewel, and now he will make Rollins pay. Mustafa attacks Rollins but Lashley throws him into the production equipment. He is coming out to accept the challenge.
After the break, Lashley comes out to the ring. He pulls Rollins out of the ring and attacks him. He throws Rollins around the ringside and into barricade and steel steps. Rollins cuts him off with a superkick. He throws Lashley into the steel steps. Lashley counters a pedigree with a back body drop. Lashley unloads on Rollins on the floor. Several referees and some security comes out to try to control Lashley. Lashley hits an Urinage on the floor before throwing him into the barricade. Lashley drives Rollins into the ring post. He clears the announce table and hits a spinebuster on Rollins through it. Lashley is taken backstage by security. Austin Theory walks down the ramp with his Money in the Bank briefcase.
Seth Rollins(c) vs Austin Theory – WWE United States Championship
After the break, Austin Theory is standing beside as the officials check in on Rollins. Theory then hands his MITB breifcase to a referee as he wants to cash-in for United States Championship. Rollins is rolled into the ring by Theory. The referee calls for the bell. Rollins somehow makes it to his feet but Theory nails him down with a big punch. Rollins kicks out of the pin though. Theory hits him with ATL, but Rollins kicks out again. Rollins goes for a pedigree but Theory hits Pedigree of his own. Rollins kicks out again.
Rollins slips out of second ATL. He sends Theory to the floor with a back body drop. Theory rolls him up but Rollins hits him with a powerbomb. Rollins hits a superkick, rolling elbow and another big strike. Theory counters and hits ATL for the second time. Rollins is down and out but Lashley pulls the referee out of the ring. Theory screams at Lashley.
Lashley pulls Theory out and starts beating him up. He throws him into the ring post and barricade. He drives Theory into the ring post again before putting him out with the Hurt Lock. Lashley leaves after this. The referee wakes up and starts a countdown on Theory. Theory beats the count at 9 and a half. Rollins catches Theory with a stomp to get the pin.
Winner – Seth Rollins