UFC Debuts 2023 – List of UFC Debutants in 2023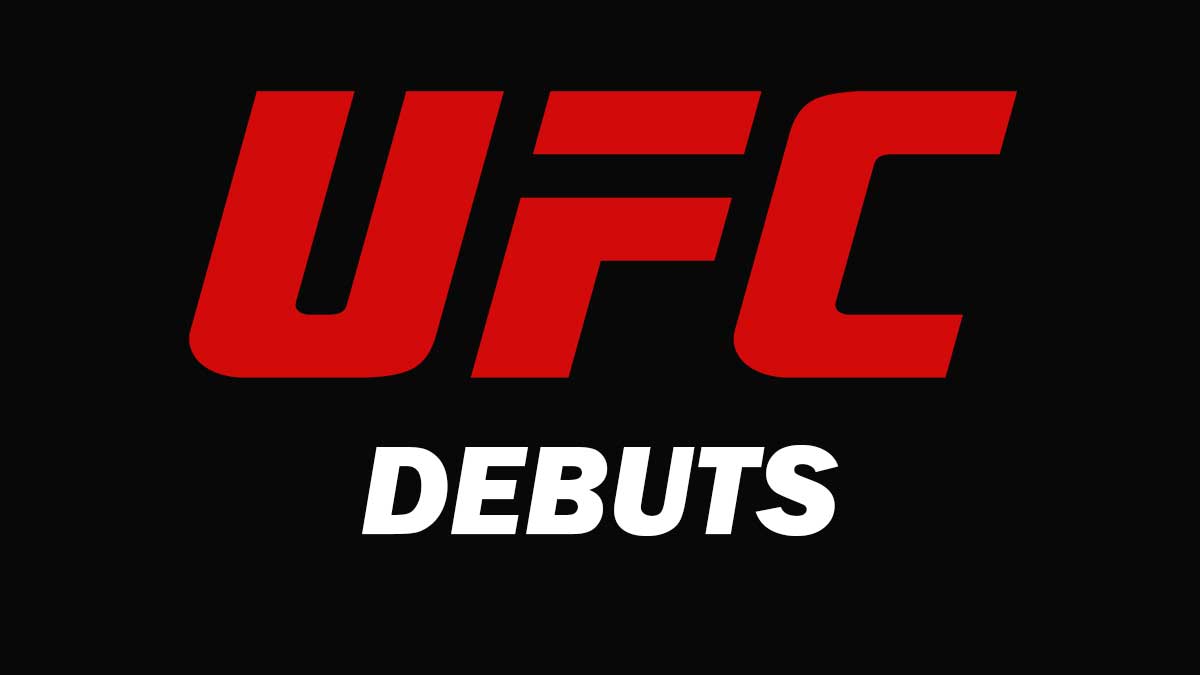 UFC signs a large pool of new fighters every year, which means there will be a lot of debuts in the promotion every year.
These signings mainly come through Dana White Contender Series in the past couple of years, but UFC also holds Road to UFC and The Ultimate Fighter competitions to find and recruit high-quality fighters.
In 2022, at least 60 fighters made their UFC debut and 2023 is not expected to be any different with more than 50 fighters already lined up for their promotional debuts. Check below for the complete list of UFC Debuts in 2023 along with the date and event of the debuts, and the opponents.
January 2023
| No. | Fighter | Debut Event | Against | Debut Date |
| --- | --- | --- | --- | --- |
| 1 | Nick Aguirre | Vegas 67/Fight Night 217 | vs Dan Argueta | January 14, 2023 |
| 2 | Mateusz Rębecki | Vegas 67/Fight Night 217 | vs Nick Fiore | January 14, 2023 |
| 3 | Nick Fiore | Vegas 67/Fight Night 217 | vs Mateusz Rębecki | January 14, 2023 |
| 4 | Claudio Ribeiro | Vegas 67/Fight Night 217 | vs Abdul Razak Alhassan | January 14, 2023 |
| 5 | Mateus Mendonça | Vegas 67/Fight Night 217 | vs Javid Basharat | January 14, 2023 |
| 6 | Brunno Ferreira | UFC 283 | vs Gregory Rodrigues | January 21, 2023 |
| 7 | Melquizael Costa | UFC 283 | vs Thiago Moisés | January 21, 2023 |
| 8 | Daniel Marcos | UFC 283 | vs Saimon Oliveira | January 21, 2023 |
| 9 | Luan Lacerda | UFC 283 | vs Cody Stamann | January 21, 2023 |
| 10 | Ismael Bonfim | UFC 283 | vs Terrance McKinney | January 21, 2023 |
| 11 | Gabriel Bonfim | UFC 283 | vs Mounir Lazzez | January 21, 2023 |
February 2023
| No. | Fighter | Debut Event | Against | Debut Date |
| --- | --- | --- | --- | --- |
| 12 | Jesus Aguilar | Vegas 68/Fight Night 218 | vs Tatsuro Taira | February 4, 2023 |
| 13 | Yusaku Kinoshita | Vegas 68/Fight Night 218 | vs Adam Fugitt | February 4, 2023 |
| 14 | Elves Brenner | UFC 284 | vs Zubaira Tukhugov | February 11, 2023 |
| 15 | Francisco Prado | UFC 284 | vs Jamie Mullarkey | February 11, 2023 |
| 16 | Blake Bilder | UFC 284 | vs Shane Young | February 11, 2023 |
| 17 | Shannon Ross | UFC 284 | vs Kleydson Rodrigues | February 11, 2023 |
| 18 | Jack Jenkins | UFC 284 | vs Don Shainis | February 11, 2023 |
| 19 | Modestas Bukauskas | UFC 284 | vs Tyson Pedro | February 11, 2023 |
| 20 | Jamal Pogues | Vegas 69/Fight Night 219 | vs Josh Parisian | February 18, 2023 |
| 21 | Themba Gorimbo | Vegas 69/Fight Night 219 | vs AJ Fletcher | February 18, 2023 |
| 22 | Clayton Carpenter | Vegas 69/Fight Night 219 | vs Juancamilo Ronderos | February 18, 2023 |
| 23 | Nazim Sadykhov | Vegas 69/Fight Night 219 | vs Evan Elder | February 18, 2023 |
| 24 | Victor Martinez | Vegas 70/Fight Night 220 | vs Jordan Leavitt | February 25, 2023 |
| 25 | Hailey Cowan | Vegas 70/Fight Night 220 | vs Ailin Perez | February 25, 2023 |
| 26 | Darrius Flowers | Vegas 70/Fight Night 220 | vs Erick Gonzalez | February 25, 2023 |
| 27 | Jose Johnson | Vegas 70/Fight Night 220 | vs Garrett Armfield | February 25, 2023 |
| 28 | Nurullo Aliev | Vegas 70/Fight Night 220 | vs Rafael Alves | February 25, 2023 |
| 29 | Carl Deaton III | Vegas 70/Fight Night 220 | vs Joe Solecki | February 25, 2023 |
March 2023
| No. | Fighter | Event | Against | Debut Date |
| --- | --- | --- | --- | --- |
| 30 | Bo Nickal | UFC 285 | vs Jamie Pickett | March 4, 2023 |
| 31 | Farid Basharat | UFC 285 | vs Da'Mon Blackshear | March 4, 2023 |
| 32 | Esteban Ribovics | UFC 285 | vs Loik Radzhabov | March 4, 2023 |
| 33 | Loik Radzhabov | UFC 285 | vs Esteban Ribovics | March 4, 2023 |
| 34 | Sedriques Dumas | Vegas 71/Fight Night 221 | vs Abu Azaitar | March 11, 2023 |
| 35 | Karl Williams | Vegas 71/Fight Night 221 | vs Łukasz Brzeski | March 11, 2023 |
| 36 | Vitor Petrino | Vegas 71/Fight Night 221 | vs Anton Turkalj | March 11, 2023 |
| 37 | Jafel Filho | UFC 286 | vs Muhammad Mokaev | March 18, 2023 |
| 38 | Christian Leroy Duncan | UFC 286 | vs Duško Todorović | March 18, 2023 |
| 39 | Sam Patterson | UFC 286 | vs Yanal Ashmoz | March 18, 2023 |
| 40 | Yanal Ashmoz | UFC 286 | vs Sam Patterson | March 18, 2023 |
| 41 | Gabriel Santos | UFC 286 | vs Lerone Murphy | March 18, 2023 |
April 2023
| No. | Fighter | Event | Against | Debut Date |
| --- | --- | --- | --- | --- |
| 42 | Jaqueline Amorim | UFC 287 | vs Sam Hughes | April 08, 2023 |
| 43 | Bruna Brasil | Fight Night 223 | vs Denise Gomes | April 15, 2023 |
| 44 | Gastón Bolaños | Fight Night 223 | vs Aaron Phillips | April 15, 2023 |
| 45 | Junior Tafa | UFC Vegas 71 | vs Mohammad Usman | April 22, 2023 |
| 46 | Hailey Cowan | UFC Vegas 72 | vs Jamey-Lyn Horth | April 29, 2023 |
| 47 | Jamey-Lyn Horth | UFC Vegas 72 | vs Hailey Cowan | April 29, 2023 |
| 48 | Irina Alekseeva | UFC Vegas 72 | vs Stephanie Egger | April 29, 2023 |
| 49 | Fernando Padilla | UFC Vegas 72 | vs Julian Erosa | April 29, 2023 |
| 50 | Trey Waters | UFC Vegas 72 | vs Josh Quinlan | April 29, 2023 |
| 51 | Marcus McGhee | UFC Vegas 72 | vs Journey Newson | April 29, 2023 |
May 2023
| No. | Fighter | Event | Against | Debut Date |
| --- | --- | --- | --- | --- |
| 52 | Rolando Bedoya | UFC 288 | Khaos Williams | May 6, 2023 |
| 53 | Braxton Smith | UFC 288 | Parker Porter | May 6, 2023 |
| 54 | Deigo Lopes | UFC 288 | Movsar Evloev | May 06, 2023 |
June 2023
| No. | Fighter | Event | Against | Debut Date |
| --- | --- | --- | --- | --- |
| 55 | Ketlen Souza | UFC Vegas 74 | Karine Silva | June 03, 2023 |
| 56 | Muhammadjon Naimov | UFC Vegas 74 | Jamie Mullarkey | June 03, 2023 |
| 57 | Jesse Butler | UFC Vegas 74 | Jim Miller | June 03, 2023 |
| 58 | Stephen Erceg | UFC 289 | David Dvorak | June 10, 2023 |
July 2023
| No. | Fighter | Event | Against | Debut Date |
| --- | --- | --- | --- | --- |
| 59 | Ivana Petrović | UFC Vegas 76 | Luana Carolina | July 1, 2023 |
| 60 | Azat Maksum | UFC Vegas 77 | Tyson Nam | July 15, 2023 |
| 61 | Bassil Hafez | UFC Vegas 77 | Jack Della Maddalena | July 15, 2023 |
September 2023
| No. | Fighter | Event | Against | Debut Date |
| --- | --- | --- | --- | --- |
| 62 | Bogdan Guskov | UFC Fight Night 226 | Volkan Oezdemir | September 02, 2023 |
See Also