UFC 283: Card, Start Time, Date, Location, Tickets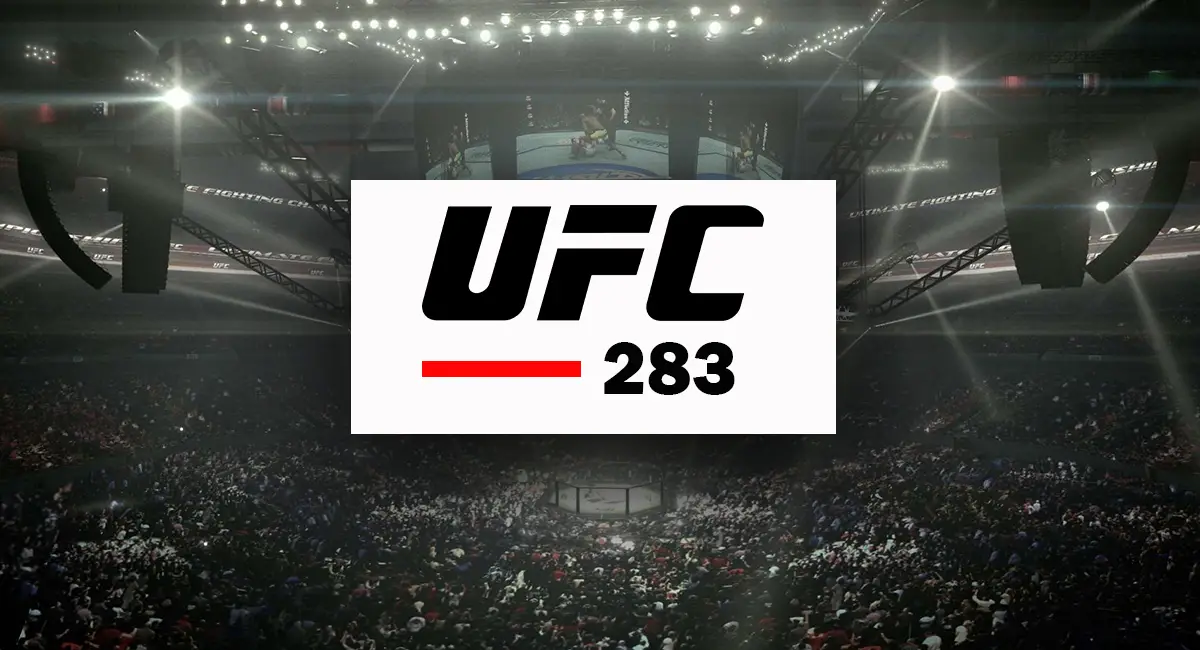 UFC 283 PPV will be the UFC PPV of the year 2023 and will take place at Jeunesse Arena in Rio de Janeiro, Brazil.
The main event and co-main event bout are not announced as of yet.
Check below for the complete details from UFC 283 PPV with fight card, tickets information, news, updates, date, start time, venue and more.
Tickets
The tickets for UFC 283 are not on sale right now. We will update this section when the tickets become available
Fight Card
News & Updates
Sept 21, 2022: Phil Hawes, Gilbert Burns' teammate, said that he believes Masvidal does not want to fight Burns.
"I don't think Masvidal wants that smoke. I think smart decision. He knows Durinho[Burns] is a beast, different animal. What he is bad at, Durinho has. So, it's smart on his part."

Phil Hawes on possibility of Gilbert Burns vs Jorge Masvidal, ht – Sportskeeda
Sept 14, 2022: Jose Aldo's Manager and Coach Andre Pederneiras revealed to Combate that Aldo will likely end his UFC career at UFC 283.
Sept 13, 2022: Manager Alex Davis revealed the possibility of Norma Dumont facing Irene Aldana at UFC 283 in Featherweight title eliminator bout.
"There were rumors this division could be finished, but I don't think so. I see a great chance of Norma facing Irene at UFC 283. That would be the most fair to decide who would face Amanda Nunes next."

Alex Davis on UFC 283, ht- Sherdog
Sept 11, 2022: Johnny Walker expressed a desire to be booked for UFC 283 in Brazil.
"UFC Rio is going to be a dream for me. I've never fought in Rio, and January 21, I think is going to be an amazing date for me."

Johnny Walker on UFC 283, ht- MMAJunkie
Sept 11, 2022: Jailton Almeida said at UFC 279 press conference that he wishes to face Shamil Abdurakhimov at UFC 283 in Brazil.
"I want to fight in Rio de Janeiro against Shamil. I hope he get his visa situation sorted and we can fight at home and bring joy to the Brazilian people."

Jailton Almeida on UFC 283, ht – MMA Fighting
August 29, 2022: Thiago Santos narrated an incident with Paulo Costa's team where Costa's team disturbed Santos during his weight cut process and disrespected him.
"He even said later that I'm getting beat up by everyone. Since that's how it is, why doesn't he take advantage of it and come hit me too at UFC Rio de Janeiro?"

Thiago Santos calling out Paulo Costa for UFC 283, ht- Sherdog
August 25, 2022: Charles Oliveira revealed that he want to face Islam Makhachev in Brazil, but the fight was finalized for UFC 280 instead in Abu Dhabi.
"I don't think this Makhachev fight should have happened now. They talked so much about how they would take the fight in Brazil, That's a lie. If they had accepted to fight in Brazil, we would be fighting in January. I talked so much about that Rio card. The truth is that they talked, talked, talked, but they took the fight to where they wanted."

Charles Oliveira on wanting to faces Islam Makhachev in Brazil, ht- BJPenn.com
August 19, 2022: Gilbert Burns revealed that he and Jorge Masvidal has agreed verbally for a fight that might land on the UFC Brazil card.
"Nothing done yet. A lot of talks about the fight with Masvidal – he verbally agreed. I did too. They're just figuring out the date. No date yet. No. 1 would be MSG in November, but then he said no for that date. Now, December or January, I can wait like 20 more days to go to Brazil. I'm looking forward to go to the Brazil card."

Gilbert Burns on his fight against Jorge Masvidal, ht- Bloody Elbow
August 10, 2022: UFC announced UFC 283 event to take place in Rio De Janerio.