UFC Debuts 2022 | List of UFC Debutants in 2022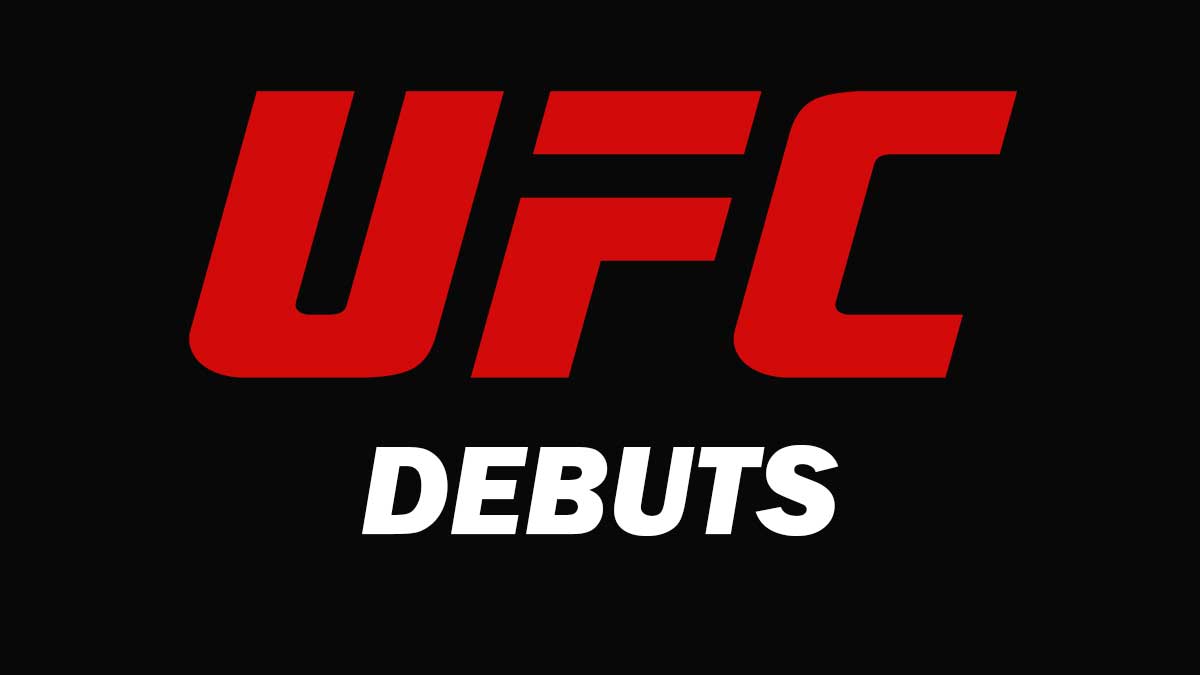 UFC is the most widely known MMA promotion in the world and making a UFC debut is one of the biggest achievements for an MMA fighter. Although UFC has been very selective in boarding fighters, the promotion still adds many fighters to the UFC roster every year. In 2022 itself, UFC added 67 fighters to its roster who have gone on to make their debuts.
Check below for the complete list of UFC Debutants in the year 2022.
| Fighter | Date | Event |
| --- | --- | --- |
| A.J. Fletcher | 12-Mar-22 | UFC Fight Night 203 |
| AJ Dobson | 12-Feb-22 | UFC 271 |
| Aliaskhab Khizriev | 26-Mar-22 | UFC on ESPN 33 |
| André Fialho | 22-Jan-22 | UFC 270 |
| Ange Loosa | 16-Apr-22 | UFC on ESPN 34 |
| Armen Petrosyan | 26-Feb-22 | UFC Fight Night 202 |
| Askar Mozharov | 04-Jun-22 | UFC Fight Night 207 |
| Azamat Murzakanov | 12-Mar-22 | UFC Fight Night 203 |
| C.J. Vergara | 07-May-22 | UFC 274 |
| Caio Borralho | 16-Apr-22 | UFC on ESPN 34 |
| Cameron VanCamp | 07-May-22 | UFC 274 |
| Carlos Candelario | 14-May-22 | UFC on ESPN 36 |
| Carlos Mota | 29-Oct-22 | UFC Fight Night 213 |
| Carlos Hernandez | 26-Feb-22 | UFC Fight Night 202 |
| Chad Anheliger | 19-Feb-22 | UFC Fight Night 201 |
| Chidi Njokuani | 05-Feb-22 | UFC Fight Night 200 |
| Christian Rodriguez | 19-Feb-22 | UFC Fight Night 201 |
| Daniel Argueta | 04-Jun-22 | UFC Fight Night 207 |
| Daniel Santos | 09-Apr-22 | UFC 273 |
| Dean Barry | 23-Apr-22 | UFC Fight Night 205 |
| Denis Tiuliulin | 26-Mar-22 | UFC on ESPN 33 |
| Denys Bondar | 05-Feb-22 | UFC Fight Night 200 |
| Emily Ducote | 16-Jul-22 | UFC on ABC 3 |
| Erik Silva | 10-Dec-22 | UFC 282 |
| Evan Elder | 23-Apr-22 | UFC Fight Night 205 |
| Fernie Garcia | 07-May-22 | UFC 274 |
| Francis Marshall | 03-Dec-22 | UFC on ESPN 42 |
| Gadzhi Omargadzhiev | 16-Apr-22 | UFC on ESPN 34 |
| Genaro Valdéz | 22-Jan-22 | UFC 270 |
| Hayisaer Maheshate | 11-Jun-22 | UFC 275 |
| Jack Della Maddalena | 22-Jan-22 | UFC 270 |
| Jailton Almeida | 05-Feb-22 | UFC Fight Night 200 |
| Jake Hadley | 14-May-22 | UFC on ESPN 36 |
| Jasmine Jasudavicius | 22-Jan-22 | UFC 270 |
| Javid Basharat | 12-Mar-22 | UFC Fight Night 203 |
| Jay Perrin | 19-Feb-22 | UFC Fight Night 201 |
| Joanderson Brito | 15-Jan-22 | UFC on ESPN 32 |
| Joseph Holmes | 15-Jan-22 | UFC on ESPN 32 |
| Josh Fremd | 09-Apr-22 | UFC 273 |
| Joshua Weems | 29-Oct-22 | UFC Fight Night 213 |
| Karine Silva | 04-Jun-22 | UFC Fight Night 207 |
| Kleydson Rodrigues | 07-May-22 | UFC 274 |
| Manuel Torres | 14-May-22 | UFC on ESPN 36 |
| Maria Oliveira | 18-Jun-22 | UFC on ESPN 37 |
| Martin Buday | 16-Apr-22 | UFC on ESPN 34 |
| Michael Morales | 22-Jan-22 | UFC 270 |
| Mike Malott | 09-Apr-22 | UFC 273 |
| Mike Mathetha | 12-Feb-22 | UFC 271 |
| Muhammad Mokaev | 19-Mar-22 | UFC Fight Night 204 |
| Natália Silva | 18-Jun-22 | UFC on ESPN 37 |
| Nikolas Motta | 19-Feb-22 | UFC Fight Night 201 |
| Pete Rodriguez | 22-Jan-22 | UFC 270 |
| Piera Rodríguez | 09-Apr-22 | UFC 273 |
| Ramona Pascual | 26-Feb-22 | UFC Fight Night 202 |
| Raul Rosas Jr. | 10-Dec-22 | UFC 282 |
| Rinat Fakhretdinov | 14-May-22 | UFC on ESPN 36 |
| Saimon Oliveira | 22-Jan-22 | UFC 270 |
| Steven Koslow | 10-Dec-22 | UFC 282 |
| Tamires Vidal | 05-Nov-22 | UFC Fight Night 214 |
| Tatsuro Taira | 14-May-22 | UFC on ESPN 36 |
| Tresean Gore | 05-Feb-22 | UFC Fight Night 200 |
| Tereza Bleda | 19-Nov-22 | UFC Fight Night 215 |
| Trey Ogden | 16-Apr-22 | UFC on ESPN 34 |
| Viacheslav Borshchev | 15-Jan-22 | UFC on ESPN 32 |
| Victor Altamirano | 26-Feb-22 | UFC Fight Night 202 |
| Victor Henry | 22-Jan-22 | UFC 270 |