Errol Spence Jr. vs Yordenis Ugás – Fight Purse, Total Estimated Payout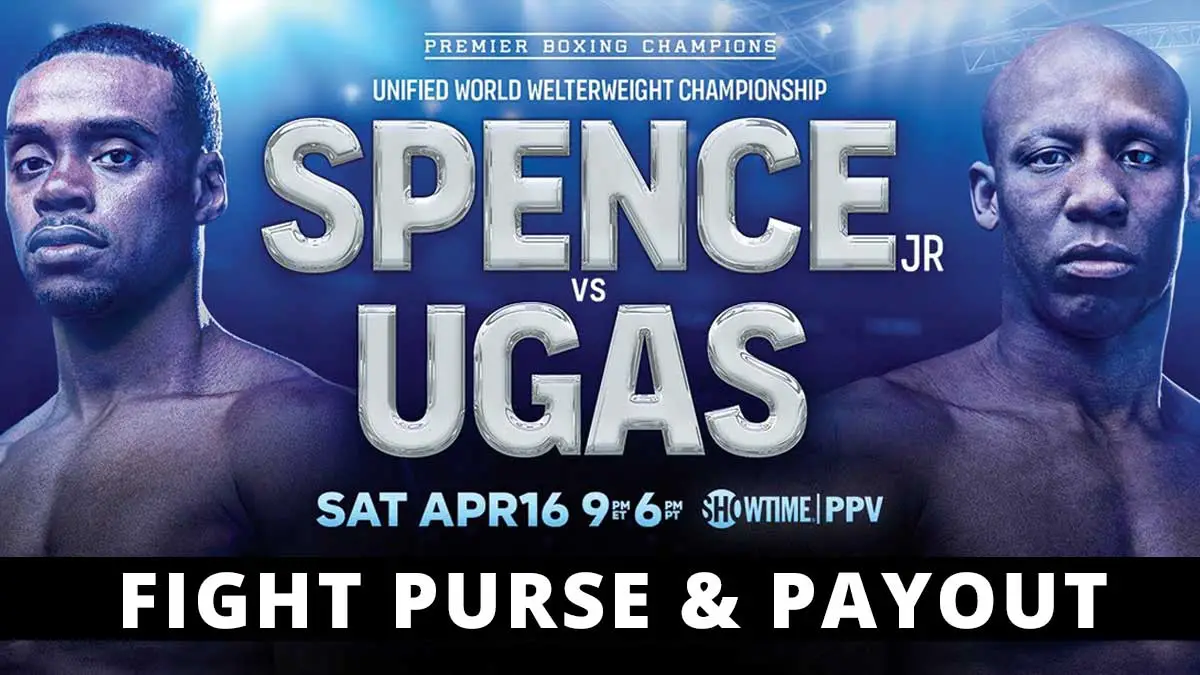 Errol Spence Jr. and Yordenis Ugás will fight on April 16, 2022, at AT&T Stadium in a Welterweight title unification bout. Spence will put his WBC and IFC title on the line while Ugás is putting up WBA(super) title on the line for this bout.
This is the first big boxing PPV of the year and will be on Showtime PPV for $74.99. More than 300,000 PPV buys are expected for the event, which could generate more than $20 million in revenue. Also, the stadium is nearly sold out for this event, which will also bring in significant revenue.
With such big numbers coming in, how much will Errol Spence and Yordenis Ugas earn from this fight? Check the details about their fight purse – fixed salary, PPV commission and estimated total payout.
How much Errol Spence Jr. is Earning against Yordenis Ugás?
As per a report related to the contract leak, Spence is getting $1.5 million as a fixed salary. However, we estimate that Errol Spence Jr. is getting around $2.5 million as a fixed salary for this bout against Yordenis Ugás. The later figure is much closer to the reported fixed purse from his fights against Mikey Garcia($3 million) and Shawn Porter($2 million).
Spence will also get a 50% commission from PPV buys, which can take his total earnings up to $6 million and more depending on PPV sales. Spence has proved to be a better bet in terms of PPV sales as compared to other stars barring Canelo Alvarez and Tyson Fury. With his PPV sales being more than 250,000 PPV in the last three fights, he can definitely command this price.
How much is Yordenis Ugás Earning against Errol Spence Jr.?
Yordenis Ugás has had a great turnaround after losing to Shawn Porter in March 2019. His four-fight winning streak since then has seen him become the WBA Champion and also defend it successfully against the legend Manny Pacquiao in his last bout.
As per the contract leak, Ugás has a purse of $1 million for this bout. However, our estimate is that Yordenis Ugás might get around $1.5 million in fixed salary to face Errol Spence Jr. A good PPV buyrate could see his total payout to be more than $5 million with his 50% PPV commission. This will be a good payout considering that the biggest fight of his career against Pacquiao had only sold 200,000 PPVs.
Errol Spence Jr. vs Yordenis Ugás Fight Purse
| Fighter | Fixed Purse | PPV Commission | Total Payout(Estimated) |
| --- | --- | --- | --- |
| Errol Spence Jr. | $2.5 million | 50% | $6 million+ |
| Yordenis Ugás | $1.5 million | 50% | $5 million+ |