Canelo Álvarez Career Earnings- Fight Purse Crosses $550 Million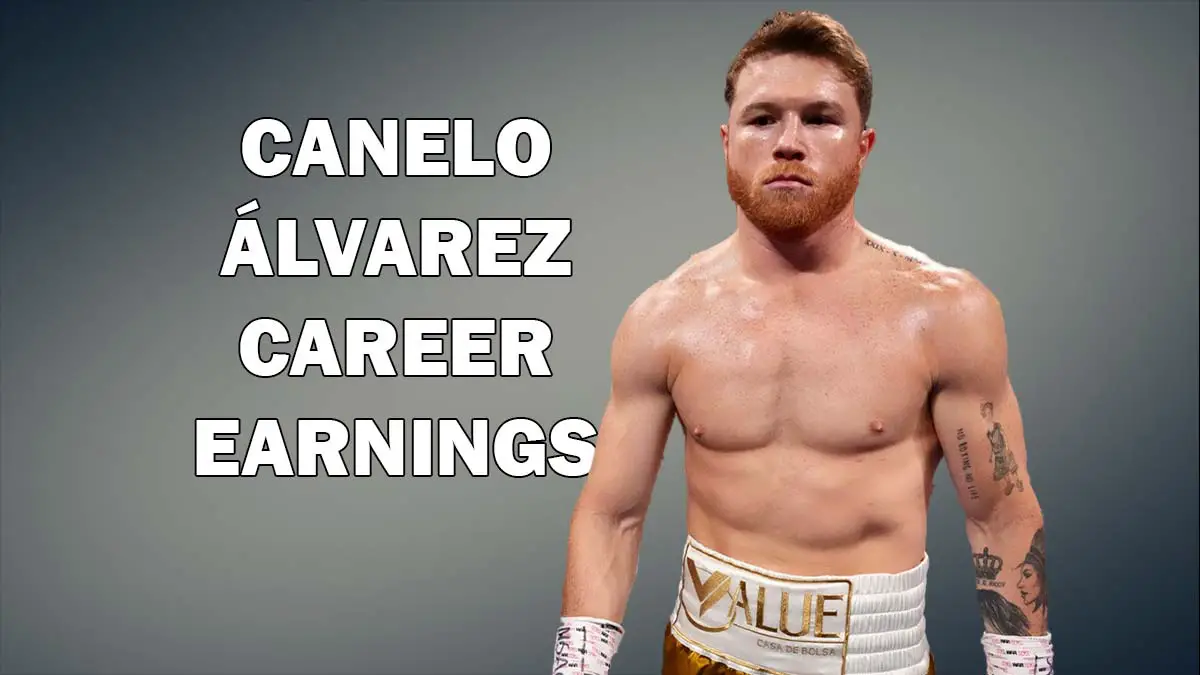 Saul "Canelo" Álvarez, one of the most successful boxers of our time, both in the ring with title wins in multiple division, and financially with multi-million dollar purses. Canelo became a household name ever since he fought Floyd Mayweather in 2013, he has consistently been among the top-earning boxers in the world. From that point on, his fight purses have only increased.
In this article, we will delve into Canelo's career earnings, listing all of his fight purses and the total amount he has earned through his boxing bouts so far. (Disclaimer: the figures reported are from various sources and estimated and may vary in accuracy).
Canelo Álvarez Career Earnings Analysis
Canelo Álvarez career earnings would cross a staggering $550 million in his fight against John Ryder, making him one of the highest-earning boxers in history. Though he has dominated some of the biggest names in the sport, his career earnings are not only the testament to his skill as a boxer and his appeal to fans and brands alike, and a reflection of the PPV numbers he has attracted regularly.
One of the most remarkable aspects of Canelo's career is the significant increase in his earnings over time. In one of his early fights, he earned only $1.2 million against Shane Mosley on the undercard of Mayweather vs Cotto PPV. But his skill and popularity quickly got him a big payday in $12 million when he faced Floyd Mayweather. Although some lesser fight purses followed this, but Canelo was earning $25 million per fight by 2017 when he faced Gennady Golovkin and Julio César Chávez Jr.
In 2019, Canelo signed a record-breaking 11-fight deal with streaming service DAZN that was reportedly worth $365 million. As part of this deal, he would earn a minimum of $35 million per fight, but that deal only lasted 2 fights before the contract was canceled following a lawsuit. In 2021, Forbes estimated Canelo's total earnings to be $94 million, making him one of the highest-paid athletes in the world. His earnings were at $90 million in 2022 and $110 million in 2023.
Canelo Álvarez Fight Purses Over the Years
The list of fight purses for Canelo Álvarez are as below:
#vs John Ryder – $35 million(May 06, 2023)
#vs Gennady Golovkin – $50 million(Sep 17, 2022)
#vs Dmitry Bivol – $50 million(May 07, 2022)
#vs Caleb Plant – $45 million(Nov 06, 2021)
#vs Billy Joe Saunders – $35 million(May 08, 2021)
#vs Avni Yıldırım – $35 million(Feb 27, 2021)
#vs Callum Smith – $35 million(Dec 19, 2020)
#vs Sergey Kovalev – $35 million(Nov 02, 2019)
#vs Daniel Jacobs – $35 million(May 04, 2019)(Dazn-Golden Boy deal)
#vs Rocky Fielding – $35 million(Dec 15, 2018)(Dazn-Golden Boy deal)
#vs Gennady Golovkin – $25 million(Sep 15, 2018)(base – $5 million, PPV bonus – $20 million)
#vs Gennady Golovkin – $25 million(Sep 16, 2017)(base – $5 million, PPV bonus – $20 million)
#vs Julio César Chávez Jr. – $25 million(May 06, 2017)(base – $5 million, PPV bonus – $20 million)
#vs Liam Smith – $15 million(Sep 17, 2016)
#vs Amir Khan – $20 million(May 07, 2016)(source – Wikipedia)
#vs Miguel Cotto – $20 million(Nov 21, 2015)(base – $5 million, PPV bonus – $15 million)
#vs James Kirkland – $3.5 million(May 09, 2015)
#vs Erislandy Lara – $7.5 million(Jul 12, 2014)(base – $1.5 million, PPV bonus – $6 million)
#vs Alfredo Angulo – $7.25 million(Mar 08, 2014)(base – $1.25 million, PPV bonus – $6 million)
#vs Floyd Mayweather Jr. – $12 million(Sep 14, 2013)(source – Dan Rafael)
#vs Austin Trout – $2.5 million(Apr 20, 2013)
#vs Josesito López – $2 million(Sep 15, 2012)(official figures from Nevada Commission)
#vs Shane Mosley – $1.2 million(May 05, 2012)(Source – Dan Rafael)